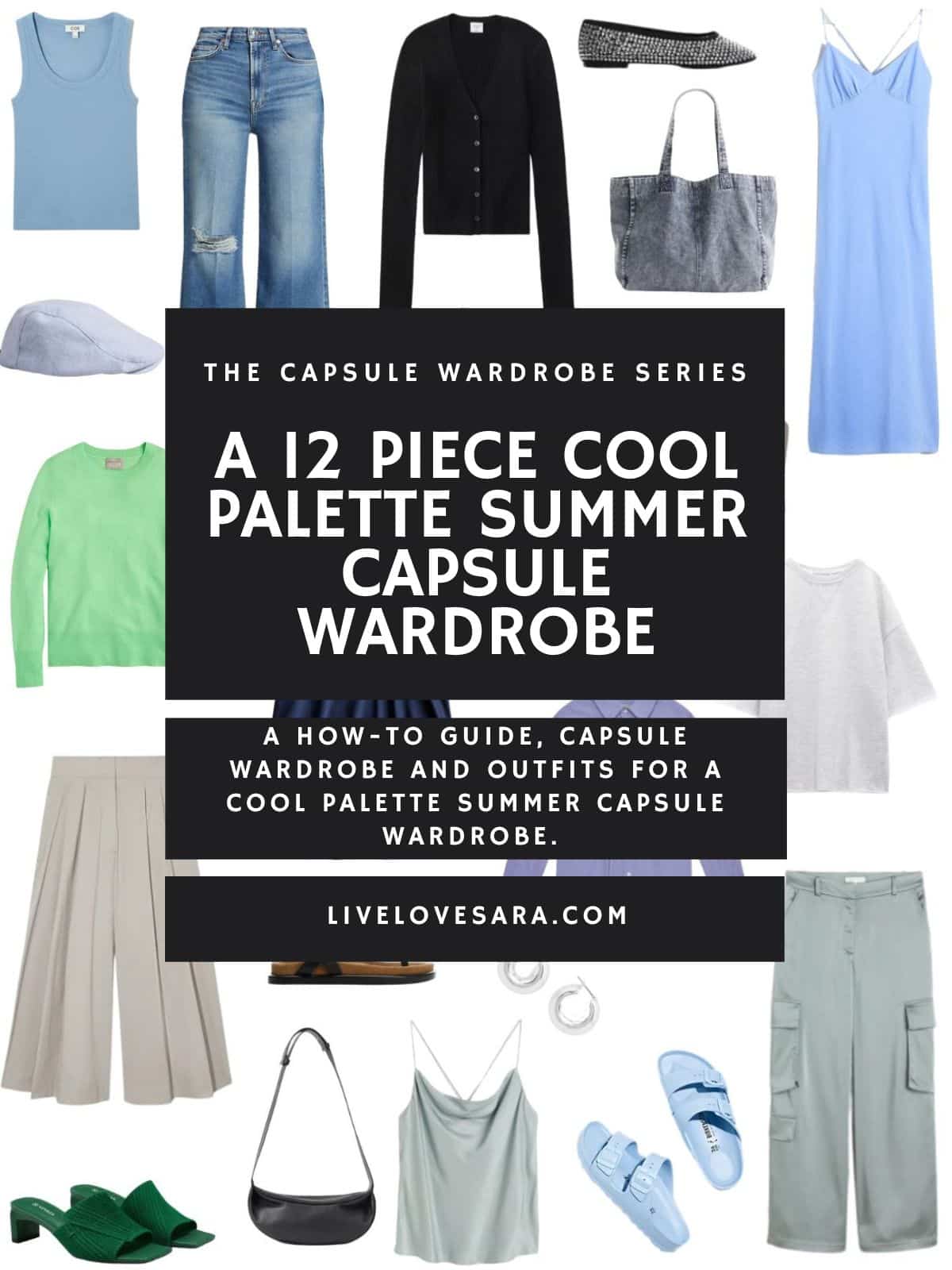 Understanding your season's colours is quite an in-depth journey and often people will pay to have their colours done by professionals who have specialized training.
I was actually going to take a class that started this week on colour analysis, but I wasn't able to get the money together in time to enrol. I'll have to wait for the fall opening if they offer one.
Anyway, that being said, many people find colours seasons pointless or don't believe in the theory, but like I often stress, I like to have as many tools in my styling toolbox as I can.
And if that means I take all the classes, courses, and studies I am able to, then I will.
I think that knowing and understanding your unique colouring is important but not a commandment.
Thou shall only wear your approved colours isn't something that we need to carve into stone.
That thought process is extremely limiting and will keep you boxed into a certain colour palette only, which is not something that I can get on board with.
I just feel that knowing even just a handful of your colours will be beneficial in the long run.
Going out to buy a new dress and can't decide which colour? Are one of those dresses in a colour of your season?
Maybe use that tool as a guiding factor.
A Cool Palette Summer Capsule Wardrobe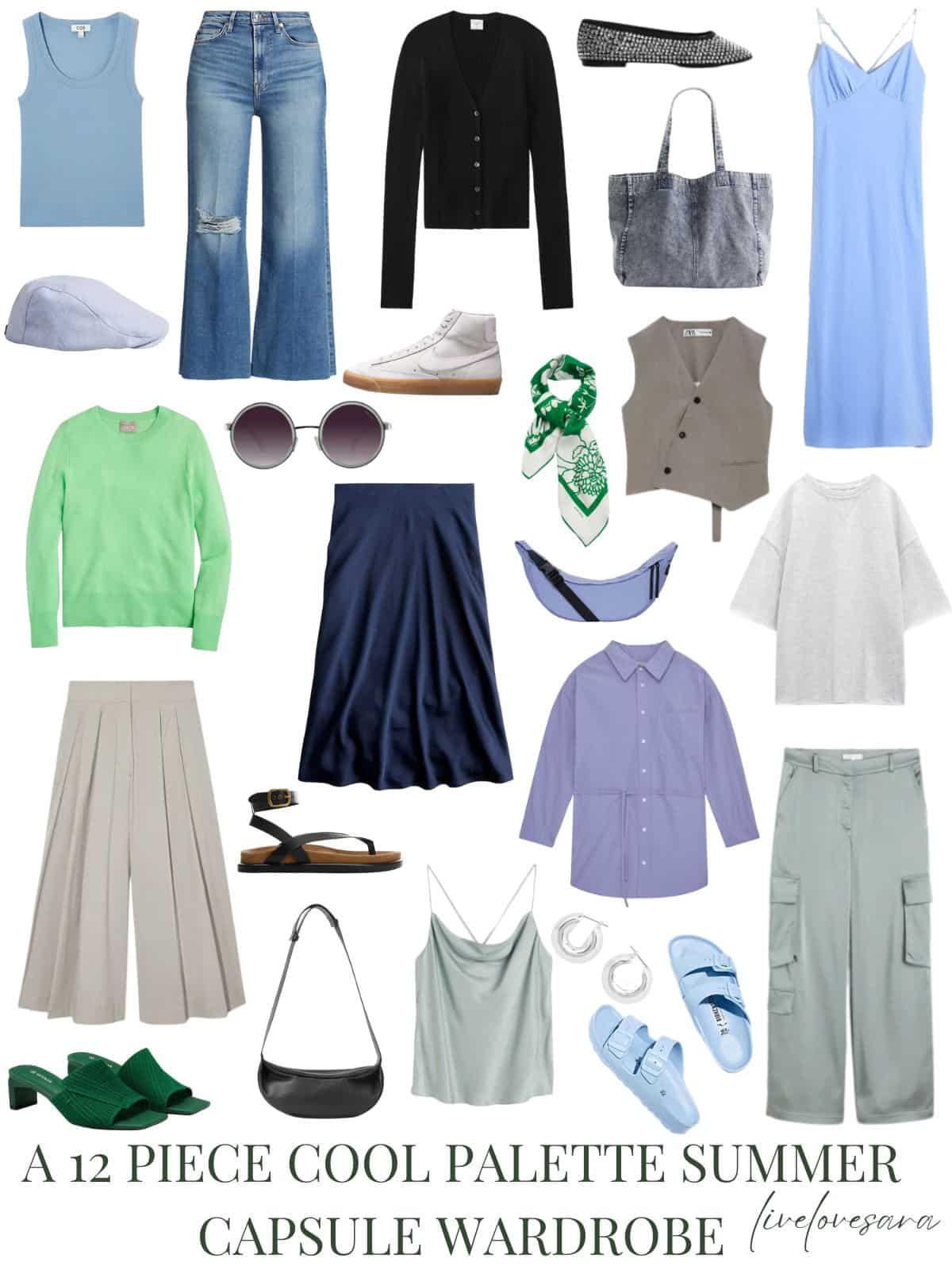 Blue Tank Top | Jeans | Cardigan | Flats | Denim Tote | Slip Dress | Vest | Scarf | Sneakers | Sunglasses | Hat | Sweater | Skirt | Blue Sling Bag | Short Sleeve Sweatshirt | Satin Cargos | Button Up | Earrings | Birkenstocks | Camisole | Black Sandals | Black Bag | Wide Leg Trousers | Green Mules

Are you a Warm Palette or a Cool Palette?
This week we are going really broad to something that most of us are already aware of. Even just subconsciously.
Are you a warm palette or cool palette person?
Because there is so much involved in determining your detailed colours this is the simplest way to start when you want to just know the basics.
And if you are uncertain whether you look better in warm or cool tones, then try the easiest way to find the answer:
Do you look better in gold jewellery or silver?
Gold is obviously warm and silver means cool, and most people look better in one more than the other.
Then there are those individuals who have the perfect balance of colouring and look equally good in either or.
That being said, just because you look better in gold does not mean that silver is off the able for you.
I look better in gold by far, which means my palette consists of warmer tones, but I still wear silver and cool tones all the time.
Grey is a wardrobe staple colour for me and I will continue to wear it.
What does a Cool Palette Consist of?
A cool palette wardrobe refers to a collection of clothing that primarily consists of colours from the cool colour spectrum.
Cool colours are typically associated with water, ice, and nature, and they are found on the cool side of the colour wheel.
If you don't have a colour wheel for fashion purposes I suggest getting one, or at least downloading one from online to use as a reference.
They are a great tool to use when you up your colour game and want to try interesting combinations like complementary colours, or something more simple like playing with tonal hues.
I have a post from last year that explains the use of colours and the colour wheel in building outfits and a wardrobe.
It is an interesting topic that can make you see more potential within your wardrobe and help to broaden your wardrobe creativity.
A cool palette includes blues, greens, purples, and cool neutrals like greys and icy whites. This type of wardrobe is usually characterized by a calming, serene, and sophisticated aesthetic.
What many people don't realize is that cool colours can have warm elements, and warm colours can have cool elements depending on their base mix.
And these colours can take on the warm and cool characteristics depending on the other colours in the outfit.
Green is a cool colour but when paired with brown it becomes much warmer and earthier.
The same applies to makeup, there is a reason why people prefer a blue-based red lipstick or an orange-based red lipstick.
Cool colours tend to be versatile and can be easily mixed and matched within the wardrobe.
This allows for a wide range of outfit combinations and ensures that the pieces can be worn in various combinations.
This actually really applies to all wardrobes, but generally, when you stick within a particular palette it makes for easier mixing and matching than if you have a hodgepodge of colours and patterns.
Not that a hodgepodge is a bad thing, but if you are just starting out then it is always a good idea to start with a solid foundation of items to mix and match, and then you add in the more hodgepodge fun pieces.
Cool colours are often associated with a classic and timeless style. They are less prone to drastic trends and can be worn across different seasons without appearing outdated.
They can lend an air of sophistication and elegance to your wardrobe, and are often associated with a refined and polished look.
Cool colours can generally flatter a wide range of skin tones. Blue and purple hues, for example, can work well with both warm and cool undertones, making them a versatile choice.
When building a cool palette wardrobe, consider incorporating a variety of clothing items, such as tops, bottoms, dresses, outerwear, and accessories, in cool-toned shades.
Also, pay attention to the fabric textures and patterns to add depth and visual interest to your outfits. This is so important, especially if you are doing a tonal look.
Cool neutrals are also just as important.
Neutrals like greys and icy whites can be considered part of a cool colour palette.
Light greys, silvers, and icy whites add a sense of coolness and sophistication to a colour scheme. These neutrals provide a versatile backdrop and can be paired with various cool hues.
And silver is very trendy right now and not only in jewellery. Try shoes, other accessories, pants, tops, bodysuits, dresses, and skirts.
The key is to wear one silver piece and build around it. Let it be the star of the look.
Don't do head-to-toe silver otherwise, you will look like you are leaving for a space mission.
I don't know if you have ever heard me use the term harmony and balance, but they are stylist terms that are important in all aspects of styling. Not just fashion.
When using a cool colour palette, it's important to consider the harmony and balance between the colours.
You can opt for monochromatic schemes using different shades of blue, green, or purple, or create complementary colour combinations by pairing blues with purples or greens with blues.
Additionally, incorporating cool neutrals as a base or accent colour can help create a cohesive and visually pleasing palette.
And this is where we circle back to the colour wheel talk. It is really a great tool for seeing the options of pairing colours.
I'd even go so far as suggesting a painter's wheel because of how detailed they are.
Fashion is fun. Period.
I don't want to bombard you with all kinds of colour rules that you feel like you need to follow.
I think if you are looking to build a wardrobe that is in tune with your personal colour palette, then it is good to start small, hence the 12 pieces.
These pieces not only are a great stand-alone wardrobe that will take you through the summer season easily, but they are also a great jumping-off point for when you are ready to take that step toward a fully personalized wardrobe based on your personal tastes and colour preferences.
Adding pieces here and there will really flesh it out and make you a substantial wardrobe that will take you from season to season.
It also makes a great packing list, because who doesn't want a wardrobe that works for every aspect of your life?
Cool Palette Summer Outfits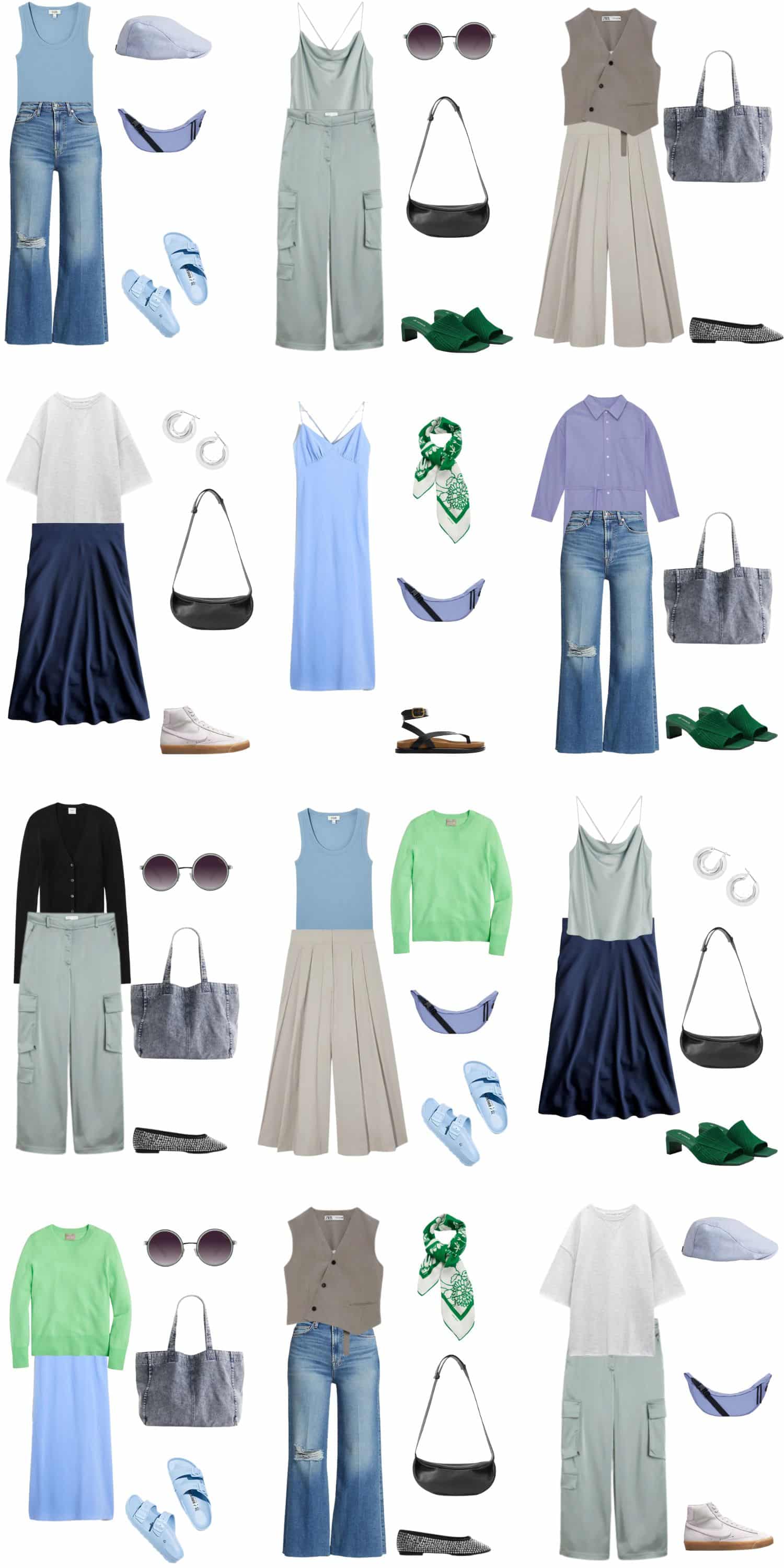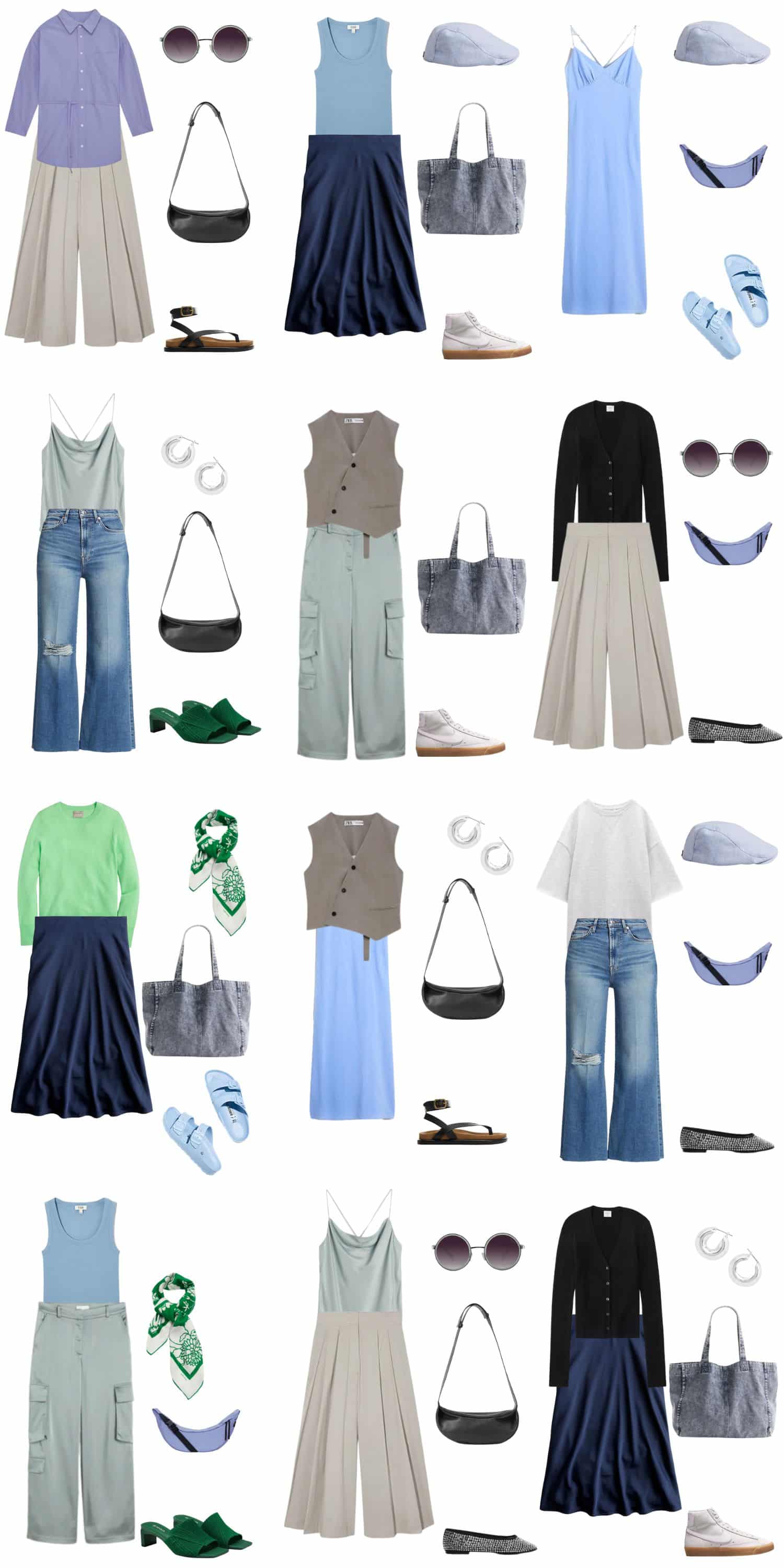 Blue Tank Top | Jeans | Cardigan | Flats | Denim Tote | Slip Dress | Vest | Scarf | Sneakers | Sunglasses | Hat | Sweater | Skirt | Blue Sling Bag | Short Sleeve Sweatshirt | Satin Cargos | Button Up | Earrings | Birkenstocks | Camisole | Black Sandals | Black Bag | Wide Leg Trousers | Green Mules

You might also like:
A 12 Piece Edgy Summer Capsule Wardrobe
A 12 Piece 90s Minimalist Summer Capsule Wardrobe
A 12 Piece Budget Summer Capsule Wardrobe
A 12 Piece Romantic Summer Capsule Wardrobe
A 12 Piece Maximalist Summer Capsule Wardrobe
A 12 Piece Minimalist Summer Capsule Wardrobe
SHOP THE UK LINKS


I am now offering digital styling guides, and personal styling services. If you are looking for some styling help that is inexpensive and easy, check out my digital styling guides. If you want some one-on-one help shopping, building and editing your wardrobe, or packing for a trip, I can also assist. Check out all the styling services that I offer here.
This post contains affiliate links. By using my links to shop I may receive a small commission (at no cost to you). Thanks for supporting what I do