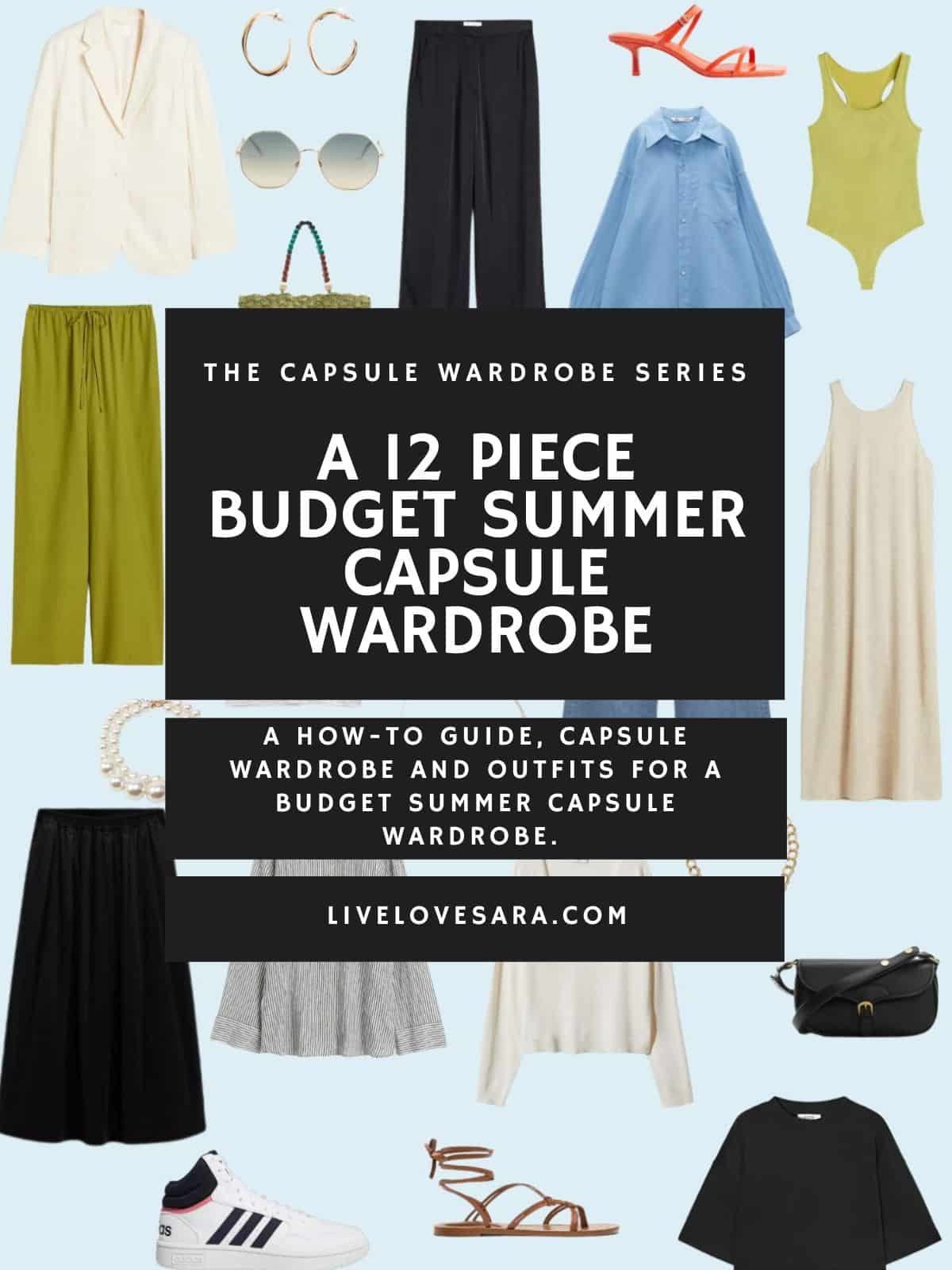 Putting together a budget capsule wardrobe is always one of my favourite projects because of the challenge. I love searching for pieces that are nice, versatile, and work together in a cohesive wardrobe while still hitting that realistic price point.
And yes, budget is relative depending on each individual's life.
We also know that in the current economy that we live in, even secondhand items are often priced at levels that make you scratch your head and think twice.
So with all that in mind, I spent this week putting together another 12 piece capsule wardrobe but this time focusing on a summer capsule on a budget.
I also spent this week working on an Over 40 Digital Style Guide Summer Capsule Wardrobe that will take you from now until the fall, and focuses on my own wardrobe and pieces that I love or I am purchasing/have purchased.
A Budget Summer Capsule Wardrobe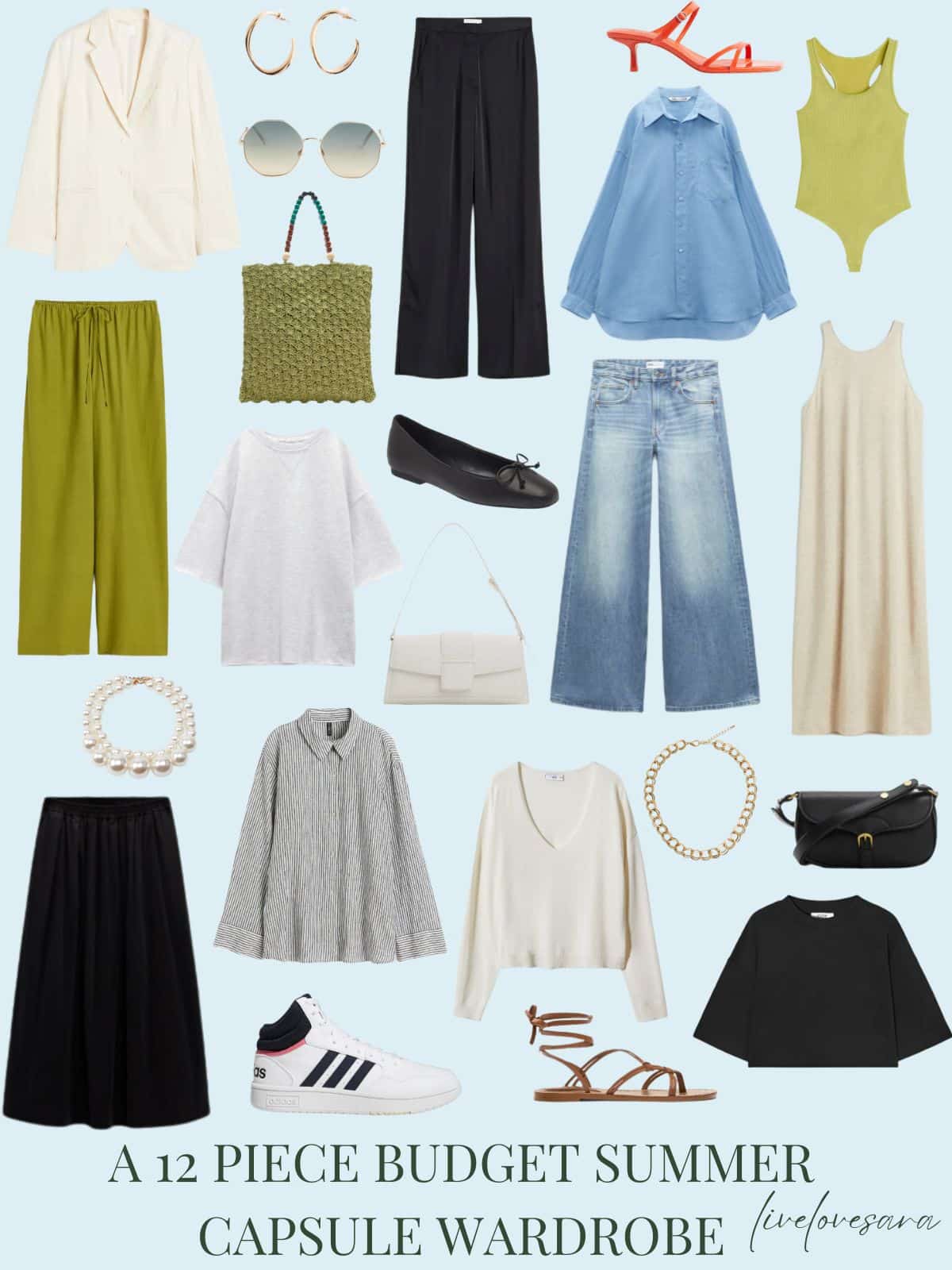 Blazer | Earrings | Sunglasses | Green Tote | Black Trousers | Orange Heels | Blue Button Up | Bodysuit | Dress | Jeans | Ballet Flats | White Purse | Grey Short Sleeve Sweatshirt | Green Pants | Pearls | Skirt | Striped Button Down | Sneakers | Sweater | Sandals | Chain Necklace | Black Purse | Black T-shirt

The budget summer wardrobe is flexible, versatile and most of all fun. It has a touch of that greenish yellow that is popular.
It's a nice colour for spring and summer, and adds something to an otherwise neutral wardrobe.
I'm going to reiterate that budget is relative. Okay? I don't want people feeling sad or frustrated that any of these price points are not budget for them.
I understand this which is why it is so important to stay true to yourself and your life. So if you like something and you feel that it is too pricey for your budget there will always be other options.
Secondhand is always my first choice when shopping on a budget, but it can be a long and frustrating process to find what you are looking for while making sure that it is both in your size and budget.
This is why I always suggest starting seasonal shopping early, so you can give yourself more time.
Always, always keep a secondhand clothing wishlist on you somewhere like in your phone notes, or if you like old school, then a physical list in your handbag.
That way you have something to refer to if you're just so happening to find yourself in your favourite secondhand retailer.
How many times have you thrifted and then came home to realize that you neglected to look for that particular thing that you have been thinking about?
It often happens, and this is because secondhand shopping can be overwhelming.
Tips for Shopping on a Budget:
Shopping for clothes on a budget isn't the challenge that most people think. You can be budget conscious while still maintaining style and trendiness without having to put in much extra effort.
1. Set a budget: This is the most important. Stick to it and don't be wishy-washy. Set a firm number and make sure you monitor your purchases making a tally as you go. When I work with clients I always ask for their budget and stick to it. It is important to respect that number.
2. Shop during sales and discounts: I always search to see if there are any known codes or discounts for a particular store. Even that initial 10% new email sign-up discount is better than nothing, and you can always unsubscribe after.
3. Shop off-season: This is applicable when secondhand shopping as well. While the selection isn't as good as on season, the prices are much better because not many people are looking for a cashmere blend coat in the summer.
It also gives you something to look forward to wearing the next season.
4. Shop secondhand: Thrift stores can be a treasure trove of affordable and unique clothing and now that online shopping is so expansive, the options are endless. Once upon a time, all we had online was eBay and even then it was a goldmine of great items.
Now we have Poshmark, Etsy, Facebook Marketplace, and all the individual secondhand shops that are popping up (soon to have my own to add to this list). You can find high-quality items at a fraction of the price of new clothes.
6. Consider quality over quantity: Instead of buying many cheap items, invest in a few high-quality items that will last longer. This will save you money in the long run. BUT if this isn't a realistic option then I suggest taking care when laundering and buying a clothing pill remover.
With proper care while laundering and $10 for the bobble remover, you can keep your clothing looking in great shape not matter the price tag.
7. Buy basics and essentials first: A well-stocked collection of basics are the building blocks for any wardrobe. Start with the basics and essentials that you can mix and match with other clothes. This will help you create a versatile wardrobe without spending a lot of money.
And people always think that basics are boring and plain when that isn't the case. You don't need a collection of all-white tees.
Basics will also include your favourite print or band tees. Keep that in mind, it is a lot more open to interpretation than the internet makes you think.
Every rule you see or wardrobe you look at isn't made to follow like one of the commandments.
"Thou Shall Not Wear Short Skirts Over the Age of 40". Rules are crap and while I think some of them are nice to be familiar with and can be helpful most should be disregarded.
And honestly, a lot of rules were built on misogyny which we don't even want to embrace in the slightest.
Also, not everyone needs to niche their personal style down to a particular aesthetic. You are allowed to be a mixture of every and all depending on your mood that day.
Like if someone says they are a classic dresser. I am sure they have convinced themselves of that and are probably drawn to classic styles, prints, and colours.
But I guarantee that isn't it.
I bet there are days that they feel like they are leaning toward soft and romantic and want to embrace a very feminine and pretty outfit.
If they stuck to that particular "What is your style" rule then they will continue to wear just classics regardless of if it suits them that day.
This is why it is so important to understand that your style is a sliding scale, and you can go from one extreme to the other while still maintaining true to yourself.
None of this stuff will disappear if you have to shop on a budget. If anything, it allows you to play around a bit more because you are seeking the best prices that you can find.
Not sure if you want to jump on the revival of the early 00s skinny scarf trend? No problem! You can find one to test out at a thrift store for probably around $2.
So if there is one thing that I want you to take from this it is, you absolutely do not have to have money or spend a lot of money to maintain a stylish wardrobe.
If anything, I would argue that having a lot of money that you spend on new clothes all the time actually makes many people less stylish because you don't have to use your creativity while dressing.
It's easy to put on the newest, trendy item, but I takes more work and creativity to wear that blouse you've worn a million times before in a new way.
Keep that in mind.
Budget Summer Outfits Ideas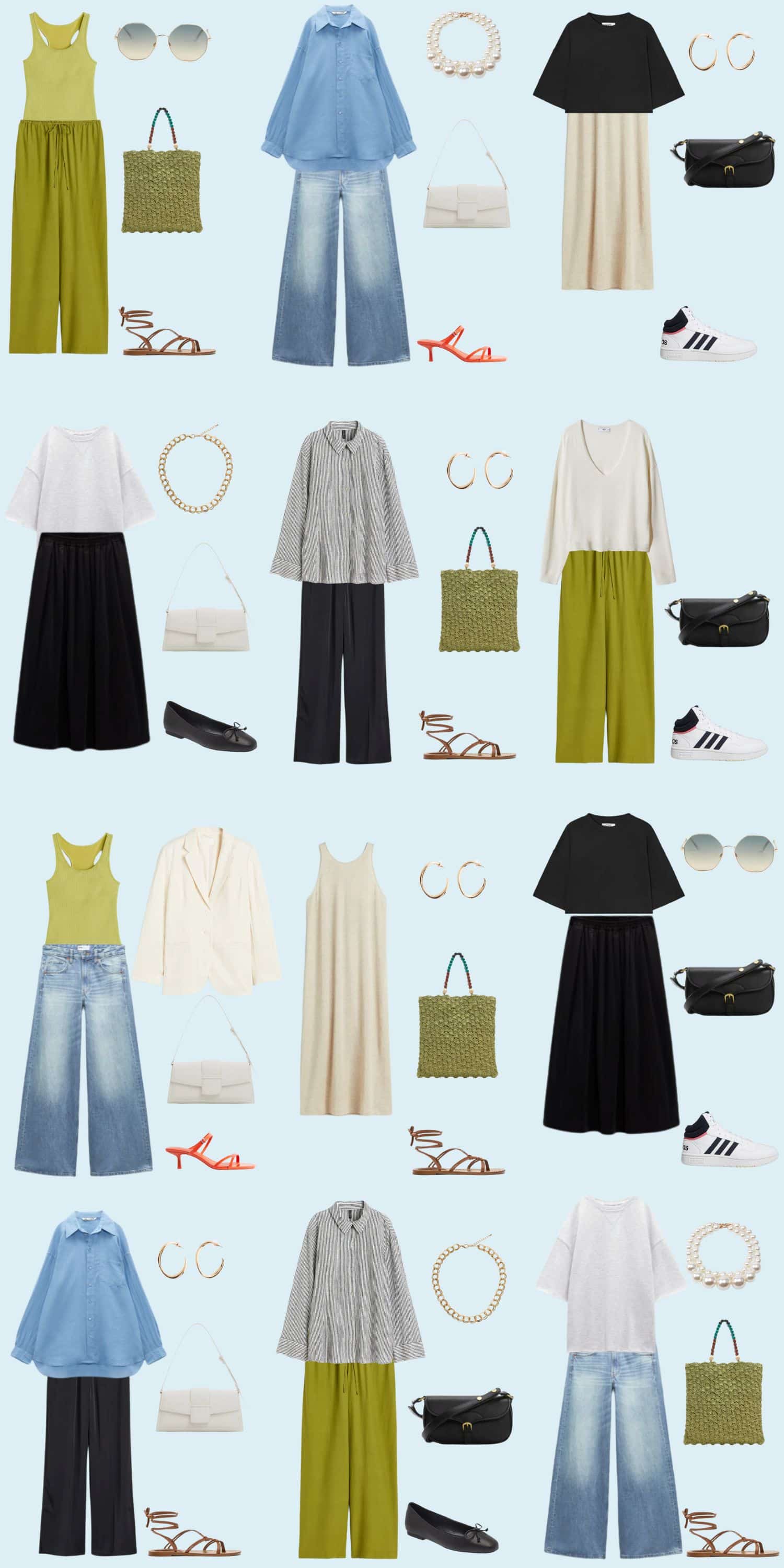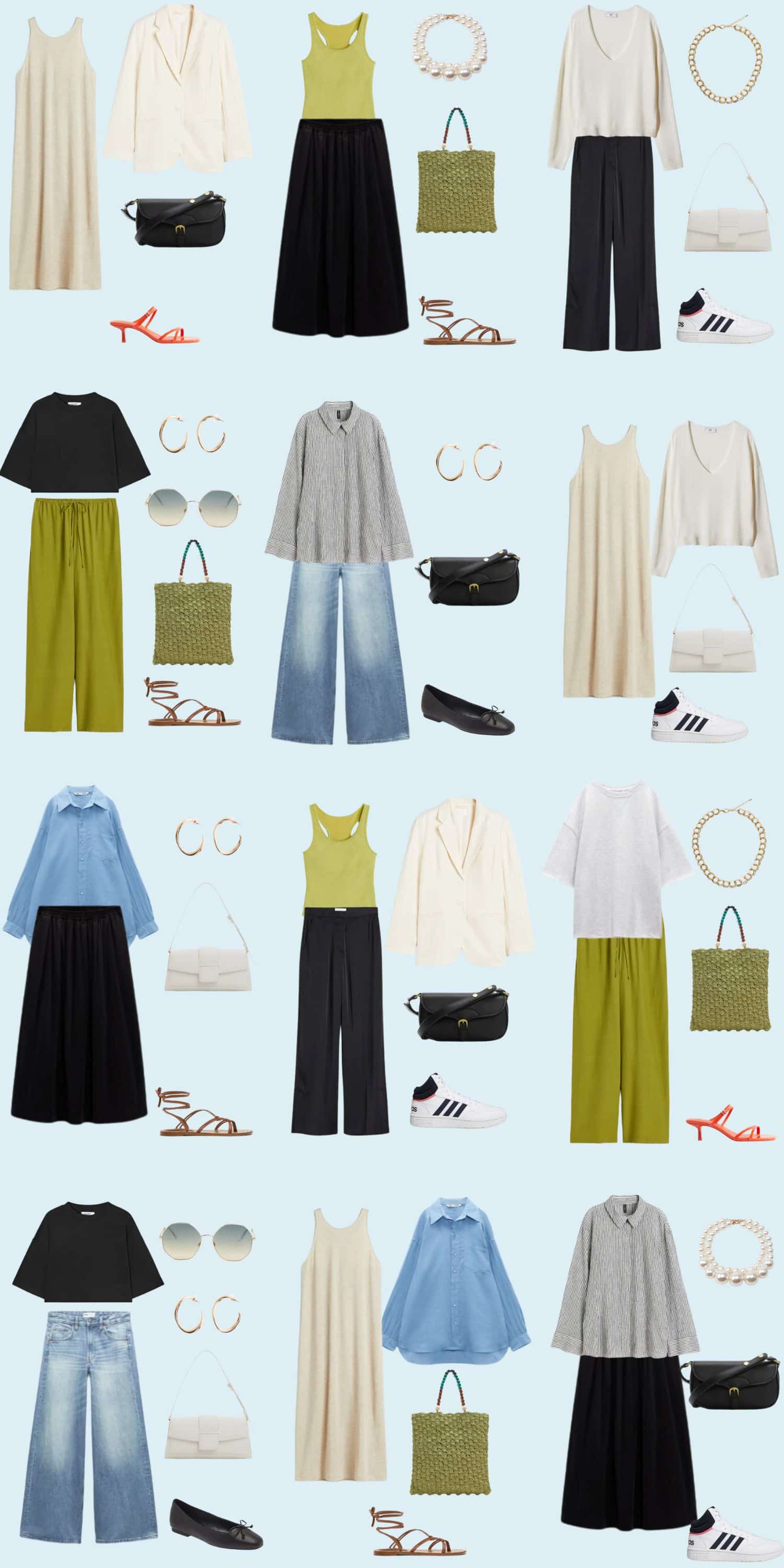 Blazer | Earrings | Sunglasses | Green Tote | Black Trousers | Orange Heels | Blue Button Up | Bodysuit | Dress | Jeans | Ballet Flats | White Purse | Grey Short Sleeve Sweatshirt | Green Pants | Pearls | Skirt | Striped Button Down | Sneakers | Sweater | Sandals | Chain Necklace | Black Purse | Black T-shirt

You might also like:
A 12 Piece Romantic Summer Capsule Wardrobe
A 12 Piece Maximalist Summer Capsule Wardrobe
A 12 Piece Minimalist Summer Capsule Wardrobe
A 90s and Y2K Inspired Summer Capsule Wardrobe
A Transitional Spring to Summer Capsule Wardrobe
The Spring Starter Capsule Wardrobe
A Spring Capsule Wardrobe on a Budget
SHOP THE UK LINKS


I am now offering digital styling guides, and personal styling services. If you are looking for some styling help that is inexpensive and easy, check out my digital styling guides. If you want some one-on-one help shopping, building and editing your wardrobe, or packing for a trip, I can also assist. Check out all the styling services that I offer here.
This post contains affiliate links. By using my links to shop I may receive a small commission (at no cost to you). Thanks for supporting what I do