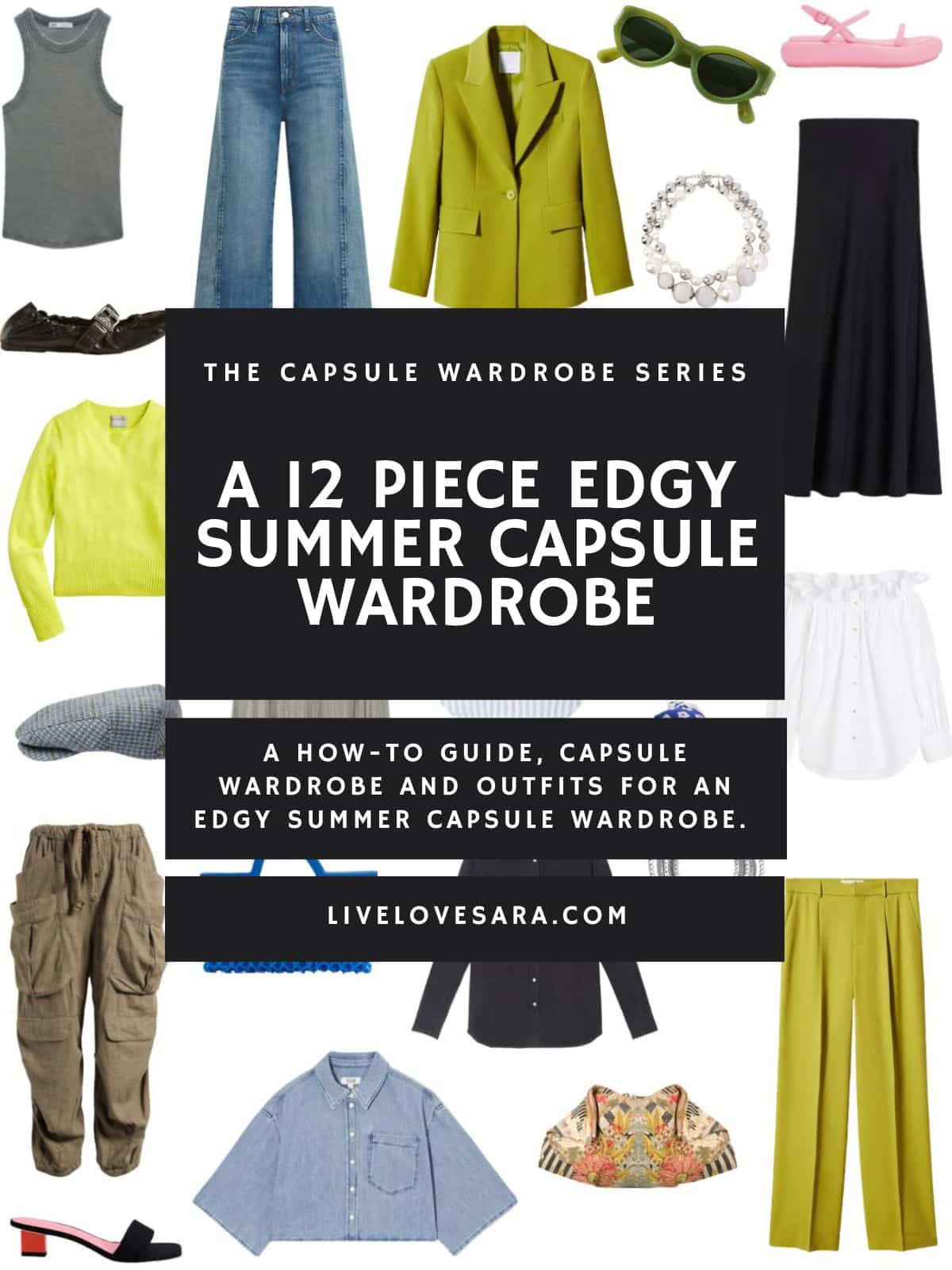 Several weeks in and I am sure you are tired of me talking about the struggle I have dressing in summer. When I have been putting together these 12 Piece Summer Capsule Wardrobes it has forced me to really tune into what look I am trying to embody at that moment.
When working with a small wardrobe, every piece needs to have a strong intention.
There are no wardrobe filler items. They all will have an important job in that small wardrobe, and we will not waste one of our 12 on a piece that doesn't.
If it can't mix and match with everything else than it is a wasted piece, and you should select something different.
And because of my dislike for summer, I put together some outfit formulas earlier this week for what to wear when you hate summer in a digital style guide.
An Edgy Summer Capsule Wardrobe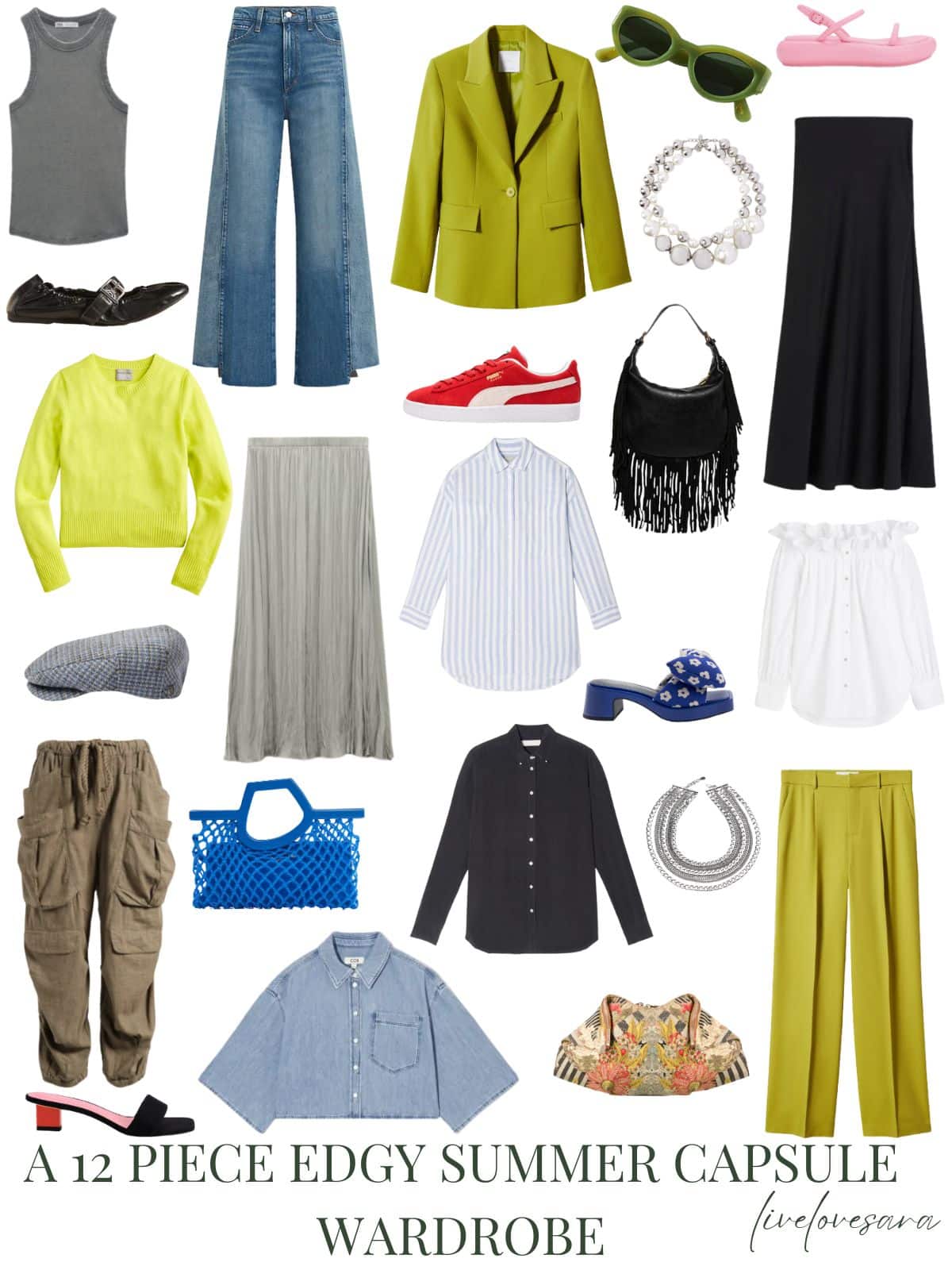 Tank Top | Flats | Jeans | Blazer | Sunglasses | Pearl Necklace | Pink Sandal | Bandeau Dress | Fringe Purse | Sneakers | Sweater | Hat | Skirt | Striped Shirt | Blue Slides | White Blouse | Green Trousers | Chain Necklace | Clutch | Black Silk Blouse | Blue Bag | Cropped Denim Shirt | Cargo Pants | Heels

*Note: The denim top is cropped. It will probably be fine with a high-waisted skirt, trouser or jean, but if you are uncomfortable with it then wear it over a tank or camisole. It will still give the same vibe.
What is Edgy Fashion?
The main gist of edgy fashion is the reflection of the idea of looking unconventional and different.
This can be challenging in summer since you can't use layers to build a look like you would in the cooler seasons. You would layer colours, textures, and fabrics to bring out a really dynamic look.
So in the warmer months we need to use shoes and accessories to our advantage.
The phrase would be to accessorize strategically.
Accessories and details. Things like rolling cuffs on both shirts and trousers, leaving buttons open, popping collars, scrunching sleeves.
All of these small styling details add to the overall finished look.
I don't count the shoes and accessories as part of the 12 because they are finishing pieces.
Our wardrobes usually consist of a variety of these, so we use them to enhance our small wardrobes, but they are not a part of the main wardrobe.
Once upon a time edgy fashion would have been closer to punk, goth, and grunge. Now we include those elements but also pull from high fashion and streetwear.
It is not about the individual piece, it is about how we combine the pieces into the final look. Although fabrics, details, and colours are important as well.
When we are using a limited number of items it is important to focus on unique cuts, and unconventional silhouettes, and then combine these for maximum edginess.
Also try contrasting elements.
Edgy fashion will often combine contrasting styles, an example would be pairing feminine and delicate pieces with more rugged or androgynous items.
This juxtaposition creates an interesting and visually striking effect.
So in this wardrobe that juxtaposition could be shown in the white, off-the-shoulder blouse being paired with the more rugged cargo-style trousers.
Juxtaposition also comes with mixing high-end pieces with more affordable items to create an eclectic and personalized style.
High-end does not have to mean new.
There is a massive market of secondhand designer items.
Thinking about this season or trendy needs to be abolished when shopping this market, and you should just go with how you feel about an item and how you want to incorporate it into your wardrobe.
Wouldn't you rather have an item that is many seasons old that you love versus something that is current and trendy that you are kind of meh about, but you want just because it is current and trendy?
It's a no brainer to me.
This is why I struggle to feel inspired by large fashion influencer accounts that are showing me their "Get Ready With Me" videos with new items every single day.
I want to see those that are rewearing their clothes.
It is so much more relatable and inspiring.
It doesn't take a massive amount of creativity to be fashionable when you are wealthy since your wardrobe is cycling through on hyperspeed.
So today I included one secondhand designer piece in this look.
I don't usually include secondhand pieces in these wardrobes because they are one offs and very limited in size and availability.
But when it comes to accessories it is a bit different because you can often find the same or similar piece with some searching in the secondhand market.
I didn't feel like I could complete an edgy wardrobe without including something from Alexander McQueen.
His creations are the epitome of edgy to me and his peplum leather jacket is on my fantasy wishlist. I am certain that I will never own one, but one keeps on wishing.
I do own one of his oversized De Manta clutches though. Secondhand of course. Large clutch bags are going to be a fall/winter 2023 trend, so I am already set.
Mine is black leather but the one I included today is a print canvas.
They come in various colours, prints, and fabrics and are easily available on the secondhand market at varying pricepoints.
It's important to note that edgy fashion is highly individualistic like any style of fashion is. What I feel is edgy may not be someone else's interpretation of it.
People customize and adapt it to suit their personal style.
This is where I use the example of shopping with a group of 5 people and giving them a list of items to buy for the exact same outfit.
They are then given free reign to shoe and accessorize as they please.
The outcome will be five completely different looks because each individual's personal style will determine how they wear and put that outfit together even though they consist of the same elements.
Even if you struggle with determining what your own personal style is (I like the three adjective method) that still unknown/untapped personal style will guide you in your selections.
I worked in retail forever.
It made me very aware how people like to be told how to wear something versus using their own creativity.
I could have a stack of sweaters sitting untouched for a week, but once I took that sweater and put it into an outfit on a mannequin it would sell out.
People like to see the potential of an item and knowing how to wear something will always sway a decision when making a purchase.
How often have you been influenced by an outfit that a mannequin was wearing in a store?
My guess is more than once. This is why they do it.
And then how often do you get that item/items home and be disappointed once you put it on or end up never wearing it?
This is probably because while you loved the look on the mannequin it actually wasn't your style so it just doesn't really feel like you once it is on.
A lot of these frustrations can be eliminated by understanding your personal style and adjectives.
Chances are if you are visiting here from a Google search or Pinterest then you were already seeking something to do with edgy fashion, or you were drawn to the visuals.
You may consider yourself to be an edgy dresser if any of your adjectives include one or more of the following:
Rebellious, daring, unconventional. provocative, avant-garde, non-conformist, bold, eccentric, alternative, dark, moody, punk, or distinctive.
These adjectives capture the essence of edgy fashion and its inclination towards pushing boundaries, embracing uniqueness, and challenging societal norms.
Understanding who you are and what you like to wear is an important part of developing a personal style.
Remember that building a wardrobe is an ongoing process.
It is not a race, and there is no finish line.
Slowly add pieces that reflect your evolving edgy (or other) style and donate others that no longer resonate.
The key is to curate a collection of clothing that makes you feel confident, empowered, and expresses your unique edgy fashion sensibility.
And most important, have fun with it.
Edgy Summer Outfit Ideas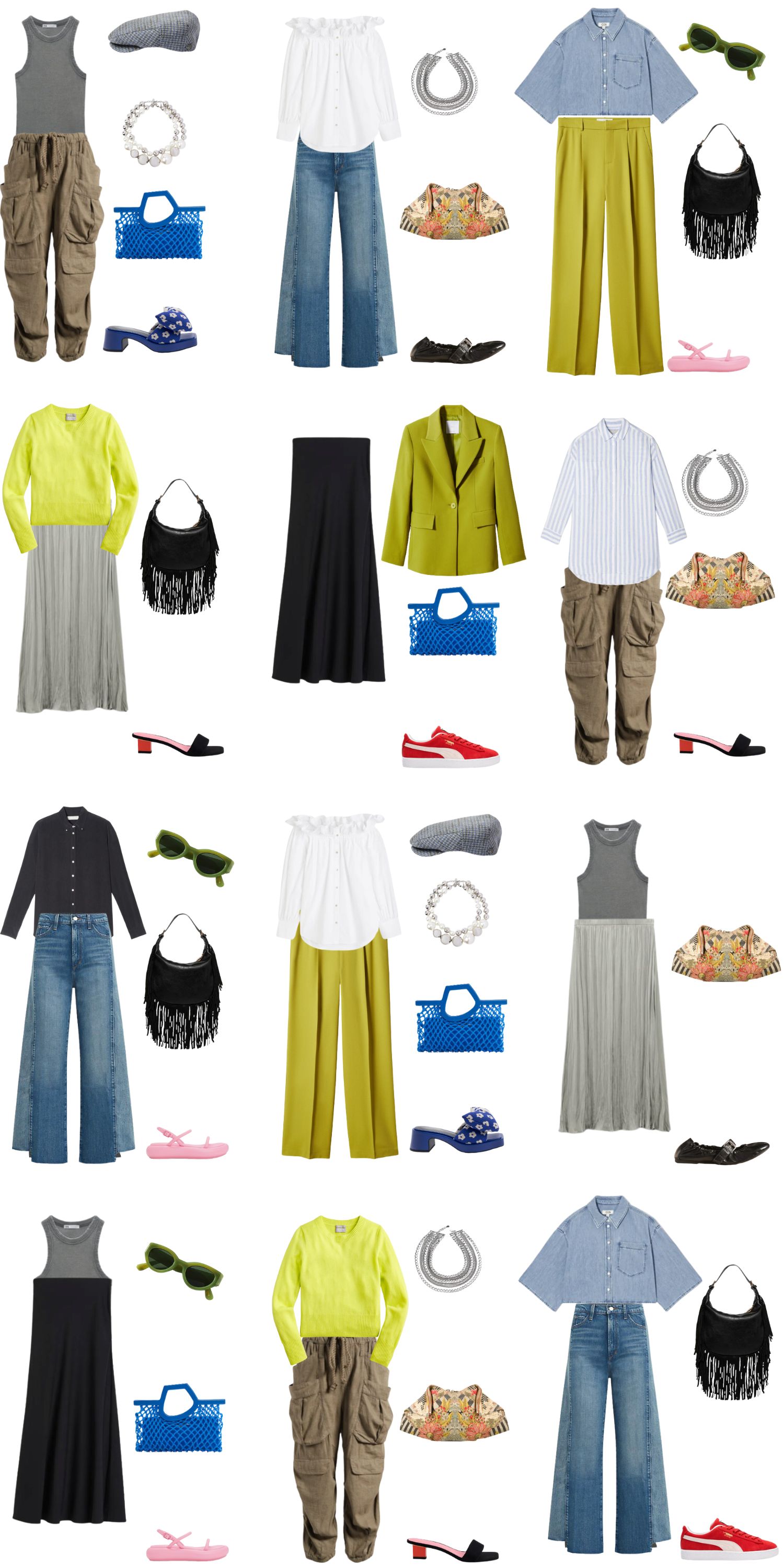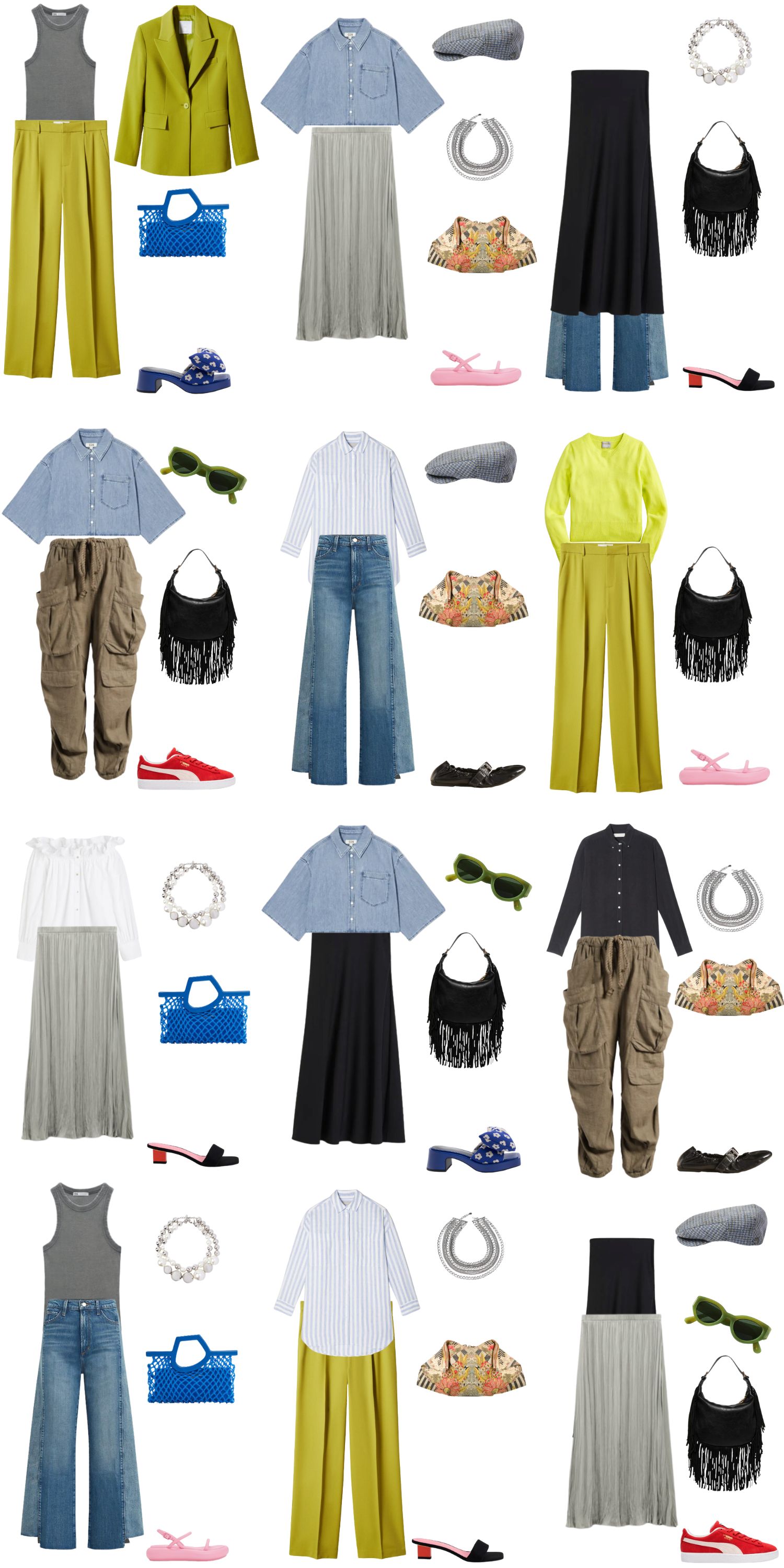 Tank Top | Flats | Jeans | Blazer | Sunglasses | Pearl Necklace | Pink Sandal | Bandeau Dress | Fringe Purse | Sneakers | Sweater | Hat | Skirt | Striped Shirt | Blue Slides | White Blouse | Green Trousers | Chain Necklace | Clutch | Black Silk Blouse | Blue Bag | Cropped Denim Shirt | Cargo Pants | Heels

You might also like:
A 12 Piece 90s Minimalist Summer Capsule Wardrobe
A 12 Piece Budget Summer Capsule Wardrobe
A 12 Piece Romantic Summer Capsule Wardrobe
A 12 Piece Maximalist Summer Capsule Wardrobe
A 12 Piece Minimalist Summer Capsule Wardrobe
A 90s and Y2K Inspired Summer Capsule Wardrobe
A Transitional Spring to Summer Capsule Wardrobe
SHOP THE UK LINKS


I am now offering digital styling guides, and personal styling services. If you are looking for some styling help that is inexpensive and easy, check out my digital styling guides. If you want some one-on-one help shopping, building and editing your wardrobe, or packing for a trip, I can also assist. Check out all the styling services that I offer here.
This post contains affiliate links. By using my links to shop I may receive a small commission (at no cost to you). Thanks for supporting what I do