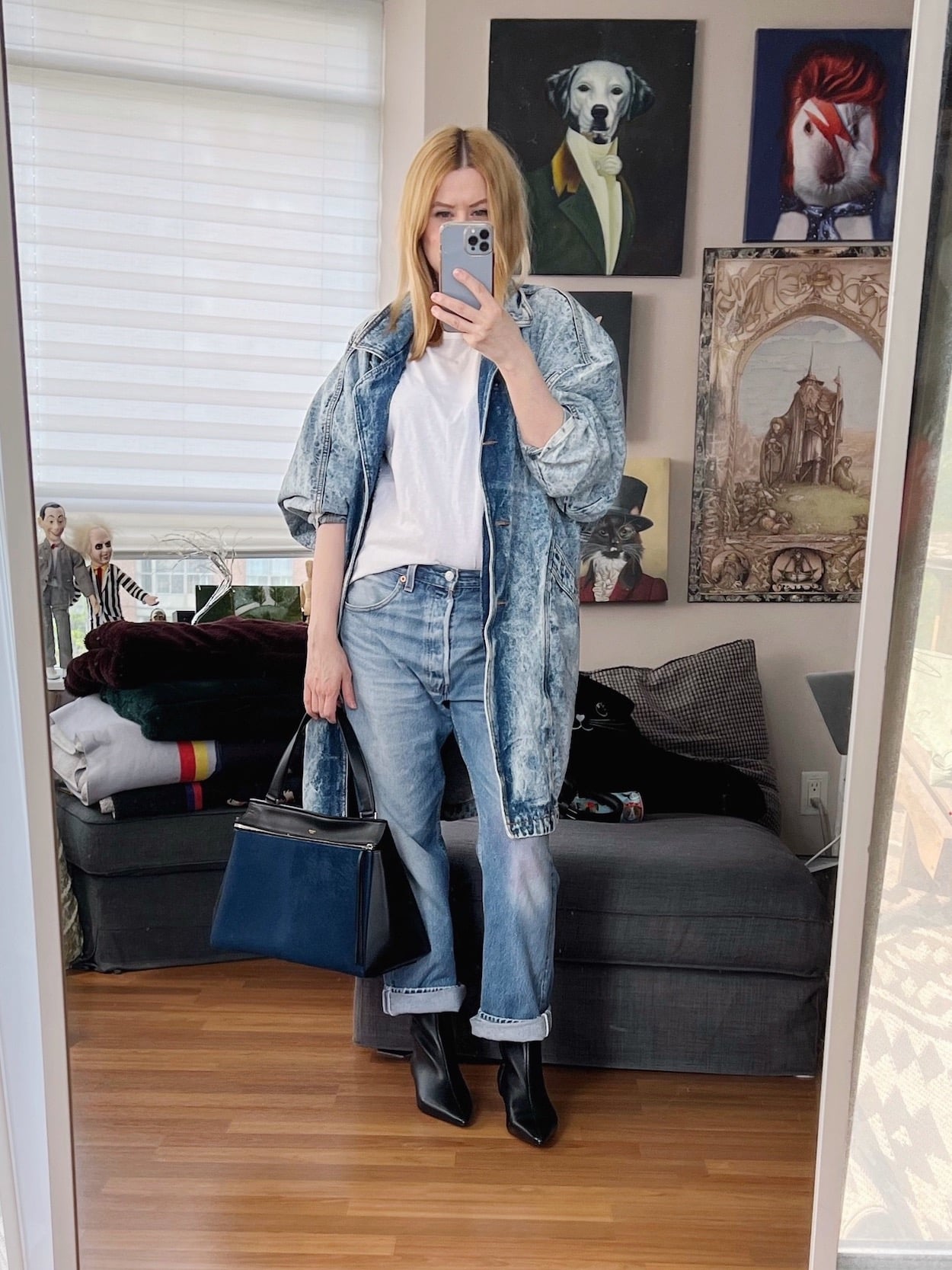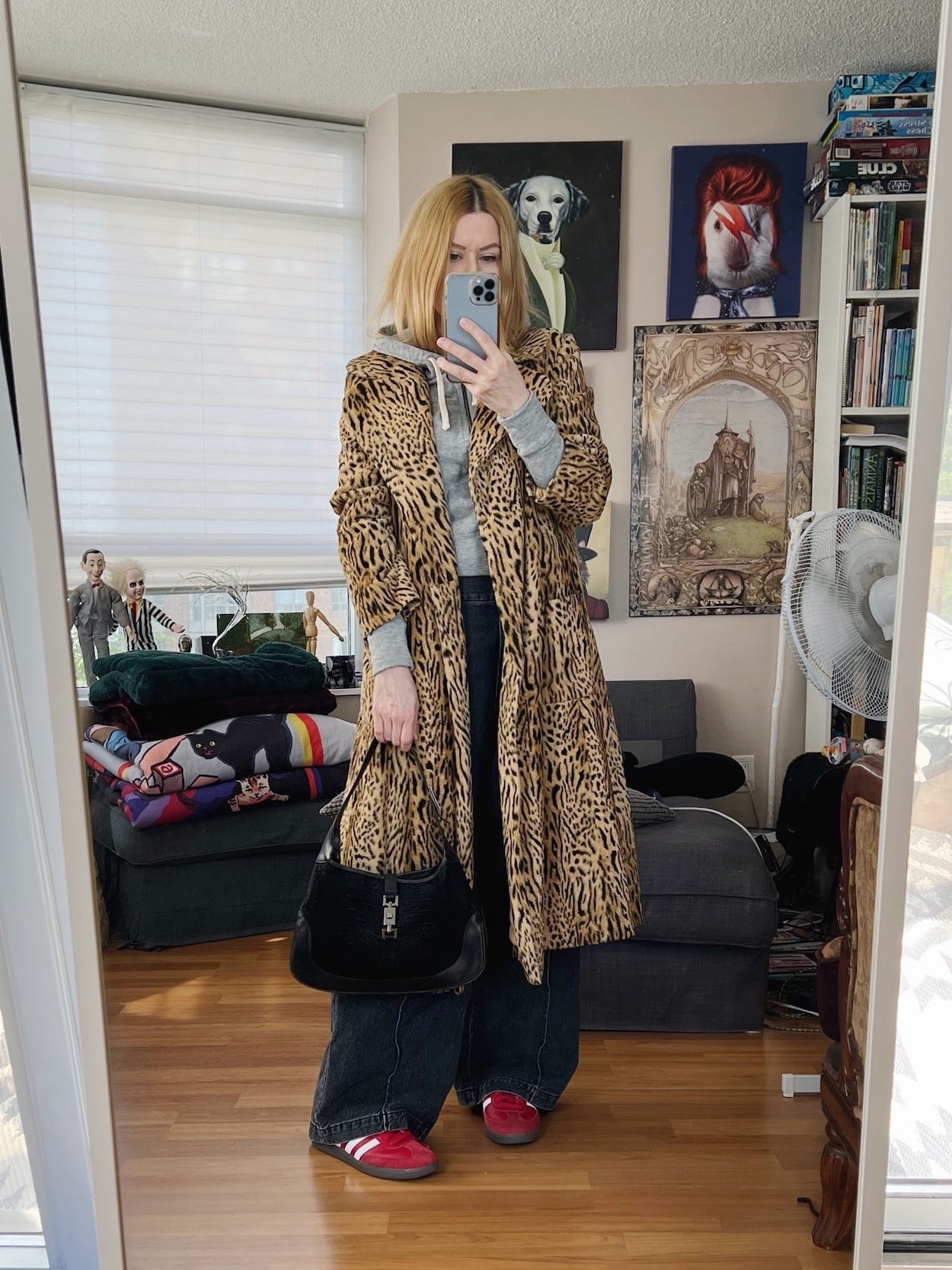 Outfit 1 – Dress (similar) | Jacket | Uggs | Vintage Bag (similar)
Outfit 2 – T-shirt | Vintage Jeans | Jacket | Bag | Boots (old)
Outfit 3 – Sweatshirt | Jeans | Vintage Coat | Bag | Sneakers
Outfit 4 – Blouse | Blazer | Track Pants | Hat | Vintage bag (similar) | Boots (old)

The day started with a minor headache that slowly escalated to worse (where it currently stands), but it wasn't actually horrendous. Even though I now feel pretty rough.
We went to Value Village and my main goal was mostly to find some summer clothes for Merle since she basically has none and is extremely picky.
She won't wear shorts, dresses, or sandals. Prefers not wearing short sleeves outside, hates most colours except a select few, and is very particular with what style of pants she likes.
Which isn't a bad thing to have very focused ideas of her clothing likes and dislikes, it just makes it very hard.
She literally has probably 5 items she wears on rotation. And Ugg minis…in the summer.
She has no summer shoes because she can't figure out what shoes she wants and she said her Uggs are comfortable. Sigh.
So she ended up with two pairs of lightweight trousers that I don't even know if they fit yet since there are no change rooms in Value Village anymore, and she insisted they be washed before trying them anyway.
And she also got a pair of boots. Fall boots.
So really not what I was hoping for.
My teen on the other hand never has issues finding stuff and gleefully filled the cart since I had a 30% off clothes and accessories coupon.
I also found a few things, none that were on my current shopping wishlist though.
It was extremely busy and hot in there, so it was probably not the best day to attempt a thrift shop.
Especially with a headache and a kid who loathes the heat.
I also am off to a bad start with finding a new book or book series to read because I had two DNF (did not finish) books last week which was disappointing.
I grabbed a couple that were highly recommended, but they didn't really work for me and I often chose sleeping over reading which is not the sign of a good book for me.
There are a couple more in my queue to try out this week, so hopefully I find success with at least one because I am starting to go through reading withdrawal.
I'm going to post my thrift finds on Instagram tomorrow because everything is being washed right now. I did find some lighter wash Levis.
They aren't 501s like I usually wear, but they are men's and 100% cotton, so I hope they fit well.
I also found an Oxford University sweatshirt that is going to be my new pyjamas because my current bedtime sweatshirt is disintegrating.
I am a sweatshirt, and jogging pants tucked into socks kind of pyjama person.
Even when it gets hot.
And yes, I did find another pair of Adidas joggers there for $6 in case you were wondering.
I also re-uploaded my older digital style guides. They are listed under "Discounted Guides" on this page.
I usually take them down when they start to sell out the products in them, but someone asked if they were still available because they wanted them for outfit references, so I added them back in of anyone else is interested.
Have a great week!
You might also like:
What I Wore Last Week
SHOP THE UK LINKS


I am now offering digital styling guides, and personal styling services. If you are looking for some styling help that is inexpensive and easy, check out my digital styling guides. If you want some one-on-one help shopping, building and editing your wardrobe, or packing for a trip, I can also assist. Check out all the styling services that I offer here.
This post contains affiliate links. By using my links to shop I may receive a small commission (at no cost to you). Thanks for supporting what I do