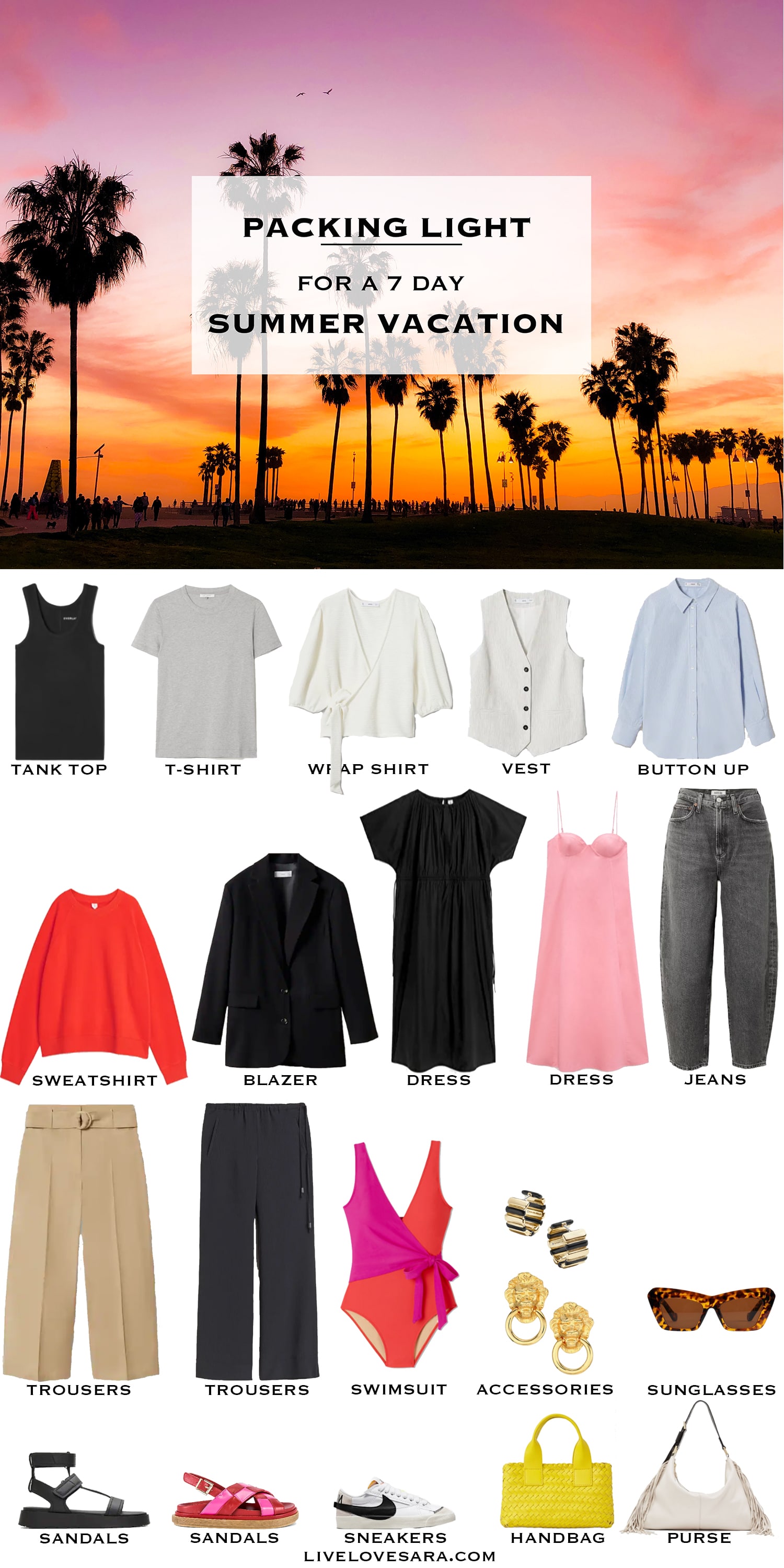 Tank Top | T-shirt | Wrap Top | Vest | Button Up | Red Sweatshirt | Black Blazer | Black Dress | Pink Dress | Grey Jeans | Tan Trousers | Black Trousers | Swimsuit | Lion Earrings | Black and Gold Earrings | Sunglasses | Black Sandals | Red And Pink Sandals | Sneakers | Yellow Handbag | White Fringe Purse |

I was tossing around some ideas this week, but ultimately I decided to go with a post on tips for a summer holiday packing list.
I spent most of my day watching SEO videos and studying for my upcoming styling test, so I put off finishing this post until late, so bear with me as the early evening sun is blasting me in the face.
I love this apartment for the amount of sun it gets throughout the whole day, but at this time of night in the summer it makes it hard since my desk is directly in front of a window.
Let's get on with it.
I like to look at a packing list as a small capsule wardrobe. If I cannot see myself wearing those pieces on rotation during a season then it isn't something I want to bring while on holiday.
I am currently living off a small wardrobe because my current wardrobe stand fell over a few months back, and it bent the frame.
Since then, it has been tilting to one side and every time I try to go through it or hang things up too roughly it starts to tip.
So I have been grabbing the same items on repeat for a while now, and I need to fix that issue, so I can make the most of my wardrobe again. Unfortunately, Ikea is still having stock issues.
10 Tips for What Things to Pack for Vacation:
1. The bigger the suitcase, the more you are going to want to pack. It is like when you increase the size of your fish tank, your goldfish will keep growing to its environment.
The ultimate goal here is always trying to maintain packing in a carry-on, so research the flight's carry-on size requirements and stay within that range.
We like to call it packing clever, not packing light.
2. You don't have to bring everything for a summer vacation packing list. A small, well-thought-out wardrobe is much more versatile than over packing.
It makes it both overwhelming and uninspiring.
If you are going to have access to laundry you can get away with even less.
3. Packing cubes. Love them or hate them, there is no denying that they help keep things organized. You can keep all shirts in one, pants in another, etc.
I hate digging, so keeping like items together just makes sense to me.
It is especially helpful when you are packing for more than one person in a suitcase, like your kids.
4. If you are not going to have access to laundry then a travel washing line, and detergent can be a great option. Especially in the summer when clothing items are lightweight, and the sun is warm.
Kids are messy, this will cut down on how many clothes you need to pack, and having to find laundry facilities.
5. Layer up and wear your heaviest items on the plane. It will leave room in your suitcase, and you won't have to worry about your bag going over the weight.
6. Bring versatile items. Dresses can be skirts when something is worn over it. Cotton or linen button-ups make good swimsuit covers.
A dress that can easily go from day to night.
What does day to night mean? I have a day to night packing list that might be helpful.
Scarves can be worn in the hair, around the neck, as a belt, wrapped around your wrist, or on a bag for a nice accent.
Basically, items that can be worn multiple ways, and/or can serve multiple purposes. Often these are the pieces that you often grab regularly in your own wardrobe because they are so easy to wear.
This is a good place to start.
7. Pull out everything you *think* that you want to pack, then put back a third of it.
Believe me, you won't wear it all.
8. Determine the weather and take note of your activities so that you make sure to include clothes that will work in every situation. You don't want to be riding a bike in flip-flops and a long skirt.
9. Plan your outfits ahead of time. What does planning your outfits mean? Simply put, you make as many outfits as you can from the pieces you intend to bring.
Then you try them on and take pictures for reference so will know what to wear.
10. Pick a palette that is neutral based and then add a colour or two to break up the monotony. Use accessories to add more visual excitement.
They are an easy way to add some colour and take little to no room.
A neutral based wardrobe is a lot more versatile than one that is full of colour and patterns. You can absolutely build a bold coloured, patterned travel wardrobe, but it will take more planning to ensure that all of your outfit combinations will work.
Sometimes how you see it in your head doesn't play out to how it actually looks when you are wearing it so make sure to try on every outfit so that you don't get any surprises when you are travelling.
While shopping is always fun, it isn't going to be fun to have to spend a ton of money on new items because you didn't pack well.
Don't stress, just follow the tips and your travel wardrobe should be smooth sailing.
Stay safe.
Vacation Outfits Women

Women's Outfits for Vacation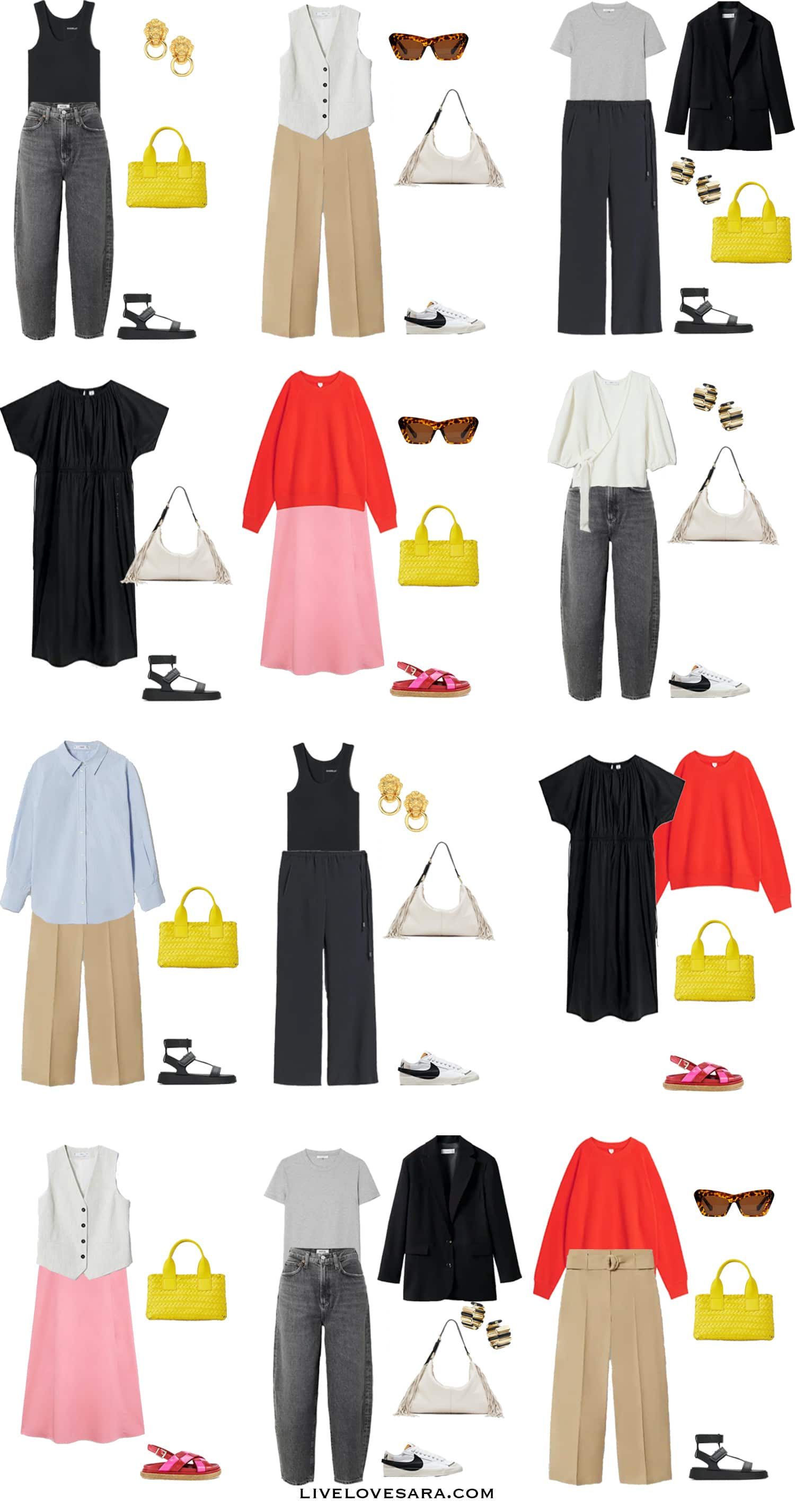 Tank Top | T-shirt | Wrap Top | Vest | Button Up | Red Sweatshirt | Black Blazer | Black Dress | Pink Dress | Grey Jeans | Tan Trousers | Black Trousers | Swimsuit | Lion Earrings | Black and Gold Earrings | Sunglasses | Black Sandals | Red And Pink Sandals | Sneakers | Yellow Handbag | White Fringe Purse |

You might also like:
How to Build an Easy Summer Holiday Packing List
What to Pack for a Weekend Trip in Summer
What to Pack for 10 Days in Summer
How to Build a Summer Cottage Packing List
A Mini Summer Packing List
SHOP THE UK LINKS


This post contains affiliate links. By using my links to shop I may receive a small commission (at no cost to you). Thanks for supporting what I do