Summer Vacation Packing List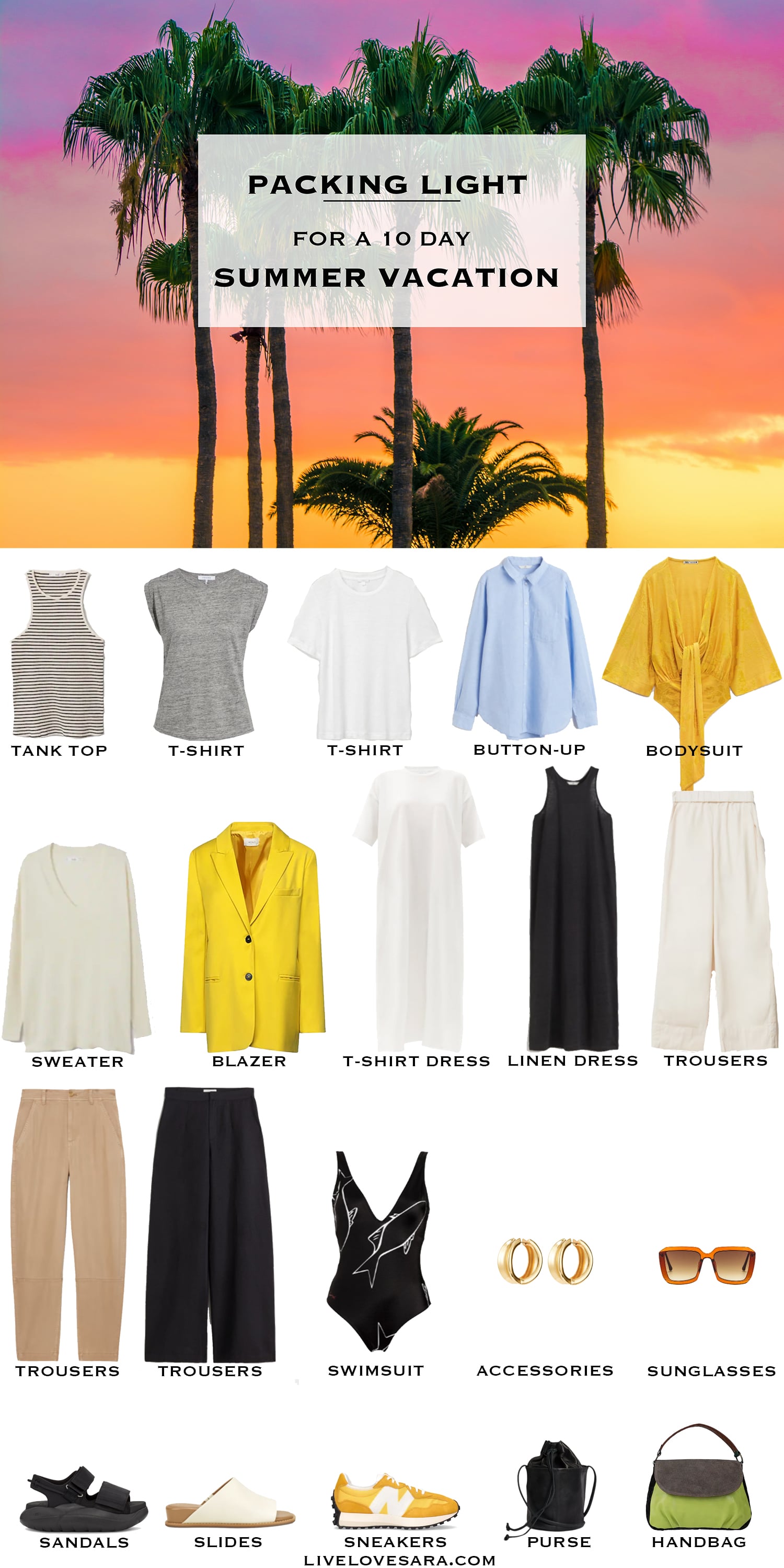 Tank Top | Grey T-shirt | White T-shirt | Blue Linen Button-up | Yellow Bodysuit | Sweater | Yellow Blazer | White T-shirt Dress | Black Linen Dress | White Trousers | Brown Trousers | Black Trousers | Swimsuit | Earrings | Sunglasses | Sandals | Slides | Sneakers | Black Purse | Green Bag

Over the past week I have noticed a huge influx of traffic to my summer vacation packing lists. Mainly my Italy based ones, especially the Florence packing list.
So if you are headed there, be warned that apparently a lot of other people are too.
Then I started reading reports about how the Canadian passports are extremely backlogged if you need a new one, which prompted me to get the paperwork ready to get mine and both girls' passports.
Because every single piece of my identification expired during the last two years, and I was unable to get them renewed due to closures.
Now that everything is open, so many people are trying to get them that it has caused a huge wait time.
That's a long-winded way of saying that several factors inspired me to put together a summer packing list because there is an obvious demand for it.
People are making up for lost time.
With this summer vacation packing list, I stuck with mostly neutrals, because they are so easy to wear and so easy to mix and match.
It doesn't need much thought in outfit planning, yet they always look good, so you can spend your time focusing on the important things.
Travel footwear is usually the hardest choice because it can be difficult to find something that is really comfortable, while still looking not super orthopaedic.
I picked some UGG sandals that apparently feel like you are "walking on a cloud", slides by Areosoles that have rave reviews, and a pair of sneakers in a fun colour that are actually one of the most comfortable sneakers that I have owned.
Mine are in black and white though, although I now want them in yellow.
The yellow sneakers set the tone for the rest of the wardrobe.
I usually pick one piece that sets the theme and the sneakers were it today.
While most are neutrals, I sprinkled in some more yellow for that much needed burst of colour.
For summer vacation outfits I tend to steer away from denim jackets as the light jacket option.
Although I do love a good denim jacket and have my eye on a vintage one on Poshmark, it would be a great second jacket option to have.
But if you are only bringing one I like to focus on the blazer.
There is so much versatility in a blazer, and they come in a million colours, patterns, and fabrics.
They will instantly dress up a casual summer dress for the evening, and are just an overall well-rounded travel wardrobe staple.
Once again I went with the yellow because it is just so damn good.
Many people like to avoid shorts in general, but also when travelling, because depending on the location, a pair of shorts may scream tourist from a million miles away.
Blending in with the locals fashion-wise is the goal of many, so I included several pairs of trousers in lightweight summer fabrics like linen and Tencel.
But if you love shorts, then go for a dressier option that is a bit longer. Something like these.
And the thing that I love most about trousers is the ability to cuff them to get different looks.
A slouchy pair of cuffed trousers is my go-to right now.
For tops, I went with a variety of tees and tanks, one linen button-up, and one bodysuit in a golden yellow.
Lots of people don't like bodysuits, but the thing I love about them is that you never have to worry about being tucked.
They are easy to wear, and this yellow bodysuit looks like a dressy blouse which is even better.
When thinking about the summer travel dresses I thought of comfort, ease, and simplicity.
You don't want something that has too many ties, zippers, buttons, and elastics. Nor do you want something in a clingy fabric that will be uncomfortable in the heat.
I went with a simple linen, midi dress, and cotton t-shirt dress.
Both are classic styles, and while linen wrinkles, it is also the charm of the fabric which makes it easy to wear.
I always think that it is important to pack at least one sweater or sweatshirt to be included in your summer travel outfits.
Just because it is summer, doesn't mean that you won't encounter a cold day or unexpected weather.
No one wants to be waiting outside in a line-up to see a site, and not be dressed for it.
Anyway, if I could only bring one sweater with me, it would be this one. It is the first one that I grab when I don't know what to wear, and I always feel great in it.
Plus, it is really soft and light.
When I put together packing lists I want you to think of them like a travel packing checklist, or travel packing list template.
You can just mentally drag and drop (for lack of a better phrase) the items that you own that are similar or more to your tastes and keep tweaking until you get a summer holiday packing list that is perfect for you.
I put together vacation outfit ideas for you below to show how versatile this packing list is.
Stay safe, and happy travels.
Vacation Outfit Ideas

Travel Outfit Ideas for Summer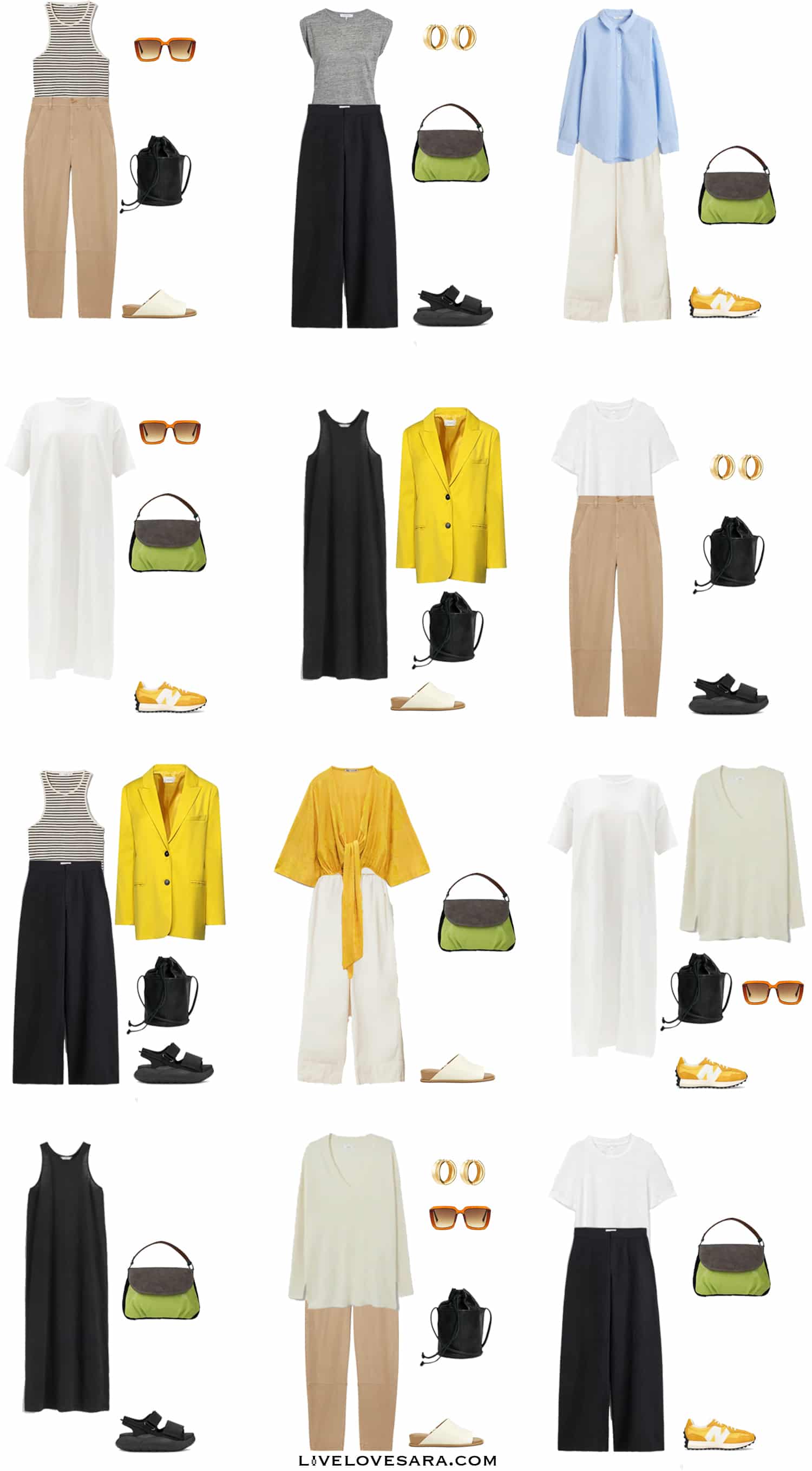 Tank Top | Grey T-shirt | White T-shirt | Blue Linen Button-up | Yellow Bodysuit | Sweater | Yellow Blazer | White T-shirt Dress | Black Linen Dress | White Trousers | Brown Trousers | Black Trousers | Swimsuit | Earrings | Sunglasses | Sandals | Slides | Sneakers | Black Purse | Green Bag

You might also like:
What to Pack for a Weekend Trip in Summer
What to Pack for 10 Days in Summer
How to Build a Summer Cottage Packing List
A Mini Summer Packing List
SHOP THE UK LINKS


This post contains affiliate links. By using my links to shop I may receive a small commission (at no cost to you). Thanks for supporting what I do