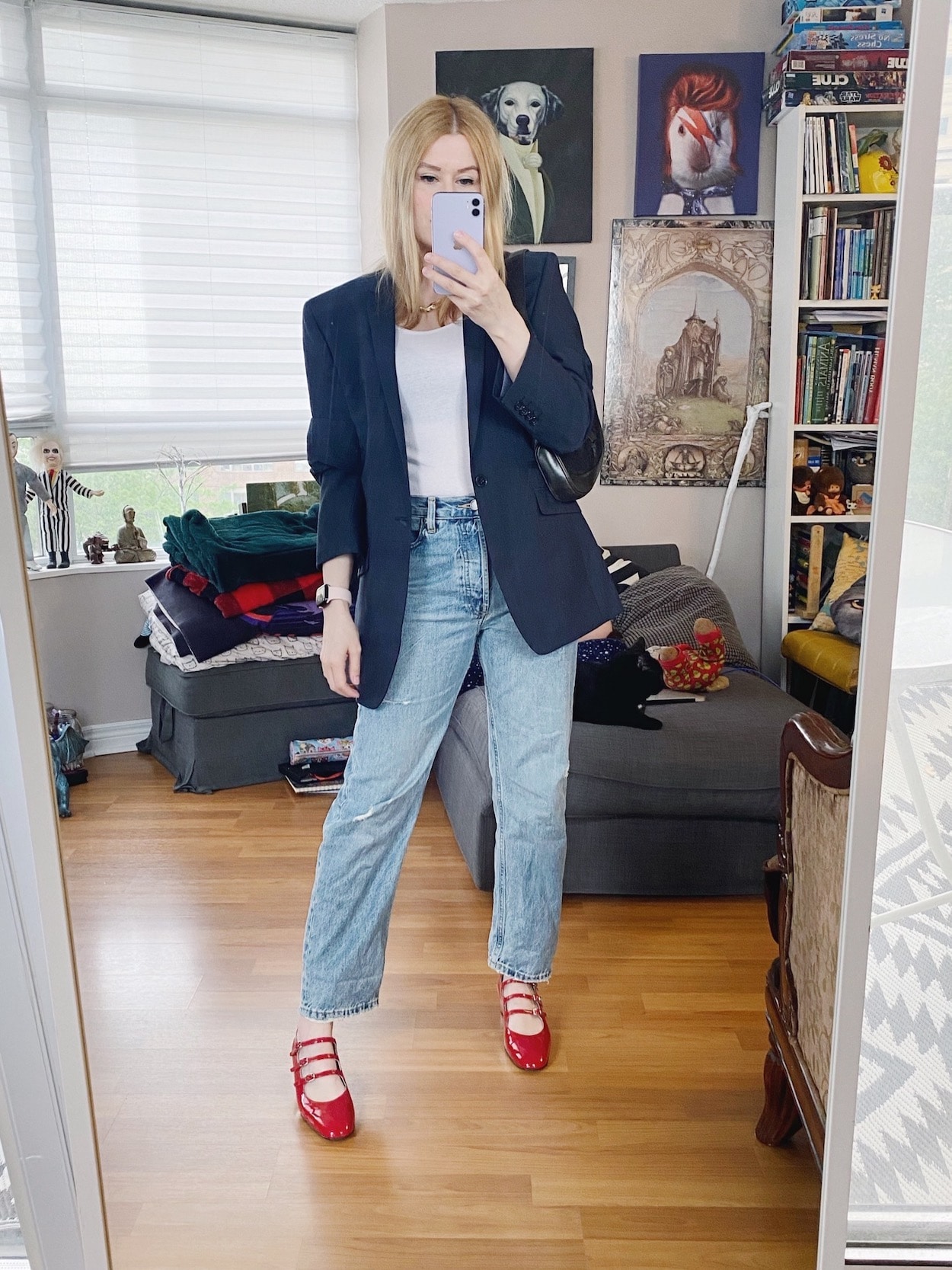 Outfit 1 – Yellow Sweater (similar) | Men's Trousers (thrifted) | Birkenstocks | Bag
Outfit 2 – Tank Top | Vintage Trousers | Sandals | Belt | Sunglasses | Bag
Outfit 3 – Linen Sweater | Jeans | Birkenstocks | Bag
Outfit 4 – Tank | Jeans | Mary Janes | Blazer (Similar) | Bag

I just spent the last 20 minutes standing on the balcony drinking coffee and eating pie while watching the people in the public park across the street doing a group exercise class.
It is a popular area for hanging out and is also a shortcut for people coming home from the mall if they live around me.
Which makes me wonder how many people were just walking by and decided that they would join the exercise group?
Because there were definitely people not dressed in like they intended to exercise, and there we people with bags all around them like they just dropped them and joined.
It's kind of funny because I would absolutely never join a public exercise class, and definitely not on an impulse while walking home.
Kudos to them for being braver and more motivated than I.
It also looks like it is going to rain and people have started to congregate under the sun tents that have metal poles.
Probably not the best decision.
On a positive note I was able to get all 4 of the new Monster High reboots for the girls.
They collect the old ones and were so excited about them being rereleased.
They are only being sold in Walmart and were released in the US a few weeks ago with no Canadian release date given.
I happened to find one doll in stock in the store, and then two in stock online that I could preorder (they've been shipped and are due to arrive tomorrow).
The last one popped up on the website as in stock on Friday morning, so I grabbed it quick.
They are all listed as out of stock currently but if you are looking then it pays to pop down to a store, and see if there are any randoms on the shelf.
Also, the online stock seems to come and go quickly so check often.
The US site just has them listed by resellers for double what they went for originally.
I hate people that do that. It pisses me off so badly.
Stay safe.
SHOP THE UK LINKS


This post contains affiliate links. By using my links to shop I may receive a small commission (at no cost to you). Thanks for supporting what I do