Summer Packing List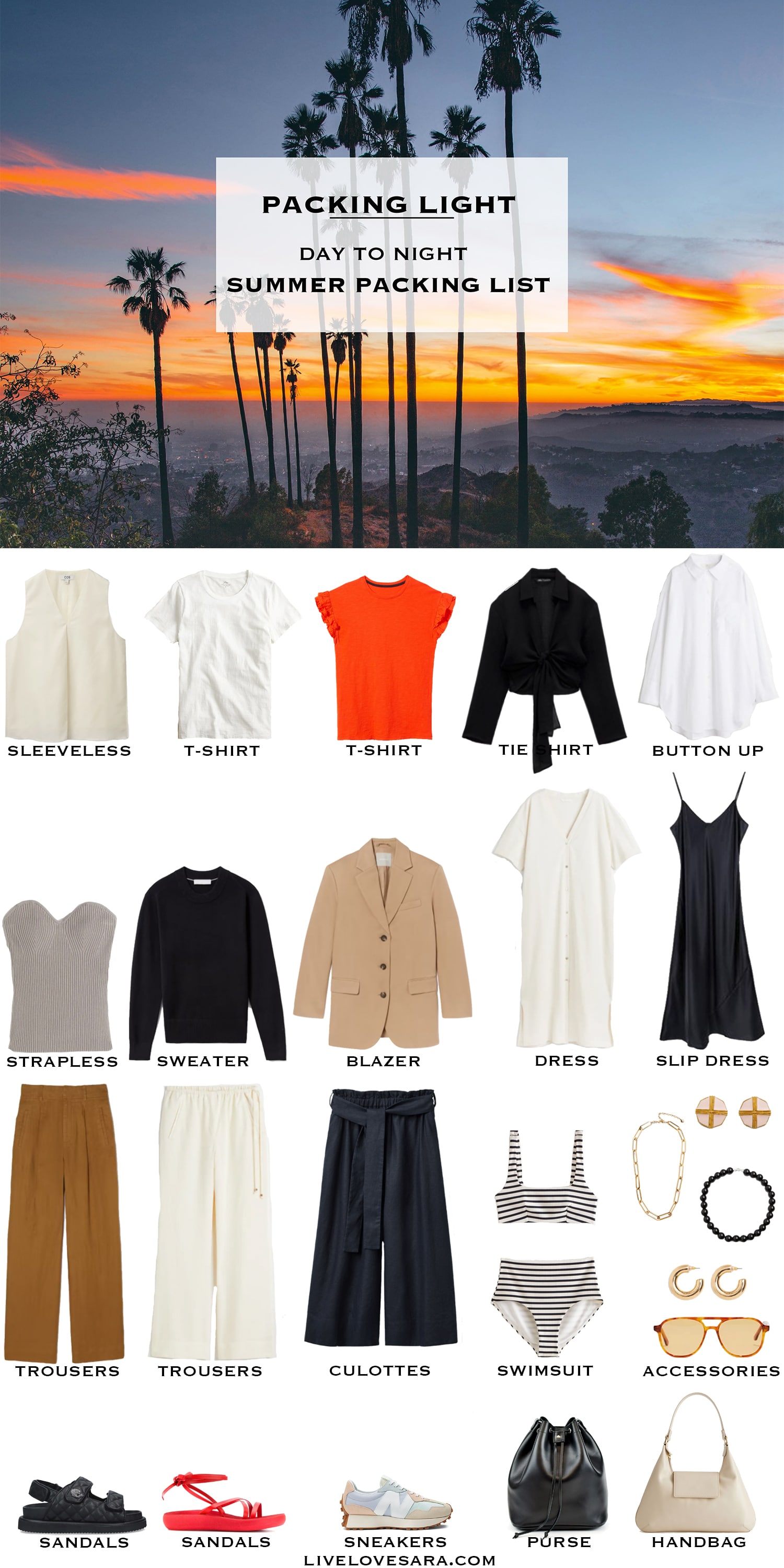 Sleeveless Top | White T-shirt | Red T-shirt | Black Tie Waist Shirt | Oversized Linen Shirt | Strapless Top | Sweater | Blazer | White Dress | Slip Dress | Brown Trousers | White Trousers | Navy Culottes | Swimsuit (Top, and Bottom) | Link Necklace | Black Necklace | Hoop Earrings | Pink Earrings | Sunglasses | Black Sandals | Red Sandals | Sneakers | Bucket Bag | Purse

It always surprises me when an old post of mine starts to get a lot of traffic again. The packing list I am talking about is probably around 7 years old and the clothing style is quite dated, so I am not sure why it's making rounds again.
I took that as a hint to make a new post about the same topic with updated selections.
It was a day to night packing list that showed how to take your day look and tweak it for a more elevated night-time look.
I think people like to know how they can easily transform their day look instead of having to pack a bunch of clothes that would work for going out.
As long as you don't have an even that requires black tie, or cocktail dress then you shouldn't have to include separate dressy pieces.
If you are intentional when you are putting together your travel wardrobe and pick pieces that are not all basics and casual wear, then you should have no issues making your look dressier.
Straight across the board with any type of wardrobe that I am putting together, whether it is capsule wardrobes, or travel wardrobes I follow the same steps.
For every piece that I choose to add to that seasonal wardrobe whatever is, I always make sure that I can think of at least 5 different ways that I can wear that piece.
One of those ways should include a dressier outfit.
That doesn't mean super fancy, that just means that it will work well in an outfit that requires you looking chicer and put together.
When it comes to travel outfits, the options are more limited than when you are at home, so you need to pick versatile pieces, and use accessories, shoes, handbags, and hair and makeup to do the work for you.
It's shocking what a nice pair of earrings, a sleek hairstyle, and a little lipstick can do to elevate your look and this doesn't take up room in your suitcase.
You also need to make certain that you preplan these outfits, so when you need to dress up its just a quick matter of a few small changes, and you are right back out the door.
Nothing is more stressful than an ill packed suitcase that includes everything but the kitchen sink, yet you still seem like you have nothing to wear.
PREPLAN YOUR OUTFITS.
Preplanning lets you see how versatile a piece is and if you struggle to make a few outfits, then you should consider swapping it for something that will work better.
Five must-have travel wardrobe essentials due to their versatility and ease of wear are:
1. A couple of t-shirts. T-shirts are basic, but they are also extremely easy and can be dressed up easily because of this. They layer well, so it also gives you more options than a lot of other styles of shirts.
2. An oversized white shirt. Not only does it dress up and down easily, it can also double as a swimsuit cover.
3. A cashmere sweater. It is soft, chic, and always looks great. I like to go up several sizes to get a looser fit. You can also opt for men's because they are the same cut but are more relaxed in their fit.
4. A slip dress has been a staple for me since the early to mid 90s. They have been around that long for a reason and that is because they are extremely versatile yet very easy to wear.
Layer under for a casual look, layer a sweater over to make it look like a skirt. Alone or with a blazer they are very sexy. They are my favourite.
5. Comfortable trousers in a few cuts and colours. I like a higher rise and wider leg because a higher rise works well with a shorter top like the black wrap top. A little skin peeks out but not your whole stomach.
As I have stated a million times, I hate shorts. Always have. And depending on where you travel, shorts aren't always a common way of dressing there so a nice trouser in a weather appropriate fabric is always a safe choice.
The strapless top is a piece that I just added in as an extra at the end. I found it fun, trendy, and you can layer it under something as well as over a t-shirt for a more conservative look if you want.
For footwear, I tend to stand by the three pair rule. That includes the pair you are wearing for travel. Because of this, I tend to not include heels unless you have an event since they aren't a versatile option.
That being said, you can bring a fourth pair of shoes if you feel that having a heel option is a must, or you can include as your third if you think that you will get a lot of wear out of them.
If you do, then a block heel like this is a better choice because of the width of the heel. Skinny heels can get stuck.
If you don't like heels, then a nice black flat, slide, sandal, or mule is a good option.
I also really love a bright colour sandal that wraps. Straps are fun because you can cuff a pant to show them or even wrap them over the bottom of pants to cinch them in and give a different look.
The real MVPs of packing light are accessories.
In this summer packing list I included a couple of pairs of earrings, and some necklaces. You could bring even more if you like to switch it up.
Just get a good accessories case and it will take up little to no room in your suitcase but make a huge difference.
Never underestimate the power of an accessory, and its ability to transform your looks.
Women's Travel Outfits

Day to Night Outfits
Women's Summer Outfits
Sleeveless Top | White T-shirt | Red T-shirt | Black Tie Waist Shirt | Oversized Linen Shirt | Strapless Top | Sweater | Blazer | White Dress | Slip Dress | Brown Trousers | White Trousers | Navy Culottes | Swimsuit (Top, and Bottom) | Link Necklace | Black Necklace | Hoop Earrings | Pink Earrings | Sunglasses | Black Sandals | Red Sandals | Sneakers | Bucket Bag | Purse

You might also like:
How to Build an Easy Summer Holiday Packing List
What to Pack for a Weekend Trip in Summer
What to Pack for 10 Days in Summer
How to Build a Summer Cottage Packing List
A Mini Summer Packing List
SHOP THE UK LINKS


This post contains affiliate links. By using my links to shop I may receive a small commission (at no cost to you). Thanks for supporting what I do