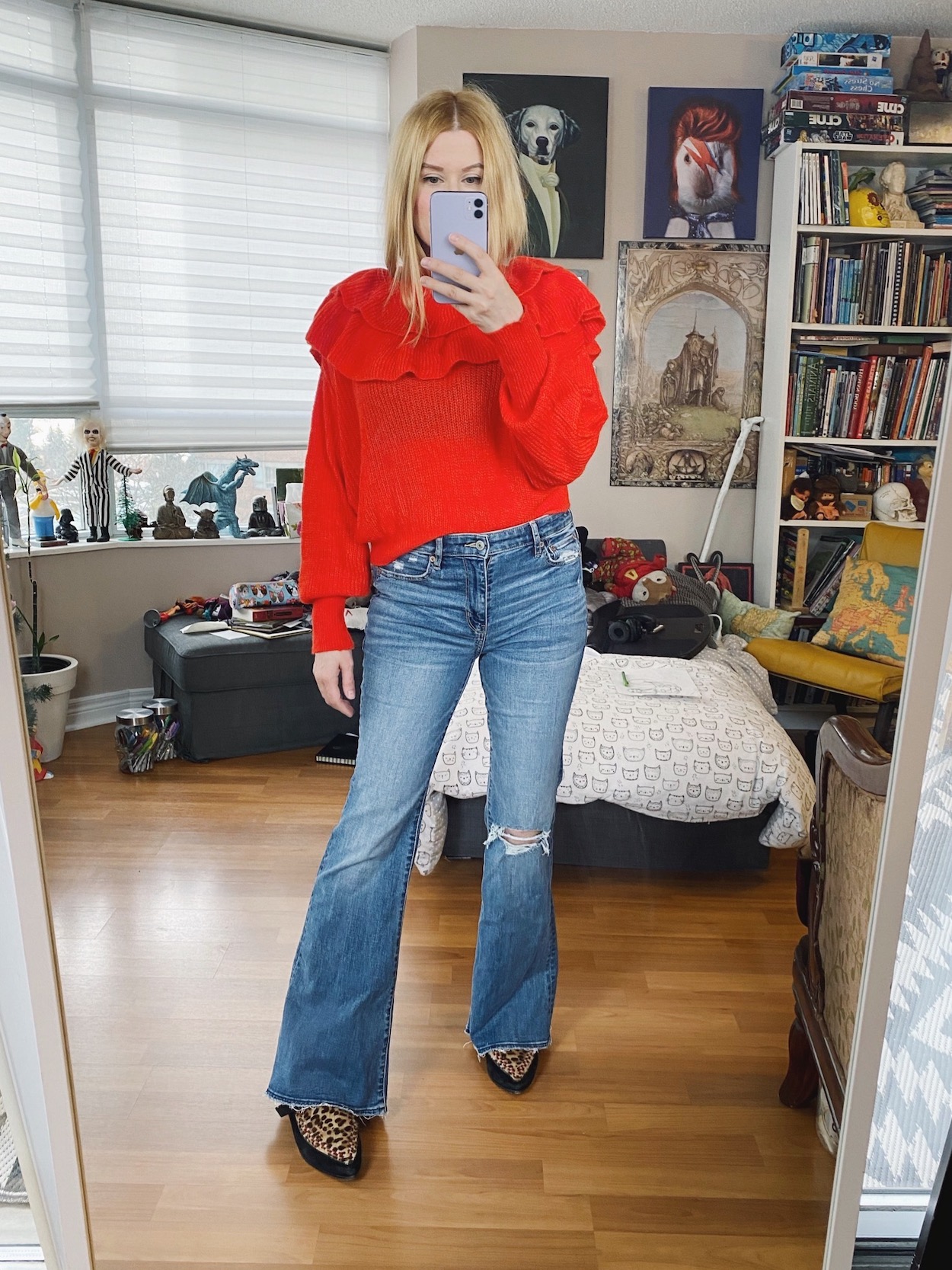 Outfit 1 – Sweatshirt | Vintage Blazer (similar) | Vintage Trousers | Sneakers | Purse | Sunglasses
Outfit 2 – Sweater (old) | Flares | Boots
Outfit 3 – Cropped Tee | Blazer | Joggers | Sneakers
Outfit 4 – Button Up | Coat | Trousers | Boots
Outfit 5 – Cashmere Sweater | Leather pants | Coat (similar) | Boots | Tote | Sunglasses

Honestly, though, where does the day go? How about the weekend? It's 10 pm, and I am finishing this, with plans to start reading the next chapters for one of my classes because the book finally arrived.
I feel like my plans to figure out my school/work/life balance went into the shitter.
…or just life balance in general.
Anyway, something fun. Goldie the mannequin got a makeover tonight. I'm not even sure where Tom sourced it, but she is wearing a Paul Stanley from Kiss outfit now.
Wig and huge platform boots included.
No mask though, and while we could paint her face, I am not very keen on that idea.
Now she is probably about 6'5″, maybe even taller.
There is a new Thai food place in town and damn it is good. The mango salad is one of the most addictive things that I have ever eaten.
And their noodle dishes are incredible.
I also realized that it is actually just down the street when I noticed that it showed my Uber Eats driver was in fact walking my order over.
So now I feel lazy and embarrassed because it would be a literal 5-minute walk.
Has anyone noticed their feet getting bigger as they get older?
I've noticed over the past couple of years that my feet seem to be larger than they used to. I've been a pretty standard size 8 US shoe since I was 15. Now I feel like I am more an 8.5.
Either that or shoe sizing is getting weird and inconsistent like the rest of women clothing across brands.
This is so frustrating since I order most of my stuff online, and many things I buy are secondhand and non-refundable.
Talk about taking a gamble, when I am a non-gambling kind of person.
Stay safe.
You might also like:
What I Wore Last Week
SHOP THE UK LINKS


This post contains affiliate links. By using my links to shop I may receive a small commission (at no cost to you). Thanks for supporting what I do