Fall Capsule Wardrobe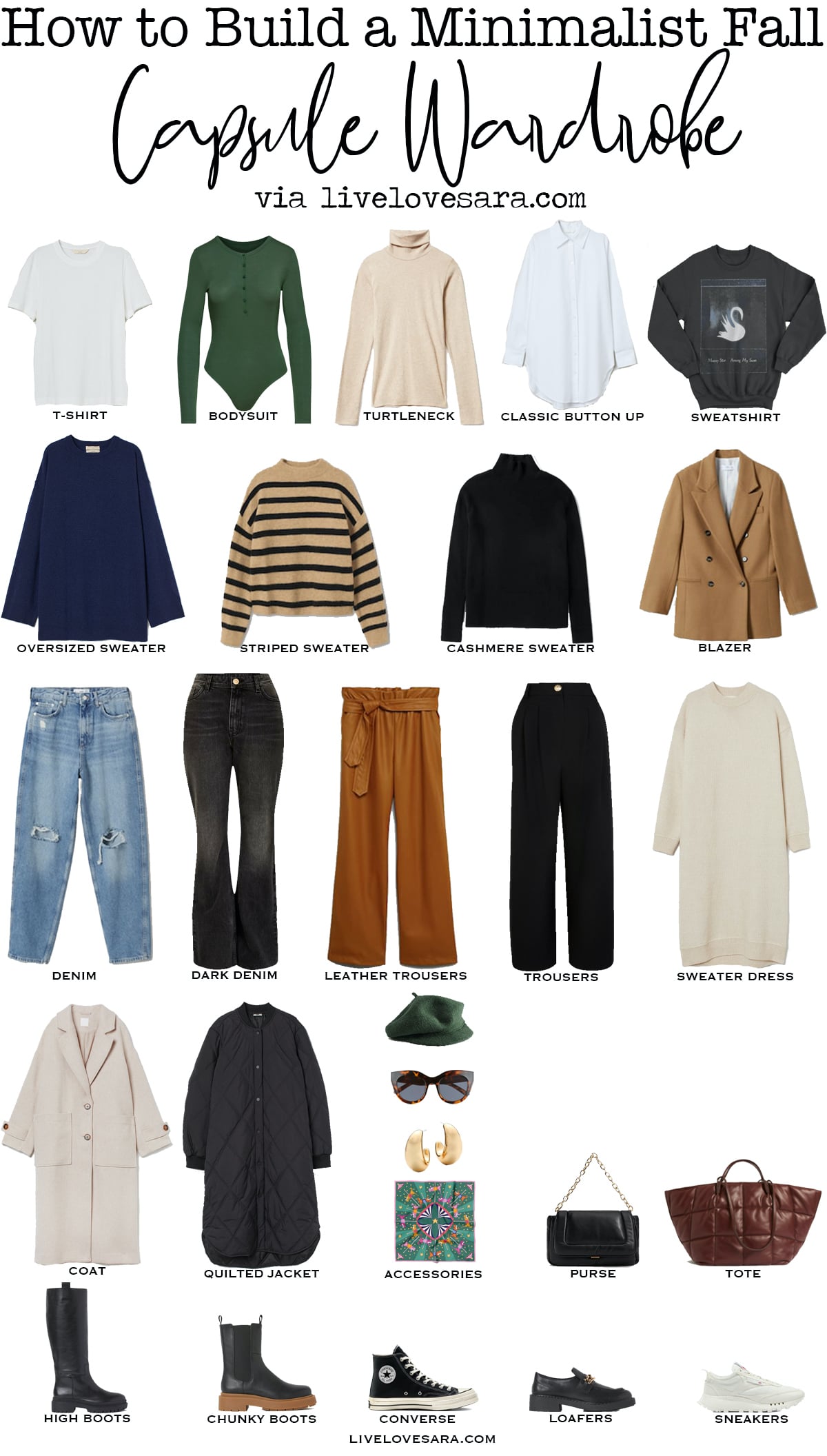 T-shirt | Bodysuit | Turtleneck | Classic Button-up | Sweatshirt | Oversized Sweater | Striped Sweater | Cashmere Sweater | Blazer | Jeans | Dark Denim | Leather Trousers | Trousers | Sweater Dress | Coat | Quilted Jacket | Hat | Sunglasses | Earrings | Scarf | Purse | Tote | High Boots | Chunky Boots | Converse | Loafers | Sneakers

At the rate we are going I feel like I am going to have to keep dipping into my summer wardrobe. Will it be winter before I get to use all of my fall stuff? This weather is crazy.
Watch, now that I said that winter is going to be the coldest on record. It wouldn't surprise me. I am partial to cold any day of the year, but some of these colds snaps over the last few years have been brutal.
Anyway, I did a minimalist capsule wardrobe post last week and it was a very cool tone palette. After I posted I had a couple of people ask if I could do another one but replace the greys with warmer tones since they can't wear grey.
I totally get that. I love wearing grey and wear it a lot. I can get away with it since I have some characteristics that fall on the cool spectrum (my eyes are a darker grey-blue).
But my skin has yellow tones, and my hair is golden blonde so in reality the browns and warm colours tend to make me look better.
It was the opposite when I had platinum hair, which I did for many years.
I mentioned in my last post (and by mention I mean a sentence at the end of the post), that my season colour palette is late spring, but it's on the fence of being a light summer which broadens the colours that I can wear.
If you are interested in the topic of colour seasons you can read more about them here. Scroll to the bottom to see the entire list of seasons that you can click on the read about. It's really informative.
I'm not going to repeat last week's post with five things that you should remember when building a fall capsule except for number two on the list: Make sure to size up in certain coats, and jackets.
It is important so that you can wear them over sweaters. Otherwise, it can be very uncomfortable. This is most important in leather jackets (unless it is an oversized cut) and blazers.
Regular seasonal coats and jackets like trenches, quilted styles, or wool jackets tend to be made roomier to accommodate bulkier clothes so your usual size should be fine in those styles.
I also want to mention that I tend to go up a size in cashmere or merino wool crew style sweaters (a fall wardrobe staple of mine) because I like them a bit slouchier and having the option to layer t-shirts and button-ups underneath.
Five Fall Wardrobe Staples Everyone Needs
1. A classic button-down in white, black, blue, or striped…or all of the above. I live in these all year long but in fall I use them as a layering piece. I love a slightly oversized (or really oversized) fit. I could easily wear them every single day.
2. A cashmere sweater. Cashmere is just so damn luxurious feeling, and it will be a piece that you have forever if you take care of it properly. Proper care is such an important part of maintaining your wardrobe so if you are unsure of how to care for these more delicate pieces, there is a vast amount of knowledge online on these techniques.
What I love about online shopping is that it gives you so many options. Cashmere is expensive, but it is also possible to find a great cashmere sweater for a ridiculous deal if you don't mind a little hunting around.
I recently saw Vince striped cashmere sweater on a secondhand designer website for $35. I missed the boat on it because I was searching around to see if there was anything else that I wanted and it sold. I should have just bought it right away.
Anyway, many retailers offer sales, discounts, and/or delayed payments (like Afterpay or Sezzle) on things to make things more available to everyone. Also check places like Poshmark, Etsy, or Ebay for any steals you can find.
3. Leather Trousers are always a staple. I have two pairs of black leather trousers, one in a straight leg and the other wide, and a wide-leg pair of brown trousers. I wear them with everything, and it always bums me out when leather pant season comes to an end because I wear them so much.
I find that Zara can't be beaten for affordable leather trousers in great cuts. Mango also has many but they tend to sell out really quickly for some reason.
4. A quilted jacket is still going strong. Long, short, or mid-length there is an option for everyone. I was obsessed with the Frankie Shop jacket but it was just too bloody expensive when all the fees and conversions were taken into consideration.
I ended up getting the Everlane shorter liner jacket instead. I sized up in order to get that more oversized look that the Frankie Shop jacket has and it will do the job this season.
I also wanted the Ganni extra-long quilted jacket, but once again didn't want to pay that much. I ended up finding this one from Massimo Dutti that looks a lot like it for more than half the price.
Every retailer seems to have their own versions in a variety of colours like this one from H&M. I like the belted simplicity of it.
5. And finally, knee-high boots with a chunky sole. They kind of remind me of a modern version of the 70s boots that everyone tucked their pants into except with a more minimalistic vibe.
I've seen some great colours in these but would probably go with black since that would go with my wardrobe better.
And the goal is to get as much variety as you can from your wardrobe.
You can't go wrong with cognac though and if I was in the market for two pairs I would definitely get one of each. I still do have my knee-high cognac boots from Everlane a few years ago that actually look a lot like the block heel Prada boots this season. I should pull those out.
I'm glad I didn't sell them on Poshmark like I was going to.
I will reiterate what I have been saying for years, DO NOT EMOTIONAL PURGE. You will absolutely regret it.
Stay safe.
Minimalist Outfits for Women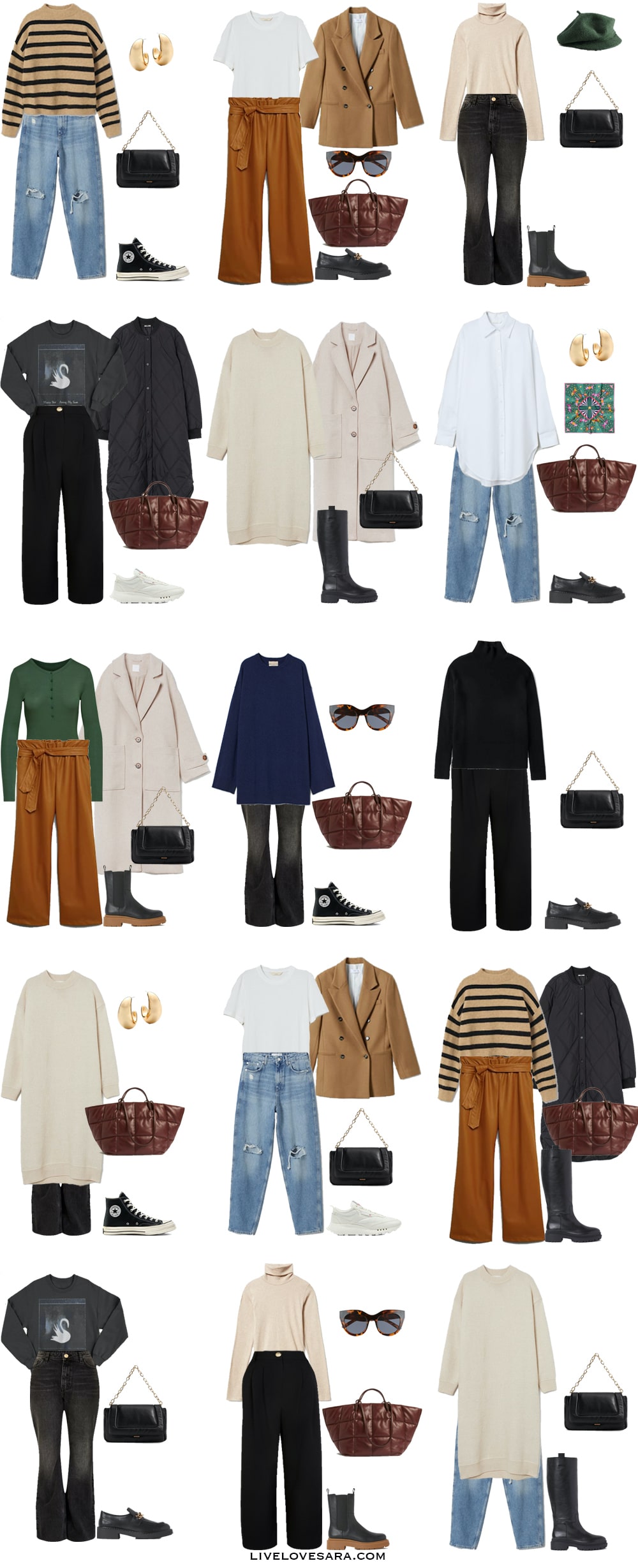 Easy Fall Outfits for Women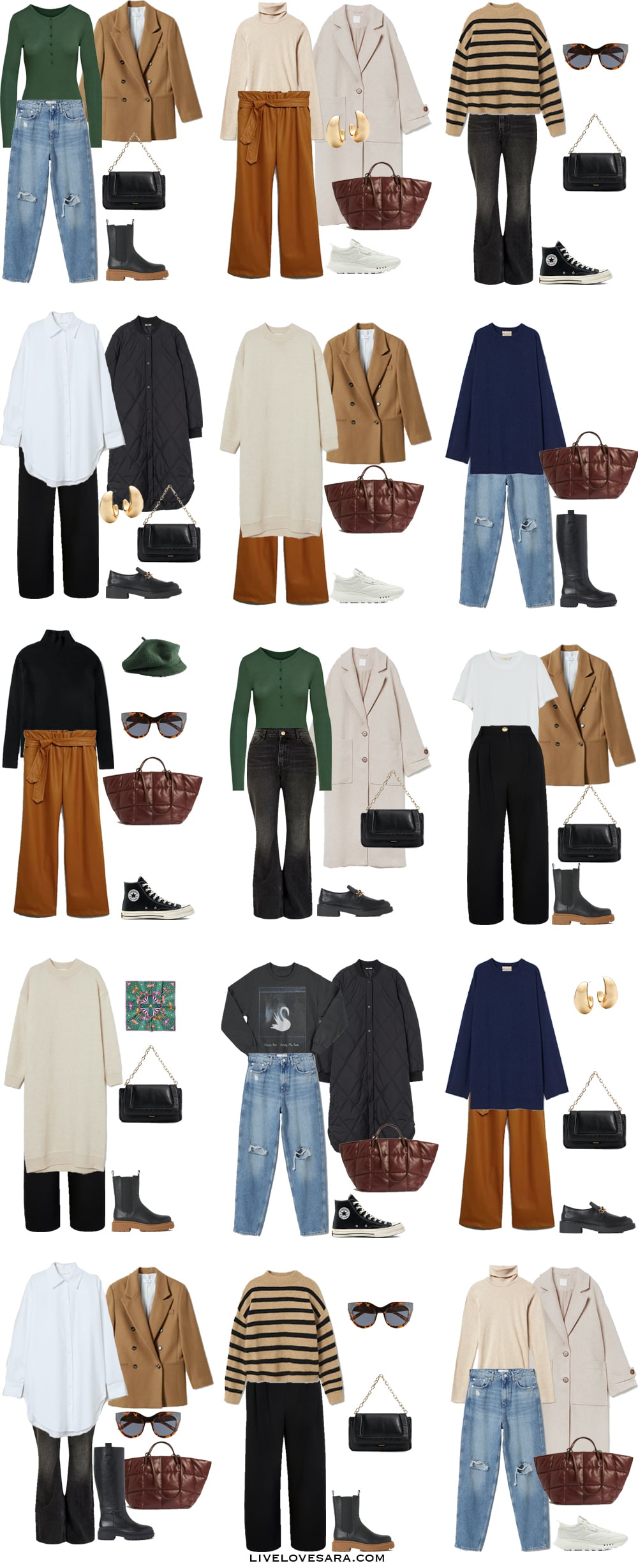 T-shirt | Bodysuit | Turtleneck | Classic Button-up | Sweatshirt | Oversized Sweater | Striped Sweater | Cashmere Sweater | Blazer | Jeans | Dark Denim | Leather Trousers | Trousers | Sweater Dress | Coat | Quilted Jacket | Hat | Sunglasses | Earrings | Scarf | Purse | Tote | High Boots | Chunky Boots | Converse | Loafers | Sneakers

You might also like:
How to Build a Minimalist Capsule Wardrobe for Fall
How to Build a Dramatic Classic Capsule Wardrobe for fall
How to Build a Stay at Home Mom Capsule Wardrobe for Fall
How to Build a Complete Fall Capsule Wardrobe
How to Build a Fall Capsule Wardrobe on a Budget
The Ultimate Fall Capsule Wardrobe
How to Build a Fall Work Capsule Wardrobe
SHOP THE UK LINKS


This post contains affiliate links. By using my links to shop I may receive a small commission (at no cost to you). Thanks for supporting what I do