A Dramatic Classic Capsule Wardrobe for fall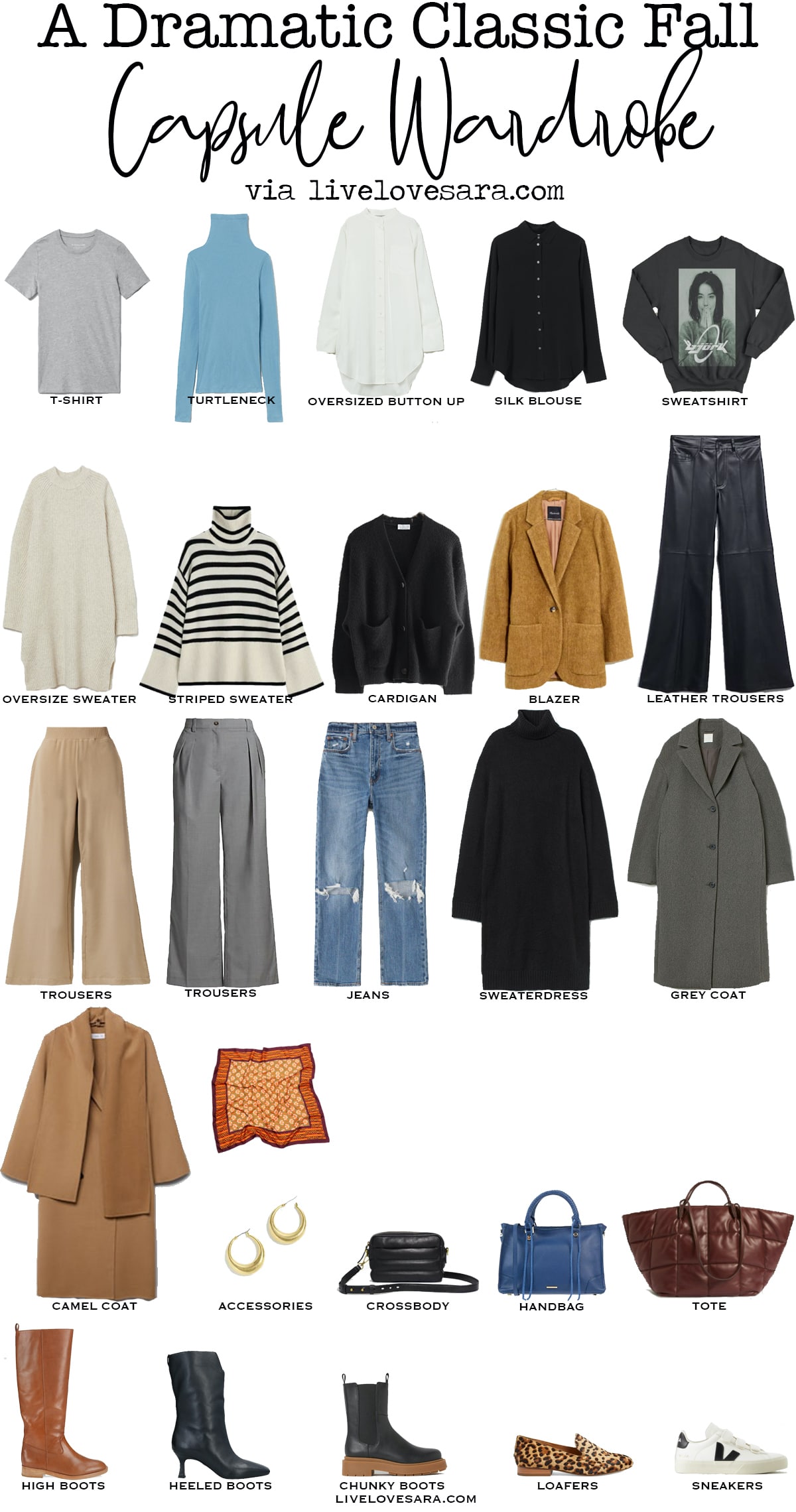 T-shirt | Turtleneck | Oversized Button Up | Silk Blouse | Sweatshirt | Oversized Sweater | Striped Sweater | Cardigan | Blazer | Leather Trousers | Tan Trousers | Grey Trousers | Jeans | Sweater Dress | Grey Coat | Camel Coat | Scarf | Earrings | Crossbody | Handbag | Tote | High Boots | Heeled Boots | Chunky Boots | Loafers | Sneakers |

Today I am sharing some of my scholarly wisdom…and by scholarly wisdom I mean some of the things that I learned in school last week. So we will start with the question of what does dramatic classic means?
If you are new here, I decided that I wanted to go back to school this year to learn how to become a stylist. Last week was my first week, so this week I am incorporating some of the things that I learned.
The focus was determining what our body types and fashion personalities were. Figuring out our own, and how to help people figure out theirs.
After completing I determined that both of mine are Dramatic Classic. I actually mentally questioned this at first, but the more I thought about it and read about them the more I agreed that it was reflective of me.
The body type evaluation is based on Kibbe's 13 body types.
If you haven't read about it Kibbe's I recommend that you do because it is really interesting and gives you some great perspective on dressing. This is a great quiz. I am probably going to take it again to see if mine changes at all because I was really tired when I took it originally.
I decided after some research and reflection that it actually makes a lot of sense and based on my newfound knowledge I decided to build a capsule wardrobe that goes along with that fashion personality.
When I was determining my fashion personality I ended up scoring the same in classic and dramatic. Most people have one category that usually scores higher than the rest, but since mine were tied I get to borrow from both personalities.
Which is actually super fun.
Kibbe's dramatic classic body type is not from scoring equally in both categories, it is an actual combination that is considered to be one of the 13 body types, so I found it funny that they both ended up being the same.
I guess it makes things easier that way.
Dramatic classic body types are different from the style personality since they are reflective of what looks best on your body shape vs what your clothing preferences are.
BUT while it has its own style rules they actually compliment the dramatic classic style personality perfectly which makes it much easier for me.
As guidance, a dramatic classic body type should wear clothing that is a combination of symmetrical, sharp, sculpted, and tailored.
I am very drawn to classic pieces that I can mix with bolder pieces for visual stimulation, so it seems that while I was completely uneducated on these types before I was actually making clothing decisions that worked well for me.
So for today's fall capsule wardrobe, I thought that I would focus on this style of personality to help make it clearer visually for those of you who may fall into one or both of the categories.
This post isn't about dressing this particular body, I am just focusing on the style personality since there are no "rules" involved.
The dramatic classic capsule wardrobe for fall focuses on pieces that are classic wardrobe staples with the dramatic edgier pieces added in to balance it.
I hope that this wasn't a lot of convoluted information overload that left you thinking, "Huh? What are you even talking about Sara?"
To break it down and make it clearer. Do you like to dress classic?
Do you like to dress dramatic or add a touch of drama to your outfits?
Do you like both?
If you answered yes then this post should guide you in the right direction.
Stay safe.
Dramatic Classic Capsule Wardrobe Outfits

Easy Fall Outfits for Women

T-shirt | Turtleneck | Oversized Button Up | Silk Blouse | Sweatshirt | Oversized Sweater | Striped Sweater | Cardigan | Blazer | Leather Trousers | Tan Trousers | Grey Trousers | Jeans | Sweater Dress | Grey Coat | Camel Coat | Scarf | Earrings | Crossbody | Handbag | Tote | High Boots | Heeled Boots | Chunky Boots | Loafers | Sneakers |

You might also like:
How to Build a Stay at Home Mom Capsule Wardrobe for Fall
How to Build a Complete Fall Capsule Wardrobe
How to Build a Fall Capsule Wardrobe on a Budget
The Ultimate Fall Capsule Wardrobe
How to Build a Casual Fall Capsule Wardrobe
How to Build a Fall Capsule Wardrobe with Neutral
How to Build a Fall Work Capsule Wardrobe
Fall Capsule Wardrobe Essentials
SHOP THE UK LINKS
Grey Coat | Chunky Boots | Sweater Dress | Turtleneck | Oversized Sweater | Oversized Blouse |

This post contains affiliate links. By using my links to shop I may receive a small commission (at no cost to you). Thanks for supporting what I do