Capsule Wardrobe on a Budget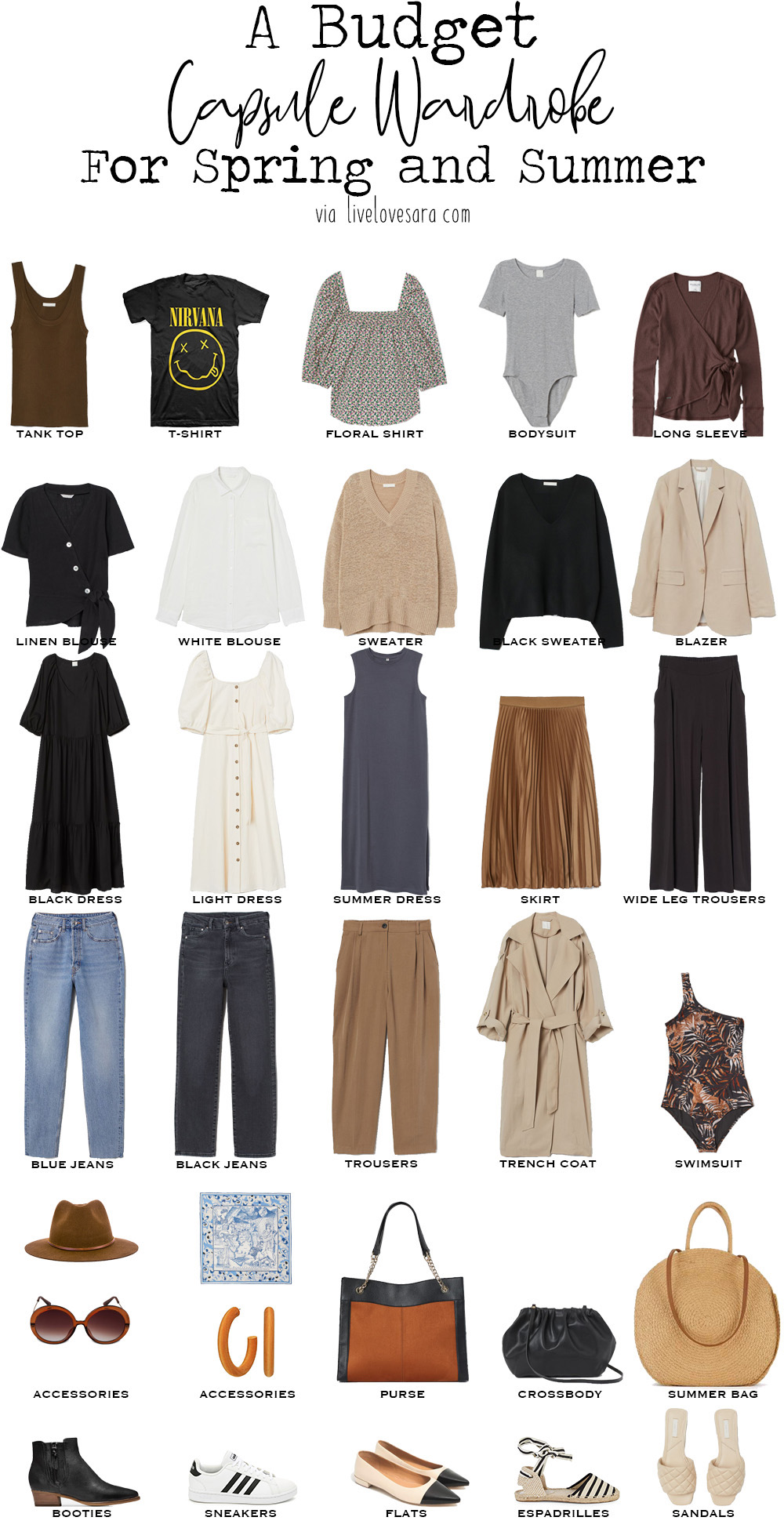 Tank Top | T-shirt | Floral Shirt | Bodysuit | Long Sleeve | Black Linen Blouse | White Blouse | Brown Sweater | Black Sweater | Blazer | Black Dress | White Dress | Sleeveless Dress | Skirt | Wide Leg Trousers | Blue Jeans | Black Jeans | Trousers | Trench Coat | Swimsuit | Hat | Sunglasses | Scarf | Earrings | Purse | Crossbody | Circle Bag | Booties | Sneakers | Flats | Espadrilles | Sandals |
SHOP THE POST



With being stuck in the house for the last almost 3 weeks, any time I leave I get excited to get dressed in anything that resembles an actual outfit.
Back again this week with a new capsule wardrobe. It's how to build a capsule wardrobe on a budget.
I have had a handful of messages from women who are using at home time to really focus on their spring and summer capsule wardrobe.
Most were looking to fill some holes or update their wardrobe with some affordable options.
I decided that I would put together a budget capsule wardrobe this week to help show that you don't have to spend a fortune in order to dress well.
Now, if you go and start your capsule wardrobe from scratch buying everything new, then this isn't going to be a budget wardrobe regardless of how much you save 😉
BUT if you use my suggestions as inspiration and want to fill a wardrobe hole or two then it will definitely give you a wardrobe refresh while staying within a budget.
Mine wardrobe would more closely resemble an all season capsule wardrobe versus seasonal capsules.
Most of my wardrobe moves forward into every new season except for pieces like winter jackets or winter boots.
Even those are worn in fall and spring though, and really only get fully retired as summer rolls up.
And by retired I mean moved to the back of my closet since I don't have any storage spot to keep seasonal clothing which is another reason why I enjoy a smaller wardrobe.
It's less overwhelming in such a small space.
Since I tend to stick to the same pieces every season, I invest in a small seasonal refresh by adding a couple of well rounded new pieces to breathe life into what I already have.
This season I added these pants that I am super excited to actually wear out of the house. Right now I get to play dress-up fashion show with them.
I also try to motivate myself to come up with new ways to wear everything. Which is why I try to post my daily outfits onto my Instagram account. It helps to keep me somewhat creative.
Wearing the same things day in and day out can get boring and uninspiring which is why we fall into the impulse shopping hole.
By adding a few "new" pieces each season to your capsule wardrobe it will help curb that feeling that you have nothing to wear.
I put new in quotations because they very obviously can be second-hand items, but new to you which can be a game-changer.
I bought some "new" shoes off of Poshmark at the beginning of March (before shit totally hit the fan) and I have not got the chance to wear them out yet.
These are them, and they are reminiscent of the classic Chanel cap toe shoe. They look like the flats that I included in this capsule wardrobe, but they are slingback with a small block heel.
They are by Sam Edelman and I got an exceptional deal on them. They often have them on Poshmark and eBay in great second-hand shoe condition.
Once I am able to actually wear these shoes outside, they will add a nice refresh to my current wardrobe.
Until then though, I will continue planning outfit ideas for spring and summer with what I already have.
If you want step by step capsule wardrobe instructions you can check out my How to Build a Spring Capsule Wardrobe, and The Stay at Home Mom Capsule Wardrobe for Spring and Summer. I will also include some other building a capsule wardrobe posts below.
If you enjoyed my Build a Capsule Wardrobe on a Budget post please feel free to share it via Pinterest, Facebook, or Twitter. Thank you.
This post contains affiliate links. By using my links to shop I may receive a small commission (at no cost to you). Thanks for supporting what I do 🙂
You may also like:
How to Build a Budget Fall and Winter Capsule Wardrobe
How to Build a Winter Work Capsule Wardrobe
A Teacher Capsule Wardrobe Built From Your Closet
A Starter Work Capsule
A Neutral Capsule Wardrobe for Spring and Summer
Budget Capsule Wardrobe Outfits

Budget Outfit Ideas


Tank Top | T-shirt | Floral Shirt | Bodysuit | Long Sleeve | Black Linen Blouse | White Blouse | Brown Sweater | Black Sweater | Blazer | Black Dress | White Dress | Sleeveless Dress | Skirt | Wide Leg Trousers | Blue Jeans | Black Jeans | Trousers | Trench Coat | Swimsuit | Hat | Sunglasses | Scarf | Earrings | Purse | Crossbody | Circle Bag | Booties | Sneakers | Flats | Espadrilles | Sandals |
SHOP THE POST



This post contains affiliate links. By using my links to shop I may receive a small commission (at no cost to you). Thanks for supporting what I do