Winter Work Capsule Wardrobe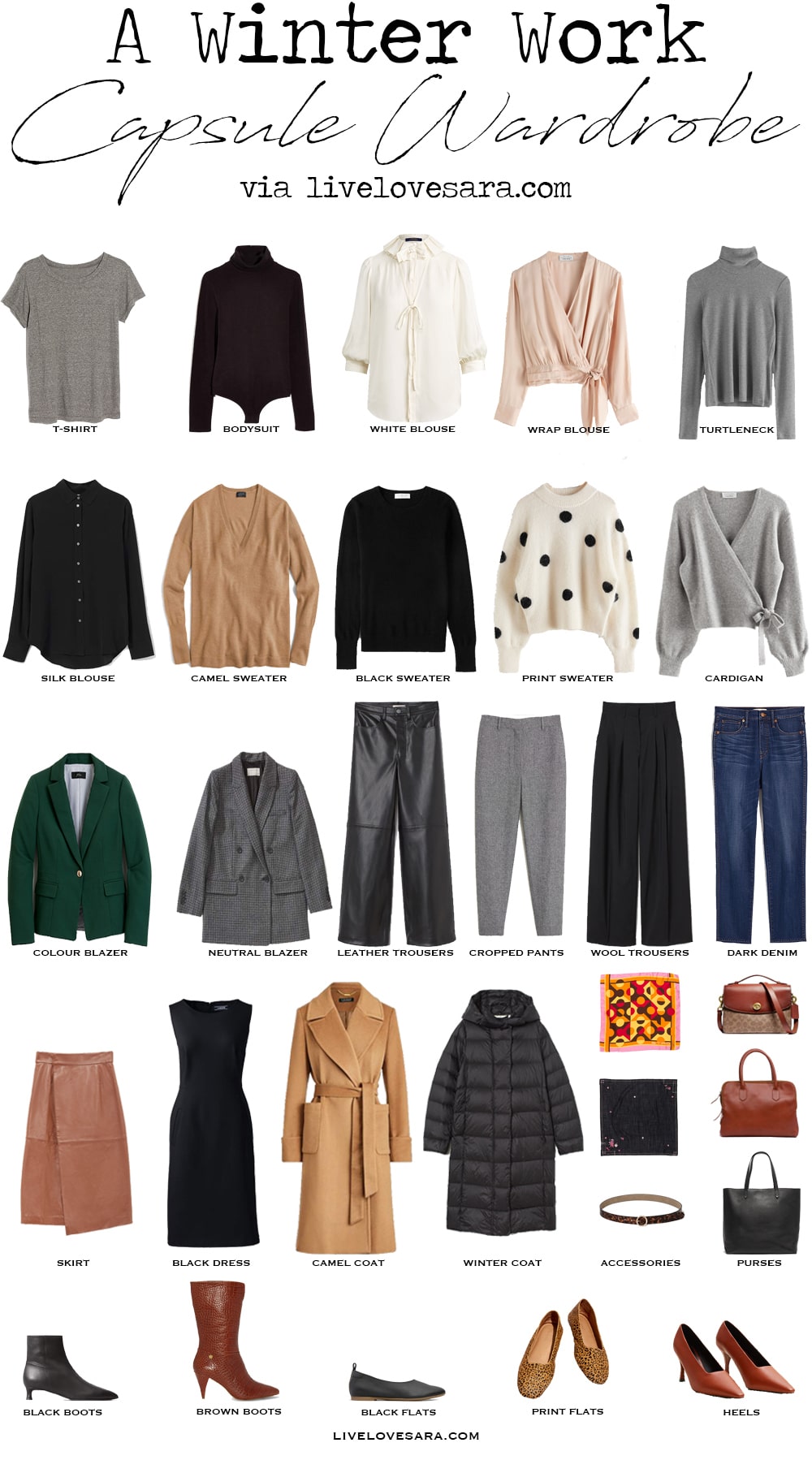 Grey T-Shirt | Black Bodysuit | White Blouse | Wrap Blouse | Grey Turtleneck | Silk Blouse | Camel Sweater | Black Sweater | Polka Dot Sweater | Grey Wrap Cardigan | Green Blazer | Grey Blazer | Leather Trousers | Grey Cropped Pants | Wool Trousers | Dark Denim | Brown Skirt | Black Dress | Wool Coat | Down Coat | Colourful Scarf | Black Scarf | Belt | Small Purse | Cognac Purse | Black Tote | Black Boots | Brown Boots | Black Flats | Print Flats | Heels |
SHOP THE POST



There are those of us that know how to seamlessly go from their work wardrobe to play wardrobe with about as much effort as it takes to change our socks.
And then there are those of us who have no idea what the hell we are ever going to wear to the grocery store, never mind a work wardrobe.
The first type tends to be those people who are incredibly stylish with the most enviable wardrobes.
They seem to always hit it right out of the park with both their work outfits and weekend outfits.
Those are the people that we wish we were.
Chances are if you have made your way to this post that you fall into the second type.
The people who stand staring at their closet every day hoping that people won't notice that they are wearing the same thing they wore to work yesterday because they have no idea what to wear.
I was asked if I could start a new seasonal work capsule wardrobe series.
It will take place 4 times a year for new each season. Since we are into fall right now, it seems pointless to put out a fall work capsule wardrobe.
Everyone in the northern hemisphere is transitioning their wardrobes to winter, so it makes sense to start this series with a winter work capsule.
At the bottom of this post, you will find 36 work outfit ideas that I built from the above pieces, but it would make so many more options.
I literally just finished this post and ran out of time so stopped with the 36.
I hope this helps to give you some work wardrobe inspiration.
How to Build a Capsule Wardrobe for Work
Most people do not have the budget nor the closet space to have a completely separate work wardrobe. This is why it is important to make sure to include pieces that will easily transition to your after work, and weekend wardrobes.
In today's post, I have included a variety of price points.
I like the concept of buying the best pieces that you can afford for staple pieces. The price of those pieces will be different for everyone.
For example, I included a blouse by Ralph Lauren. I like the extra touches this blouse has, and it just looks more luxurious.
If that is way out of your price range you can find blouses at Zara that have similar touches, with a much lower price point.
Any style white blouse will fill the wardrobe slot, it doesn't need to be the examples that I gave you. Think of it as a wardrobe template to use to help guide you and you just fill in the wardrobe slots with items you have or find that will do the job.
You can then make the selections based on your wardrobe budget and colour and style preferences.
Now take into consideration the weather. People in New York will not have the same winter wardrobe needs as those in California.
In New York, you will need a warm winter jacket. Something with down is a popular choice, and then a wool style for a dressier option. You can always dress up a down jacket with a nice cashmere scarf.
You will also need winter footwear for your daily transit that you will swap out for your work shoes when you get there. A waterproof boot or even a sturdy runner is a good shoe option if you take public transit to work.
A California winter work capsule will need a trench instead of a traditional winter coat, and maybe a short slip-on waterproof boot for the rainier winters they experience.
Now onto the process.
Shop Your Closet First
Most of us don't ever realize the full potential of our wardrobes. We gravitate to the same core pieces because we know they work and don't want to think much more about it.
What we need to do is go through our closets with a fine-tooth comb and set aside any pieces that will easily transition to workplace attire because who has the time, inclination, or budget to start from scratch.
This is the part of the process where you have to think about what your workplace dress code may be, or what style of clothes you should be wearing.
If you are unsure about this then think about the one person at your workplace that you would love to swap wardrobes with. Start with what they are wearing as an inspiration starting point to guide you.
You can then take this inspiration and move it online (Pinterest is excellent for this) and build work capsule inspiration boards.
After you have figured out what kind of clothes you would like to wear to work, you can then check to see if you already own anything that you can integrate into your work wardrobe.
Pick a Capsule Wardrobe Colour Palette 
While I am all about colours and patterns, it is also important to note that it is much easier to build the foundation of any capsule using a handful of colours that work well together.
After you have figured out the colour palette you can add in more vibrant pieces and patterns to round it out. The foundational pieces are the key pieces that will help you to mix and match your wardrobe so this step is an important one. You don't want to end up with a bunch of pieces that you may love individually, but not together.
How Many Pieces Do You Need in a Capsule Wardrobe?
In this step, you give yourself an estimate of how many pieces you think you will need. Are you a skirt or pants person? If you said pants then you aren't going to want 5 skirts in your work capsule.
Do you need 10 pairs of black slacks? No, two to three pairs of well-fitting slacks that are all black is okay as long as they are different in style. Variation is key so that you don't look like you are wearing the same thing every day.
A handful of shirts of different styles and colours, several sweaters, a small mixture of bottoms, and a couple of blazers should work. Then add in your outerwear needs, as well as a variation of footwear.
What Wardrobe Holes Need To Be Filled?
After you go through what you already own you should have a few select pieces to start your work capsule process. Try these pieces on in as many different ways that you can think of. It will help to give you an idea of what other items you would like to add to it.
This is the step where you make note of the wardrobe holes that need filling, and you start to fill them. The first places you should check out, especially if you are on a budget are thrift stores. You can always find some exceptional treasures if you hunt properly.
Online second-hand retailers like eBay, Poshmark, and Thredup are all good places to find key workwear items as well. When you have a general idea of what you are looking for it is easy to use the filters on the sites to narrow down your results. It's often much more efficient than hunting through stores.
A work capsule doesn't need to be completed in a specific time period. It can be an ongoing work in progress that you slowly integrate new key pieces as you come across them.
You can start with a small amount, and add to it as you figure out what wardrobe holes need to be filled. It is fun and satisfying to watch your wardrobe evolve, so don't rush it.
Just enjoy the process.
36 Easy Winter Work Outfit Ideas

Business Casual Work Outfits

Grey T-Shirt | Black Bodysuit | White Blouse | Wrap Blouse | Grey Turtleneck | Silk Blouse | Camel Sweater | Black Sweater | Polka Dot Sweater | Grey Wrap Cardigan | Green Blazer | Grey Blazer | Leather Trousers | Grey Cropped Pants | Wool Trousers | Dark Denim | Brown Skirt | Black Dress | Wool Coat | Down Coat | Colourful Scarf | Black Scarf | Belt | Small Purse | Cognac Purse | Black Tote | Black Boots | Brown Boots | Black Flats | Print Flats | Heels |
SHOP THE POST



You may also like:
How to Build a Budget Fall and Winter Capsule Wardrobe
A Teacher Capsule Wardrobe Built From Your Closet
A Starter Work Capsule
This post contains affiliate links. By using my links to shop I may receive a small commission (at no cost to you). Thanks for supporting what I do