Budget Capsule Wardrobe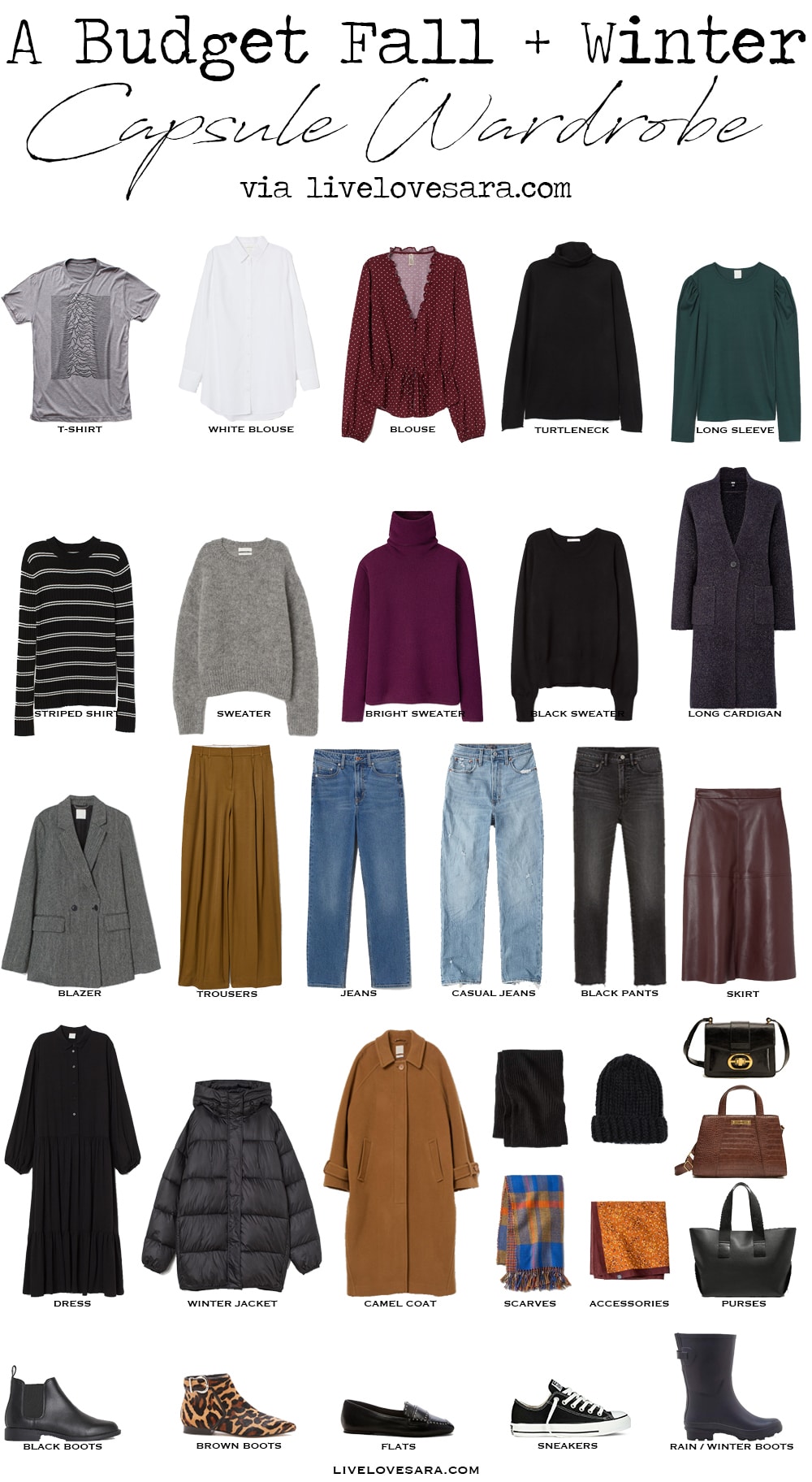 Grey T-shirt | White Blouse | Burgundy Blouse | Black Turtleneck | Green Long Sleeve | Striped Shirt | Grey Sweater | Purple Sweater | Black Sweater | Long Cardigan | Blazer | Trousers | Blue Jeans | Casual Jeans | Black Pants | Skirt | Dress | Black Jacket | Camel Jacket | Black Scarf | Plaid Scarf | Beanie | Square Scarf | Small Purse | Handbag | Tote | Black Boots | Animal Print Boots | Flats | Sneakers | Rain Boots |
SHOP THE POST



How do you build a capsule wardrobe on a budget? That is a question that I get frequently, so today I thought I would attempt to answer it and explain how I did it years ago.
Capsule wardrobes have been popping up on your feeds for quite a few years now. It was a term coined in the 1970s referring to a collection of clothes that would not go out of style and would be able to be worn for many years.
We have lost a little bit of the idea behind that in modern times, but in a sense that is good because it opens it up to everyone.
I feel that the classic capsule wardrobe meaning works better if you are more on the wealthy side and can build your wardrobe with iconic, classic pieces that may cost a fortune but will last forever.
I mean realistically, who wouldn't want a classic Chanel jacket in their wardrobe? That is what I would consider an iconic capsule wardrobe staple. All you would need is one and you would wear it forever.
Am I going to buy one?
The Magic 8-ball says outlook no so good 😉
Can we all afford a Chanel jacket?
Not even a small fraction of us, so we that need to stick to a strict budget have to go about building a capsule wardrobe a little differently.
When I built my first capsule wardrobe years ago, we were BROKE. Everything I had in it were pieces that I had for years, or that I bought very inexpensively.
Over the years I have added things, donated things, and upgraded things because I consider my wardrobe a work in progress.
But if you are just starting on your capsule wardrobe journey it is a good idea to give yourself some rules to follow so you don't lose sight of your goal.
Steps to Build a Capsule Wardrobe
Today I am focusing on an Autumn and winter capsule wardrobe since we are in that season. It is important to have a feeling of your style, that way you will know what kinds of pieces would integrate well into your fall capsule wardrobe.
If you are unsure then you may want to determine your personal style first. Maybe search online, or make an inspiration Pinterest board of outfit ideas that catch your eye.
This will help to hone down what you like and don't like. What you gravitate to, or aspire to dress like.
If you find that you lean more towards minimalist than your final minimalist capsule wardrobe will be smaller than a regular one since minimalist tends to be monochromatic and monochromatic wardrobes mix and match very easily.
Evaluate Your Wardrobe
This means going through absolutely every piece of clothing that you own. Take stock of everything you have and start putting them into piles.
What pieces do you wear all the time? What pieces do you never wear? Seasonal, or formal items? What items are you unsure about? Now it is time for the hard step.
Purging Your Wardrobe
This step can be difficult, especially if it is your first time doing it. I want to start with a disclaimer DO NOT EMOTIONAL PURGE. This is a big no-no. If you go in with the mindset that you will just get rid of everything and it will be cathartic, please wipe that from your brain.
It may temporarily feel good. Make you feel lighter, and in control but in the long run, you will regret it. I still regret the great purge of 2007. *Sigh* my poor Doc Marten's were a victim to this purge and I regret it to this day.
When in doubt keep it. It's not going to make you a capsule wardrobe failure.
Purge the items that are a definite no. You will know which pieces they are. They are the ones that make you involuntarily make that strange scrunched up face when you take it out of the closet. The "what was I thinking?" face. You know the one I am talking about.
When you evaluated your wardrobe you most likely put the things you love together, the maybe's together and tossed the "what was I thinkings" to the side.
Purge those.
Any seasonals or formal wear can to the back of the closet or in storage if you have one. Put those away right away so you can see what you have left.
Start Building Mix and Match Outfits
This step gives a nice idea of how you are starting in your capsule wardrobe journey. It lets you know what you have and what might be missing.
Anything that doesn't work or requires repair set aside to deal with later.
When you have made and documented as many outfits as you can you move on to the next step.
Determining Wardrobe Holes
This one is my favourite because this is the step where you make a list of the pieces that you want to eventually buy for your wardrobe.
The things that you wish you had when you were trying on outfits in the previous step. Maybe it was, "I wish I had a trench", or "I wish I had some coloured flats".
After you have a tentative wish list you can start trying to fill those wardrobe holes. When you are on a budget you may want to start looking in thrift stores. I always find perfectly worn-in band shirts, sneakers, hats, scarves, and belts there. I have even found a great handbag or two.
After thrift shopping, you can try places like Thredup or Poshmark (Canada has Poshmark now too!). Here you will find gently used pieces for affordable prices.
eBay is also a good source for finding gently used clothing, although I find it harder to find those treasures that it used to back around 2007. I used to sell vintage clothes on eBay in 2006-2009 – ish. You can still find some good deals with a little searching though.
If brick and mortar stores are more your thing than trying the discount stores that offer name brand at a discount like:
TJ Maxx
Marshalls
Winners
Nordstrom Rack
Off 5th
Macy's
You can even go to retailers such as Walmart, Target, and even on Amazon to pick a multi-pack of white t-shirts from Hanes or Fruit of the Loom (the make great basic tees).
The retailers that I used for today's fall capsule wardrobe list were cheaper retailers like H&M, Target, and Uniqlo (really great for basics).
Any other retailer I used either had the item offered at a discounted price, or has sales and discounts regularly like J.Crew, and Gap who both have 40% off deals it seems like every other week.
If you are building a capsule wardrobe for the first time you may want to set a specific number of items to adhere to. This will help to keep things nice and easy.
After doing this a few times you will become comfortable with using your judgement regarding how many pieces you feel comfortable having in your capsule wardrobe. It varies by person, but it seems that 38-40 piece capsule wardrobe is the magic number.
Wardrobe Words of Advice
Don't overthink it. It will suck the joy out of it.
Even on a budget, buy the nicest quality that you can afford. It is better to have one nice sweater than 4 cheaper ones that get pilly and worn looking quickly.
Speaking of pilly. Buy a sweater bobble remover. This will breathe new life into old sweaters/clothing, and maintain the brand new pieces. You can get a decent one on Amazon for around $12.
Make sure you are very clear about your budget so you don't overdo it.
Don't forget accessories. These can completely freshen up old pieces or change any look quickly.
Don't be scared to incorporate trends seasonally. Just make sure they aren't the base of your capsule wardrobe.
Consider your wardrobe a continual work in progress. Through life, your budget may change, or your needs may differ and you may realize that your wardrobe needs to change to reflect that.
Have fun. Clothes and style aren't supposed to cause stress or anxiety.
You check might also like:
How to Build a Fall Capsule Wardrobe: Shopping on a Budget
How to Build a Summer Capsule Wardrobe on a Budget
How to Build a Budget Capsule Wardrobe for Spring and Summer
If you enjoyed my Budget Fall and Winter Capsule Wardrobe blog post please feel free to share it via Pinterest, Facebook, or Twitter. Thank you.
Budget Capsule Wardrobe Outfit Ideas
Grey T-shirt | White Blouse | Burgundy Blouse | Black Turtleneck | Green Long Sleeve | Striped Shirt | Grey Sweater | Purple Sweater | Black Sweater | Long Cardigan | Blazer | Trousers | Blue Jeans | Casual Jeans | Black Pants | Skirt | Dress | Black Jacket | Camel Jacket | Black Scarf | Plaid Scarf | Beanie | Square Scarf | Small Purse | Handbag | Tote | Black Boots | Animal Print Boots | Flats | Sneakers | Rain Boots |
SHOP THE POST



This post contains affiliate links. By using my links to shop I may receive a small commission (at no cost to you). Thanks for supporting what I do