Neutral Capsule Wardrobe for Spring and Summer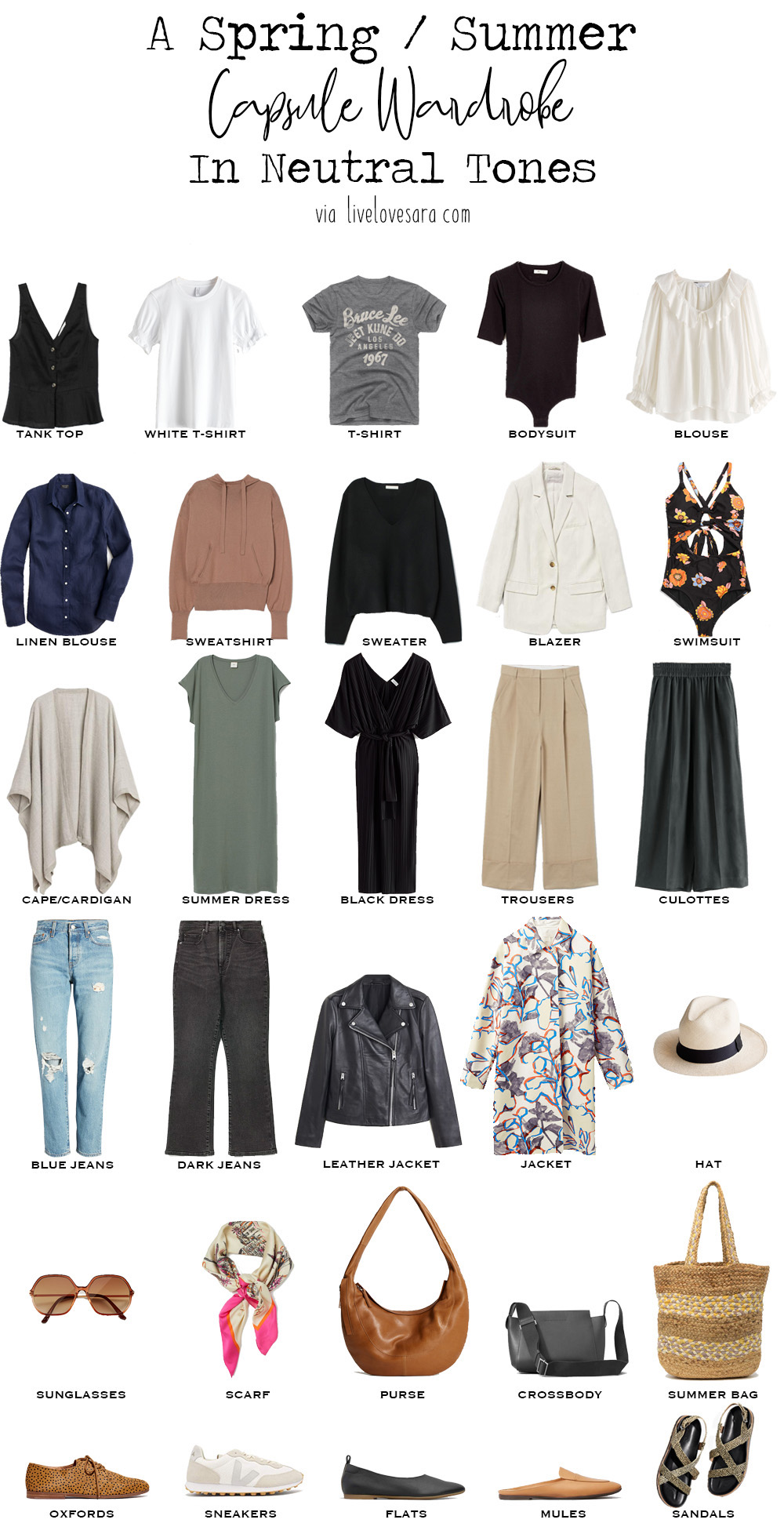 Tank Top | White T-shirt | Grey Band Tee | Bodysuit | White Blouse | Linen Blouse | Sweatshirt | Sweater | Blazer | Swimsuit | Cape Cardigan| Green Dress | Black Dress | Trousers | Culottes | Blue Jeans | Black Jeans | Leather Jacket | Jacket | Hat | Sunglasses | Scarf | Purse | Crossbody | Summer Bag | Oxfords | Sneakers | Flats | Mules | Sandals |
SHOP THE POST



I guess you can also call it a neutral capsule wardrobe with a touch of colour. I hate the phrase pop of colour for some reason. It seems so overdone. 
With all that is going on in the world, it seems silly for me to be putting out travel capsules. I'll get back to them in the future, hopefully, sooner than anticipated.
But for now I am going to focus on personal capsule wardrobes and this one focuses on a spring and summer wardrobe.
Putting together wardrobes is a passion of mine I decided I would switch the focus.
Now that a huge amount of the population is staying indoors either quarantined or practising social distancing I am seeing that a lot of us are also looking for ways to fill some time.
Some of that focusing being on our wardrobes. It is a good time to go through what we have and do our own closet try on to see what we want to carry over from our current season to the next.
Then look to see what we had from last year that still works this year. Things that may need mending or alterations. It's a good time to learn how to sew since most tailors are probably closed for the time being.
I have a pair of wide-leg, high waisted linen pants from last summer that I didn't wear much because they are really long and need to be worn with a wedge or heels.
I plan on YouTubing a video on how to shorten these the best way so they are more of a culotte/ankle length.
It will give me a new pair of pants to wear this season without costing me anything which is super awesome…hopefully.
I have written many capsule wardrobe posts that can be found searching capsule in blog search bar or through the "fashion – capsule wardrobe" in the header bar.
I'm not going to go into a detailed breakdown of how to build a capsule wardrobe today because I will be repeating myself weekly and that will be monotonous for you.
If you want to see a detailed breakdown on how to best go about building a capsule wardrobe you can see it in last week's post, A Stay at Home Mom Capsule Wardrobe for Spring and Summer, and How to Build a Spring Work Capsule Wardrobe.
While these seem like instruction for a specific type of wardrobe you will see that they generally follow similar steps depending on what your focus is. The work one is a little different than the home wardrobe but the same gist.
You can spend the afternoon going through what you have and deciding what you like, what works, and maybe what you would like to have.
Now that most retailers have shut their brick and mortar stores, for the time being, many businesses have to depend on online shopping to make their sales.
I am finding that a lot of companies are offering free shipping, and discounts as an incentive.
Don't forget about your little shops during this time. It will be very hard on them, and many won't reopen.
A lot of these stores are starting to offer online, or Instagram shopping to help generate some income while they are closed, so search your local favourites and see what they offer.
Every time I build a capsule it is usually based on a particular style or taste of the person who has asked me to do it. This week I am working with a mostly neutral palette. Since this is the start of the warmer weather I have included more breathable fabrics like cotton and linen.
Neutrals are classic and easy to mix and match which will stretch out your wardrobe outfit combinations even more.
They also have the tendency to make you look very chic and put together. You can add a little colour with a bold shirt, accessory, or shoe and it can totally elevate your outfit to make a statement.
Lately, I have been really feeling into vintage jewellery. I am finding all kinds of earrings on Poshmark that I like, but have yet to make a purchase.
I plan on going through my old jewellery boxes first to see what I already have because I haven't looked in some of those for years.
I think I would like a thick, medium-sized gold hoop for the season. Or something like these. They remind me of a hybrid of Picasso and Salvadore Dali's Persistence of Memory (Melting Clocks Painting).
My wardrobe goal during this time is to first go through what I have, then see how what I have will transition to summer. Then I will make a list of what I would like to have and begin my online search.
I have included a variety of capsule wardrobe outfits based on the above selections so that you can see how versatile this wardrobe is. It is located at the bottom of this post so keep scrolling.
I hope you are happy and healthy. Let me know if there is anything that you want to see on here 🙂
If you enjoyed my Neutral Capsule Wardrobe for Spring and Summer blog post please feel free to share it via Pinterest, Facebook, or Twitter. Thank you.
You may also like:
How to Build a Budget Fall and Winter Capsule Wardrobe
How to Build a Winter Work Capsule Wardrobe
A Teacher Capsule Wardrobe Built From Your Closet
A Starter Work Capsule
Neutral Capsule Wardrobe Outfit Ideas


Tank Top | White T-shirt | Grey Band Tee | Bodysuit | White Blouse | Linen Blouse | Sweatshirt | Sweater | Blazer | Swimsuit | Cape Cardigan| Green Dress | Black Dress | Trousers | Culottes | Blue Jeans | Black Jeans | Leather Jacket | Jacket | Hat | Sunglasses | Scarf | Purse | Crossbody | Summer Bag | Oxfords | Sneakers | Flats | Mules | Sandals |
SHOP THE POST



This post contains affiliate links. By using my links to shop I may receive a small commission (at no cost to you). Thanks for supporting what I do