Teacher Capsule Wardrobe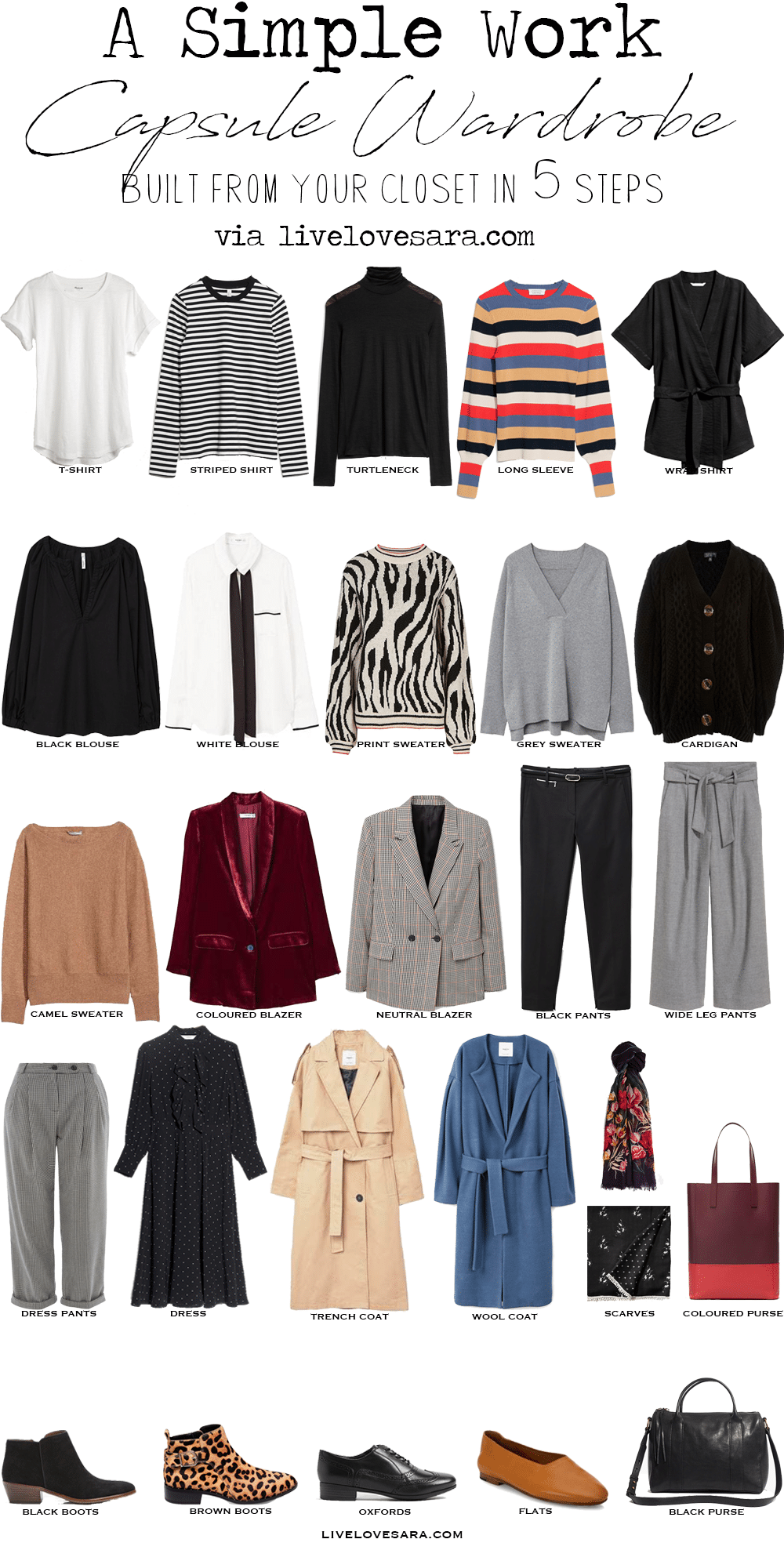 White T-shirt | Striped Shirt | Black Turtleneck | Bright Striped Long Sleeve | Wrap Shirt | Black Blouse | White Blouse | Print Sweater | Grey Sweater | Black Cardigan | Camel Sweater | Red Blazer | Neutral Colour Blazer | Black Pants | Wide Leg Pants | Dress Pants | Black Dress | Trench Coat | Blue Wool Coat | Floral Scarf | Black Scarf | Coloured Tote | Black Boots | Animal Print Boots | Oxfords | Flats | Black Purse |
SHOP THIS POST


Are you starting a career as a teacher and looking to build your new work wardrobe, but are low on funds? I have a step by step guide on building a teacher capsule wardrobe in five easy steps.
This guide would also work for building any capsule wardrobe as well.
Today I am revisiting a post I made in July 2016 about building a simple teacher capsule from your closet in 5 steps.
Every once in awhile I go back to old posts and put together a newer edition because trends/styles change, and many of the items in the posts sell out and people ask for alternate options.
It's easier to start from the beginning sometimes and put together a whole new one than search through and find comparable pieces to replace the sold-out products.
I had a request for help to put together another teacher capsule like the original.
Something that involves jackets, but no jeans, while remaining on-trend without looking like a student.
This can be done by first going through your own closet and using what you have to build the wardrobe foundation. These are the steps that I listed in the original post to get you started.
The following steps can be messy and take up a lot of space as you go through the process.
It's a good idea to have a large area like the top of the bed or a free-standing clothing rack to work with while you go through each item piece by piece.
Are you ready? Let's get started.
Step 1: This is where the thinning down process starts. Most work environments have a dress code in place so go through your clothing and remove anything that doesn't fit within the dress code guidelines.
This will probably be pieces like shorts, distressed jeans, yoga pants etc. Place these items aside in an area that won't get confused or mixed with the other pieces.
Step 2: Decide if you are going to include a colour theme to your teacher capsule. You should have a large foundation of neutrals, but picking some colours to add gives you a general theme to work around.
This list has the wardrobe basics of black, white, camel, and grey. The colours added are cranberry, and blue. Patterns also add a lot of visual variety like the striped shirt, floral scarf, and print sweater (which is also a fun piece).
It's important that all these work together so they will give you a completely mix and match wardrobe. After you decide on colours then remove and set aside anything that does not fit in your theme or won't work with the colours you choose.
Your closet should be getting much more streamlined by now.
Step 3: This step will depend on the climate you live in. This is where you figure out what pieces you will need to include to have a fully rounded, all season capsule wardrobe.
Make a rough list on paper if this helps. For example living here I need to have plenty of sweaters, weather appropriate footwear, and coats for all seasons.
A wool jacket, and a trench are a good start and are also wardrobe staples that will be used outside of work making them highly functional pieces.
Step 4: Now that you have a rough idea of what your capsule wardrobe should include, this is where you plan how many of each pieces you will need/want to include in your teacher wardrobe.
For example you are definitely not going to need 5 pairs of black pants. Choose a pair or two that are the most comfortable, versatile, and flattering and include those. Set aside everything that won't work or are extras.
Step 5: You should have a very narrowed down selection now, and this step is where we look to see what we are missing, or the "holes" in your capsule.
This is the creative step. Clear away the piles of clothes so you have a blank canvas. Now organize the pieces you selected in to groups of tops, bottoms, shoes, accessories and start to make outfits with the pieces.
Try them on or use your bed or floor to put together as many outfits as you can.
Take pictures to help you keep track and document. Add or take away accessories and change your shoes to get as many looks you can from each piece, or to transition outfits through different seasons.
A little creativity will take you far in this step. Belt a cardigan, tuck/untuck a blouse, add a scarf, omit the blazer, etc.
To have a fully versatile wardrobe you need to have outfit options for every scenario. There should be teacher casual outfits, teacher business casual outfits, and even a couple of dressy teacher outfits.
I find that during this process you may need inspiration so go through Pinterest and pin some ideas of what types of outfits you would like to wear.
This may give you some new ways to wear some of your old pieces. This last step is where you note any pieces that you did not or barely used while making outfits and decide if you wish to include or omit the piece.
Be as ruthless or forgiving as you want because there are no rules. While it's nice to have a small, tidy, very specific capsule wardrobe, it just as nice to have a few alternate items to swap around to avoid wardrobe fatigue.
Don't feel you need to stick to a specific number of items, because that boxes you in.
This is also where you would note anything you don't have but wished you did when you were making outfits. Maybe you want a pencil skirt, or fitted cardigan.
Write them down because these will be the pieces you may choose to buy once you have built as much of your capsule as you could from the pieces you already have.
By now you should have a nice selection of pieces in your "new" teacher capsule wardrobe. Maybe you will keep these pieces separate from your weekend wardrobe or maybe (if you are like me and don't have a lot of space) you will just put everything back and use the pictures you took as your guideline.
Generally, this process should only take a few hours to complete. Now, this is where you shop to fill in the holes.
My first suggestion is to search for second-hand for these items. Buying brand new isn't necessary at all. Shop all the second-hand places you can find, then after that hit up sales racks, or even clothing swaps with friends.
Ebay and Thredup are also great options for second-hand treasures (Thredup now ships to Canada which is awesome!). A thrifted teacher wardrobe would be awesome and save you an immense amount of money.
I have also included 18 teacher outfit ideas from these pieces below this post. This will give you some idea of the versatility of this list.
The 18 outfits don't even begin to scratch the surface of how many options can be put together from the pieces. I hope this post gave you some ideas on how to build a work capsule starting with what you own.
Good luck with building your wardrobe and with your new job!
You may also like:
A Simple Teacher Capsule Wardrobe in 5 Steps
How to Build a Fall Work Capsule Wardrobe
A Starter Teacher Capsule Wardrobe 40 Outfit Options

Teacher Outfit Ideas

White T-shirt | Striped Shirt | Black Turtleneck | Bright Striped Long Sleeve | Wrap Shirt | Black Blouse | White Blouse | Print Sweater | Grey Sweater | Black Cardigan | Camel Sweater | Red Blazer | Neutral Colour Blazer | Black Pants | Wide Leg Pants | Dress Pants | Black Dress | Trench Coat | Blue Wool Coat | Floral Scarf | Black Scarf | Coloured Tote | Black Boots | Animal Print Boots | Oxfords | Flats | Black Purse |

This post contains affiliate links. By using my links to shop I may receive a small commission (at no cost to you). Thanks for supporting what I do