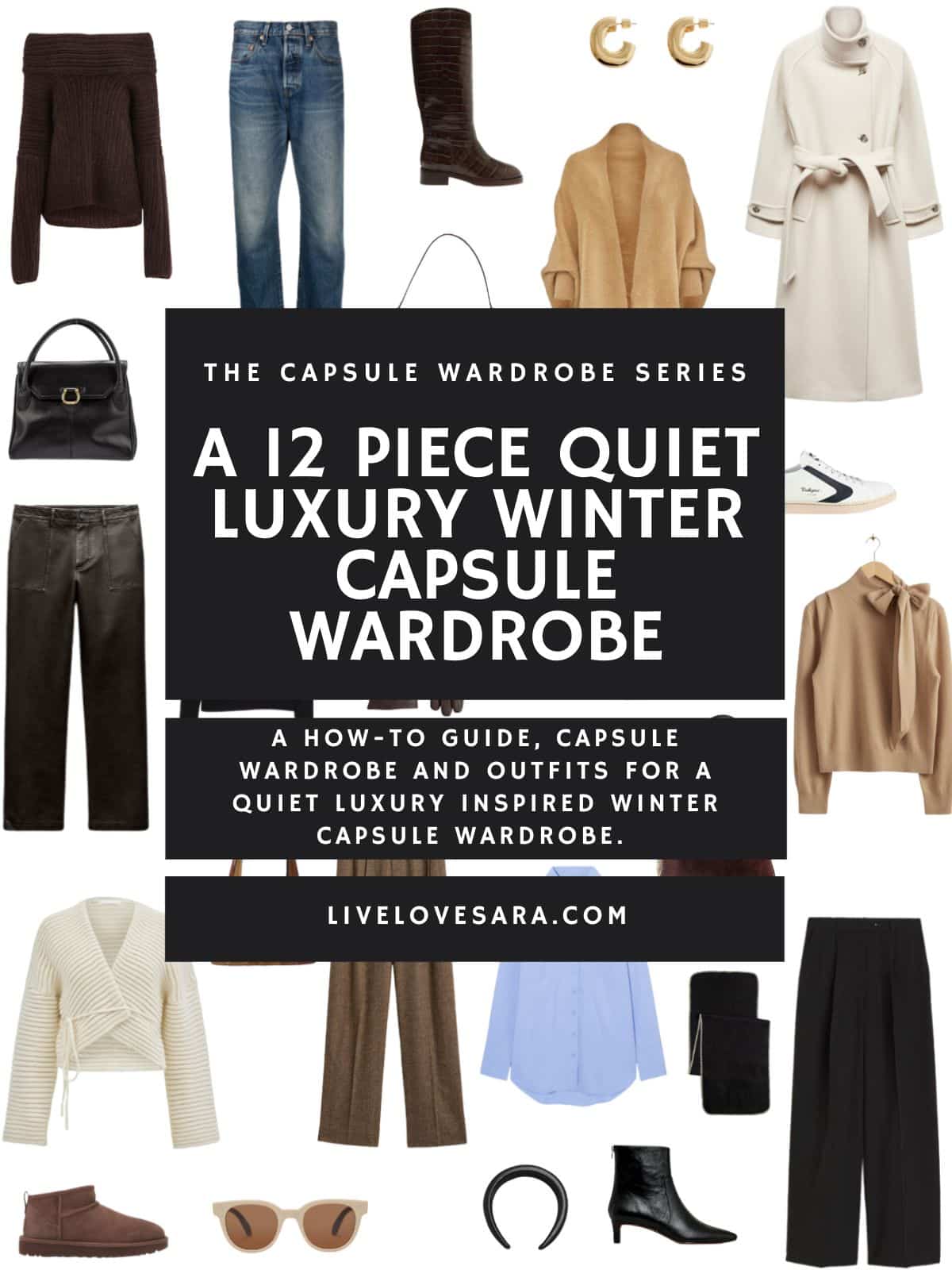 What is quiet luxury? It is a term that we have been hearing for a few seasons now. It is a concept that I have mixed feelings about because of its classist roots. But the idea behind the quiet luxury trend is something that I fully support.
It refers to a concept in the world of fashion and lifestyle that emphasizes understated elegance, quality, and a more subtle, less flashy approach to fashion.
It contrasts with the more conspicuous and flashy forms of luxury, where logos, branding, and overt displays of wealth are prominent.
A quiet luxury wardrobe is like having a collection of high-quality and expensive clothing and accessories, but they don't scream for attention.
Instead of flashy logos and showy designs, these items are often more understated and elegant.
They're made with top-notch materials and excellent craftsmanship, so they look and feel great, but they don't draw a lot of attention from logos or flashy colours.
It's all about a subtle, refined, and timeless style that exudes class and sophistication without being overly flashy.
And because of this, it is something that we can replicate without the quiet luxury price tag.
Think more in terms of recession-core.
Yes, that is really a thing.
But ultimately it is about wearability and that is also something that we have seen on the runways.
After the time when we stayed inside and got accustomed to wearing jogging pants as a regular part of our wardrobe, we yearned for something more.
So they gave us more with dopamine dressing, and the resurgence of Y2K style and all its bright, shiny, and glittery glory.
And we seem to have calmed a bit from that desire and focused on wearability.
Wearability encourages shoppers to prioritize the fundamental elements of everyday attire over one-time special-occasion ensembles, emphasizing a return to the basics.
It prioritizes versatile and timeless pieces that can be worn regularly as part of everyday outfits.
It is often associated with a return to essential, classic wardrobe staples that can be mixed and matched for various occasions, and reflects a desire for clothing that serves both style and practicality in daily life.
This is how both these trends are connected, and we can use the quiet luxury aesthetic to build ourselves a wearable wardrobe without the need of $10,000 coats, and $4500 sweaters.
We can use the aesthetic to build a quiet luxury-inspired wardrobe that is within our own realistic budgets.
These budgets will vary based on the individual.
A 12 Piece Quiet Luxury Inspired Winter Capsule Wardrobe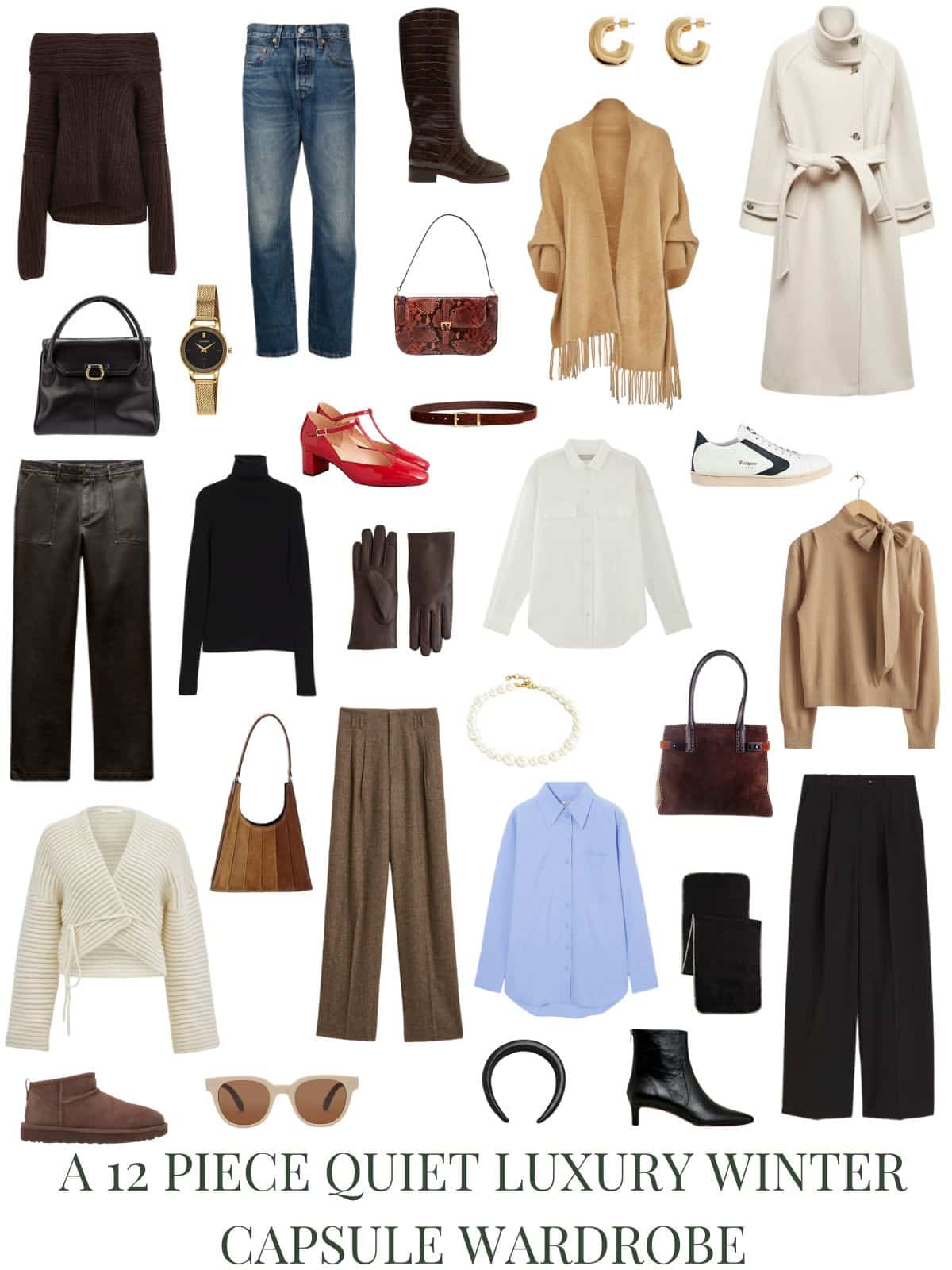 Brown Sweater | Jeans | High Boots | Earrings | Cardigan Shawl | Coat | Sneakers | Belt | Animal Print Handbag | Red Shoes | Watch | Black Handbag | Faux Leather Trousers | Turtleneck | Gloves | Silk Blouse | Tie Neck Top | Brown Handbag | Necklace | Blue Button Up | Brown Trousers | Brown Stripe Bag | Cardigan | Uggs | Sunglasses | Headband | Heeled Boots | Scarf | Black Trousers

How to Build a Quiet Luxury Wardrobe Capsule Wardrobe Without Luxury Labels
Building a quiet luxury wardrobe without relying on luxury brands is entirely possible. The key is to focus on quality, simplicity, and timeless design.
Focus on Quality: Seek out well-constructed, durable pieces made from high-quality materials. Pay attention to the fabric, stitching, and finishing. Quality can be found in non-luxury brands as well, and on the secondhand market.
Remember that.
Subtlety: Choose items that are more discreet in their design and branding. No prominent logos or flashy embellishments. Rely on the quality of materials and craftsmanship instead.
Timelessness: Source classic and timeless designs that don't go out of fashion quickly. This makes them more enduring and versatile, allowing them to be used for many years.
Neutral Colour Palette: Stick to a neutral colour palette that includes black, white, grey, navy, and beige. These colours are easy to mix and match and create a timeless look.
Simple Silhouettes: Opt for clothing with simple, classic silhouettes that are less likely to go out of style. Avoid trendy and flashy designs.
Accessories: Invest in high-quality accessories like a leather belt, minimalist watch, classic sunglasses, and a well-crafted leather bag. These items can elevate your entire look.
Secondhand and Vintage: Explore thrift stores, consignment shops, and online vintage marketplaces to find pre-owned items that exude quiet luxury style. You can discover well-made pieces at affordable prices.
Independent Brands: Look for smaller, independent brands that prioritize craftsmanship and minimalistic design. These brands often offer quality alternatives at a lower cost compared to luxury labels.
Exclusivity: Some quiet luxury brands may produce limited quantities of their products, making them exclusive and adding to their appeal. This exclusivity can make them highly desirable among those who appreciate understated luxury.
Brands that embody quiet luxury may offer a high level of personalized customer service to cater to their clients' specific needs and preferences.
This is where we move onto elitist territory and have that Pretty Woman moment. It isn't a necessary part of this trend. It is the part that comes along with having a lot of money to spend.
Do you know where else you can find exclusivity? Secondhand shopping.
You should see the amazing 90s handbag that I just found. Unique, quality materials, and no logos. I will use it tomorrow and you will be able to see it on my Instagram.
Minimalism: Quiet luxury often aligns with minimalistic design principles, favouring clean lines, simple shapes, and a less-is-more approach.
Which you can see mirrored in my minimalist post from last week.
Remember a while back when I talked about the fashion style Venn Diagram and how everything overlaps? This is another example.
Tailoring: Invest in tailoring to ensure your clothing fits you perfectly. Well-fitted garments instantly look more luxurious and polished.
Care and Maintenance: Properly care for your clothing and accessories to extend their lifespan. Follow care instructions, store items correctly, and buy a sweater shaver.
Cultivate Versatility: Choose versatile items that can be dressed up or down, suitable for both casual and formal occasions. Versatile pieces can be used in multiple outfits.
Mix and Match: Get creative with your outfits by combining high-quality, non-luxury items with each other. A well-chosen combination can create a luxurious look.
Less is More: Avoid overloading your wardrobe with items you rarely wear. Instead, curate a smaller collection of items you truly love and use regularly.
Personal Style: Focus on developing your personal style and understanding what makes you feel comfortable and confident. Your style should reflect your personality and preferences.
With a little work and some thought and planning, you can build a wardrobe that embodies quiet luxury without relying on luxury brand names.
It's all about finding and appreciating quality, timelessness, and elegance in your clothing choices, regardless of the label.
This is where I set my boundaries when it comes to understated affluence. While we should be addressing the need to challenge the cultural standards that glorify excess, discussing tasteful, low-key fashion choices is a step in the right direction.
Show off that extravagantly roomy bag, hunt for vintage Margiela, Celine, or Prada pieces, and let your designer bag get used and beat up—let's just leave the pretentiousness at the door with this style.
Quiet Luxury Outfits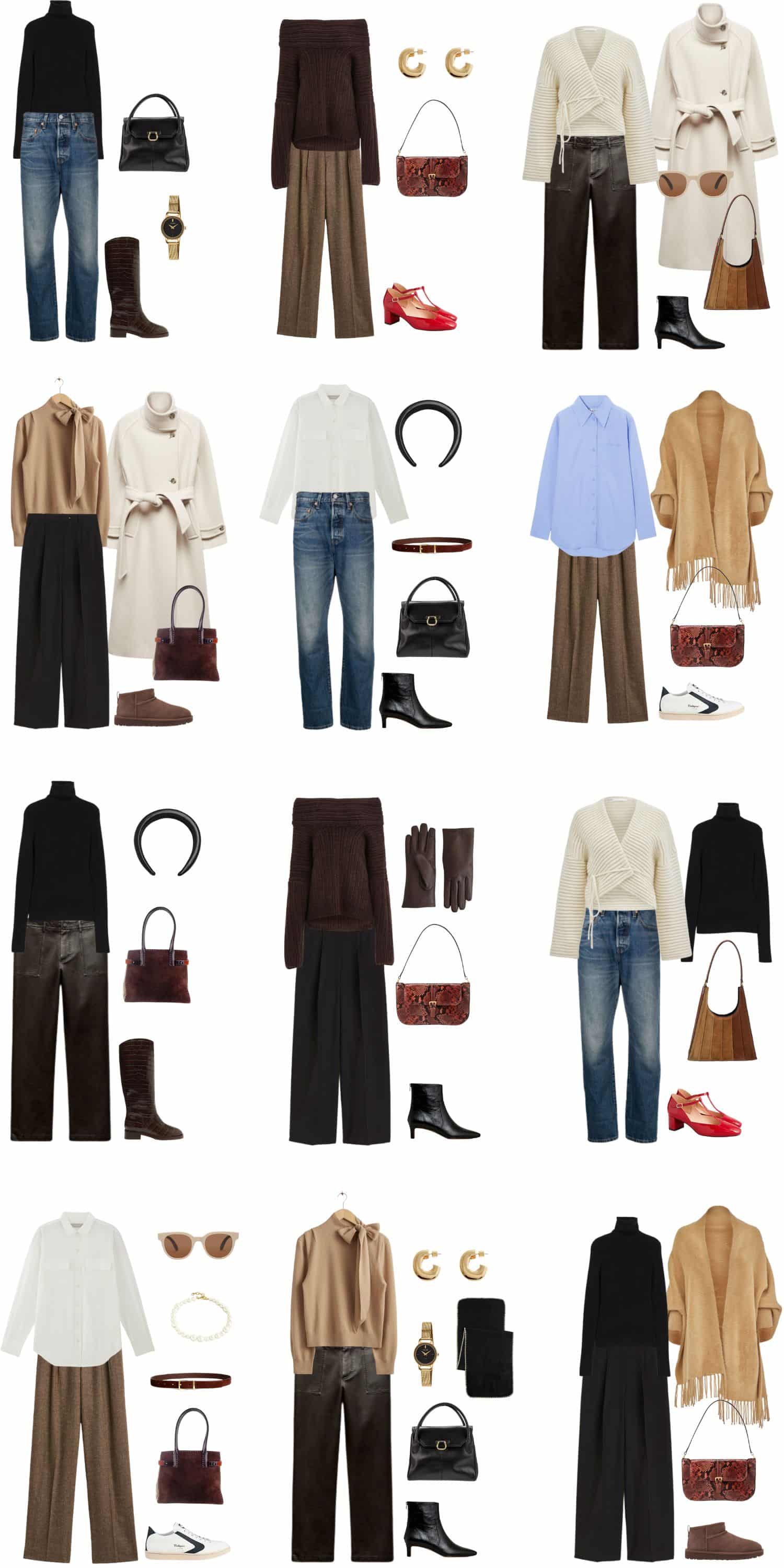 Brown Sweater | Jeans | High Boots | Earrings | Cardigan Shawl | Coat | Sneakers | Belt | Animal Print Handbag | Red Shoes | Watch | Black Handbag | Faux Leather Trousers | Turtleneck | Gloves | Silk Blouse | Tie Neck Top | Brown Handbag | Necklace | Blue Button Up | Brown Trousers | Brown Stripe Bag | Cardigan | Uggs | Sunglasses | Headband | Heeled Boots | Scarf | Black Trousers

You might also like:
A 12 Piece Minimalist Winter Capsule Wardrobe
A 12 Piece Holiday Packing List
A 12 Piece Colourful Fall Capsule Wardrobe
A 12 Piece Minimalist Fall Capsule Wardrobe
My 12 Piece Ultimate Fall Capsule Wardrobe
A 12 Piece Carolyn Bessette Inspired Fall Capsule Wardrobe
A 12 Piece Romantic Fall Capsule Wardrobe
A 12 Piece Ralph Lauren Inspired Fall Capsule Wardrobe
A 12 Piece New Preppy Style Fall Capsule Wardrobe
SHOP THE UK LINKS


I am now offering digital styling guides, and personal styling services. If you are looking for some styling help that is inexpensive and easy, check out my digital styling guides. If you want some one-on-one help shopping, building and editing your wardrobe, or packing for a trip, I can also assist. Check out all the styling services that I offer here.
This post contains affiliate links. By using my links to shop I may receive a small commission (at no cost to you). Thanks for supporting what I do