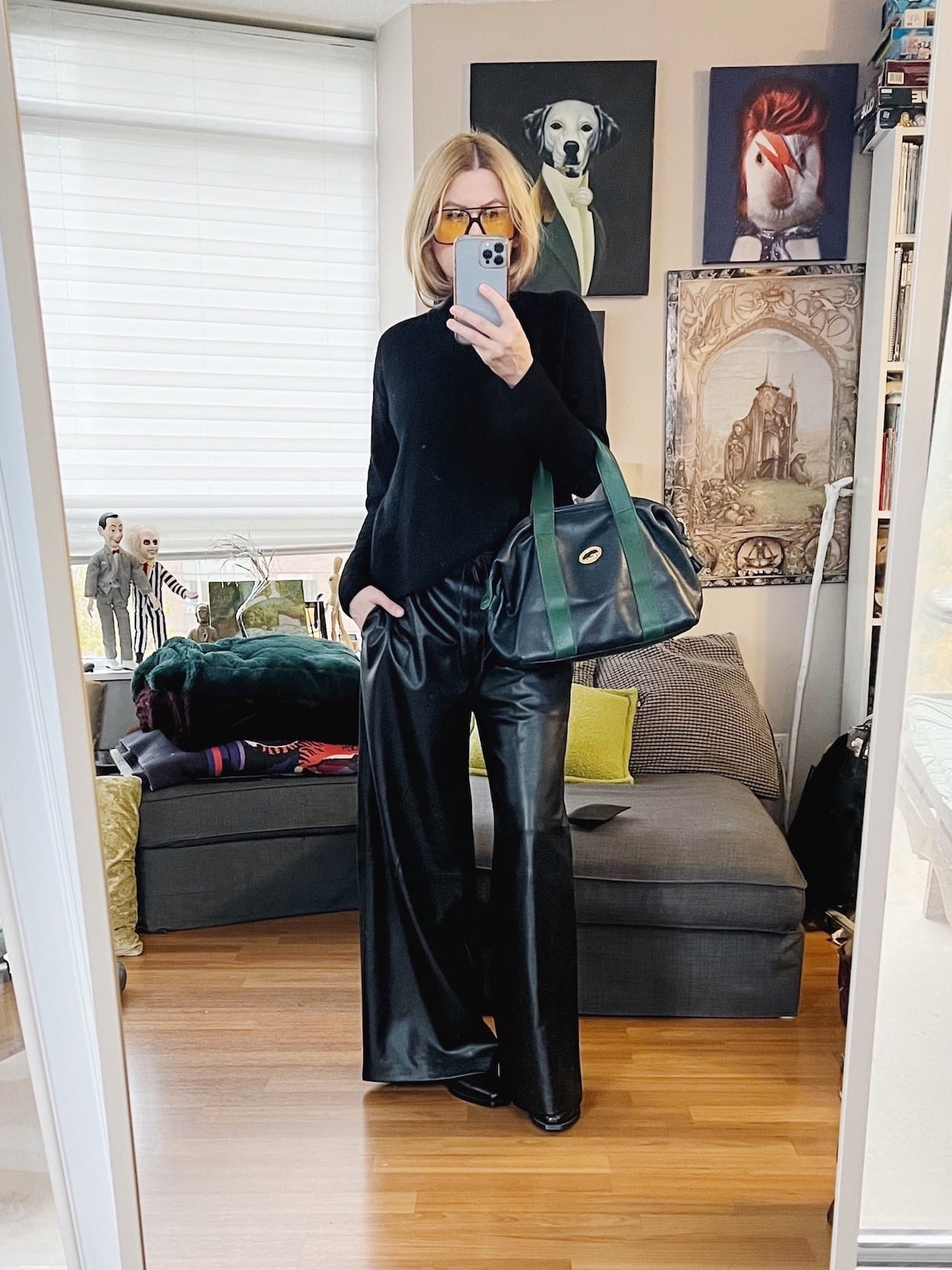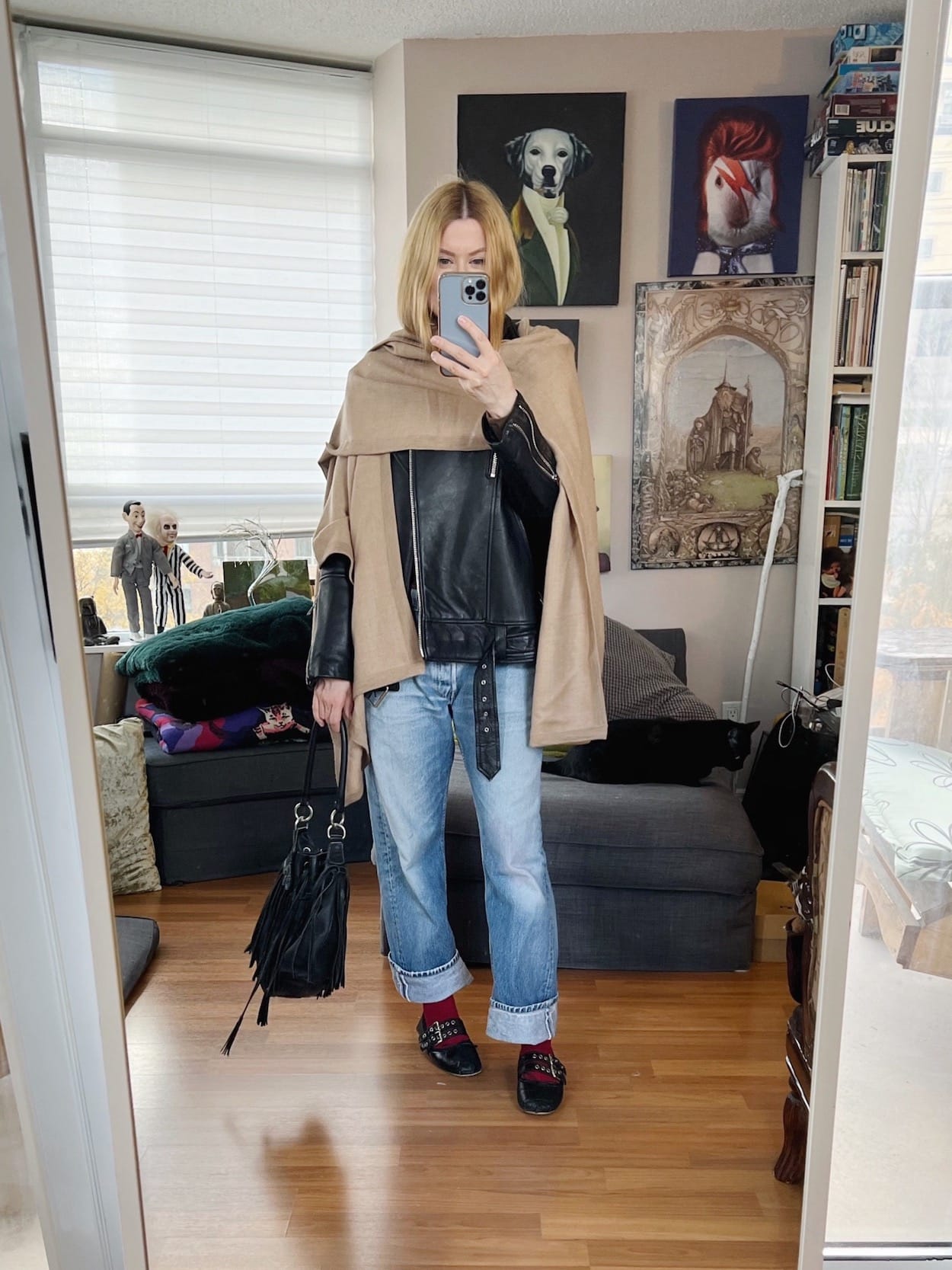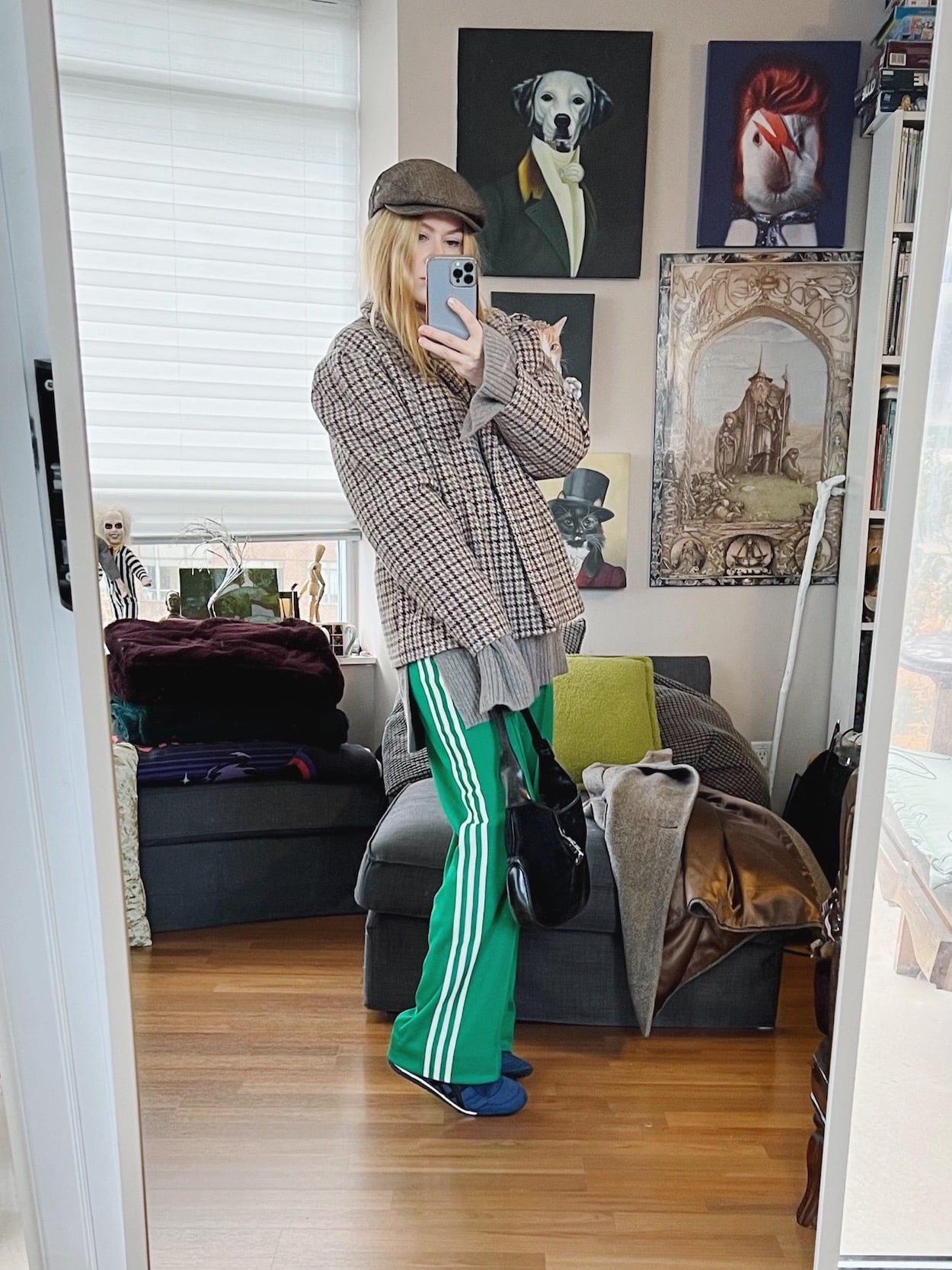 Outfit 1 – Sweater | Faux Leather Trousers | Boots (similar) | Vintage Bag (similar) | Sunglasses
Outfit 2 – Turtleneck | Cape | Leather Jacket (similar) | Vintage Levi's | Shoes | Bag (similar)
Outfit 3 – Sweater | Trousers | Vintage Coat | Oxfords (consignment purchase) | Brooch | Vintage Bag
Outfit 4 – Oversized Sweater | Jacket | Track Pants | Sneakers | Flat Cap | Bag

For some reason, the naive part of me truly believed that getting that extra hour by setting the clocks back was going to make me have a better sleep.
I should know better by now, and I think I am even more tired today.
I planned to get a bunch of stuff done per usual and then realized that I had run completely out of eyebrow pencil.
Which doesn't seem that big of a deal unless you grew up in the '90s and your eyebrows never recovered.
So I had to run down to buy a new one, and whenever I have a "quick errand" it generally takes me no less than 1.5 hours.
I guess it's a combination of walking there, and it being a huge mall that takes a long time to get from one side to the other.
To make it more efficient on time I tend to plan out the errands by store, so I don't have to run all around repeatedly.
It still took 1.5 hours, for eyebrow pencil. I may have also picked up a Christmas pillow, but that was it.
And it was so busy that it made me drained and both physically and mentally tired.
Such is the life of an introvert. I kind of wish they had their Christmas decor up though.
I bought something for me this week instead of just Christmas and birthday presents for everyone else.
There is a sweater by Raey that has a cult-like popularity this year.
It is gorgeous, and I love it, but it is about $1000 CAD which isn't going to happen.
So I headed over to The Frankie Shop because they have great quality pieces that are often like these super expensive popular models but for much less.
They had this oversized cable knit that is similar to the Raey model, but cream instead of off-white, and I grabbed it even though I wanted the Raey one in the blue.
I knew that if I thought too hard about it then it was going to sell out because Frankie Shop items sell out fast even though they restock frequently, and I would have kicked myself for missing it.
Which I am glad I did because of course it is sold out again, and people on their Instagram post about the restock are kicking themselves for missing it.
I wanted an oversized classic-ish, minimalist sweater for this season and now hopefully I have one.
Unless of course my order gets cancelled.
You might also like:
What I Wore last week
SHOP THE UK LINKS


I am now offering digital styling guides, and personal styling services. If you are looking for some styling help that is inexpensive and easy, check out my digital styling guides. If you want some one-on-one help shopping, building and editing your wardrobe, or packing for a trip, I can also assist. Check out all the styling services that I offer here.
This post contains affiliate links. By using my links to shop I may receive a small commission (at no cost to you). Thanks for supporting what I do