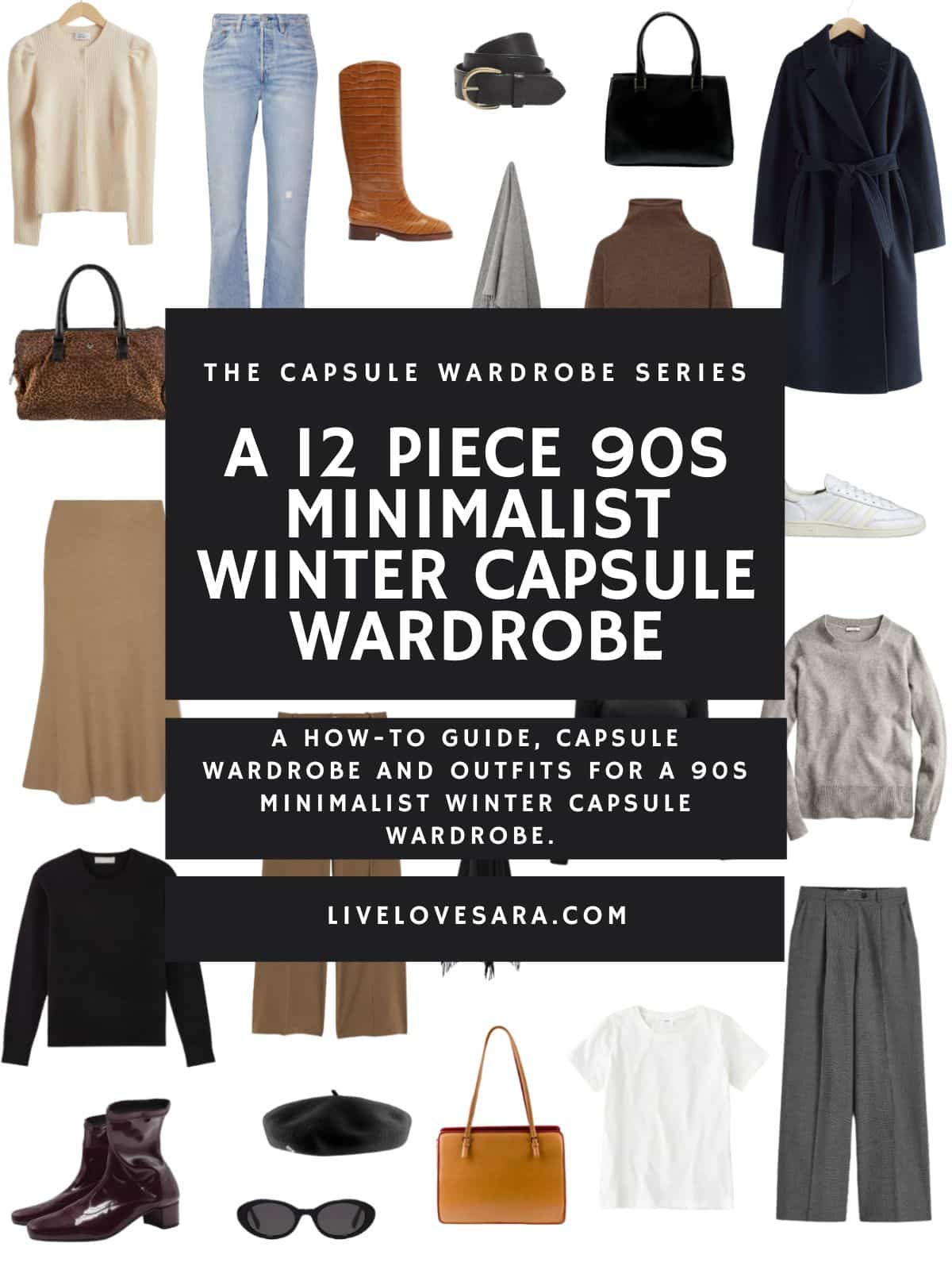 Imagine a fashion scene where less is more, where simplicity reigns supreme, and understated elegance is the name of the game—that's 90s minimalism for you.
Picture clean lines, basic shapes, and a colour palette that's like a deep breath of calm after the neon and excess of the 80s.
It's all about stripping away the unnecessary frills and embracing a timeless, fuss-free vibe.
This is always one of my favourite wardrobes to put together because I was a teen in the 90s and this decade really influenced my style choices throughout my life.
I can distinctly remember the shift from fluorescent and bold colours and patterns to a much more subdued but no less impactful way of dressing.
My style adjectives are casual, classic, and unexpected so often the base of my outfit has a strong minimalistic vibe, that I elevate with some maybe not so minimalist pairings.
But ultimately when I want to look chic and put together I take my cues from 90s minimalism.
In the 90s, fashion took a turn towards simplicity.
Think of classic pieces in neutral tones—black, white, beige, and grey. No flashy colours were stealing the show.
The clothes were like a breath of fresh air, with straightforward designs and a focus on quality materials.
Silhouettes were easygoing, a departure from the bold shapes and shoulder pads of the previous decade.
I'm not knocking shoulder pads though, because I do enjoy a good structured and strong shoulder.
Patterns were there, but not shouting for attention. If you spotted any, they were likely geometric or animal print, and subtle, adding a touch of interest without going overboard.
Logos and brand names took a backseat, which is reflective of the quiet luxury trend that I focused on last week.
It was more about the craftsmanship and style of the piece than showing off a label.
Everything old is new again. And this is the thing about timeless dressing, it never looks dated.
A 12 Piece 90s Minimalist Winter Capsule Wardrobe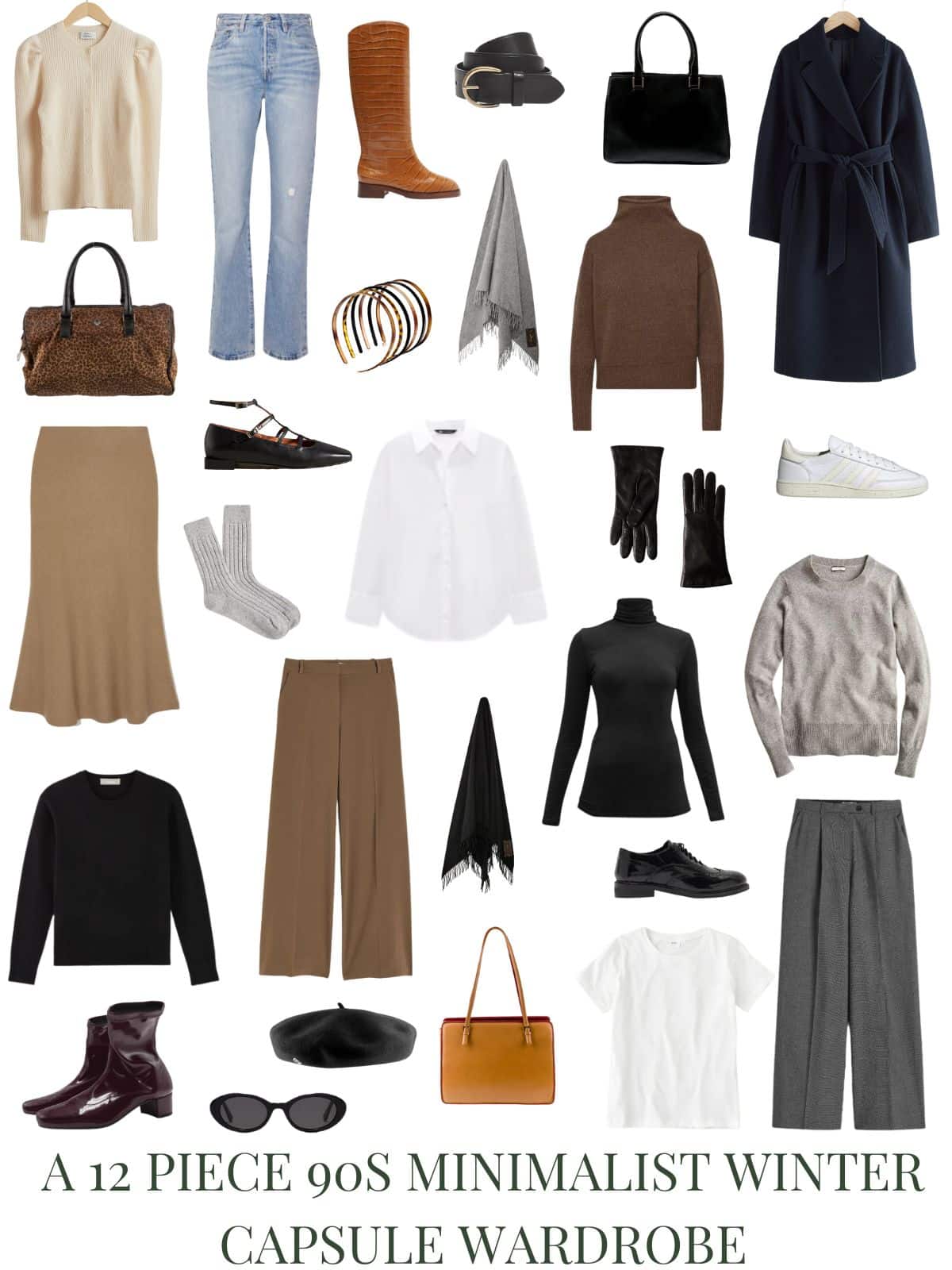 Cream Cardi Top | Jeans | High Boots | Belt | Black Handbag | Coat | Brown Turtleneck Sweater | Grey Scarf | Headbands | Mary Janes | Animal Print Tote | Skirt | Cashmere Socks | Button Up | Leather Gloves | Sneakers | Grey Sweater | Turtleneck | Black Scarf | Brown Trousers | Black Sweater | Brown Patent Leather Boots | Sunglasses | Beret | Brown Handbag | Oxfords | White T-shirt | Grey Trousers

If someone stepped through time from 1994 to today wearing a 90s minimalism-inspired outfit, the only way you would probably know would be if they had a dated hairstyle or makeup.
Something like the Rachel cut would be a giveaway.
Androgyny was in, breaking away from strict gender norms.
Unisex styles were embraced, giving a nod to a more inclusive and free-spirited approach to fashion.
It was about creating a wardrobe that didn't scream a particular season, but rather offered timeless pieces that could stand the test of time.
People shopped much, much less. They would bring out the same pieces year after year. This concept that we need a whole new wardrobe every season is almost terrifying.
You lose your sense of style when you continuously buy new, new, new.
You never have to think of creative ways to rewear old pieces because your closet cycles through at an alarming rate.
So, when you think 90s style, think of a wardrobe that's like a calm, cool friend in the midst of a fashion storm—simple, reliable, and effortlessly chic, and will last you season after season, year after year.
What Are Some 90s Minimalism Outfit Ideas?
I love a good outfit formula and sometimes all we need are a few good ideas to get our creative juices flowing when it comes to dressing.
Picture this: you're channelling 90s minimalism, and it's all about embracing that effortlessly cool vibe.
Start with a basic, well-fitted black or white t-shirt or turtleneck—something that feels like a second skin.
Tuck it into a pair of high-waisted, straight-leg jeans. None of those flashy embellishments; just a simple, timeless denim.
Add a sleek, oversized blazer in a neutral shade, maybe beige or grey. Bonus points if you can find one with strong shoulders, a subtle nod to the power dressing of the 80s but with a minimalist twist.
Footwear? Keep it simple. White sneakers, black or brown ankle boots, or oxfords are the way to go. Comfort meets style, always.
Patent leather was a 90s trend, so I included a few patent pairs. I also chose a deep brown heeled boot versus a black because, in the 90s fashion shows that I watched for inspiration, there were a lot of brown and grey pairings.
We tend to do either grey or brown, not both, and I really liked how they melded these two minimalist staple colours. It just worked.
What about accessories? Less is more, of course. A classic watch, with some delicate gold or silver jewellery, but nothing too chunky.
Sunglasses, and a leather belt, because remember, we're going for understated elegance. Also, don't forget your hair accessories. Skinny headbands were a 90s trend, and we wore them a lot.
Winter accessories are a bit different but just as important. Keep the simple concept in mind and select some leather gloves, cashmere socks, a beret, and some minimalist scarf shawls for a 90s style.
When I was talking about winter accessories a few days ago I talked about a black cashmere fringe scarf that I wanted.
It is almost $500 which isn't a feasible option for me, so I had to seek out an alternative.
The one I both bought and included in this winter capsule wardrobe is wool, triangular shaped with fringe, and will similarly work to the one I wanted.
When you see it included in an outfit idea below, I want you to visualize it, wrapped over the shoulders like in this example of Anna wearing a similar style.
Flip through her photo carousel to see it from different angles.
I love Anna's style.
But in all honesty, if you don't want to purchase a new or used scarf you can just use a sweater as a scarf with some creative tying and variations.
I bought it in black myself, but I am also tempted to get the cream and/or grey version depending on how much use I get out of it, or if it goes on sale for Black Friday.
Onward to more outfit ideas. For a dressier option, a slip dress or slip skirt in a solid colour is a 90s minimalist dream.
Again, stick to those neutral tones. I included a heavier wool version of the slip skirt.
Layer it with a slightly oversized cardigan or sweater and some boots in winter.
And when it comes to bags, think clean lines. A structured handbag or a sleek tote in a neutral shade complements the look without stealing the show.
The key is to mix and match these timeless pieces, creating chic outfits without trying too hard.
A Turtleneck Sweater Dress for instance. Start with a knee-length turtleneck sweater dress in a muted tone like charcoal, beige, or camel.
Layer over the dress with a longline wool coat. Opt for a classic colour like black, grey, or camel to maintain that minimalist aesthetic.
For an alternative, try pairing a turtleneck or chunky sweater with high-waisted, wide-leg trousers.
Create a monochromatic look by layering different shades of the same colour, like a light grey turtleneck with charcoal trousers and a dove grey coat.
Pair a structured turtleneck with a midi skirt. Stick to a simple colour palette, perhaps even monochrome, for an impact.
Embrace a relaxed vibe with a chunky knit sweater paired with straight-leg jeans. Keep the colours muted, and cuff the jeans for a touch of nonchalance.
Choose a mock neck sweater with tailored trousers. Add a wide belt for a touch of structure.
Combine an oversized blazer with a cozy turtleneck and slim-fit trousers. This look is both polished and comfortable.
Remember, the key is to focus on clean lines, neutral colours, and simple silhouettes. Mix and match these elements to create a winter wardrobe that's effortlessly chic and timelessly cool.
It's about embracing simplicity and letting your confidence shine through. That's the essence of 90s minimalism for women—effortless, chic, and confidently understated.
In the 90s, less was definitely more. These outfits were all about embracing simplicity, clean cuts, and a touch of androgyny, all wrapped up in an aura of cool confidence.
It's the kind of style that never shouts, but always leaves a lasting impression.
90s Minimalist Outfit Ideas for Winter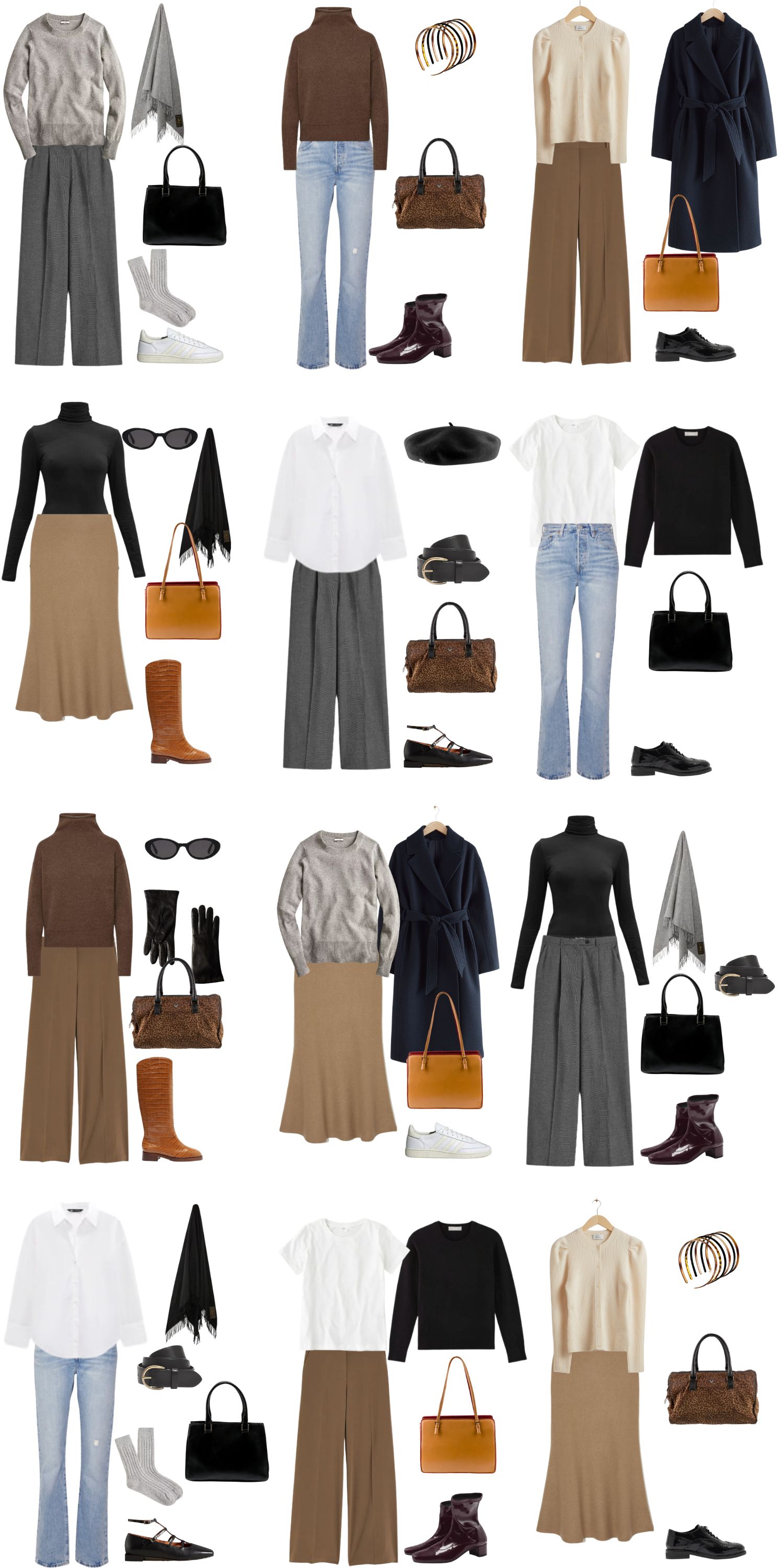 Cream Cardi Top | Jeans | High Boots | Belt | Black Handbag | Coat | Brown Turtleneck Sweater | Grey Scarf | Headbands | Mary Janes | Animal Print Tote | Skirt | Cashmere Socks | Button Up | Leather Gloves | Sneakers | Grey Sweater | Turtleneck | Black Scarf | Brown Trousers | Black Sweater | Brown Patent Leather Boots | Sunglasses | Beret | Brown Handbag | Oxfords | White T-shirt | Grey Trousers

You might also like:
A 12 Piece Minimalist Winter Capsule Wardrobe
A 12 Piece Holiday Packing List
A 12 Piece Colourful Fall Capsule Wardrobe
A 12 Piece Minimalist Fall Capsule Wardrobe
My 12 Piece Ultimate Fall Capsule Wardrobe
A 12 Piece Carolyn Bessette Inspired Fall Capsule Wardrobe
A 12 Piece Ralph Lauren Inspired Fall Capsule Wardrobe
A 12 Piece New Preppy Style Fall Capsule Wardrobe
SHOP THE UK LINKS


I am now offering digital styling guides, and personal styling services. If you are looking for some styling help that is inexpensive and easy, check out my digital styling guides. If you want some one-on-one help shopping, building and editing your wardrobe, or packing for a trip, I can also assist. Check out all the styling services that I offer here.
This post contains affiliate links. By using my links to shop I may receive a small commission (at no cost to you). Thanks for supporting what I do