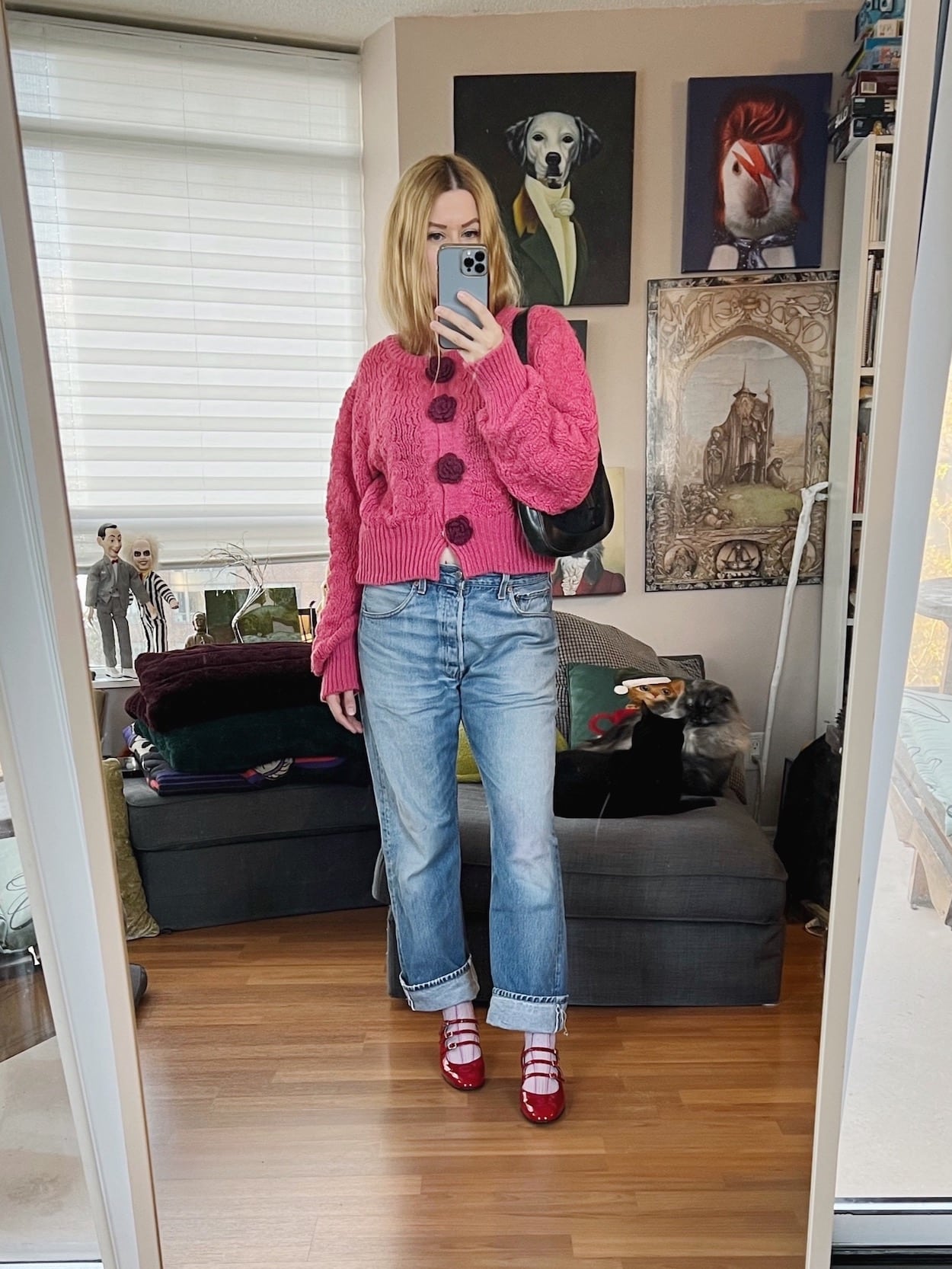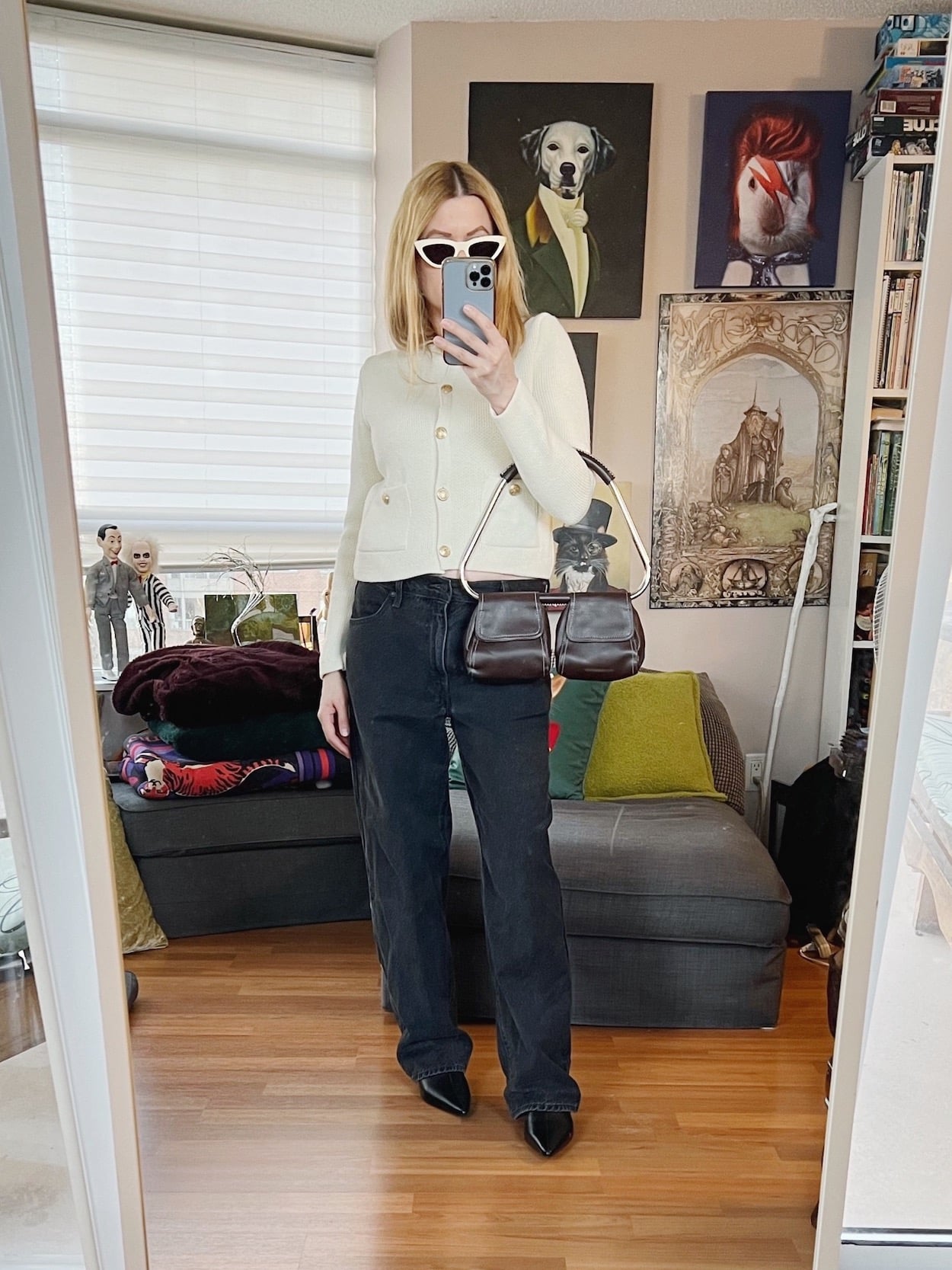 Outfit 1 – Button Up (similar) | Vintage Levis | Boots | Handbag
Outfit 2 – Cardigan | Vintage Levis | Mary Janes | Vintage Handbag
Outfit 3 – Sweater | Trousers | Boots (similar) | Scarf | Vintage Coat | Vintage Bag
Outfit 4 – Cardigan | Jeans | Sunglasses | Boots (similar) | Vintage Bag

If you are a newsletter subscriber to my site, there was a formatting glitch with this week's mailer, so I want to apologize for the convoluted mess that you may have received in your inbox.
I reported the issue, and I am waiting for a confirmation of a resolution by the newsletter technicians of the company I have it set up through.
Tech is great when it works properly but all it takes is one small thing to mess the whole thing up, so I hope they can resolve it quickly before this week's newsletter.
I got my vintage 90s handbag in the mail this past week, and it is even better in person. It is such a unique style and brings a lot of visual interest to an outfit.
You can see it above in the last two outfits.
When the weather gets colder, and you are wearing coats and layering up, I like to have fun accessories and handbags to liven up a look and break up the monotony of covering your outfit with a coat every day.
I have a few pieces that I am currently seeking out on my winter accessory wishlist. One I got already, and another I have not been able to source yet since I am looking for a vintage or secondhand version.
It's a large square cashmere scarf with short but full fringe along every edge that I am seeking. I want it in black or navy.
The accessory I did get is this wool short roll-neck poncho to wear over coats. I think it is a standout piece.
Currently, my cat is hiding under my chair because of all the fireworks people are setting off to celebrate Diwali. He doesn't like to be far from me.
He really does not like loud noises like that which is weird because he is perfectly fine with the vacuum rolling by him.
High five to me who is almost completely done Christmas shopping. This is my earliest year ever.
And no I didn't get the tree up from the storage room like I anticipated on Friday.
My brain is tired, and I forgot until tonight when I ran to the corner store and saw a few lit trees in the windows of some of the condos.
Tomorrow maybe?
You might also like:
What I Wore Last Week
SHOP THE UK LINKS


I am now offering digital styling guides, and personal styling services. If you are looking for some styling help that is inexpensive and easy, check out my digital styling guides. If you want some one-on-one help shopping, building and editing your wardrobe, or packing for a trip, I can also assist. Check out all the styling services that I offer here.
This post contains affiliate links. By using my links to shop I may receive a small commission (at no cost to you). Thanks for supporting what I do