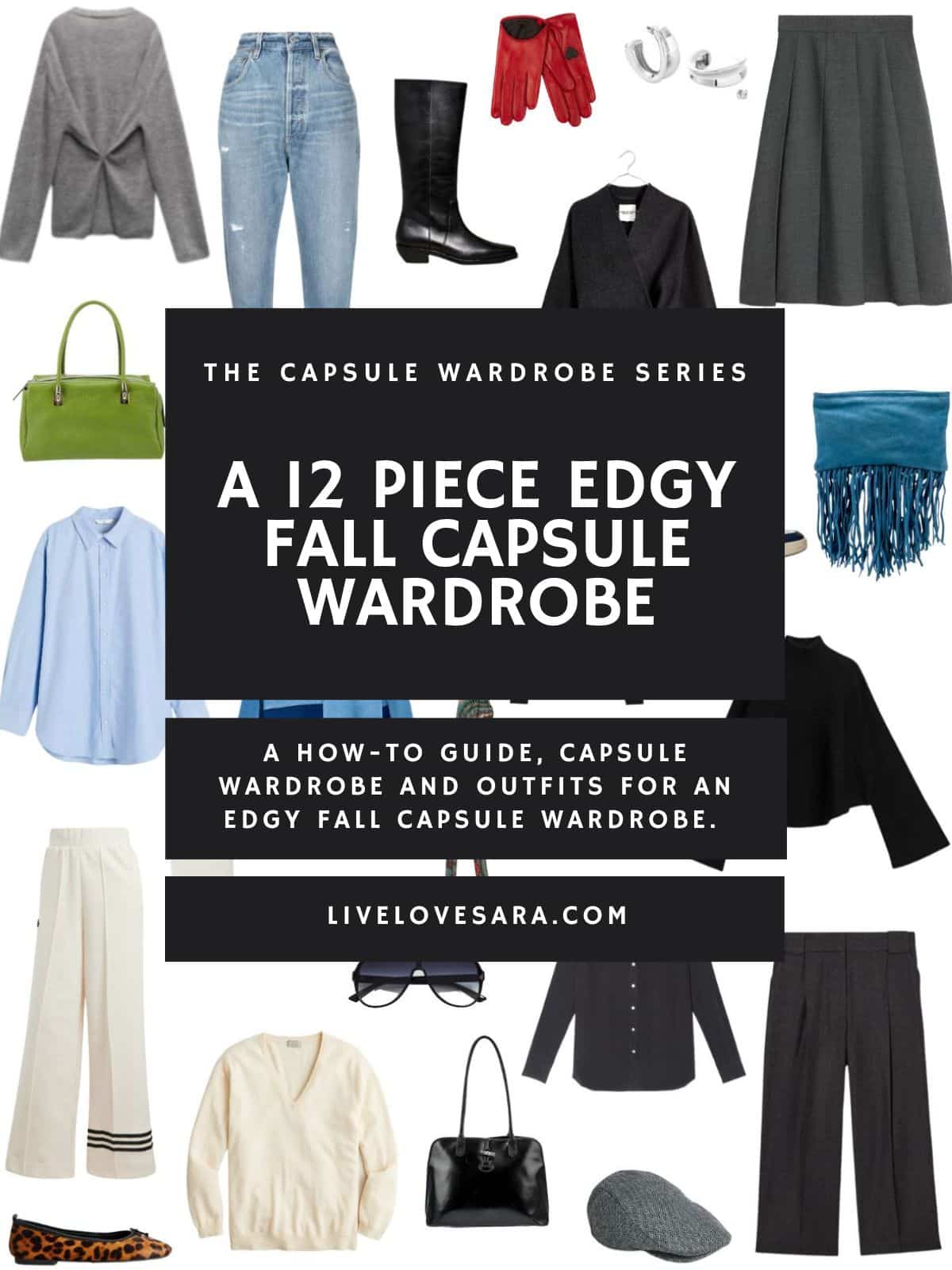 When every season changes over, the style request I get messaged about the most often is the edgy capsule wardrobe. People ask me when it will be posted, and it apparently is one of the most anticipated of each season which makes me happy.
Even though I still love the 90s capsules the best I think. It's a tough call. My personal style envelops them both, so I don't really have to make a choice right?
I can enjoy the best of both worlds.
I feel like because there is so much overlap between different fashion styles it makes it very easy to adapt the edgy style to other looks.
The touch of the unexpected is always the part that brings it to the level of edgy. Otherwise, you can take the general base of the outfit and tweak it to fit many other styles.
Unexpected is coincidentally one of my three style adjectives, so I always love to find ways to express that, and because there is so much overlap this is why I think that it is almost impossible to categorize yourself under only one style header.
Which we used to do in the old school styling days.
By overlap, I mean that a minimalist style can be replicated easily with classic, and classic crosses over into quiet luxury, which crosses into both old and new preppy and so on.
I find that Edgy leans towards the streetwear and maximalist side and can easily be brought to maximalist wardrobe levels with the art of layering, pattern mixing, and accessory building.
It's like they all exist on a giant Venn diagram which is why I feel it is so important to figure out your style and the direction that you want your style to go.
Because it is very easy to not notice small shifts that can switch directions and send you going a way that doesn't really feel authentically you.
A 12Piece Edgy Fall Capsule Wardrobe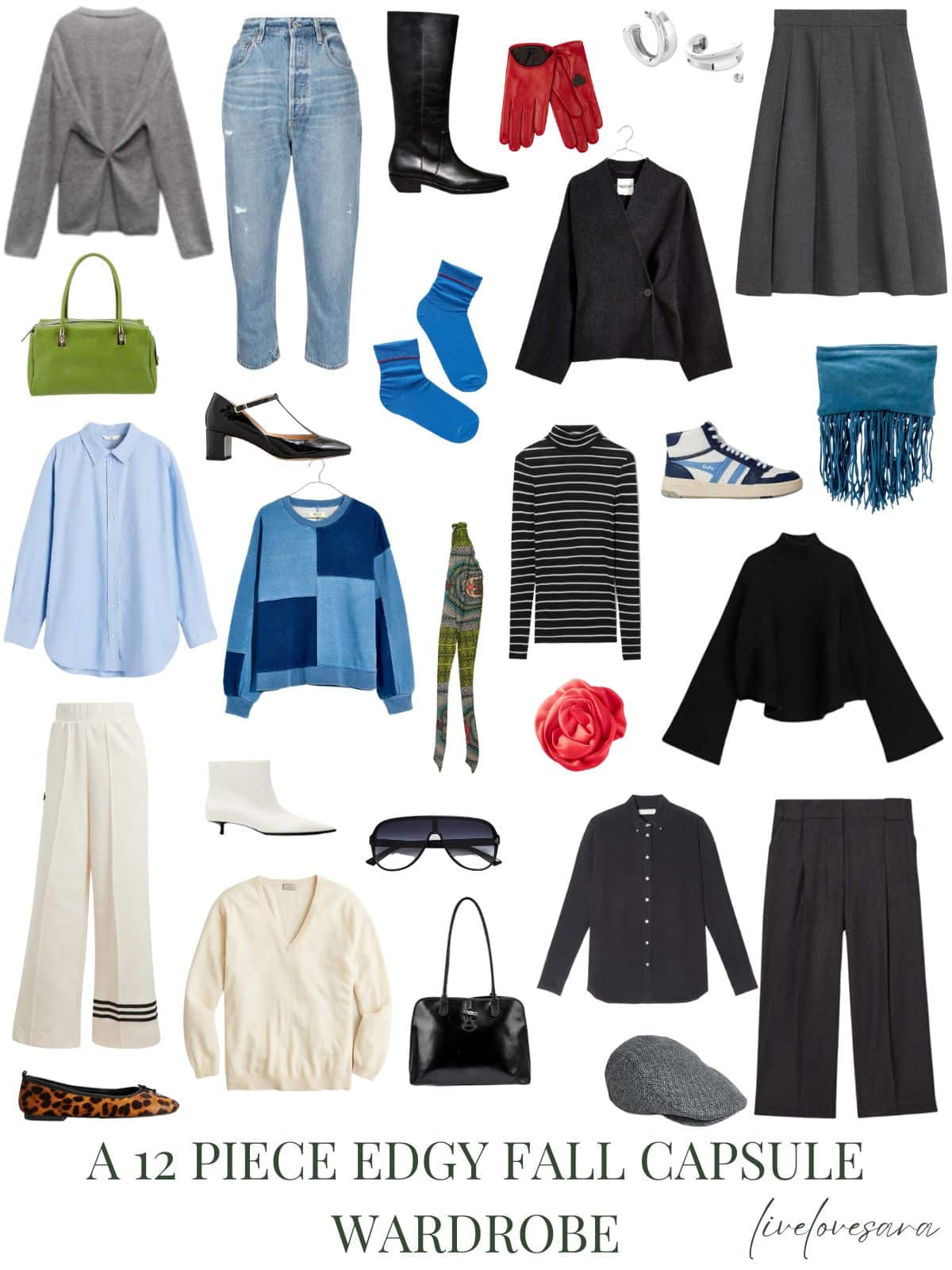 Grey Sweater | Jeans | High Boots | Gloves | Earrings | Skirt | Blue Fringe Clutch | Sneakers | Jacket | Socks | Mary Janes | Green Handbag | Blue Oxford | Patch Sweatshirt | Skinny Scarf | Turtleneck | Black Sweater | Rosette Pin | Sunglasses | White Booties | Track Pants | Ballet Flats | Cream Sweater | Black Purse | Silk Blouse | Black Handbag | Hat | Dark Grey Trousers

So, What is Edgy Fashion?
This is where it can get tricky in the description because edgy can vary from person to person.
But ultimately at its core edgy fashion is a style that incorporates unconventional, bold, and daring elements to create a unique look.
It is often not about the individual pieces, but how they are combined as a whole that make an outfit edgy.
Keep in mind that fashion trends evolve over time, and what's considered "edgy" can vary from season to season.
Edgy fashion often features a predominantly dark colour scheme, including black, grey, deep burgundy, and dark shades of green or blue.
These colours convey a sense of mystery and sophistication.
Leather or faux leather jackets, pants, skirts, and accessories are quintessential in edgy fashion. They add a tough and rebellious edge to outfits.
Clothing and accessories that standout. Maybe featuring metal studs, zippers, chains, and other hardware details, adding a punk or rock and roll touch.
I ordered a pair of handmade half scoop gloves from Etsy. I chose to get them because the style is unique which makes for a great standout accessory.
Also, I wanted that bold contrasting colour to add that touch of unexpected that I love, and since red is a huge fall and winter trend this year that is the colour I chose.
Red is often the colour that I gravitate to, along with 70s green.
They come in a huge amount of colour options, and you can easily find one that is perfect for your tastes.
I feel like fashion gloves are going to be a strong vibe this year and I might grab another pair in a different colour as well.
The small business is also Ukrainian which I figured could use support during this time.
Layering is a common styling technique in edgy fashion. Mixing and matching different textures, fabrics, and lengths creates depth and visual interest in an outfit.
I would say that layering is an art, so start small and slowly add to it until you build the look you are going for.
Vintage and retro influences are important because much of women's fashion in general draw inspiration from different eras, such as 80s punk, 90s grunge, or 70s rock and roll, to create a unique and nostalgic twist.
The white mini booties with the kitten heel are an 80s vibe dream to me. I bought them and look forward to styling them this season.
Edgy fashion often involves blending contrasting styles, such as combining feminine and masculine pieces or juxtaposing high fashion with streetwear for an eclectic and visually striking appearance.
In this fall capsule wardrobe I tried to include a lot of style contrasts like the streetwear track pants, masculine trousers, the pleated skirt (which I also ordered).
I also like to play with shape and cut, so I am drawn to asymmetrical styles, irregular hemlines, and pieces that can be worn in different ways like the grey sweater with the button.
The core of edgy fashion is expressing one's individuality and distinctiveness. Women who embrace this style often take fashion risks and prioritize self-expression.
Besides the 24 edgy outfit ideas that I built from this fall capsule wardrobe, I also have included a few edgy outfit formula ideas to help inspire you.
Print Mixing
Combine different prints, like stripes, florals, and polka dots, in one outfit. Accessorize with statement jewellery and a vibrant handbag.
This leans towards maximalist but when done with a minimalist overlay you can reign it in.
Metallics
Opt for metallic clothing items like a sequined top, a metallic skirt, or shiny pants. Add metallic accessories like silver or gold shoes and a metallic clutch.
Not all at once, but pick a piece or two and let them be the stars of the outfit.
Colour Clashing
Choose contrasting and vibrant colours like electric blue, hot pink, and neon green. Incorporate these colours into your clothing, shoes, and accessories for a bold statement.
Layered Bohemian Chic
Mix and match bohemian-inspired pieces like flowy skirts, fringed vests, and patterned scarves. Layer multiple items to create a rich, textured look but then pair it with something unexpected that contradicts the bohemian vibe.
Vintage
Wear vintage-inspired dresses with ruffles, lace, and intricate details. Pair with retro accessories like cat-eye sunglasses and a vintage clutch.
Play with Texture
Experiment with different textures like faux fur, leather, velvet, and lace. Create a textural contrast by combining these elements in one outfit.
Statement Outerwear
Start with a simple outfit and let your outerwear steal the show. Think bold, colourful coats with intricate designs. This is especially important when the weather turns and your outfit is covered by outwear.
Statement Accessories
Go for oversized statement accessories like chunky jewellery, hats, and dramatic sunglasses. Use accessories to add an edgy and unexpected touch to a more understated outfit.
Mixed Era Styles
Combine fashion elements from various eras, like pairing a vintage Victorian blouse with modern leather pants. Incorporate items from different time periods to create a unique and eclectic look.
Artistic Expression
Wear clothing with artistic prints and designs, such as abstract patterns or graffiti-inspired pieces. Express your personality through your clothing choices.
Feathered and Fringed Ensemble
Choose clothing or accessories with feathers, fringe, or tassels for a dramatic flair. Keep the rest of your outfit relatively subdued to let these details stand out.
I love a good fringe, like the blue clutch that brings in colour, fringe, as well as being a preloved item.
Remember that edgy fashion is all about self-expression and pushing boundaries, so don't be afraid to mix and match to create a look that truly represents your style and personality.
Have fun experimenting with different combinations and embracing the unexpected.
Edgy Outfit Ideas for Women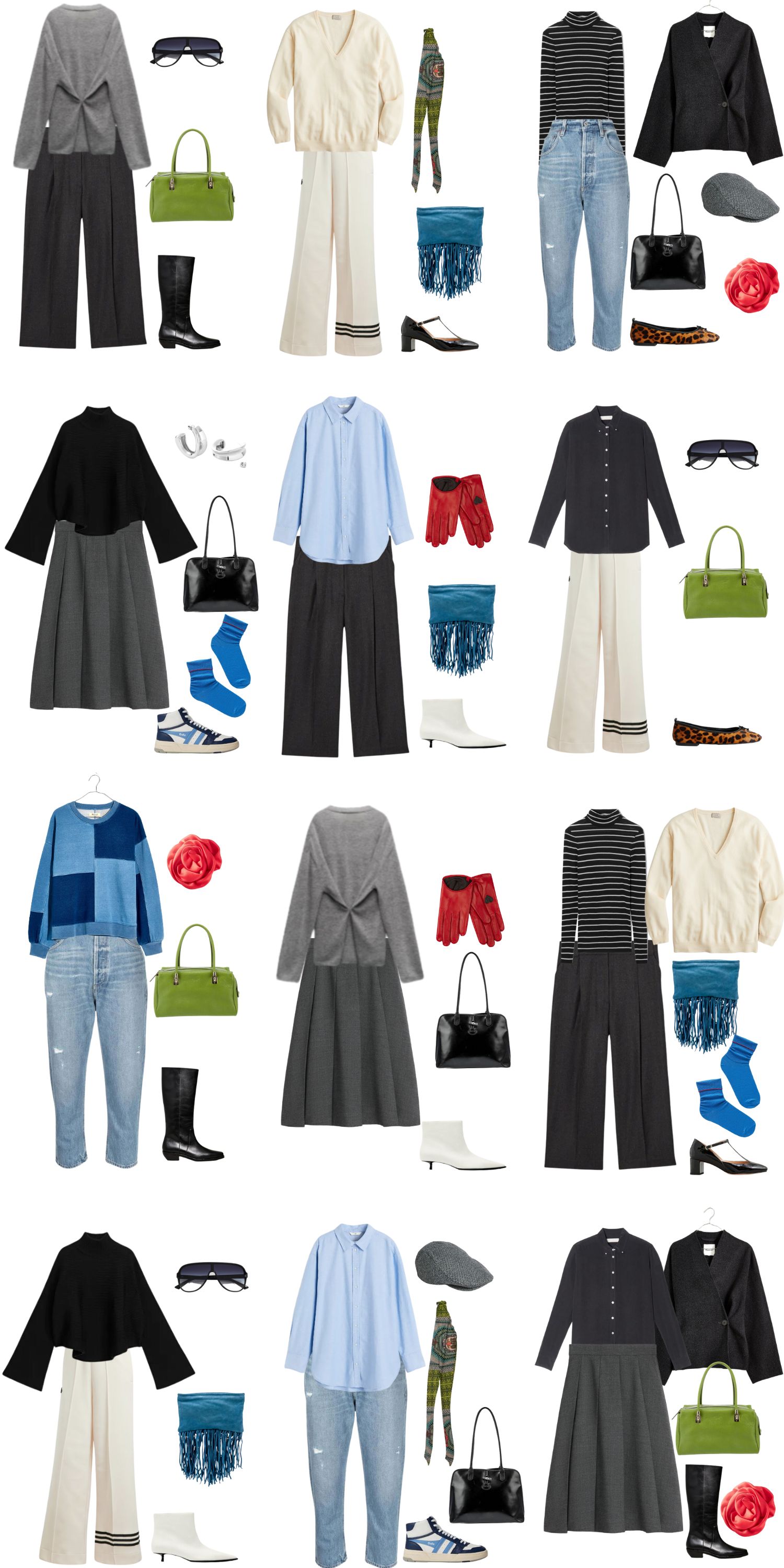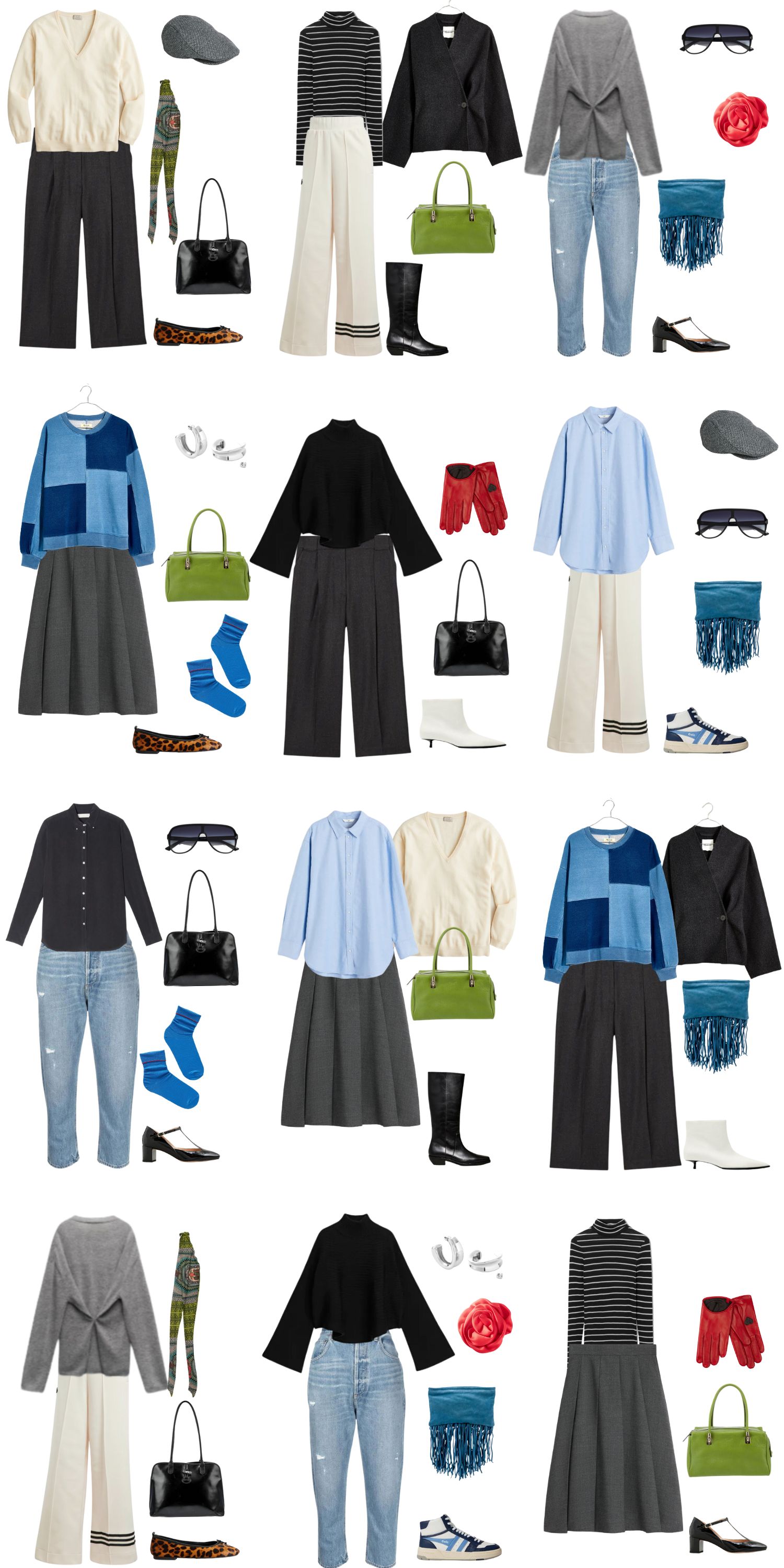 Grey Sweater | Jeans | High Boots | Gloves | Earrings | Skirt | Blue Fringe Clutch | Sneakers | Jacket | Socks | Mary Janes | Green Handbag | Blue Oxford | Patch Sweatshirt | Skinny Scarf | Turtleneck | Black Sweater | Rosette Pin | Sunglasses | White Booties | Track Pants | Ballet Flats | Cream Sweater | Black Purse | Silk Blouse | Black Handbag | Hat | Dark Grey Trousers

You might also like:
A 12 Piece Ralph Lauren Inspired Fall Capsule Wardrobe
A 12 Piece Scandinavian Street Style Fall Capsule Wardrobe
A 12 Piece Indie Style Fall Capsule Wardrobe
A 12 Piece New Preppy Style Fall Capsule Wardrobe
A 12 Piece Minimalist Fall Capsule Wardrobe
A 12 Piece 90s Fashion Fall Capsule Wardrobe
A 12 Piece Quiet Luxury Fall Capsule Wardrobe
A 12 Piece Rock Inspired Falls Capsule Wardrobe
A 12 Piece Dark Academia Capsule Wardrobe
SHOP THE UK LINKS


I am now offering digital styling guides, and personal styling services. If you are looking for some styling help that is inexpensive and easy, check out my digital styling guides. If you want some one-on-one help shopping, building and editing your wardrobe, or packing for a trip, I can also assist. Check out all the styling services that I offer here.
This post contains affiliate links. By using my links to shop I may receive a small commission (at no cost to you). Thanks for supporting what I do