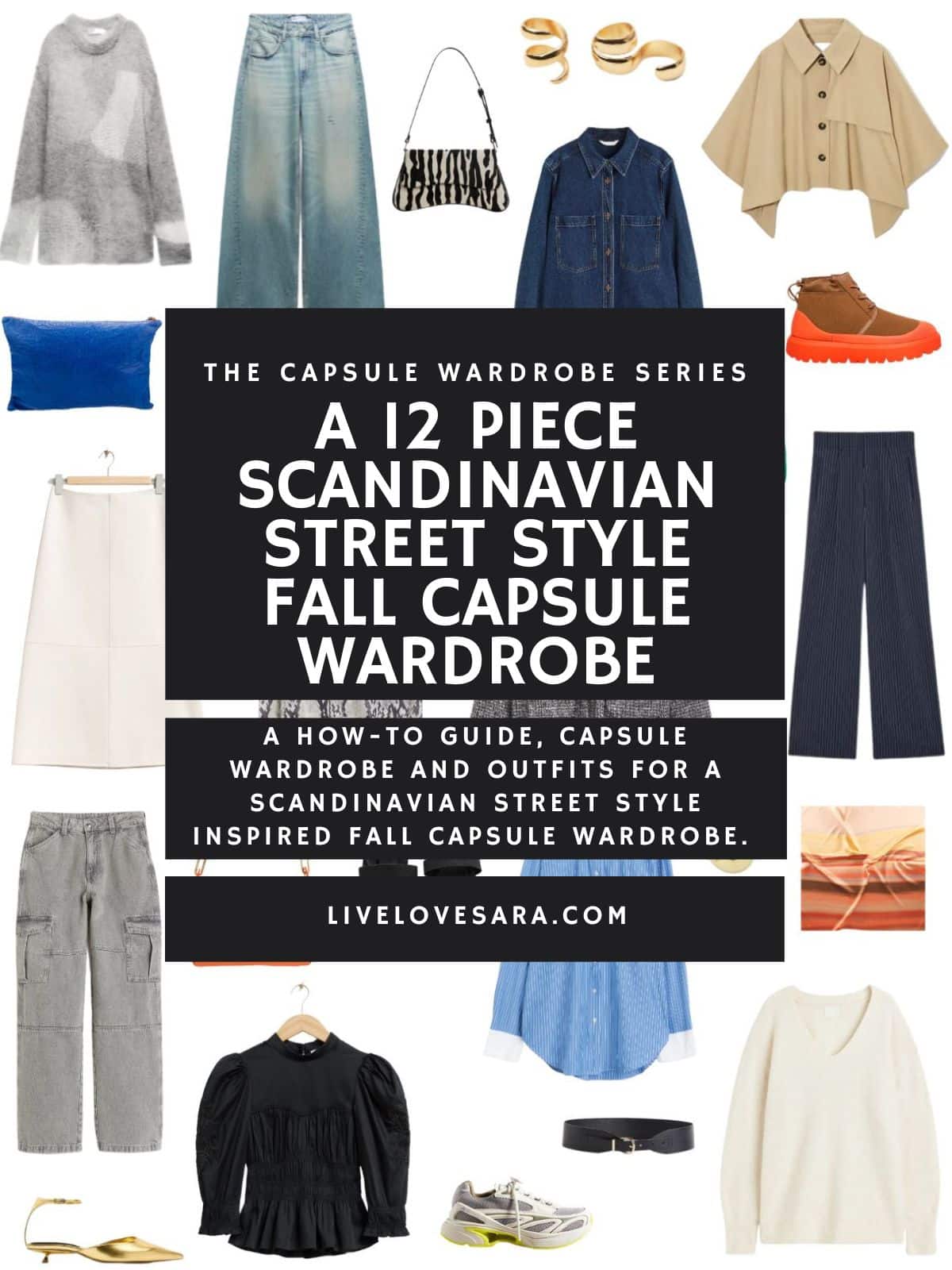 When we want style inspiration, it is the Scandinavian street style fashionistas who we look to for new and upcoming trends. They have that effortlessly cool look that seems so simple but oozes such an individualistic style that it feels like it is unachievable for the masses.
It is not hard to achieve though, and I'm going to break it down for you today, so you too can bring some Scandinavian street style to your everyday looks.
Copenhagen fashion week just passed and in homage, I thought I would put together a Scandinavian street style capsule.
They have such a simple yet unexpected approach to fashion.
They have perfected the skill of layering and just naturally exude a coolness that is enviable.
Scandinavian women can take a simple button-down and a pair of jeans outfit and transform them into something revolutionary.
A balance between minimalism and maximalism is a hallmark of Scandinavian style.
This post has similar vibes to my 12 Piece Minimalist Capsule from a couple of weeks ago because they follow a similar ethos.
A 12 Piece Scandinavian Street Style Fall Capsule Wardrobe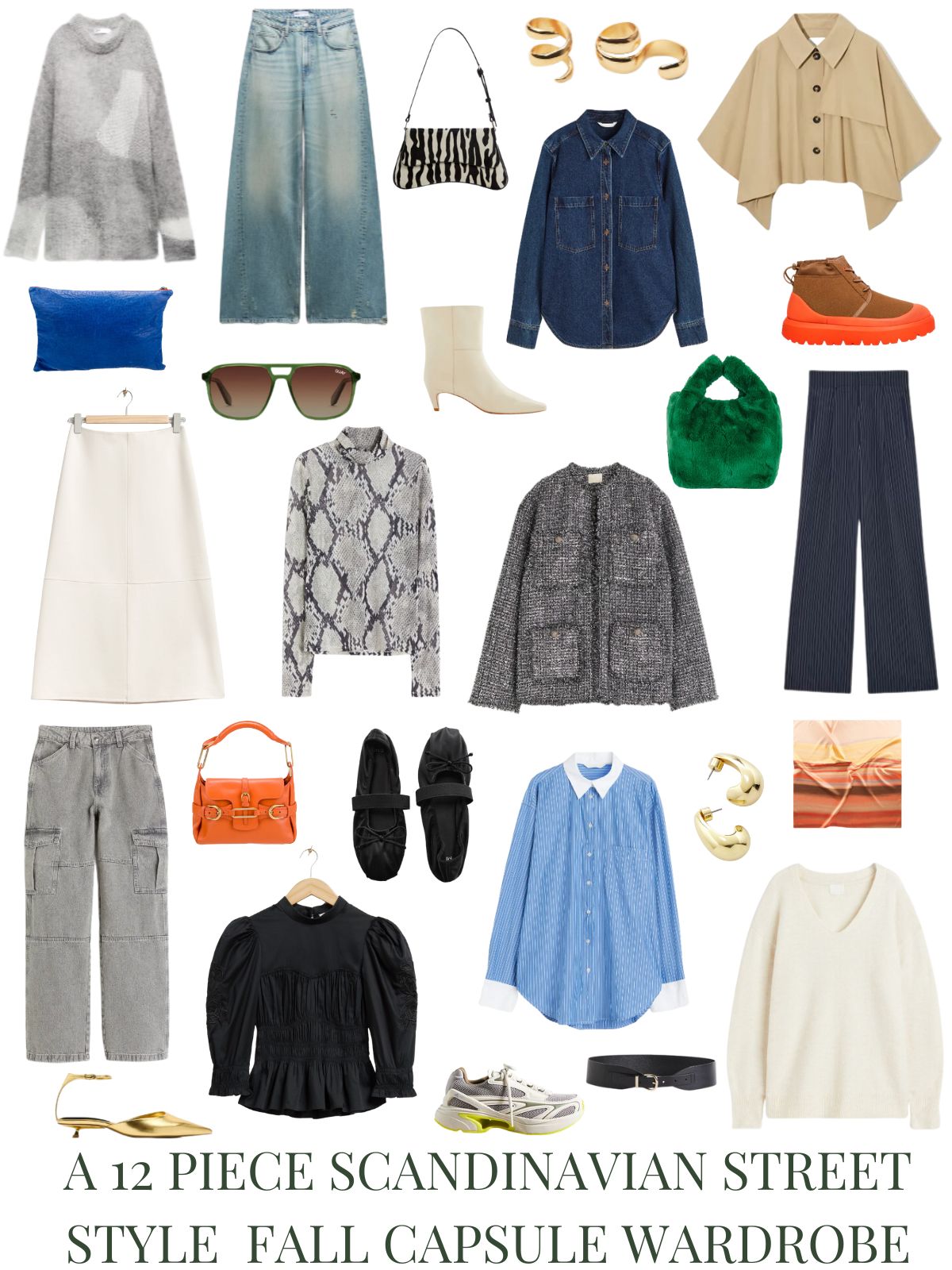 Grey Sweater | Blue Jeans | Zebra Print Handbag | Rings | Denim Shirt | Trench Cape | Brown & Orange Boots | Navy Blue Trousers | Green Bag | Off White Boots | Tweed Jacket | Turtleneck | Sunglasses | Blue Clutch | Skirt | Cargo Jeans | Orange Bag | Black Shirt | Ballet Flats | Blue Button Up | Earrings | Scarf | Off White Sweater | Belt | Sneakers | Gold Kitten Heel

What is Scandinavian Street Style
Before diving in, it is important to note that depending on where you look, Scandinavian street style varies.
A good way to describe it is chic minimalism and unhampered maximalism.
The style leans towards more elegant and refined in Norway and Sweden and has a bit of a Parisian feel.
But in Denmark, they really like to bring out colours, prints, and individuality. In comparison to Norway and Sweden, Denmark is like the cool, older sister.
Some key things to note are:
Simplicity is key.
Layering is a skill: Due to the varying weather conditions in the region, layering is a crucial aspect of Scandinavian street style.
People often layer different pieces of clothing to stay warm and adapt to changing temperatures.
Layering also allows you to get more looks from fewer pieces since you are combining them in different ways all the time.
Prioritize comfort: Comfort and effortless go hand in hand. People opt for comfortable and functional clothing that allows you to move freely throughout their daily activities.
Mix of High and Low Fashion: Scandinavian street style often combines high-end designer pieces with more affordable, accessible brands, creating a balanced and eclectic look.
Unisex and Gender-Neutral Styles: This style often blurs traditional gender boundaries, with many styles being unisex or gender-neutral.
Invest in staples not trends. Since we are all going to work on being outfit repeaters and getting creative with our clothes and cutting our consumption…Right?
Scandinavian fashion really encourages wearing your clothes again and again.
This is why it's important to buy items that you really love and that will last.
Scandinavian Street Style for Fall 2023
If you have ever watched any Copenhagen fashion week, you will notice how they have a completely different vibe than other cities.
I suggest paying less attention to the shows, and focus more on what the crowds are wearing.
This will give you insight as to what kinds of fashion, styles, and trends are going to be making their way here soon.
For the fall/winter 2023 we are seeing the following:
– A 90s grunge aesthetic with cargoes, oversized and distressed jeans, chunky combat boots, and oversized coating.
– Pastels mixed with punchy colours like orange and green. Orange is very prominent.
– Dresses over pants. I feel this. I do this. And fall and winter is the prefect time to dabble in this if you are looking to try. A miniskirt over wide leg jeans is so funky chic it hurts.
And it is the only way that I will wear a mini skirt.
– The party on top and business down below look. Meaning dressy and polished on the bottom with a fun twist on top.
– We are seeing balaclavas again which are a less scary version of the full-face cover that tradition dictates, and more of a cute knitted one-piece, head and neck cover.
– Leather of all kinds. This one was already predicted, but it was nice to see the confirmation.
– Try shorts in fall or winter paired with tights or knee-high boots for a transitional look. Many of us run away from shorts, me included.
This gives a completely different approach than summer wear.
– The skinny scarf revival. I've been saying it, but once the Scandi girls do it is the sign from the gods.
And ties. Get a tie, it's an accessory that isn't just for preppy looks.
– Accessory maximalism. Use these accessories to really make a statement. It especially makes an impact with a more neutral, streamlined outfit.
– This is absolutely not for everyone but we are seeing exposed underwear, just in case if you are looking to dip into something a little extra.
And if you don't want to go there, try a much more subtle approach to get a similar vibe by wearing fishnets under distressed jeans, so you can see the tights through the distressing.
– Matchy-matchy. Pick a colour and use it throughout including accessories. Yes, you can match your bag to your coat, to your sunglasses.
– Menswear inspired. We see it year after year, so it always does my heart good to see it show up again.
– Peplum shirts are back.
– Furry handbags and/or faux fur coats. Maybe try both?
– Tie a silk scarf around your neck in a classic neck knot so that it becomes a band around your throat, or as a head kerchief. For more punch, make it a bold colour or wild print.
– It is a microtrend but saw mermaid core with seashell shaped accessories or iridescent sequins.
– Suiting which circles back to menswear but also can be overtly feminine. We are talking about two piece suits with matching trousers, skirts, and even shorts.
– Daytime Disco with a sequin skirt paired with a sleek button up and a leather jacket.
– Mixed denim.
– Layering turtlenecks under strapless or slip dresses.
– A complete mashup of print mixing and silhouettes. It will feel like it shouldn't work, but it usually does in an intentional way.
The more the better, and if you are a more neutral minimalistic person, than make the more with your accessories.
I recommend the Instagram account karyastreetstyle if you want an excellent photographic overview of the Copenhagen Fashion Week.
So much inspiration.
Scandinavian street style captures a balance between functionality, style, and individual expression.
They are full of inspiring street style with simple and unique ideas that can be applied to your own wardrobe to take it up a notch.
You never, ever have to embrace a style full-on. It is absolutely okay, and I encourage you to just add little bits here and there to enhance your own personal style.
Use it for inspiration not imitation, because once you imitate then you lose what makes your look uniquely you.
Scandinavian Street Style Outfit Ideas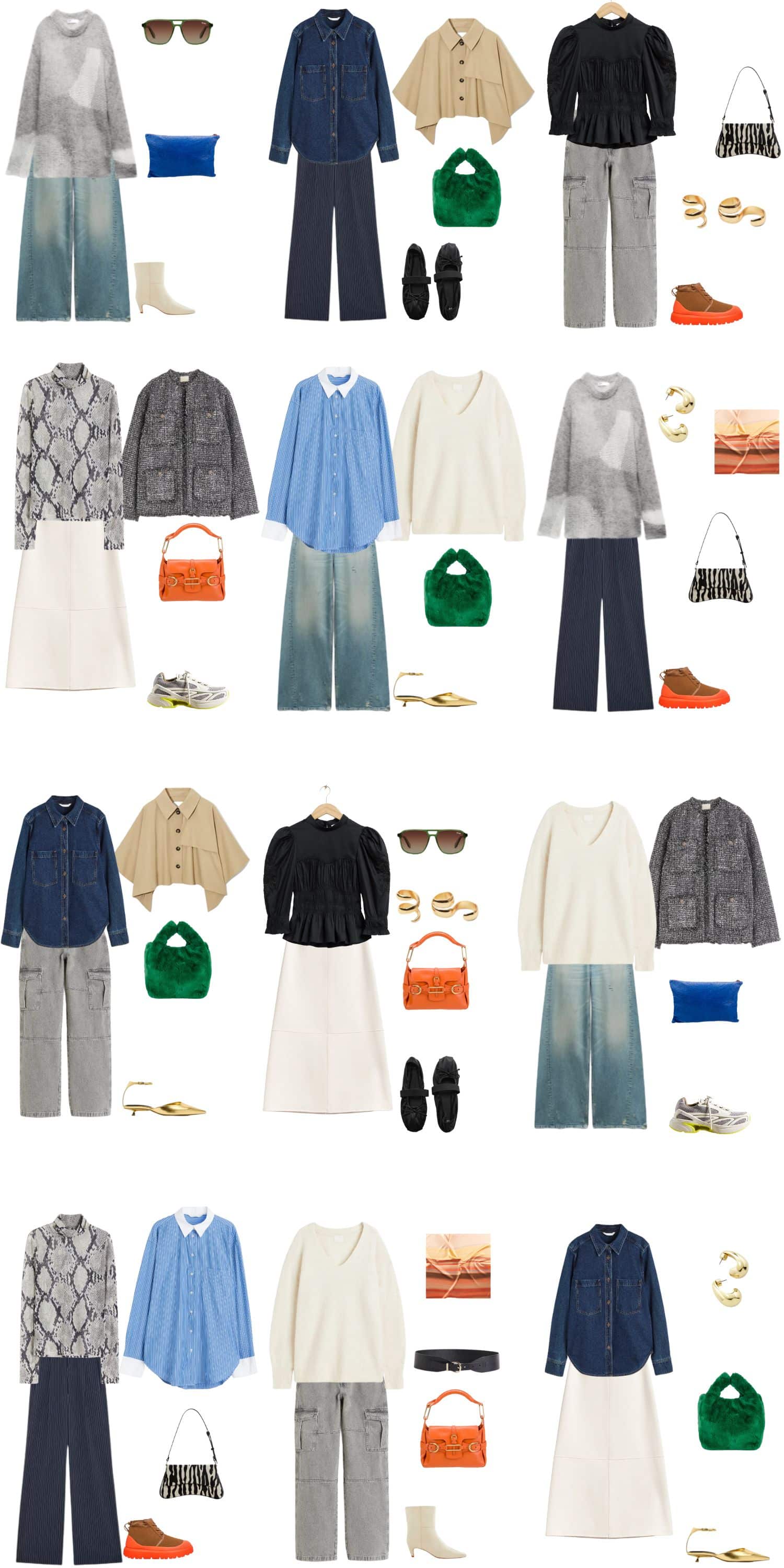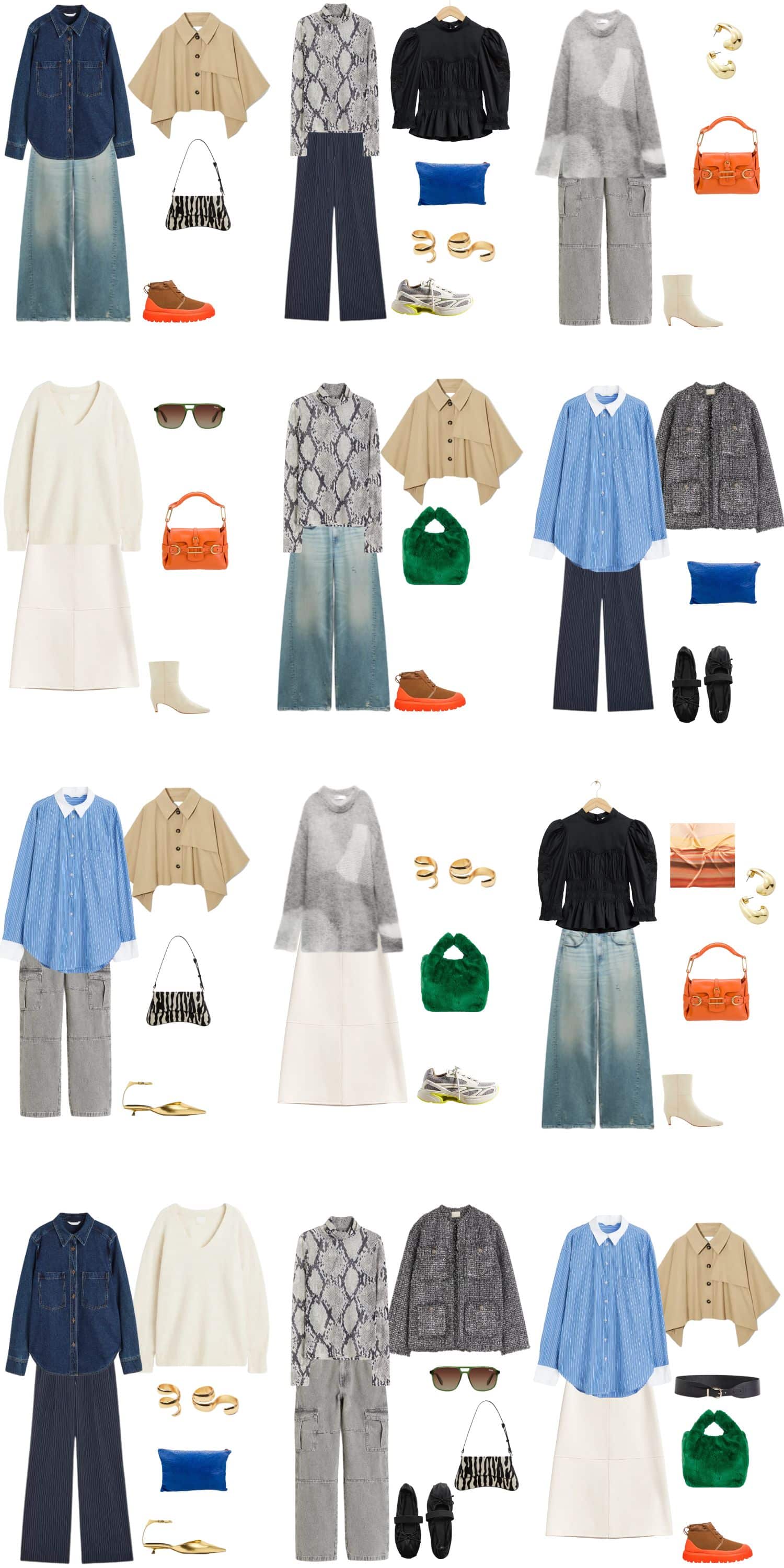 Grey Sweater | Blue Jeans | Zebra Print Handbag | Rings | Denim Shirt | Trench Cape | Brown & Orange Boots | Navy Blue Trousers | Green Bag | Off White Boots | Tweed Jacket | Turtleneck | Sunglasses | Blue Clutch | Skirt | Cargo Jeans | Orange Bag | Black Shirt | Ballet Flats | Blue Button Up | Earrings | Scarf | Off White Sweater | Belt | Sneakers | Gold Kitten Heel

You might also like:
A 12 Piece Indie Style Fall Capsule Wardrobe
A 12 Piece New Preppy Style Fall Capsule Wardrobe
A 12 Piece Minimalist Fall Capsule Wardrobe
A 12 Piece 90s Fashion Fall Capsule Wardrobe
A 12 Piece Quiet Luxury Fall Capsule Wardrobe
A 12 Piece Rock Inspired Falls Capsule Wardrobe
A 12 Piece Dark Academia Capsule Wardrobe
SHOP THE UK LINKS


I am now offering digital styling guides, and personal styling services. If you are looking for some styling help that is inexpensive and easy, check out my digital styling guides. If you want some one-on-one help shopping, building and editing your wardrobe, or packing for a trip, I can also assist. Check out all the styling services that I offer here.
This post contains affiliate links. By using my links to shop I may receive a small commission (at no cost to you). Thanks for supporting what I do