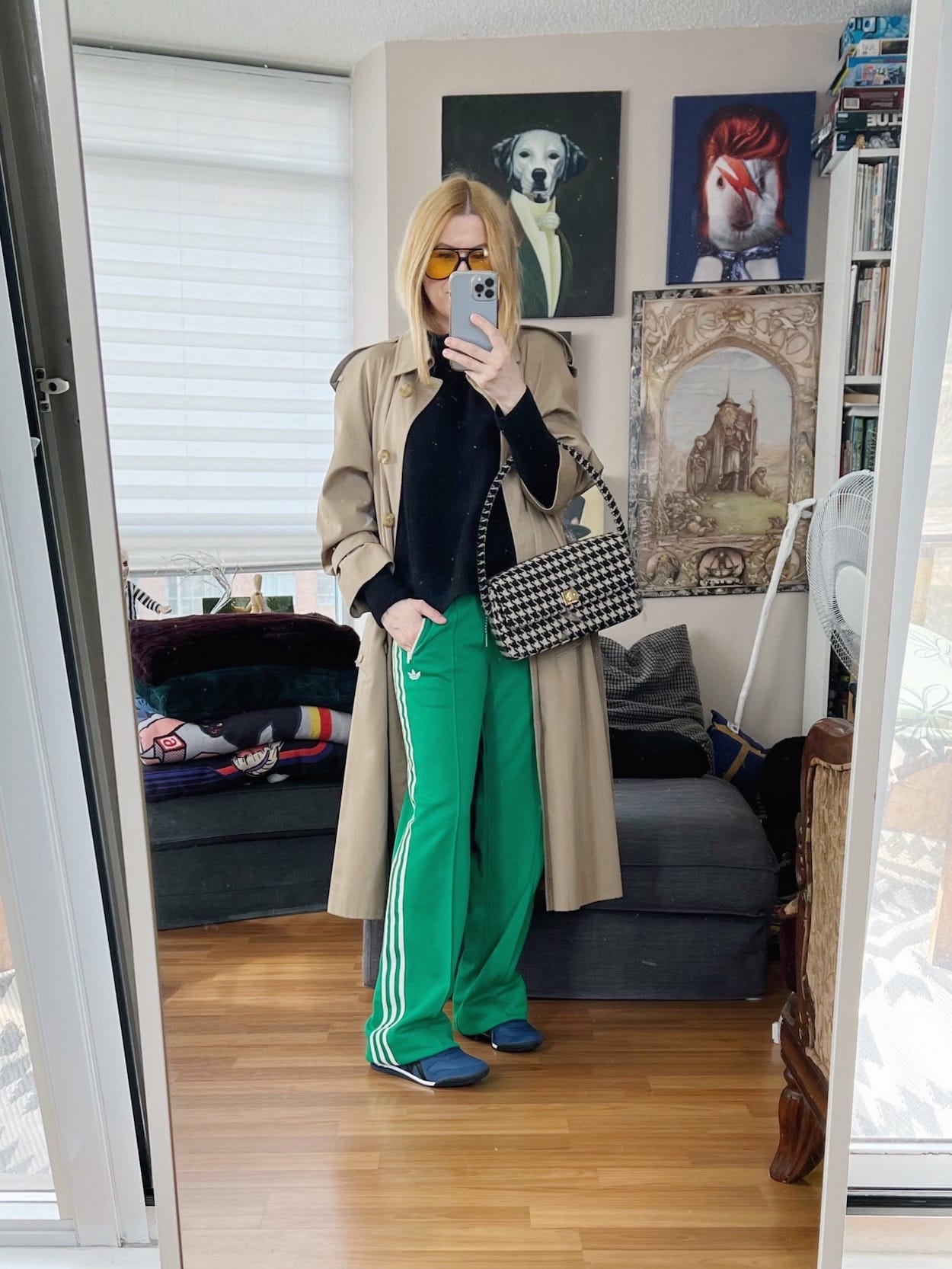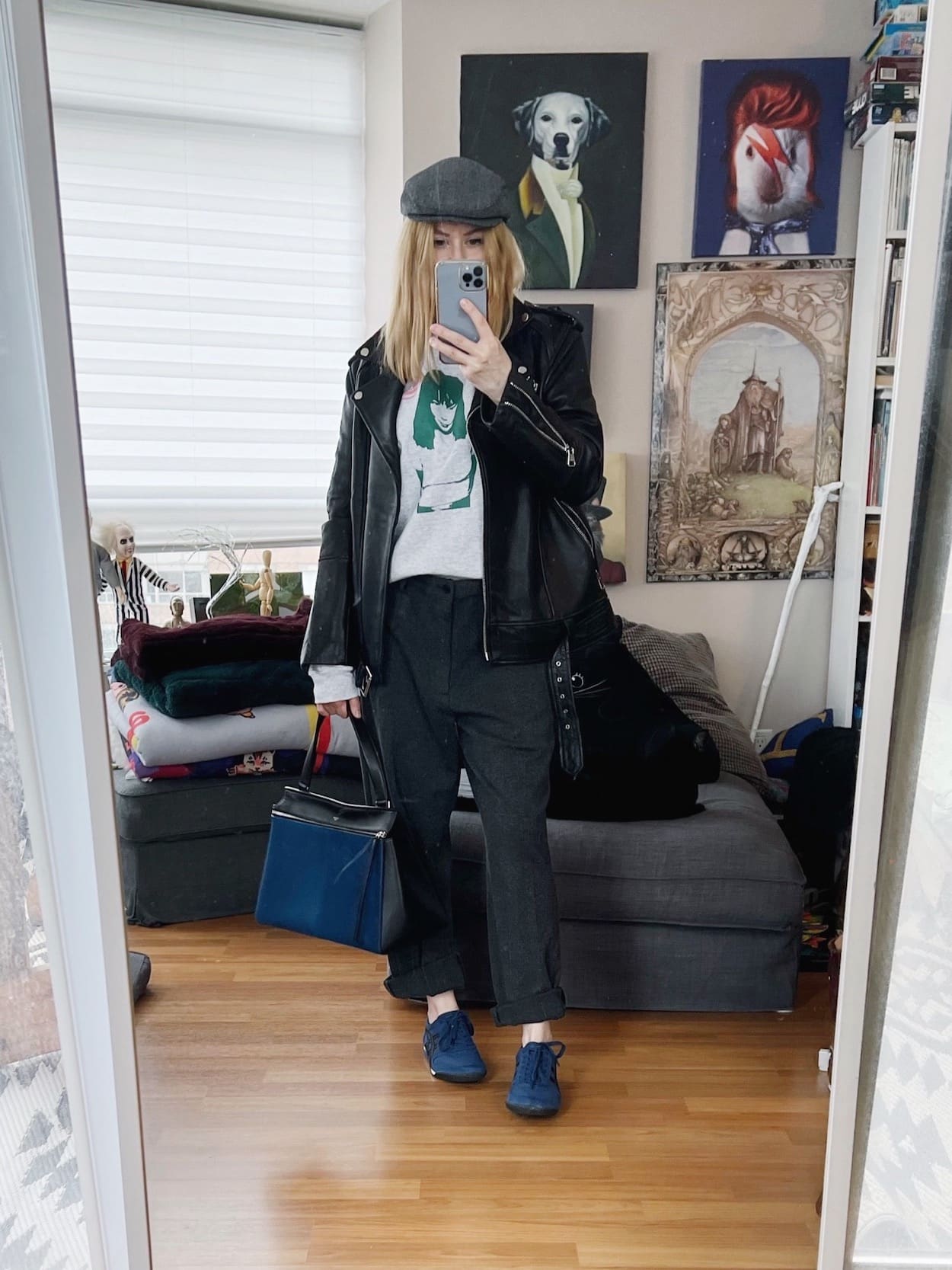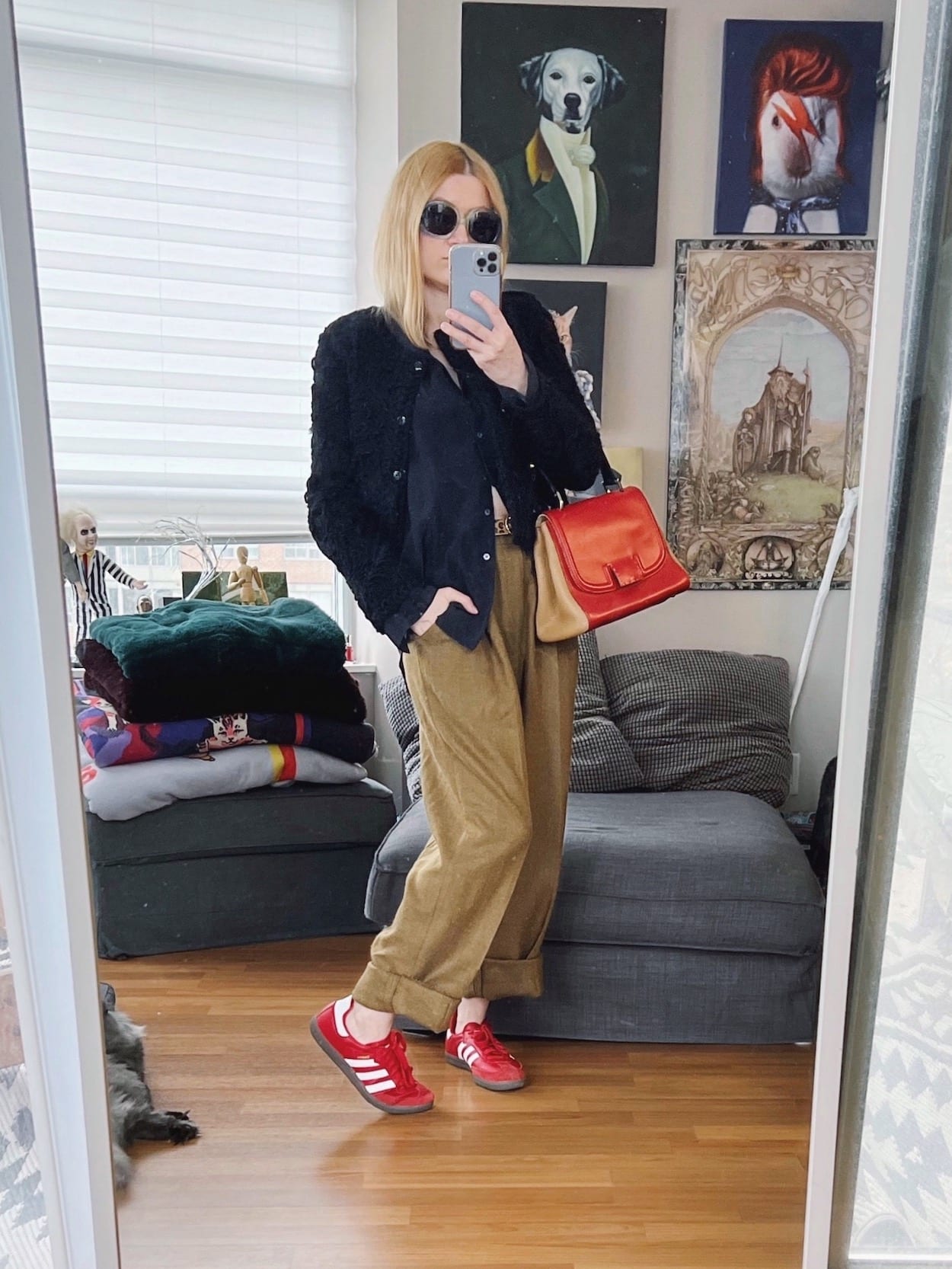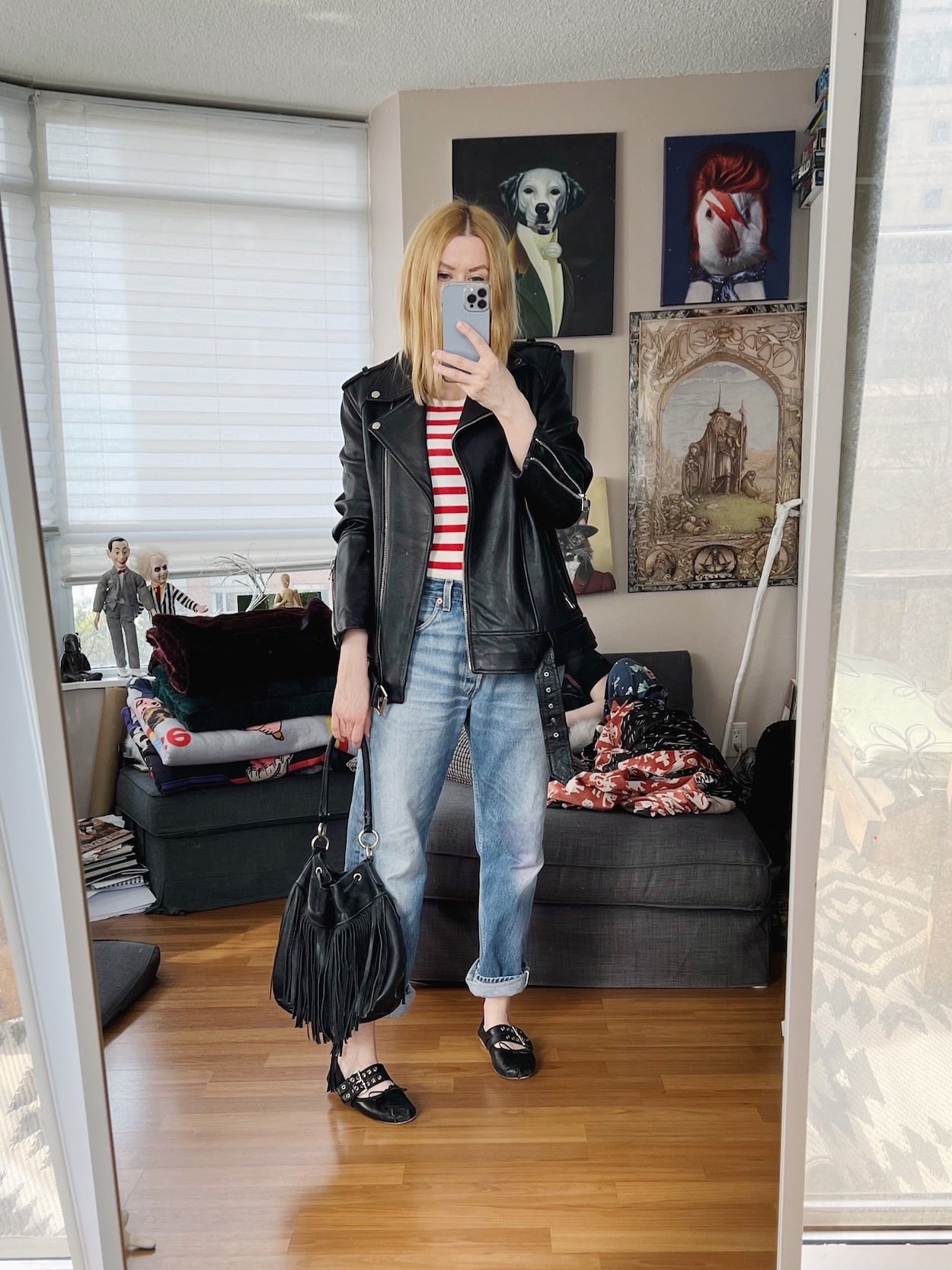 Outfit 1 – Sweater | Track Pants | Vintage Trench (similar) | Sunglasses | Sneakers | Handbag
Outfit 2 – Sweatshirt | Moto | Trousers | Sneakers | Hat | Handbag
Outfit 3 – Blouse | Jacket (similar) | Belt | Vintage Trousers | Vintage Sunglasses | Sneakers | Handbag
Outfit 4 – Tank | Moto | Vintage Levi's | Flats | Bucket Bag (similar)

Does anyone remember the time in their life when Sunday was referred to as Sunday Funday? What happened to that? I think it lost all meaning in my life around the time that Mcdonald's stopped doing Cheeseburger Sundays.
Oh, to visit back to that time for a week or so.
It would be like a vacation, something that my past self would be shocked to hear. Probably appalled as well.
While it wasn't a funday today at least I was somewhat proactive for the upcoming week and ordered a few days' worth of groceries early this morning.
It was only because I ran out of cat food and it was necessary, but still slightly more proactive than my regular Sunday.
I didn't buy anything new this week…or used except a vintage Emily Strange shirt off of Poshmark for my teen.
I hate considering the early 00s as vintage, but it was something that we sold in the skateboard store I managed during that time which both feels like yesterday and enough years ago that using the term vintage seems plausible.
There is also a pair of clogs that I am probably going to order this week for spring/summer. They are blue, and so interesting.
I love good statement footwear.
I am putting them in a new digital style guide that I am working on that focuses on an over 40 summer capsule wardrobe based on my current wishlist and summer wardrobe.
Speaking of summer, the weather is supposed to warm up significantly again this week, so it's going to be a test to see what I can come up with if it leans towards hot again.
I feel like I am due for a really in-depth thrifting session too, because my notes on my phone where I keep my running thrifting want list is getting longer and I haven't crossed anything off lately.
I often see what I am looking for on Poshmark but I also want to see if I can get a better deal thrifting it on my own.
It's usually more satisfying that way too, plus my girls are looking for a summer refresh as well.
Maybe we'll go for a nice long walk this week to one since the weather is nice, and we all need the exercise and airing out.
You might also like:
What I Wore Last Week
SHOP THE UK LINKS


I am now offering digital styling guides, and personal styling services. If you are looking for some styling help that is inexpensive and easy, check out my digital styling guides. If you want some one-on-one help shopping, building and editing your wardrobe, or packing for a trip, I can also assist. Check out all the styling services that I offer here.
This post contains affiliate links. By using my links to shop I may receive a small commission (at no cost to you). Thanks for supporting what I do