Florence Packing List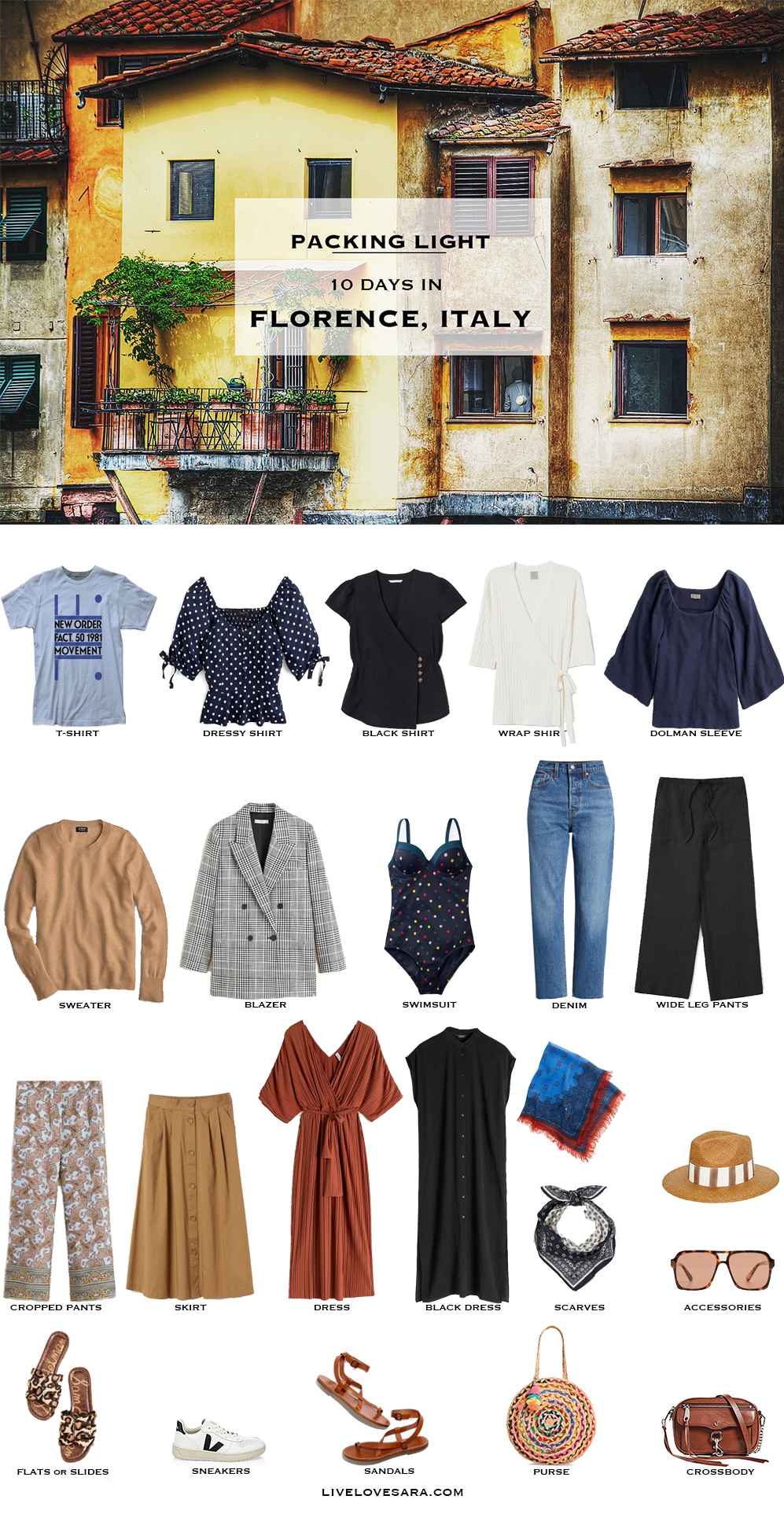 Band T-shirt | Polka Dot Blouse | Black Shirt | Wrap Shirt | Navy Blue Shirt | Sweater | Blazer | Swimsuit | Denim | Wide Leg Black Pants | Cropped Pants | Skirt | Rust Dress | Black Dress | Blue Scarf | Black Scarf | Hat | Sunglasses | Animal Print Slides | Sneakers | Sandals | Circle Purse | Crossbody |
Shop The Post


How awful was is to sit and watch the Notre-Dame Cathedral burn the other day?
Watching history burn down in real-time was horrifying.
I know that they will rebuild, but I am gutted that I never got to experience it as it was.
Have you ever watched the movie Under the Tuscan Sun?
I love that movie. Watching her rise from the ashes to grow, learn, and begin living a life that is so profoundly better than her previous life.
It makes for some feel-good tv 😉
While I am completely a city girl, there is something about the thought of renovating an old villa in a beautiful countryside that is appealing.
The post this week is what to wear in Florence, and it is inspired by a combination of people and things.
First I have a handful of Tuscany area-ish places that people have requested. All mostly ranging from mid-May to mid-June.
Secondly, we have studied renaissance art over the past month and Florence is a huge part of it.
We tend to go off on rabbit trails and ended up doing some virtual tours of the museums and the city this week.
The crowds start to thicken in May as you enter the summer months and peak season.
Expect the prices to increase during this time as well. Plan well because there are many activities that you may need to buy tickets for in advance during this time of year.
Spontaneity is great, but it can also lead to disappointment if it is a popular attraction.
As with many Italian cities, Florence is no exception when it comes to fashionable residents.
Keep that in mind when packing your capsule wardrobe. Chic, yet casual and comfortable can go hand in hand with the right planning.
Yay for long weekends. One more day to go.
This packing list is for 10 days in Florence, Italy in spring. All of the visuals in this post are meant as a guideline to aid you in creating your own Italy Packing List based on your own clothing, colour preferences, and personal style.
What to Wear in Florence, Italy

Band T-shirt | Polka Dot Blouse | Black Shirt | Wrap Shirt | Navy Blue Shirt | Sweater | Blazer | Swimsuit | Denim | Wide Leg Black Pants | Cropped Pants | Skirt | Rust Dress | Black Dress | Blue Scarf | Black Scarf | Hat | Sunglasses | Animal Print Slides | Sneakers | Sandals | Circle Purse | Crossbody |
Shop The Post


If you are planning to visit Florence this spring and enjoyed my What to Pack for Florence, Italy in Spring packing list, please feel free to share it via Pinterest, Facebook, or Twitter. Thank you.
You may also like:
What to Pack for Florence, Italy in Winter
What to Pack for Naples, Italy in Spring
This post contains affiliate links. By using my links to shop I may receive a small commission (at no cost to you). Thanks for supporting what I do