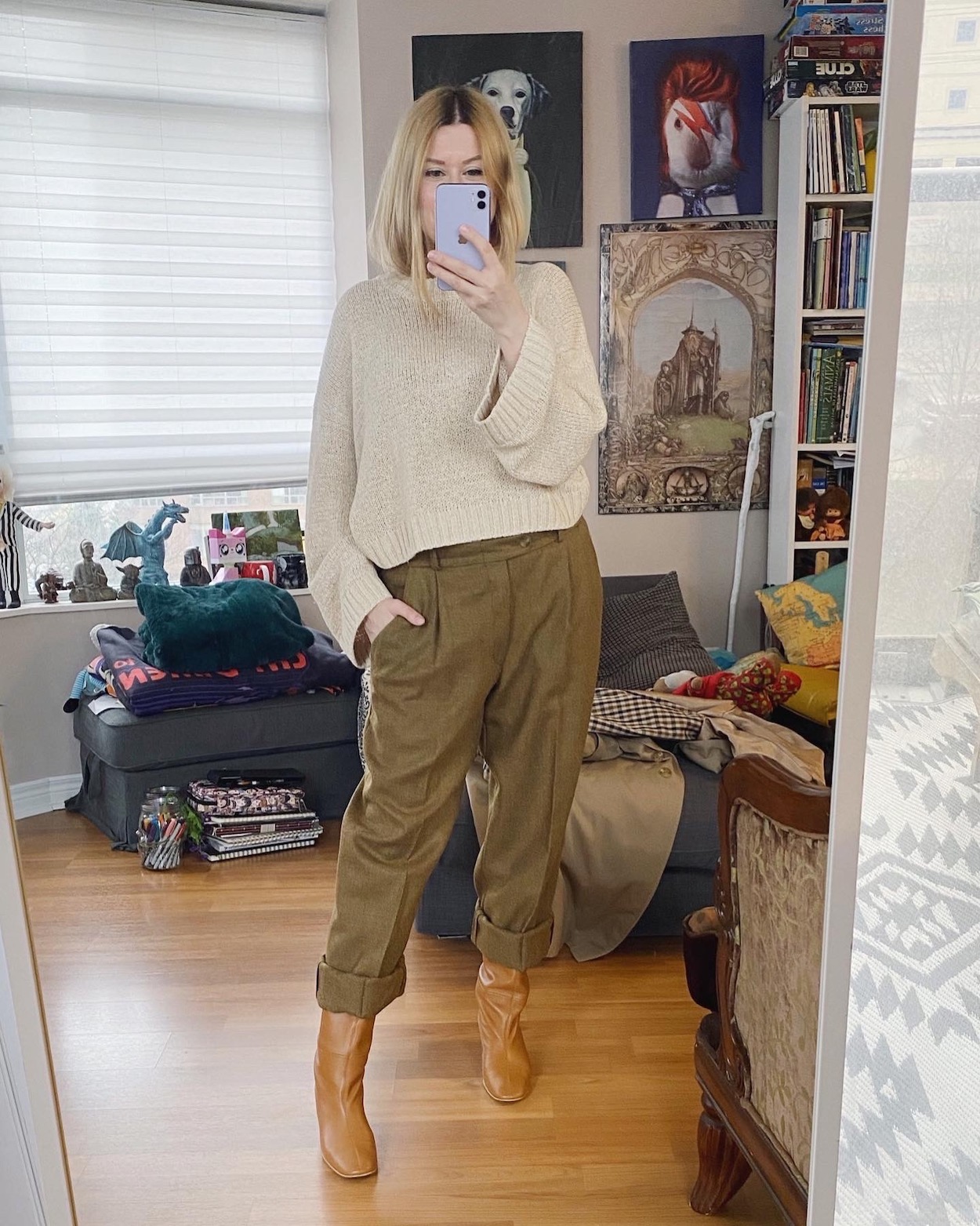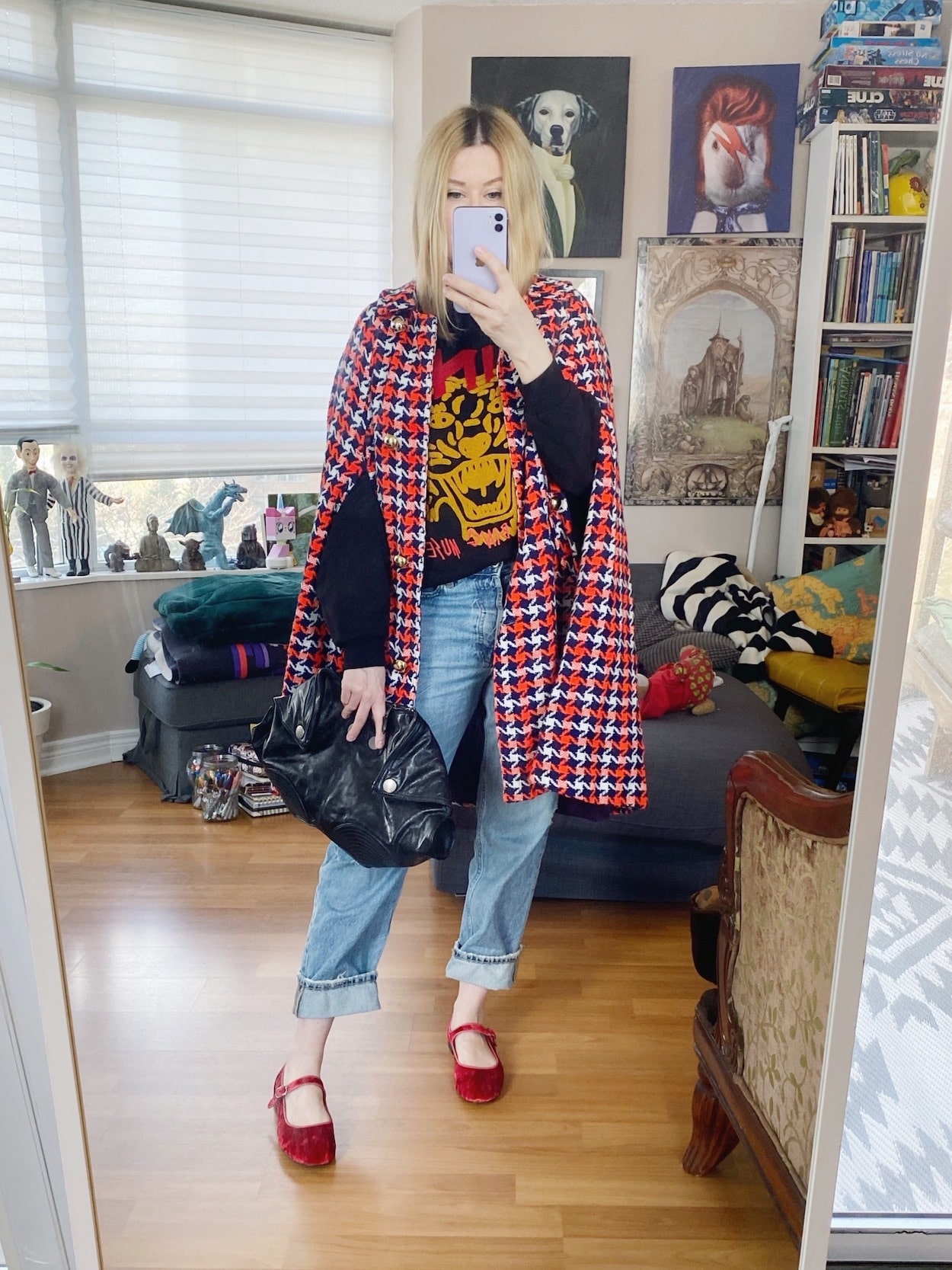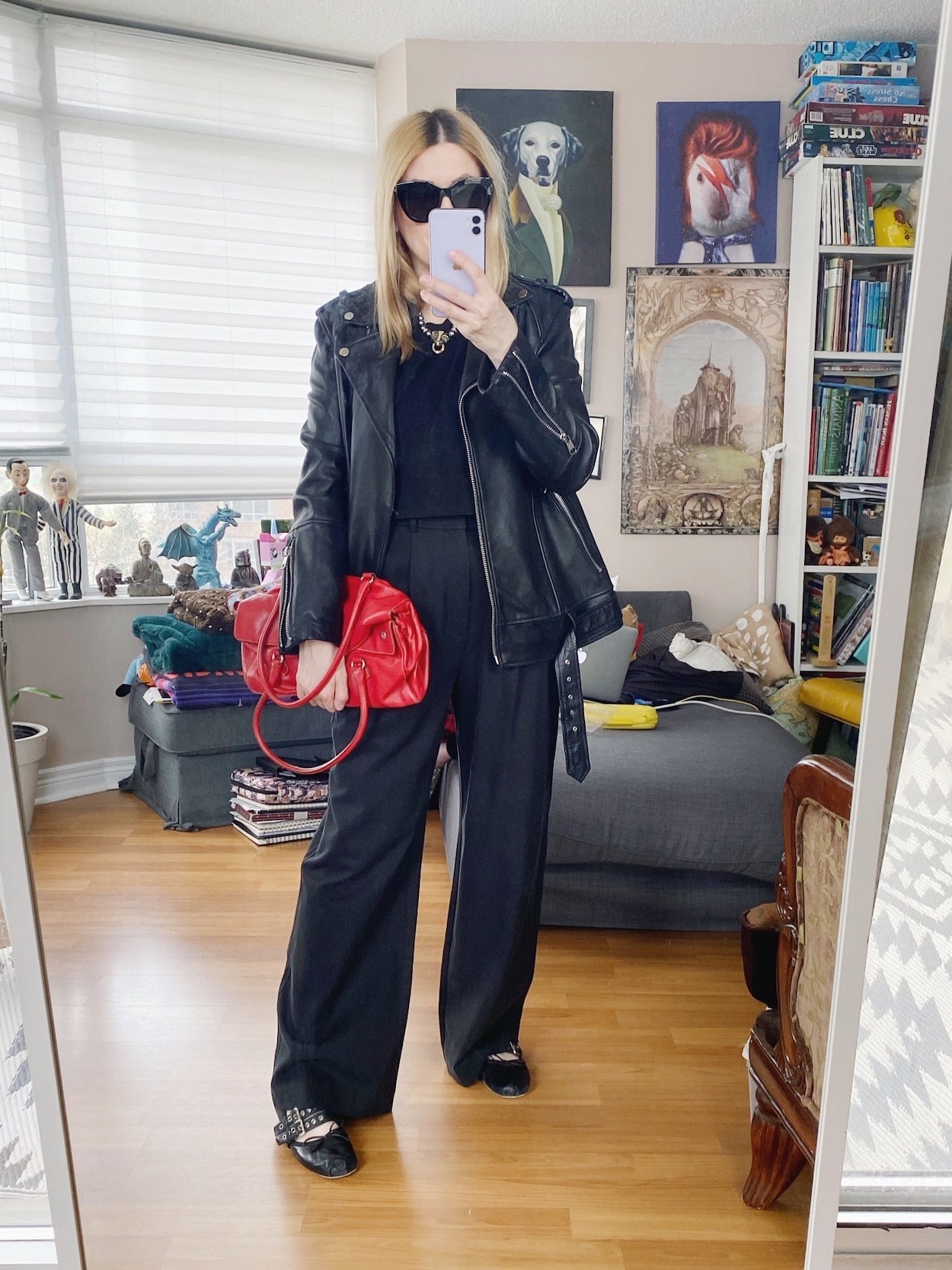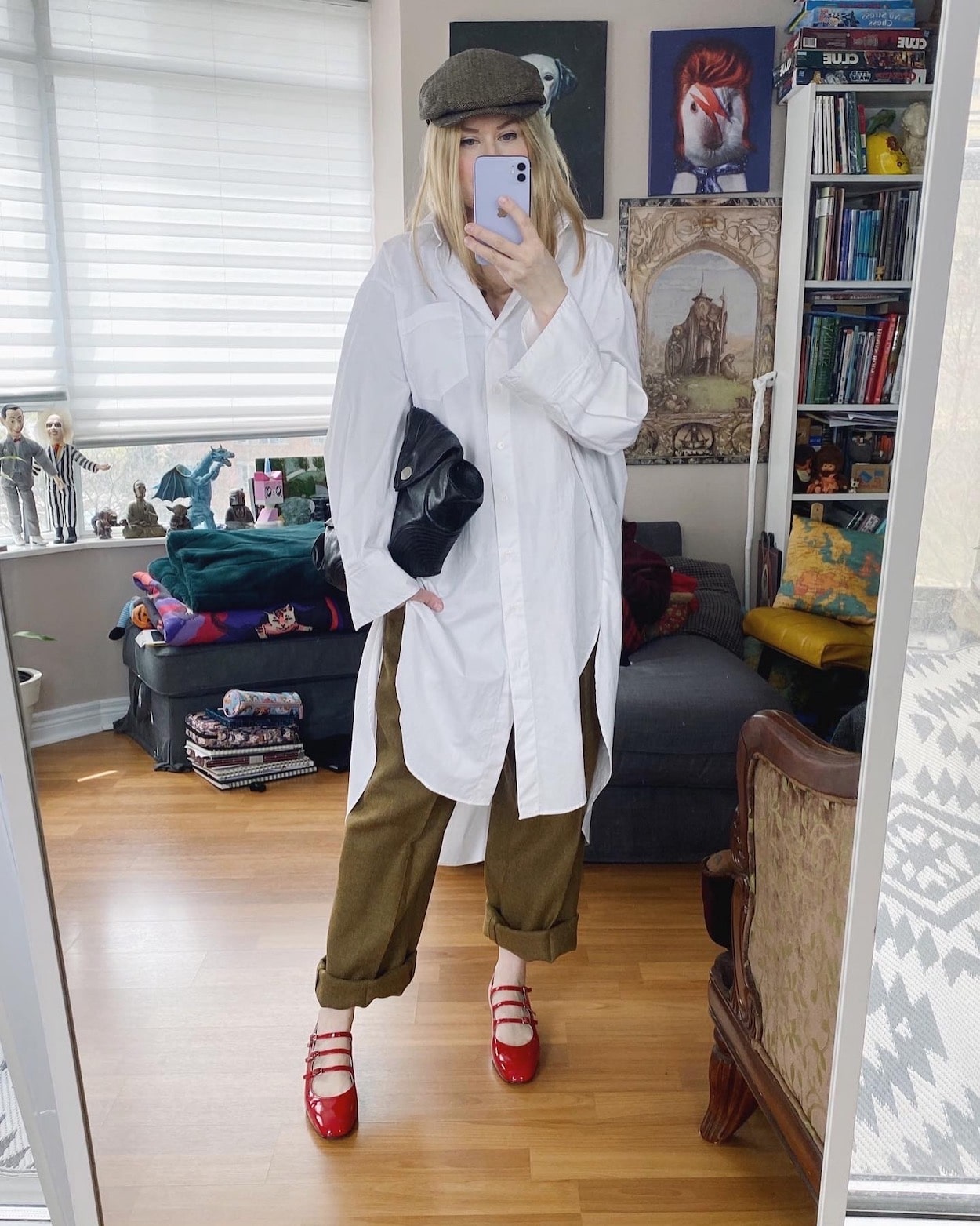 Outfit 1 – Sweater | Vintage Trousers | Boots (similar)
Outfit 2 – Sweatshirt | Vintage Cape (similar) | Jeans | Shoes | Purse
Outfit 3 – T-shirt | Trousers | Flats | Leather Jacket | Sunglasses | Purse | Vintage Necklace
Outfit 4 – Oversized Button Up | Vintage Trousers | Mary Janes | Purse | Hat

I start school again this week. So far they haven't cancelled the class due to low enrolment which can happen, so I am feeling positive.
Dracula Daily started last week.
I talked about it a couple of weeks ago, and it is a nice way to start the day.
If you didn't read about it, the premise is that the book Dracula which is basically in the format of journal entries, letters, and newspaper clippings takes place between the dates of May 3rd, and November 10th.
You will be emailed each corresponding day that there is something written in the book. The email will contain the part of the book that happens on that day.
Some days there is nothing, so it won't be every day, but it will be an easy way to read a book that you otherwise might never have read, since it will be sent in small chunks that take little time to read.
Even though I have read the book and seen the movie multiple times, I signed up because it is a neat way to experience it, and I am enjoying reading the email every morning.
It's not too late to sign up, you can catch up with the archives and then just read the emails from that point forward.
I'm trying to think of what other books would be fun delivered the same way.
I found another pair of Calvin Klein vintage 90s trousers on Poshmark this weekend. I hope that they work as well as the other pairs that I found.
I feel like I have become much more of a trouser person than a jean's person which feels weird since I have lived in jeans since the dawn of time.
Positive note: I managed to get all the bins of the Christmas decor back down into the storage locker with minimal issues.
They have been just sitting there, and I have been just ignoring them for as long as possible.
I was also hoping to move things around a bit so that I had better access to the bins that contain the stuff that I plan to sell on Poshmark, but it was just too overwhelming.
I need to save it for a time when Tom can come down to help so it can be accomplished quicker.
What I really want to do is load up the big suitcase roller racks that the building has and fill it with shit from there, and wheel it to the car to donate.
I'm past the point of evening caring what is in the box before it goes.
Just get rid of it all please. Even with the small amount of stuff I cleared this weekend, it already made my brain feel less overwhelmed in here.
On another note: I really wish that Quince shipped to Canada. They have such great prices on their quality pieces.
This bias cut, washable silk slip dress, and skirt both went immediately into my cart before I realized that they don't ship here.
I also really like the Chiffon Pleated Midi Skirt, and the cashmere sweater. You could literally buy all four pieces for the price of one silk slip dress at Cuyana.
Stay safe.
SHOP THE UK LINKS


This post contains affiliate links. By using my links to shop I may receive a small commission (at no cost to you). Thanks for supporting what I do