Spring Packing List for Vacation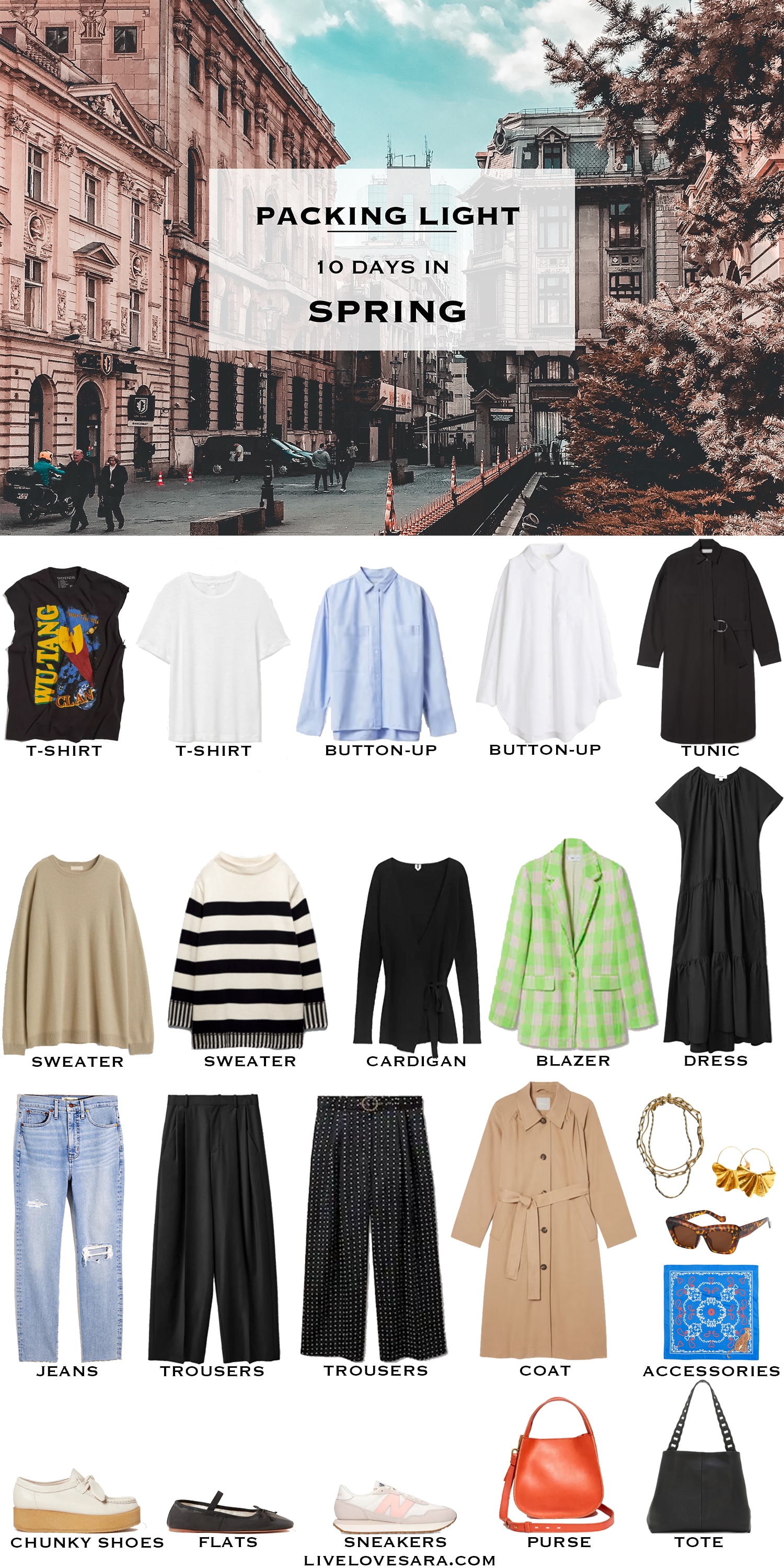 T-shirt | White T-shirt | Blue Button-up | Long Button-up | Tunic | Sweater | Striped Sweater | Cardigan | Blazer | Dress | Jeans | Trousers | Polka Dot Trousers | Coat | Necklace | Earrings | Sunglasses | Scarf | Chunky Shoes | Flats | Sneakers | Orange Purse | Black Tote

I haven't made a packing list in a while. It felt weird and pointless with everything that was going on, but with so many restrictions worldwide starting to lift, people seem to be beginning to dip their toes into travelling again.
Even if it is for only a couple of days.
I thought I would start with a pretty basic packing list for spring.
Everything got shifted this week because I had to write a big paper that ended up being 43 pages and a lot more work than I anticipated.
So I was tired and overwhelmed and just couldn't finish everything on schedule this week, so I pushed it by a day.
This spring packing list is not geared towards any particular destination because I have been receiving an influx of packing list requests lately.
So many revolve around the same or similar destinations it seemed impossible to do them all, so I thought this was a good general way to begin.
It will give a broad scope of ideas that can be modified to a particular destination depending on where you are going.
Consider it a packing list template.
Everything is laid out, and you just fill the spots with items that you have that are similar or more to your tastes.
As long as you follow the basic formula, you should be able to have an abundance to wear while still packing light and maintaining a carryon packing list.
Obviously, if you are travelling to a hot climate destination, your needs are going to be more in tune with a summer packing list versus spring.
Or if you are coming from a warmer climate and visiting someplace more temperate, then you might find the spring weather to be colder than what you are used to.
What I deem a gorgeous spring day might feel like winter to someone visiting from California, so keep that in mind when packing.
Your best bet when planning out what to wear on a vacation is to compile outfits that can be layered easily.
That way, you can adjust by adding or removing layers as your needs require it.
This packing list also would make a great mini spring capsule wardrobe, or a detailed spring wardrobe refresher.
When I put together travel outfit ideas, I tend to keep the focus on neutrals, and then sprinkle in a colour or two.
When you follow that packing list formula, it is much easier to have a travel wardrobe that mixes and matches with complete ease.
You will get much more bang for your buck if you don't fill it with too many colours and prints that are hard to work with.
That doesn't mean that you can't add them, it just means that if you do, then you will need to pre-plan your outfits in detail if you do so that you can make sure that you will have enough outfit ideas to get you through your vacation.
The easiest way to add colour and visual interest is from accessories. They are simple to pack, don't require much room, and can really elevate any travel look that you have.
This includes bags, scarves, jewellery, and shoes. Every one of these items is a simple way to add a nice addition of colour and change up the look of any outfit.
I gave some example outfits for different outings, as well as 12 additional outfits that you can make from this spring packing list.
I hope this gives you some packing ideas!
Stay safe.
Casual Vacation Outfits

Travel Outfit Ideas
T-shirt | White T-shirt | Blue Button-up | Long Button-up | Tunic | Sweater | Striped Sweater | Cardigan | Blazer | Dress | Jeans | Trousers | Polka Dot Trousers | Coat | Necklace | Earrings | Sunglasses | Scarf | Chunky Shoes | Flats | Sneakers | Orange Purse | Black Tote

You might also like:
A Mini Summer Packing List
An Early Fall Packing List
The Ultimate Spring Capsule Wardrobe
How to Build a Minimalist Capsule Wardrobe for Spring 2022
How to Build a Colourful Spring Capsule Wardrobe 2022
Spring Capsule Wardrobe Essentials 2022
How to Build a Spring Capsule Wardrobe 2022
SHOP THE UK LINKS


This post contains affiliate links. By using my links to shop I may receive a small commission (at no cost to you). Thanks for supporting what I do