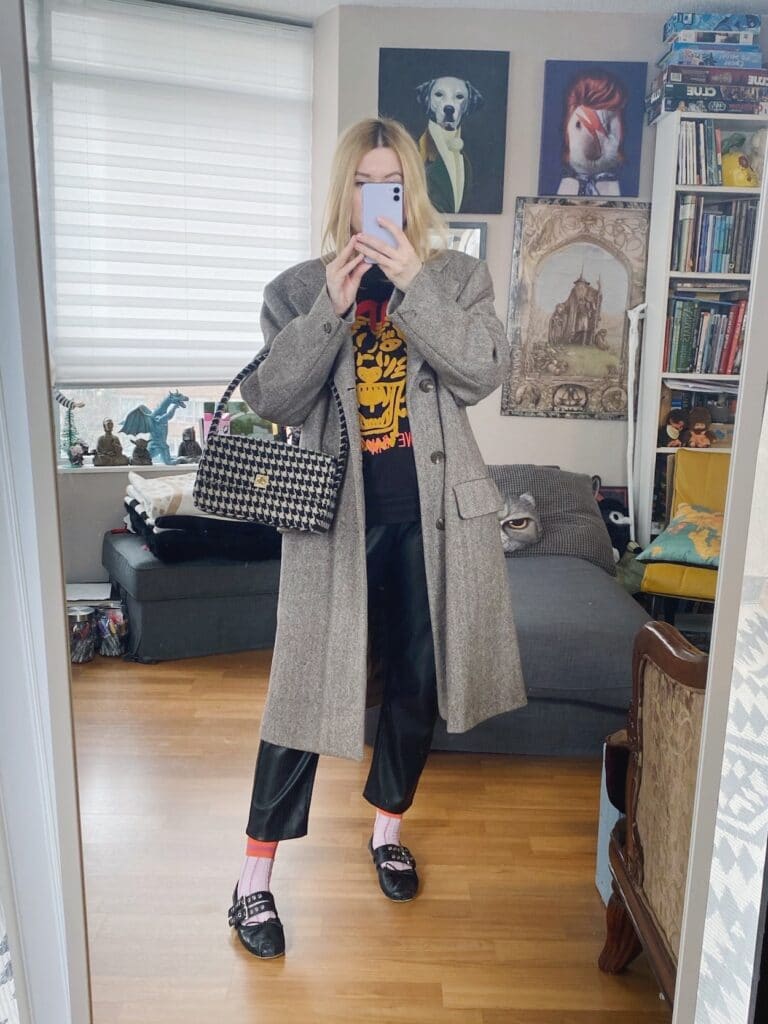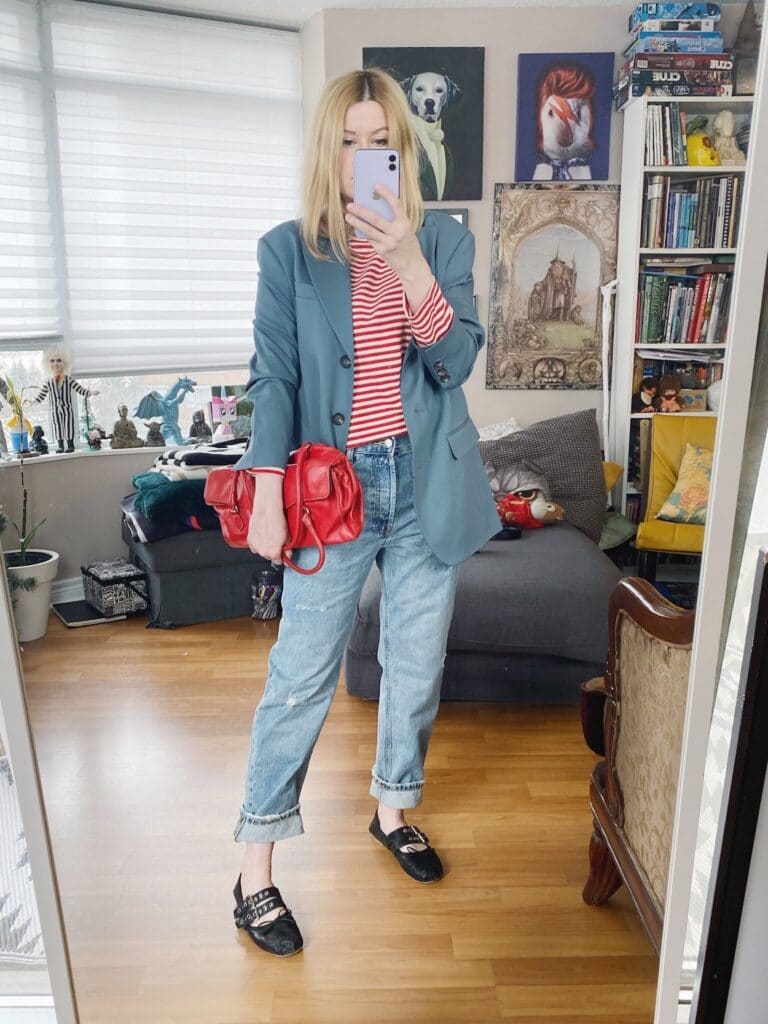 Outfit 1 – Sweatshirt | Trousers | Vintage Coat | Flats | Purse
Outfit 2 – Sweater | Trousers (similar) | Vintage Coat | Uggs | Hat | Purse
Outfit 3 – T-shirt | Vintage Trousers | Leather Jacket (similar) | Sneakers | Sunglasses | Belt | Purse
Outfit 4 – T-shirt | Trousers | Blazer | Flats | Sunglasses | Purse
Outfit 5 – Shirt (similar) | Jeans | Blazer | Flats | Purse

Apparently, my web host is having server issues, so if things aren't loading or taking forever, then that is the issue. They have no eta, which of course they don't. I need to switch hosts, I think because this downtime is getting ridiculous.
I am at the point of my classes coming to a close and all the big things are starting to come up due. So please be patient if I seem more scattered and unprepared than usual.
I am trying to scramble around and figure out what needs to be done by what date.
Mask mandates end here tomorrow, and I'm not feeling very good about it. I know that I will continue to wear mine when I am inside where crowds are because even with masks, I've really noticed how gross people are.
I also haven't been sick in two years, and for someone that has caught everything, and anything since I was a child, it has been very, very pleasant not to.
I'm just not looking forward to the inevitable verbal abuse that is going to come about from those that are pissed that I am still wearing it…because you know it's going to happen.
I tried out a new slouchy jean for the season this past week. You can see it in outfit five.
How do you feel about lower, slouchier jeans versus the tighter, super high-waisted that we are used to wearing?
They are really comfortable which is key after some covid weight gain, and they have a button fly which I always love.
I noticed my clothes rack (which is my closet) starting to teeter and lean and it is making me nervous.
I feel like it is about to go, and I have nowhere to put my clothes if it does.
I have been wanting to get a nicer, and larger standalone closet/rack from Ikea to help balance the weight more, but everything is out of stock due to Covid shipping problems.
I am seconds away from kicking my husband out of the walk-in bedroom closet and taking it over.
The deal was that when we moved in here, I would let him have the big closet if he utilized it properly to keep his stuff organized and put away.
He has the tendency to leave everything on any empty surface, and hung on doors, and I was hoping that this would rectify that.
Apparently not, so he is in breach of contract.
Stay safe.
You might also like:
What I Wore last week
SHOP THE UK LINKS


This post contains affiliate links. By using my links to shop I may receive a small commission (at no cost to you). Thanks for supporting what I do