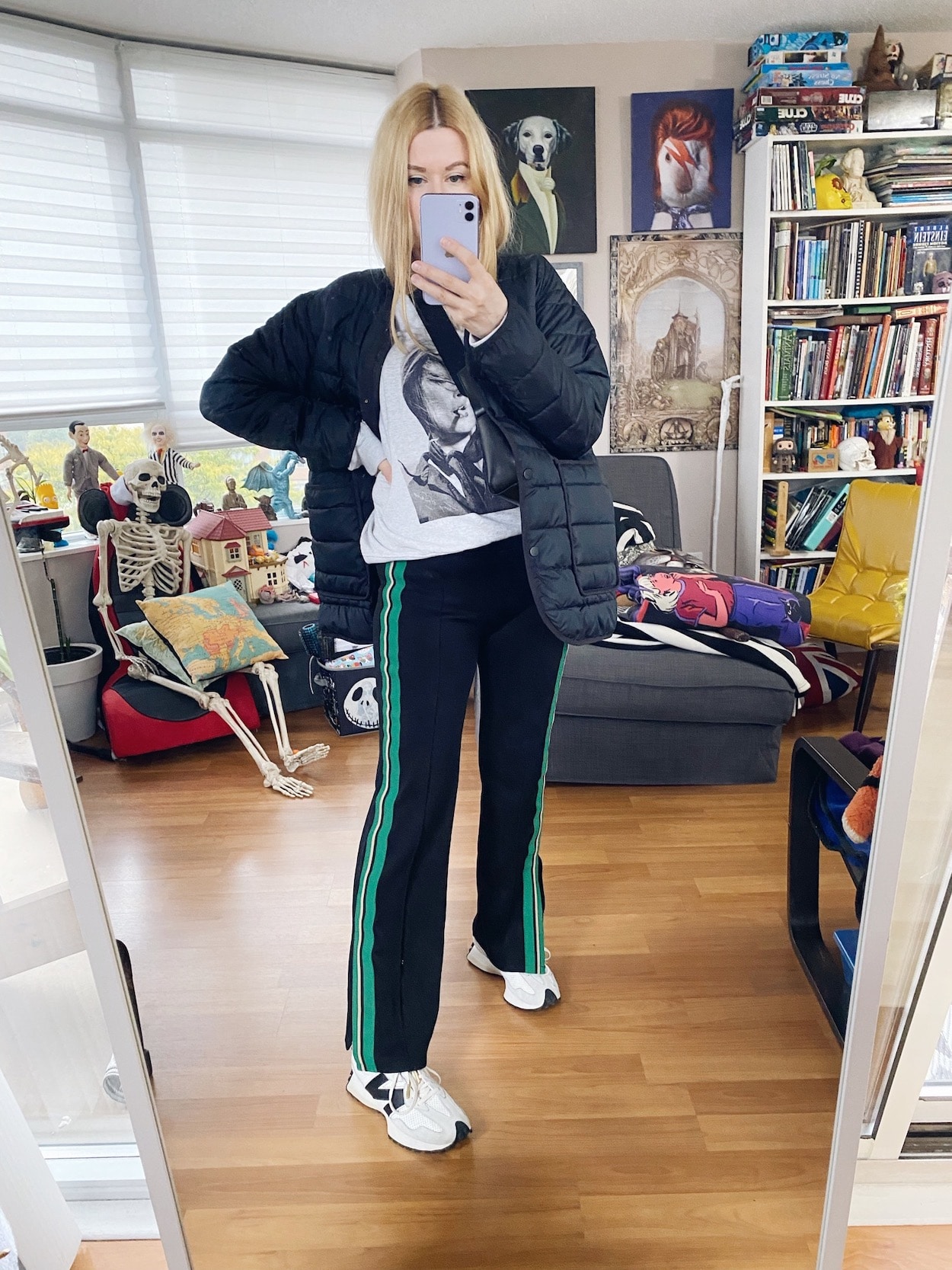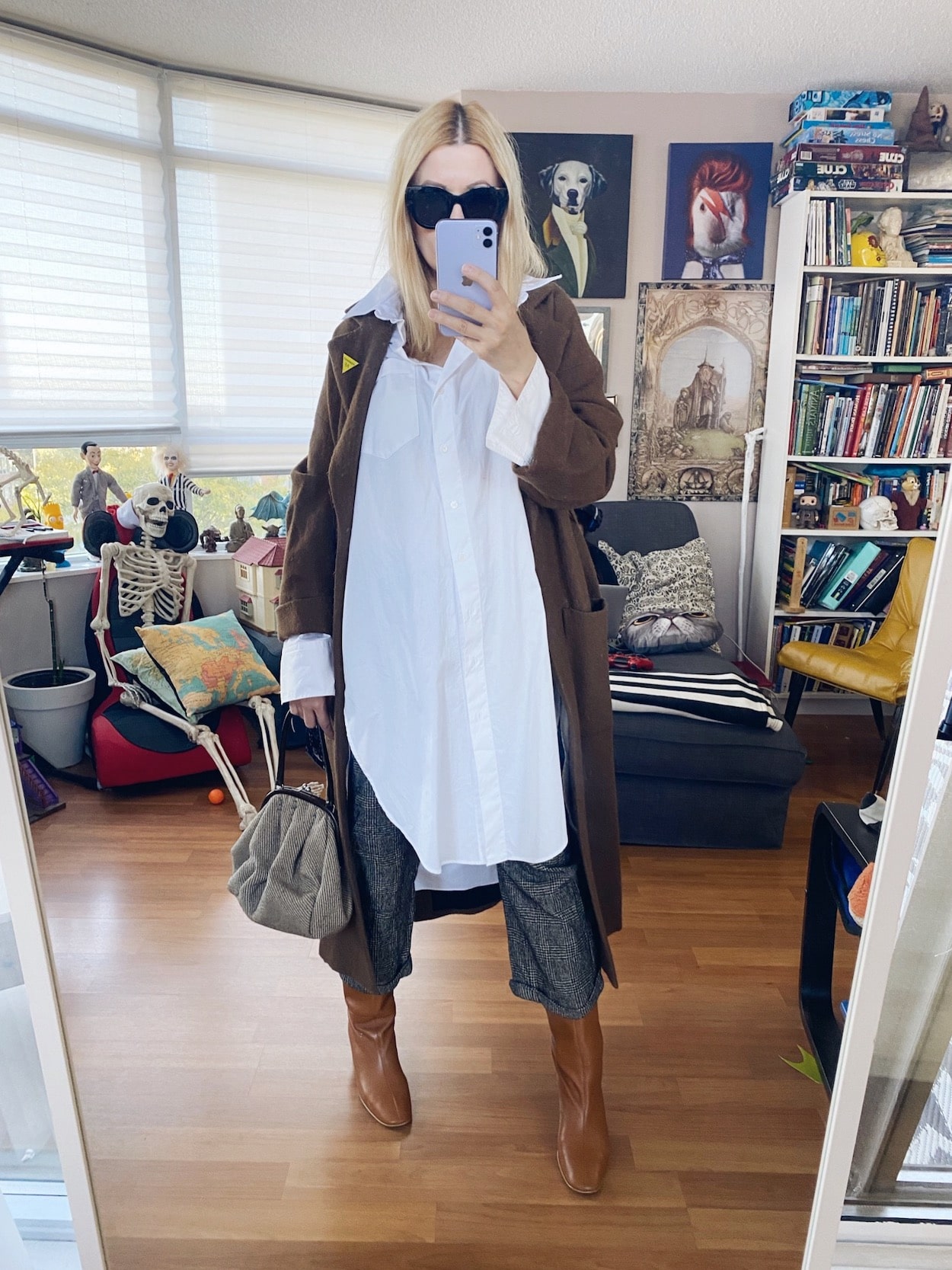 Outfit 1 – Sweatshirt | Track Pants (similar) | Sneakers | Puffer | Crossbody
Outfit 2 – Oversized Button-up | Vintage Trousers | Knee High Boots (similar) | Wool Coat | Sunnies | Bag
Outfit 3 – Cashmere Sweater | Jeans | Boots (similar) | Tote | Shacket (similar)
Outfit 4 – Bodysuit (similar) | Vintage Trousers | Knee High Boots (similar) | Blazer | Suspenders (similar)

Okay, we did it. We took her out for trick-or-treating. It was only about an hour, and house participation was about 30% so we had to walk a lot farther for less stuff but it was fun.
Not too cold, and nice a clear out. The perfect Halloween night actually.
There were a lot of kids which was nice to see.
I always get irrationally annoyed with one particular house that we always pass but they never participate. It is such a wasted opportunity because that house out of all the houses in the neighbourhood would make a kick-ass looking haunted house.
Definite Scooby-Doo vibes.
If I lived there I would totally go all out in bringing the creepy and scare factor.
I could easily spend $10,000 on Spirit Halloween animatronics and decor if I had it. There was a house that we saw a few years ago that was like a Halloween wonderland.
Unfortunately, I never noted what street it was on and we have yet to find it again :/
Rewind to last week. and apparently, I messed up when I was planning our flu shots.
The early ones are for people over 65 and anyone high-risk which doesn't apply to us. It opens to everyone tomorrow, so we will probably head down first thing Tuesday.
I have to give the kids at least 24 hours notice so they can mentally prepare. They both hate needles. I on the other hand don't mind them at all and would get it for the entire family if that was possible.
It would make things easier that's for sure.
As for now, Halloween is over and it's time to bring forth Christmas. My tree is jammed in the far back of the storage unit so that is going to be fun.
I put a photo of Merle's finished costume at the bottom. I used spotlight on my iPhone and it gave a black background which is really neat since it was broad daylight and we were standing on the balcony.
Stay safe.
You might also like:
What I Wore last week
SHOP THE UK LINKS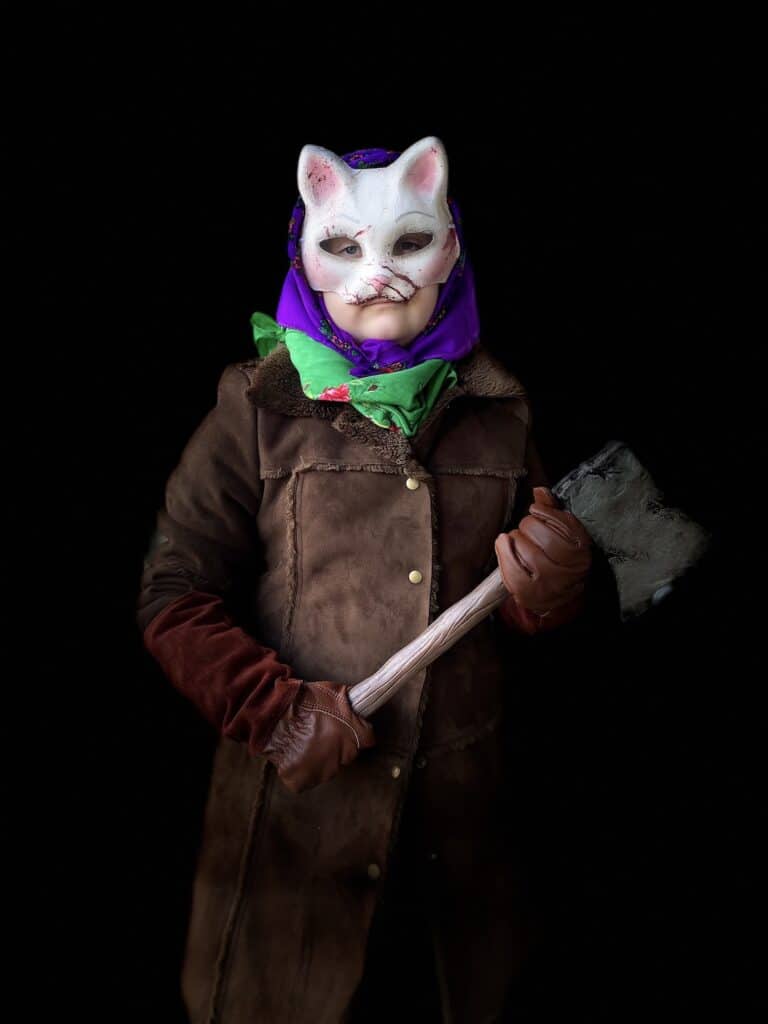 This post contains affiliate links. By using my links to shop I may receive a small commission (at no cost to you). Thanks for supporting what I do