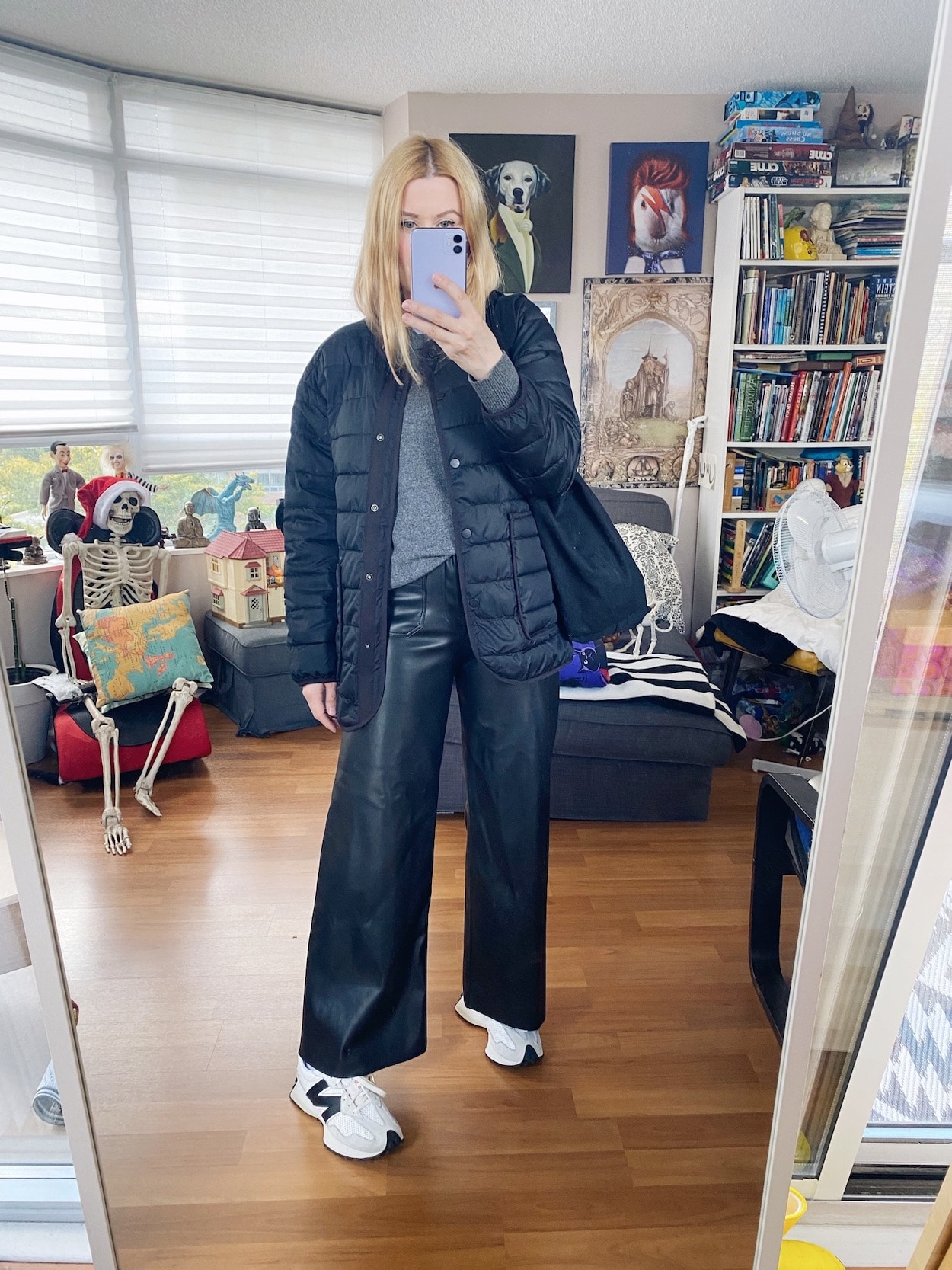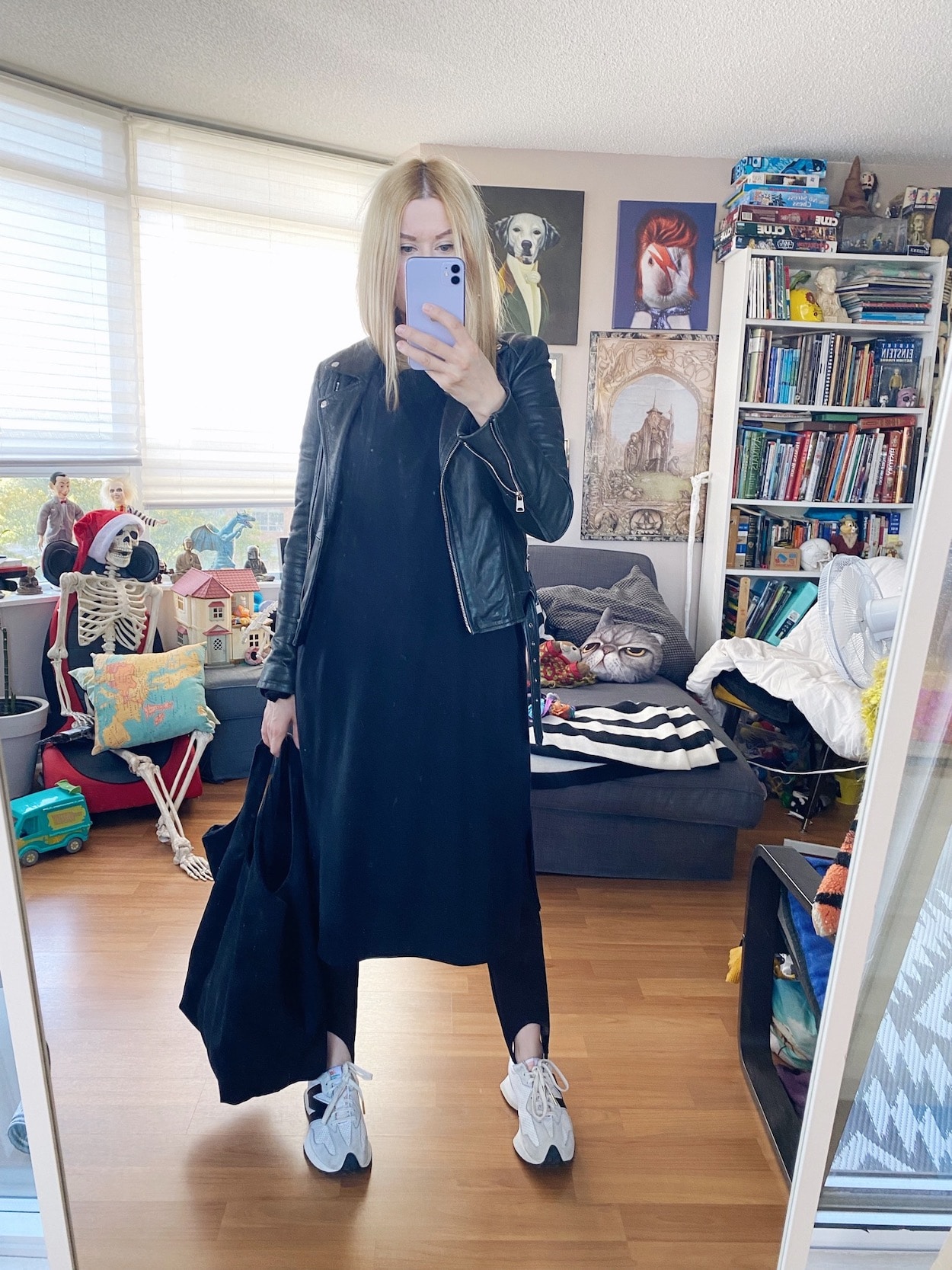 Outfit 1 – Sweater | Trousers | Sneakers | Quilted Coat | Tote
Outfit 2 – Cropped Turtleneck | Vintage Trousers | Sneakers | Quilted Coat | Sunglasses | Socks
Outfit 3 – Dress | Stirrups | Sneakers | Leather Jacket (similar) | Tote
Outfit 4 – Button-up (similar) | Leather Trousers | Loafers | Trenchcoat (similar) | Purse | Sunglasses | Necklace
Outfit 5 – Sweater | Vintage Trousers | Knee High Boots
Outfit 6 – Sweatshirt | Faux Leather Trousers | Boots | Trenchcoat

Apparently, it was a very black and grey week for me. I find that I tend to gravitate towards those colours for periods of time without even realizing it until after the fact. The weather was colder and gloomier, so maybe it was that?
I have no idea.
I think it is just easier sometimes since black always makes you look a little more put together even with minimal effort.
I've been scrambling trying to get the Halloween mask for Merle's costume finished, which is totally unlike me. I usually have the costumes done way in advance. I've passed the baton to my teenager to see if she can do it. She's very artsy.
I don't even think there is going to be trick or treating again this year. While they haven't cancelled it like last year, I just think that most people don't want to participate due to everything. I think if we had a house (our condo doesn't allow trick or treating inside) then I would definitely participate.
I would probably just prepackage the treats and so they could just come up and grab a bag.
I feel like the lack of Halloween participation has been increasing every year for the last 15 or so years. Every year the amount of houses with lights on has got less and less and we always have to walk a lot farther with a much emptier bag. It is sad.
There are still the neighbourhoods that totally kick ass at Halloween decorations though. There are some pretty fun houses out there to go see.
We don't even get to look forward to the discounted candy the day after because the sneaky bastards change the displays and then market them for Christmas.
You can imagine my immense disappointment last year when I was hoping to buy all kinds of chocolate and came home empty-handed.
Speaking of, I should probably go and buy a few boxes just in case Halloween is a no-go. That way we will have a supply of candy already.
I'm not sure if it is a good thing or a bad thing to have open access to that much candy. I really like treats that come in small portions.
But I think it defeats the purpose when I end up eating 15 of them instead.
There are some kids outside yelling something right now. I think they are yelling "Hail Mary", Merle thinks it's "Hail Larry", but how many kids are named Larry nowadays for them to be hailing? 😉
Stay safe.
You might also like:
What I Wore Last Week
SHOP THE UK LINKS


This post contains affiliate links. By using my links to shop I may receive a small commission (at no cost to you). Thanks for supporting what I do