Paris Packing List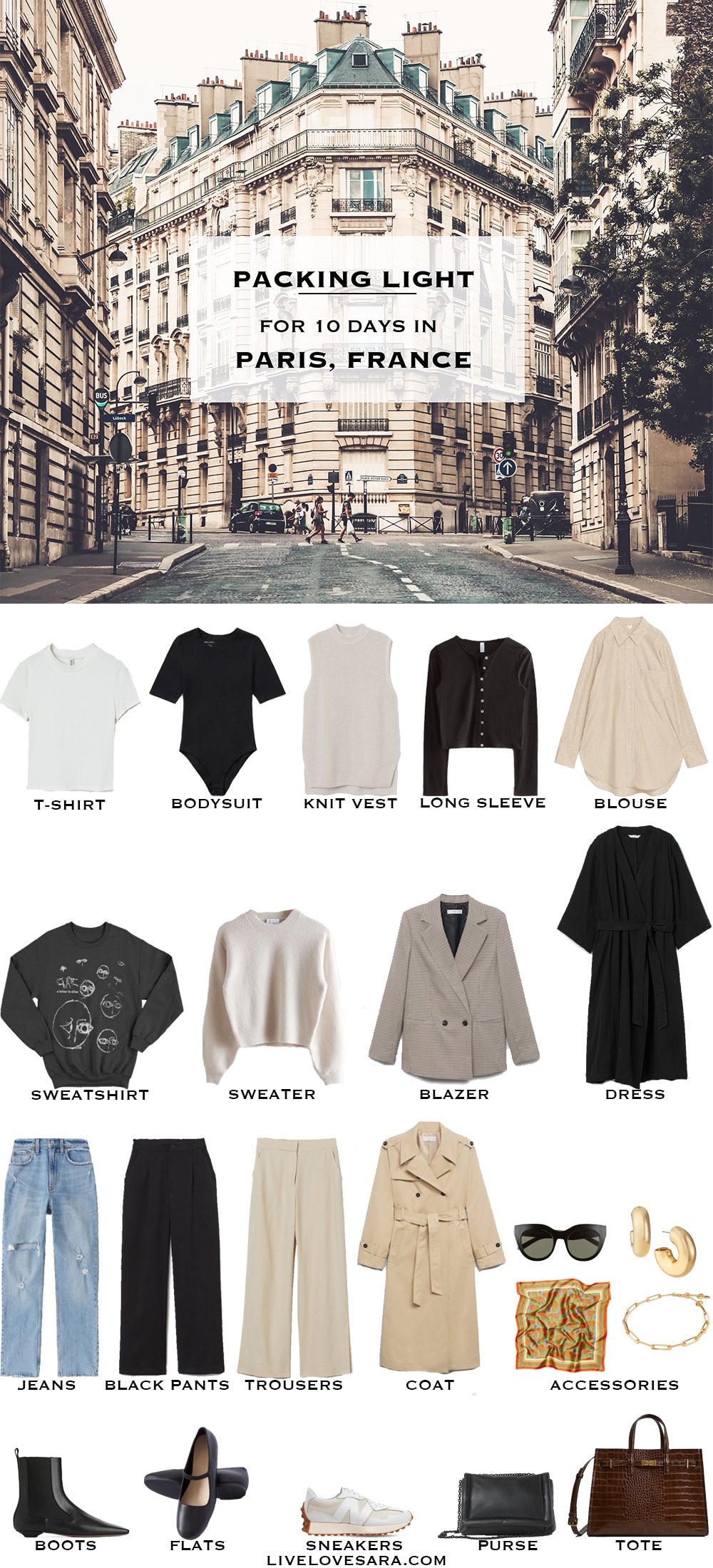 T-shirt | Bodysuit | Knit Vest | Long Sleeve | Button Up | Sweatshirt | Sweater | Blazer | Dress | Jeans | Black Pants | Trousers | Coat | Sunglasses | Scarf | Necklace | Earrings | Boots | Flats | Sneakers | Purse | Tote |

As I am sitting here trying to avoid going outside because we are in the middle of a heatwave, I also just got an email from our building saying that the air conditioning is going to be shut off between 10-4 tomorrow to do repairs on the chiller.
It feels like 40°C out there so this should be really delightfully fun.
That being said, I have received quite a few messages regarding the end of summer/September packing lists. This shows me that people really want to go on a vacation just in case shit hits the fan again.
Because honestly, who knows when things will turn more normal?
Or even if they will.
So today I have a Paris packing list that is for the beginning of September.
That time of year has always been thought to be a great time to visit Paris since it is transitioning out of the heat and the laid back "laziness" that summer brings, and into the "back to school" mentality when everyone is transitioning out of vacation mode.
September becomes like the start of a new year.
The peak tourist season is winding down which means that the cost of flights, and hotels will start to drop, and while the weather will still be warm you will have much less of a chance of a heatwave, but still, a chance because…ahem climate change.
Later in September is probably better, but you'll still get the after summer benefits at the beginning. Many people find that September is the best time to visit Paris because they feel it is the best month weather-wise of the lower seasons.
Paris Weather is September
It is usually agreeably warm, although a bit damp. Never fear though, it is not an all day, every day damp. More like short bursts of rain.
You should be able to walk around comfortable throughout the day without bursting into flames from the heat…which may happen during the summer months.
As for September temperatures in Paris you are looking at the low 20s (in celsius) at the beginning of the month, and around 18°C by the end.
The nights can be chillier which is why it is good to have warmer pieces. Nights on average are around 12°C during September.
To me that is perfection, to many, it will feel quite cool.
On average, you have a 23% chance of experience a rainy day, so while the odds are low you should also bank for some rain if you are staying for more than a few days.
There are tons of things to do in Paris on a rainy day so make sure to have a flexible itinerary where you can include these options just in case.
What to Pack for Paris in September
You will need to have options for sunny/balmy days and cooler times.
You might want to consider a light and waterproof/resistant jacket for cooler mornings and evenings, and just in case you get caught in a rain shower.
An umbrella can be skipped to save on room because you can easily pick one up if necessary.
Don't forget the sunglasses and/or hat because you will probably be sitting outside a lot enjoying the beautiful weather. The sunglasses that I included are the pair that I wear consistently.
The number one item is comfortable walking shoes. There are so many Paris walking tours that you will want to make sure to go on at least one, because September is the perfect time to walk the city to enjoy the sites.
My New Balance 327's are my most comfortable walking shoes, so those would be the pair that I would wear the majority of the time.
Many of us have not done a lot of walking over the last 18 months, so really pay attention to the comfort level of your shoes that you will wear for most of your sightseeing.
Don't let sore feet ruin a fantastic trip.
Stay safe.
What to Wear in Paris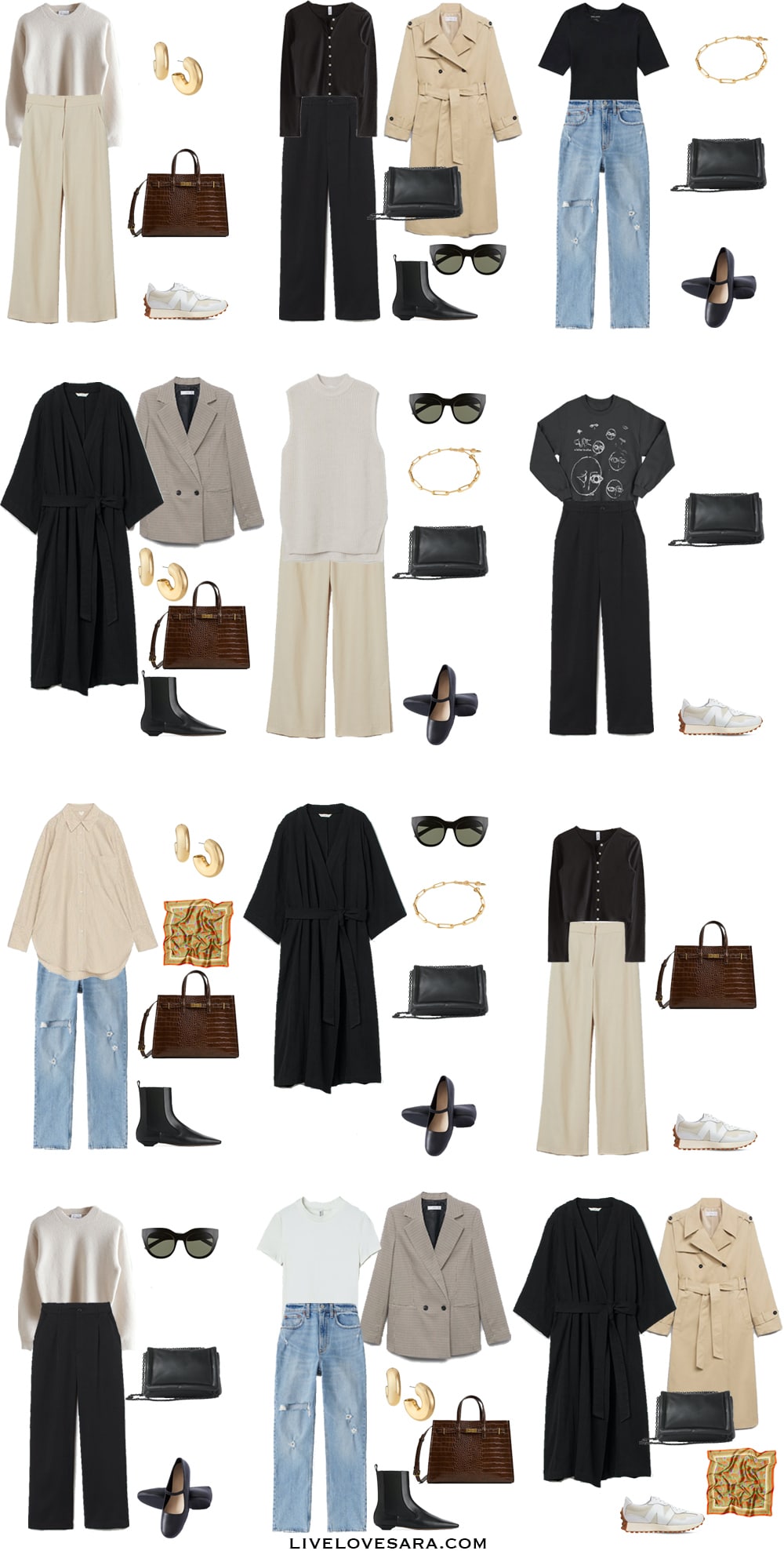 Paris Outfit Ideas

T-shirt | Bodysuit | Knit Vest | Long Sleeve | Button Up | Sweatshirt | Sweater | Blazer | Dress | Jeans | Black Pants | Trousers | Coat | Sunglasses | Scarf | Necklace | Earrings | Boots | Flats | Sneakers | Purse | Tote |

You might also like:
An Early Fall Packing List
How to Build a Summer Weekend Cottage Packing List
What to Pack for 10 Days in Summer
What to Pack for a Weekend Trip in Summer
What to Pack for a Mini Summer Vacation
SHOP THE UK LINKS
White T-shirt | Dress | Black Purse | Tan Trousers | Black Pants | Knit Vest |

I am now offering digital styling guides, and personal styling services. If you are looking for some styling help that is inexpensive and easy, check out my digital styling guides. If you want some one-on-one help shopping, building and editing your wardrobe, or packing for a trip, I can also assist. Check out all the styling services that I offer here.
This post contains affiliate links. By using my links to shop I may receive a small commission (at no cost to you). Thanks for supporting what I do
This post contains affiliate links. By using my links to shop I may receive a small commission (at no cost to you). Thanks for supporting what I do