Minimalist Capsule Wardrobe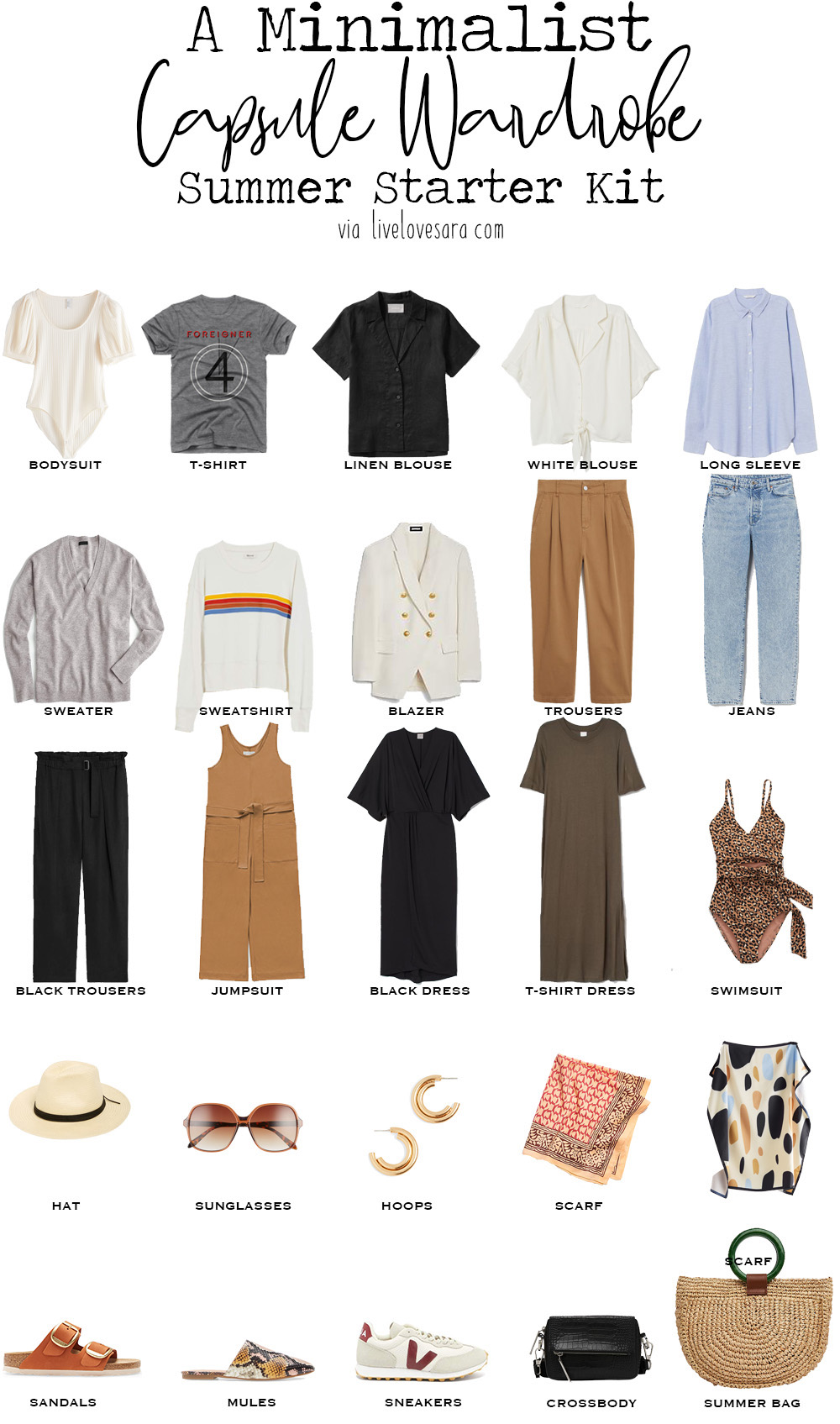 Bodysuit | T-shirt | Linen Blouse | White Blouse | Blue Blouse | Sweater | Sweatshirt | Blazer | Trousers | Jeans | Black Trousers | Jumpsuit | Black Dress | T-shirt Dress | Swimsuit | Hat | Sunglasses | Hoop Earrings | Brown Scarf | Spotted Scarf | Sandals | Mules | Sneakers | Crossbody | Summer Bag |
---
SHOP THE POST


---
If you are looking to build a minimalist capsule wardrobe for summer then this post might help to guide you in the right direction.
First, let's start with the capsule wardrobe building basics. The main question that I get about building a capsule wardrobe is:
How do I find my style?
Which so happens to be where you start.
I want to premise this by saying that I am by no means a professional in this area. I have learned many things throughout the years of my style journey, so let's begin.
How do You Find Your Style?
One of the first things that you need to take into consideration when finding your personal style is how important it is to understand your body shape and how to dress it.
How of then do you love the look of something on someone else or in-store only to find out that it is not flattering on you?
Understanding the basics of your body shape and how to dress is key. My friend Niki has an amazing course on dressing your shape. I think I actually may be in it as an example for my body shape.
I am the standard ruler, or banana if you are more familiar with the fruit body shapes.
This means that I am very narrow hipped, my shoulders and hips are even in width, and my waist is not defined. All in all, it is one of the easier shapes to dress, but recognizing what works and what doesn't makes shopping easier for me.
Choose a Wardrobe Colour Palette
After you have your shape down move onto the colour palette. The standard I have heard from stylists is that you should go with about 5 colours maximum in a colour palette to have cohesiveness.
If you focus on more than it can make getting dressed overwhelming, especially if you are just starting a capsule wardrobe journey.
This doesn't mean that you can't add things in colours that you enjoy. The point of a capsule is to have a standard collection of pieces that are the main building blocks to your wardrobe.
These are your hardest working pieces that will be the staples you use daily. Adding more colourful items as the seasons change over is expected and your standard collection will not be affected by this.
It is very easy to add colour through shoes and accessories, and including a piece or two in a bold colour or print should be easy to integrate if you have built a solid foundational wardrobe because everything will work together.
After your colour palette is narrowed down you need to focus on the actual style portion. What are you drawn to? What sections of the stores to you gravitate towards? Whose style do you admire?
How do you find style inspiration?
Back in the day, we used to cut out pictures in magazines that inspired us. I had binders full of magazine outfits that I used for outfit inspiration.
I found some of those binders not too long ago full of grunge era inspired outfits circa 1994/95. A trip down memory lane.
Today everything is online. When I am searching for outfit inspiration I usually head over to Pinterest to search. Sometimes my search terms are vague like "spring outfit ideas", and other times I get more detailed if I am looking for outfits that include certain items.
My inspiration tends to change a bit by season which should be expected, but the core of my style hasn't changed for about 10 years.
The core stays the same and I just add in a few pieces seasonally to freshen everything up and ward off wardrobe fatigue. It's the wardrobe fatigue that drives the impulse to shop. Keeping things fresh will help combat this.
By looking at the types of outfits that you are drawn too you can start to get a really good idea of what your style is. Mine is a little eclectic with a bit of edge.
Once you have your style figured out then you can start building your wardrobe.
Today's post focus on a minimalist capsule wardrobe, which is perfect for those that like a small collection of pieces that all work together.
I included a collection of items that I think would make a good starter capsule wardrobe for anyone who is in the beginning stages.
Not only will this work as a minimalist wardrobe but it also makes a wonderful core capsule wardrobe that you can build upon with your style.
Since this post is a minimalist summer capsule wardrobe I focused mostly on lighter, breathable, natural materials. And because I am absolutely not a shorts person, I gravitate towards looser fitting pants for comfort which I included in this minimalist wardrobe.
What most of us don't realize is that we already work with a capsule wardrobe in our closets even though you probably aren't aware of it.
We tend to gravitate to the same collection of pieces that many people will label your "uniform". I don't like to call it that, I like to say that you are comfortable with your style and know what works.
I suggest you start paying attention to what you wear regularly and you will begin to notice that you tend to wear the same pieces over and over again.
This will help to clearly define what works and does not work in your wardrobe making it much easier to build a capsule from what you have as a starting point.
If you haven't culled your wardrobe for a long time, this is the perfect opportunity to do so. By following the above steps it should help you to remove the clothes that do not work for your style or lifestyle.
Nothing can inspire a style journey more than when you purge your wardrobe.
Would you rather have a full wardrobe that you stand and in front of and stare while you search for that one shirt that you love to wear.
Or would you rather have a neat and orderly closet that is much smaller but every piece you look at is one that you love?
When you feel good in and enjoy everything that you have, it makes getting dressed and easier more inspirational experience.
I included some links below that help to give guidelines and a breakdown on building capsule wardrobes.
If you enjoyed my Minimalist Capsule Wardrobe for Summer Starter Kit post please feel free to share it via Pinterest, Facebook, or Twitter. Thank you.
This post contains affiliate links. By using my links to shop I may receive a small commission (at no cost to you). Thanks for supporting what I do 🙂
You may also like:
A Teacher Capsule Wardrobe Built From Your Closet
A Neutral Capsule Wardrobe for Spring and Summer
Build a Budget Capsule Wardrobe for Spring and Summer
How to Build a Summer Capsule Wardrobe
Minimalist Outfit Ideas for Summer


Bodysuit | T-shirt | Linen Blouse | White Blouse | Blue Blouse | Sweater | Sweatshirt | Blazer | Trousers | Jeans | Black Trousers | Jumpsuit | Black Dress | T-shirt Dress | Swimsuit | Hat | Sunglasses | Hoop Earrings | Brown Scarf | Spotted Scarf | Sandals | Mules | Sneakers | Crossbody | Summer Bag |
---
SHOP THE POST


---
Follow me on
FACEBOOK || INSTAGRAM || PINTEREST || LIKEtoKNOW.it