Summer Capsule Wardrobe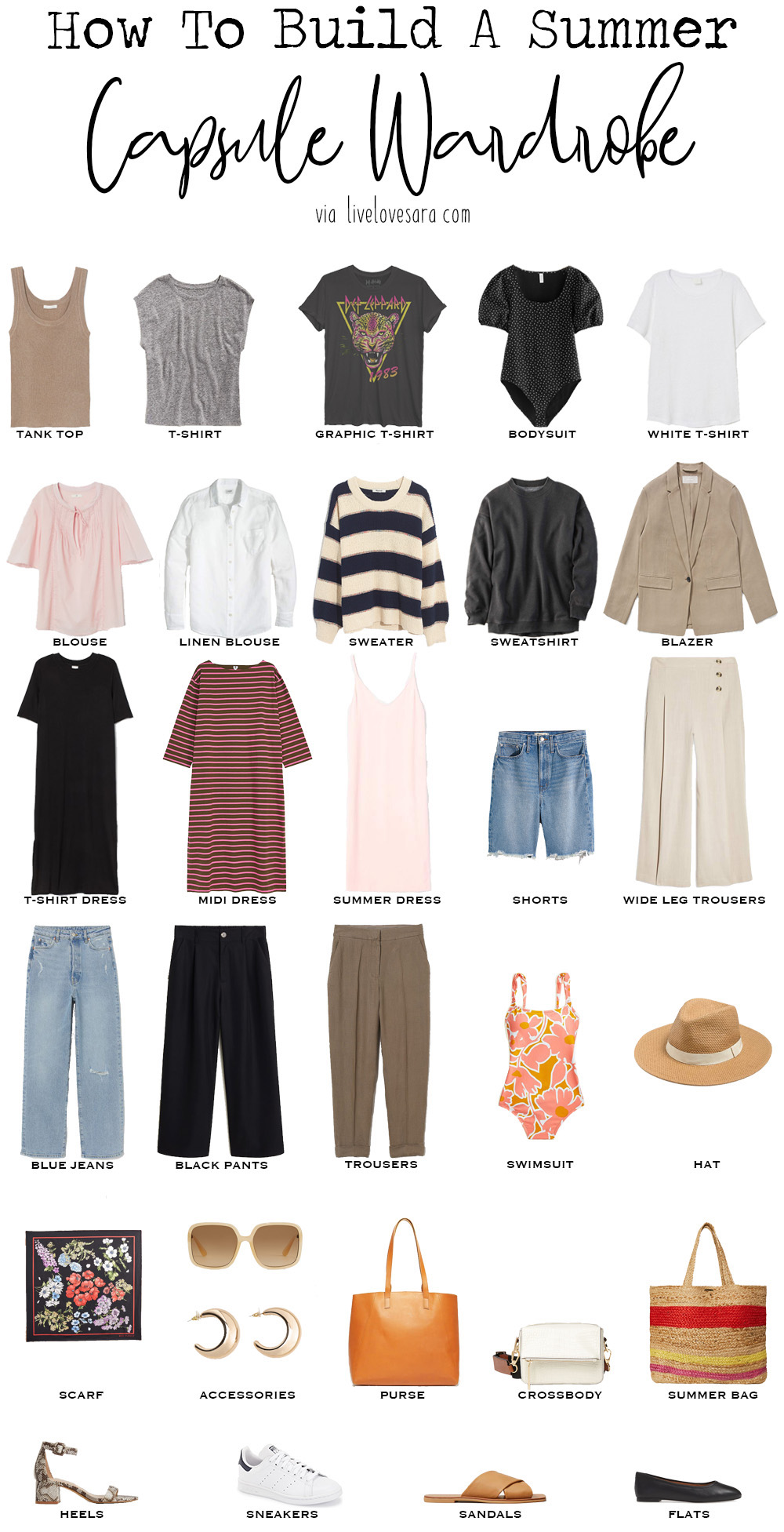 Tank Top | Grey T-Shirt | Graphic T-shirt | Bodysuit | White T-shirt | Pink Blouse | Linen Blouse | Striped Sweater | Sweatshirt | Blazer | T-shirt Dress | Striped Midi Dress | Pink Slip Dress | Denim Shorts | Wide Leg Trousers | Blue Jeans | Black Pants | Trousers | Swimsuit | Hat | Scarf | Sunglasses | Earrings | Purse | Crossbody | Summer Bag | Heels | Sneakers | Sandals | Flats |
SHOP THE POST



I know, I know. I have been doing capsules out the wazoo I am sure it feels a lot like repetition even though I try to change up the looks.
BUT, I have had a few suggestions for a strictly summer capsule wardrobe since the outlook is that most of us will still be under tight social distancing orders for most (if not the rest) of the spring.
As is stands most of our current spring wardrobes revolve around our most comfortable pieces, and an idgaf attitude 😉 I hear you loud and clear.
Today I am focusing on a summer capsule wardrobe that I hope we will be able to enjoy in the next couple of months. Fingers crossed.
I know that all of you who are located in the Southern Hemisphere are currently in fall/autumn and starting to focus towards winter.
If you are looking, I have a couple of capsules that might help to give you some foundational wardrobe ideas. It's my favourite season to dress for so I am envious.
How to Build a Fall + Winter Capsule Wardrobe on a Budget
How to Build a Winter Work Capsule Wardrobe
How to Build a Capsule Wardrobe for Fall
By now I think that a lot of us are bored enough to have gone through our closets at least once to check out what we have and do a mental inventory (or real inventory for those that are hyper organized).
I know I have more than once. 
I have an ongoing pile of items that need to be donated but since all donation centres are currently closed the pile is taking over my front hall area.
This means I have also been mentally preparing outfits for spring and summer which I plan on maybe making a blog post from. Something like 10 pieces worn 10 ways for spring or summer.
I haven't plotted out exactly what it will entail since my family is constantly around me and I hate doing stuff like this while people are there to watch.
It would be nice to have a small office or walk-in closet that I could hide in work on it.
Sigh. Some day maybe. Now that Airbnb's have been hit so hard there are a million places for rent in the city.
Now, all we need to do is lower the rent cost which hopefully will be a positive outcome out of this situation. 
If this is your first capsule wardrobe you might want to check out some of the blog posts that I linked here at the top and end of this post for a more detailed view on the capsule wardrobe journey.
If you are an old pro at this and just looking for some summer outfit ideas then I hope you enjoy some inspiration.
As for some of my favourite summer staple pieces, one of the items that got the most use last year was my white linen blouse.
I wore it a lot and it is so versatile. I found mine at Uniqlo, and I hope to pick it up in another colour or two as well. 
The other few items that were on constant rotation were my red flats, my favourite 100% cotton Levi's, sneakers, and a mid-length t-shirt dress which I bought at Zara 3 summers ago.
I'm not a short dress, or a shorts-wearing kind of person so I tend to not include those items unless it is for a warm-weather destination packing list.
BUT if someone was twisting my arm and I had to buy a pair of shirts I would choose the above high-rise denim shorts that are not too short.
Please don't twist my arm because I haven't done any squats are leg exercises in a LONG time and it is showing. 
This is inspiring me to maybe put together a summer capsule of my own.
Side note: did I mention that I pinched a nerve in my upper back/shoulder blade area while blow-drying my hair?
That kind of goes hand in hand when Tom threw out his back opening up the utensil drawer.
Apparently we both need to work out more, or at least do yoga to help prevent these further embarrassing injuries.
You may also like:
A Teacher Capsule Wardrobe Built From Your Closet
A Neutral Capsule Wardrobe for Spring and Summer
Build a Budget Capsule Wardrobe for Spring and Summer
Capsule Wardrobe Outfit Ideas

Summer Outfit Ideas

Tank Top | Grey T-Shirt | Graphic T-shirt | Bodysuit | White T-shirt | Pink Blouse | Linen Blouse | Striped Sweater | Sweatshirt | Blazer | T-shirt Dress | Striped Midi Dress | Pink Slip Dress | Denim Shorts | Wide Leg Trousers | Blue Jeans | Black Pants | Trousers | Swimsuit | Hat | Scarf | Sunglasses | Earrings | Purse | Crossbody | Summer Bag | Heels | Sneakers | Sandals | Flats |
SHOP THE POST



This post contains affiliate links. By using my links to shop I may receive a small commission (at no cost to you). Thanks for supporting what I do