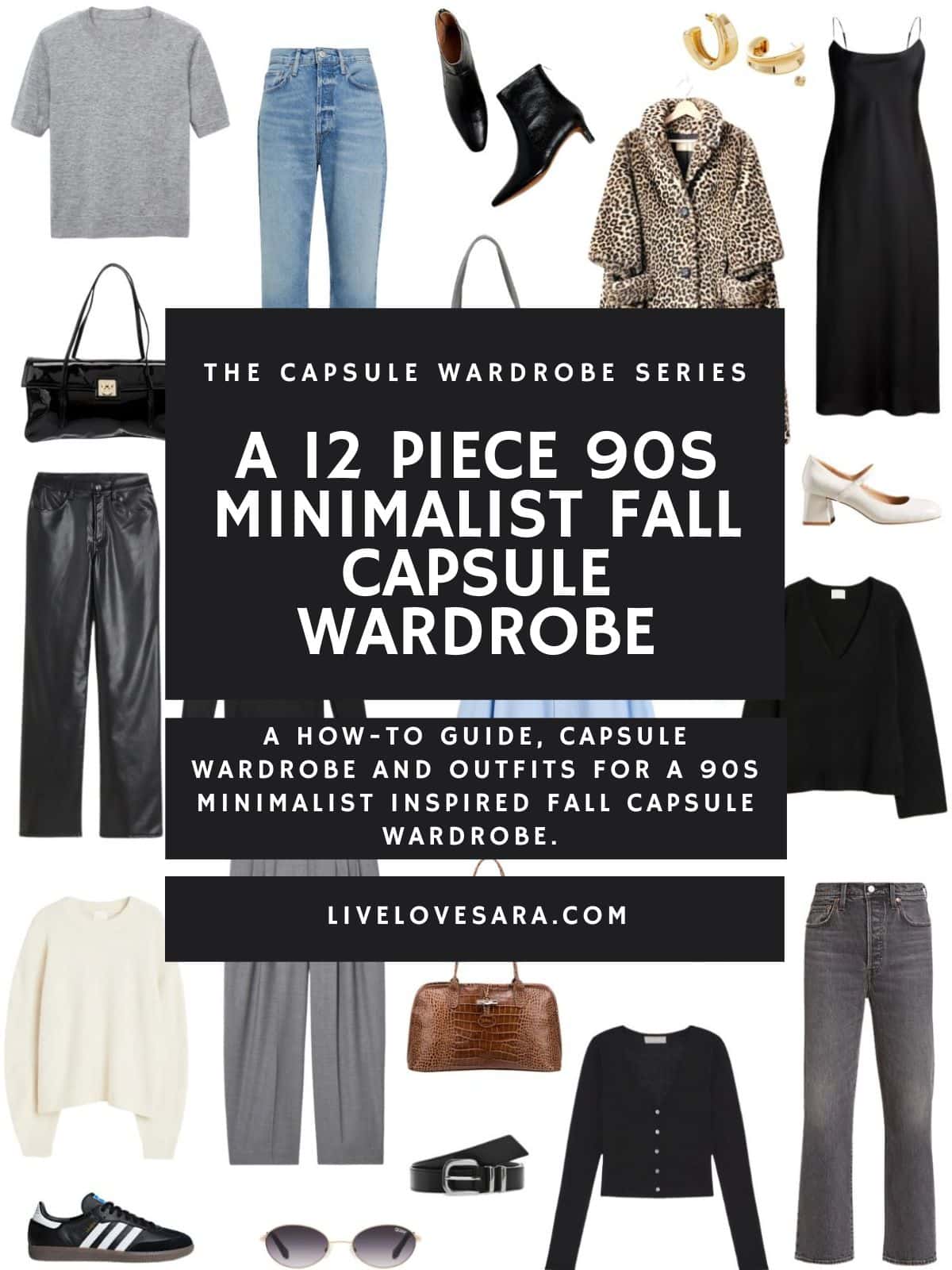 This is the capsule wardrobe that I look forward to every season. I was between the ages of 10 and 20 during the 90s, so 90s minimalist fashion was very influential in my formative fashion years. My early 20s continued this vibe.
My mid 20s were a fashion time filled with turmoil and confusion due to motherhood and all those weird thoughts that go along with it.
My 30s were spent rediscovering what I had lost, and I found that the 90s really imprinted on me who I am fashion-wise today, so I am so happy that the 90s minimalism aesthetic is still going on strong.
I chose to do a 90s minimalist capsule wardrobe with a modern touch so that we can see how easy it is to integrate into modern fashion.
Today the influence is a combination between 90s Gwyneth Paltrow and 90s Kate Moss. Both of these women exemplified 90s fashion to me.
Gwyneth Paltrow's 90s fashion style can be characterized as an embodiment of the era's minimalistic and refined aesthetic. Her ability to effortlessly merge simplicity with sophistication made her a fashion icon of the time.
Kate Moss's 90s fashion style was all about embracing a nonchalant attitude, mixing contrasting elements, and challenging traditional fashion norms. Her ability to effortlessly blend high fashion with a laid-back edge is why we still look to her as a fashion ideal today.
I think these two are the perfect combination of what I want my wardrobe to reflect.
What is old is new again, and I included some Birkenstock Bostons because not only are they still a current trend for multiple years running, but after being released in 1979 for the first time, they became a fashion staple in the 90s.
Think of them as part of the modern Model Off Duty look.
I also wanted to include a vintage animal print coat because that was so Kate, but also Gwyneth, so it was fitting.
I know that vintage can be hard to find in larger sizes, so I found a few animal print coats that would work for some. Here is one in a size 1X-2X from the 1960s, an XL-1X from the 80s, size 16 from the 90s, and a 2X from the 1980s.
A 12 Piece 90s Minimalism Fall Capsule Wardrobe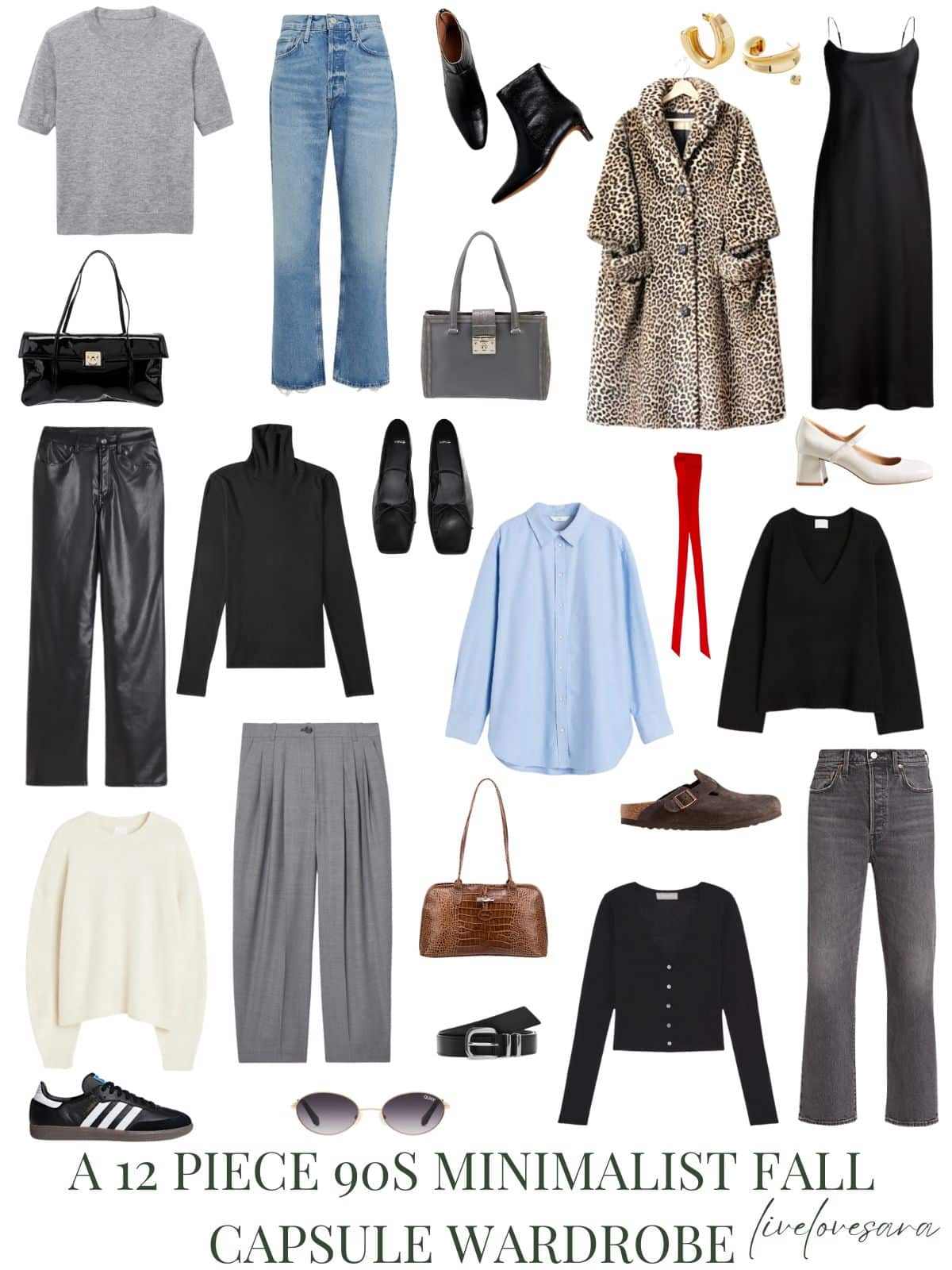 Grey Short Sleeve Sweater | Blue Jeans | Boots | Grey Handbag | Animal Print Coat | Earrings | Slip Dress | White Mary Janes | Black Sweater | Red SKinny Scarf | Blue Button Up | Ballet Flats | Turtleneck | Black Handbag | Leather Trousers | Cream Sweater | Sneakers | Grey Wool Trousers | Sunglasses | Belt | Brown Handbag | Birkenstock Boston | Black Cardigan | Grey Jeans

What is 90s Minimalism?
90s minimalist fashion refers to a style trend that focused on simplicity, clean lines, and a subdued colour palette.
It was fashion's answer to the bold extravagance of the preceding decades, particularly the 1980s.
90s minimalism was the aftermath of 80s maximalism.
Minimalism in the 90s was characterized by:
Simplicity: This focused on clean and uncomplicated silhouettes. The concept was functional and timeless pieces rather than elaborate designs.
Neutral Colours: The colour palette was typically subdued and neutral, featuring shades like white, black, beige, grey, and navy.
These colours were used to create a sense of understated elegance much like the current Quiet luxury trend. But if you like a 90s wardrobe that is a little grungier/edgier you might like this one.
Clean Lines: Clean lines and sharp tailoring were important features of minimalist clothing. Clothes were often well-fitted and lacked the unnecessary embellishments or details that we often see.
High-Quality Fabrics: Focus was on using high-quality fabrics that lend themselves to structured and well-draped garments. Fabrics like cotton, silk, wool, and linen were commonly used.
These fabrics can be pricey now, but are worth it if you can afford it for their longevity when cared for properly. That being said, there is a plethora of these items on the secondhand market with a little searching.
Sometimes all a thrifted cashmere sweater needs is a go-over with an inexpensive fabric shaver to make it look brand new.
Layering: Layering was an important aspect of minimalist fashion. Simple pieces were layered to create depth and texture while maintaining the overall minimalistic aesthetic.
The layering of different fabrics also brings forth a whole new level of texture, richness, and elegance, especially in monochromatic outfits.
Monochromatic Outfits: Speaking of monochrome, wearing outfits in a single colour or variations of a single colour was a common trend. Monochromatic dressing added to the sleek and sophisticated look of the style.
And like I said above, use different fabrics in the same tone to elevate the look.
Subtle Accessories: Accessories were typically understated and functional. They complemented the outfit without overpowering it. Think of thin belts, delicate jewellery, and simple bags.
Androgyny: Always my favourite, minimalist fashion often had an androgynous feel, that blurred the lines between traditionally gendered clothing.
Oversized blazers, tailored trousers, and boxy shirts were worn by individuals of all genders.
This is a reason why I love shopping in the men's section in thrift stores. Men's clothing tends to be much more timeless since they don't have the constant barrage of trends shoved In their faces.
Essential Wardrobe Staples: This is important in building any wardrobe. Having a foundation of wardrobe staples is imperative. They are the backbone of any well thought out wardrobe.
Minimalism emphasized owning a few well-chosen pieces that could be mixed and matched to create multiple outfits. Wardrobe staples included items like tailored blazers, white shirts, black trousers, and simple dresses or skirts.
If you are looking to do authentic 90s minimalism using vintage pieces then notable designers and brands associated with it include Jil Sander, Calvin Klein, Helmut Lang, and Prada.
What Are Some Easy 90s Minimalism Outfit Ideas
Classic Monochrome:
Black straight-leg trousers
Black silk blouse
Black leather loafers or flats
Minimalist silver necklace
Slip Dress Chic:
Silk slip dress in a neutral colour (black, beige or grey)
Black leather knee high boots or kitten heels
Delicate gold hoop earrings
Small black bag or clutch
Tailored and Timeless:
White or light blue cotton button-down shirt
High-waisted black or grey tailored trousers
Black or white pointed-toe flats
Simple leather belt
Silver cuff bracelet
Effortless Denim:
White oversized t-shirt
Light wash mom jeans
Ballet flats
Minimalist watch
Casual bag or tote in neutral or animal print
Minimalist Layers:
Grey cashmere sweater
Grey midi skirt with subtle pleats
White leather sneakers
Dainty layered necklaces
Modern Androgyny:
Oversized blazer
White crew-neck t-shirt
Tailored trousers with a slight crop
Black oxfords
Thin leather belt
Neutral Layers:
Beige oversized sweater
Tan wide-leg trousers
Tan boots
Minimalist pendant necklace
Neutral handbag (remember that animal print is a neutral)
Clean Lines Chic:
Black crew-neck t-shirt
Black leather trousers or midi length leather skirt
Black ballet flats
Simple wristwatch, or bracelet
I also want to note that I put all of my 12 Piece capsule Wardrobes together under a category in my header to make it more easily accessible to those looking for small wardrobe inspiration.
Remember, the key to 90s minimalism is to embrace simplicity, neutral tones, and clean lines. Mix and match these pieces to create outfits that are both timeless and effortlessly chic.
The minimalist movement of the 1990s represented a shift away from excess and extravagance, and a shift towards focusing on understated elegance, functionality, and a sense of timelessness.
Its influence can still be seen in contemporary fashion and design, with many of its principles continuing to resonate with modern sensibilities.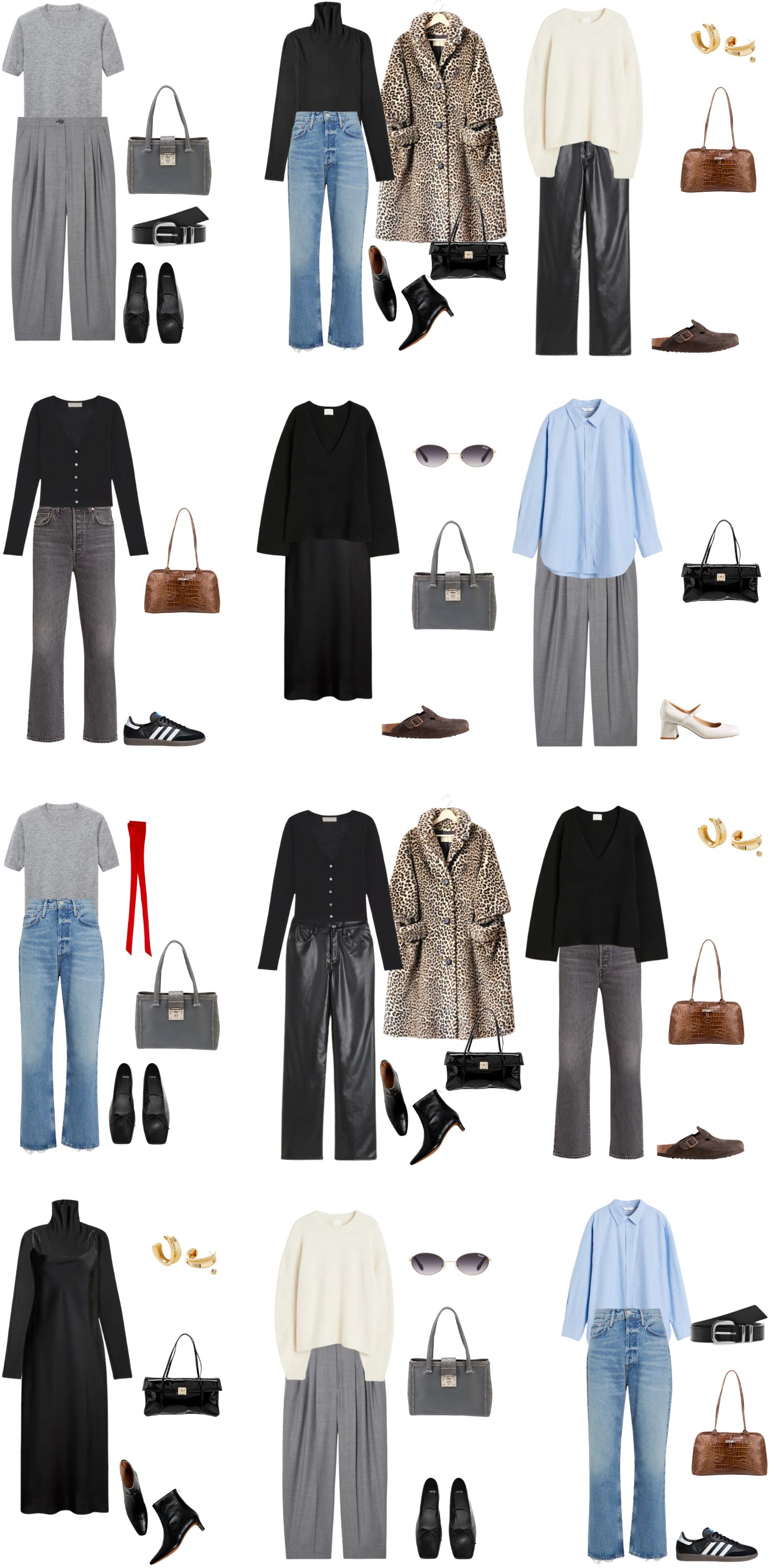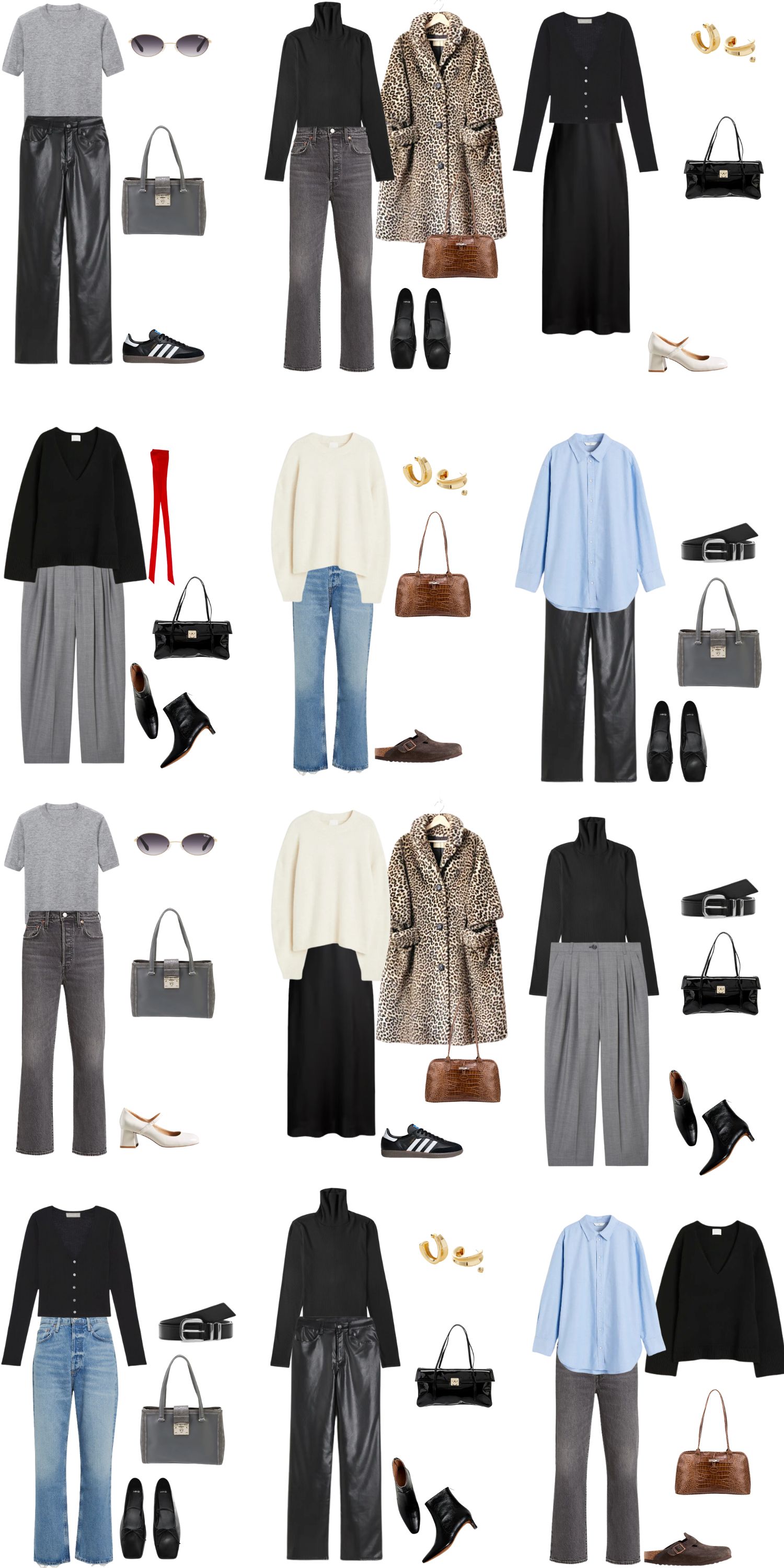 Grey Short Sleeve Sweater | Blue Jeans | Boots | Grey Handbag | Animal Print Coat | Earrings | Slip Dress | White Mary Janes | Black Sweater | Red SKinny Scarf | Blue Button Up | Ballet Flats | Turtleneck | Black Handbag | Leather Trousers | Cream Sweater | Sneakers | Grey Wool Trousers | Sunglasses | Belt | Brown Handbag | Birkenstock Boston | Black Cardigan | Grey Jeans

You might also like:
A 12 Piece Scandinavian Street Style Fall Capsule Wardrobe
A 12 Piece Indie Style Fall Capsule Wardrobe
A 12 Piece New Preppy Style Fall Capsule Wardrobe
A 12 Piece Minimalist Fall Capsule Wardrobe
A 12 Piece 90s Fashion Fall Capsule Wardrobe
A 12 Piece Quiet Luxury Fall Capsule Wardrobe
A 12 Piece Rock Inspired Falls Capsule Wardrobe
A 12 Piece Dark Academia Capsule Wardrobe
SHOP THE UK LINKS


I am now offering digital styling guides, and personal styling services. If you are looking for some styling help that is inexpensive and easy, check out my digital styling guides. If you want some one-on-one help shopping, building and editing your wardrobe, or packing for a trip, I can also assist. Check out all the styling services that I offer here.
This post contains affiliate links. By using my links to shop I may receive a small commission (at no cost to you). Thanks for supporting what I do