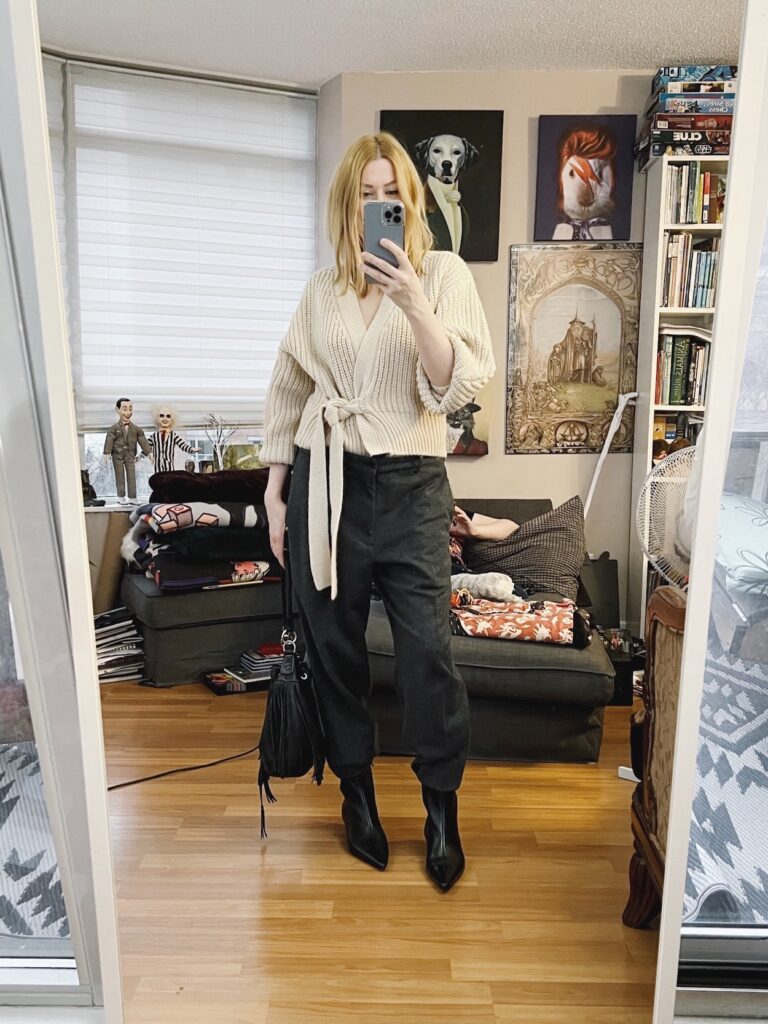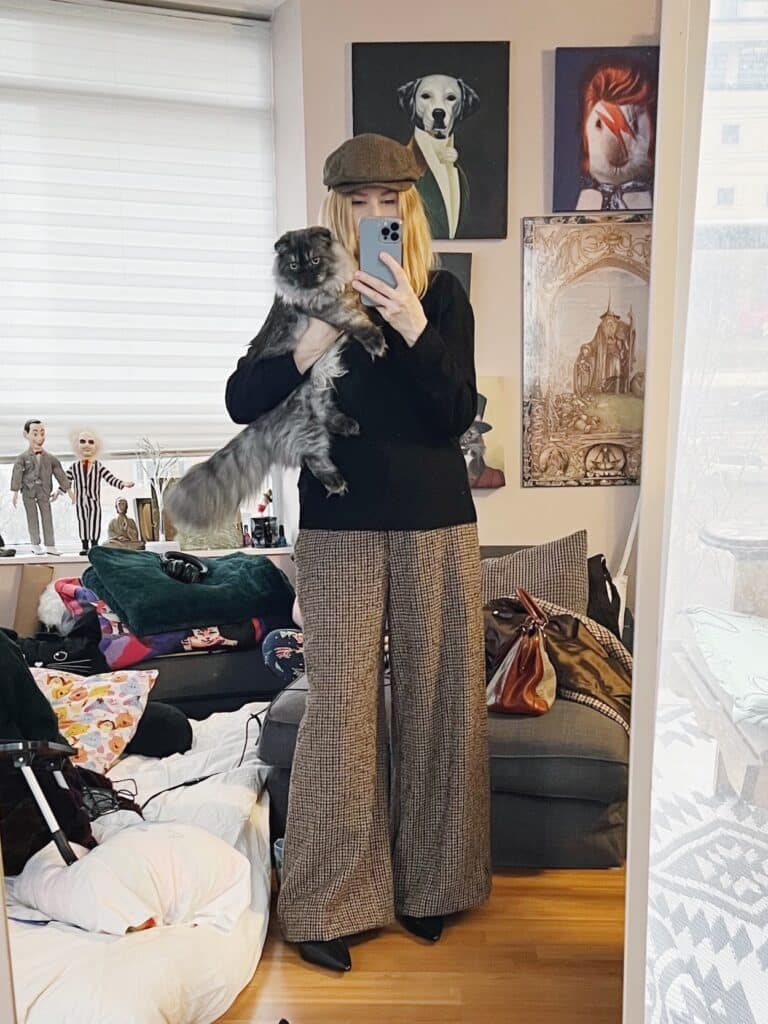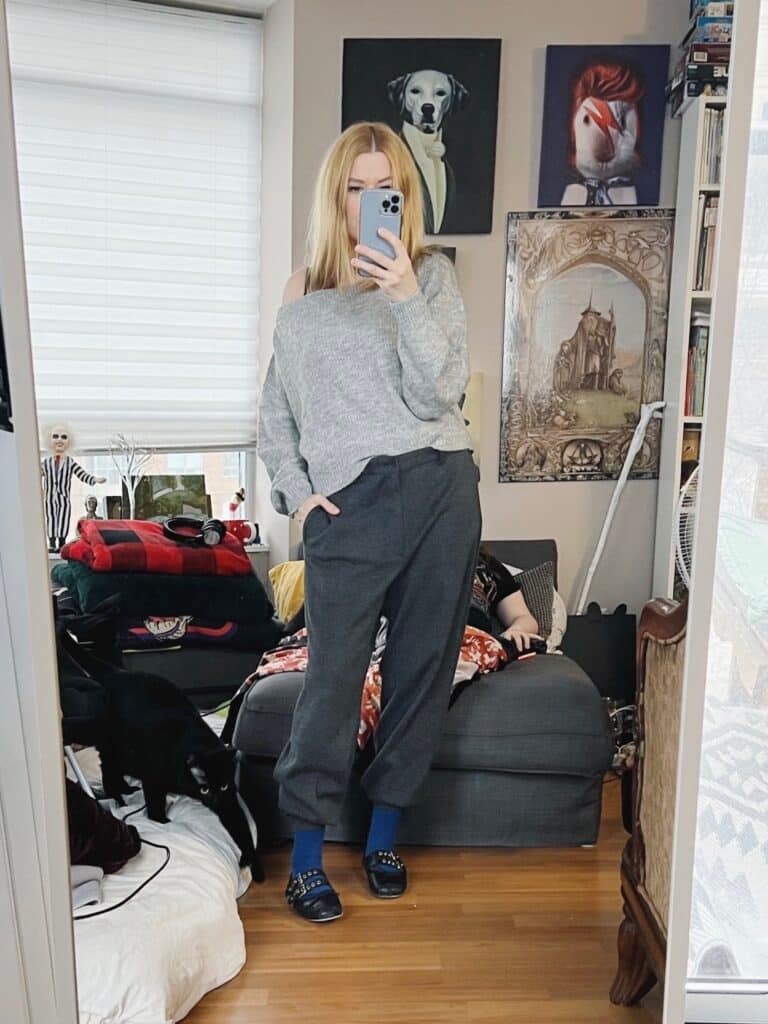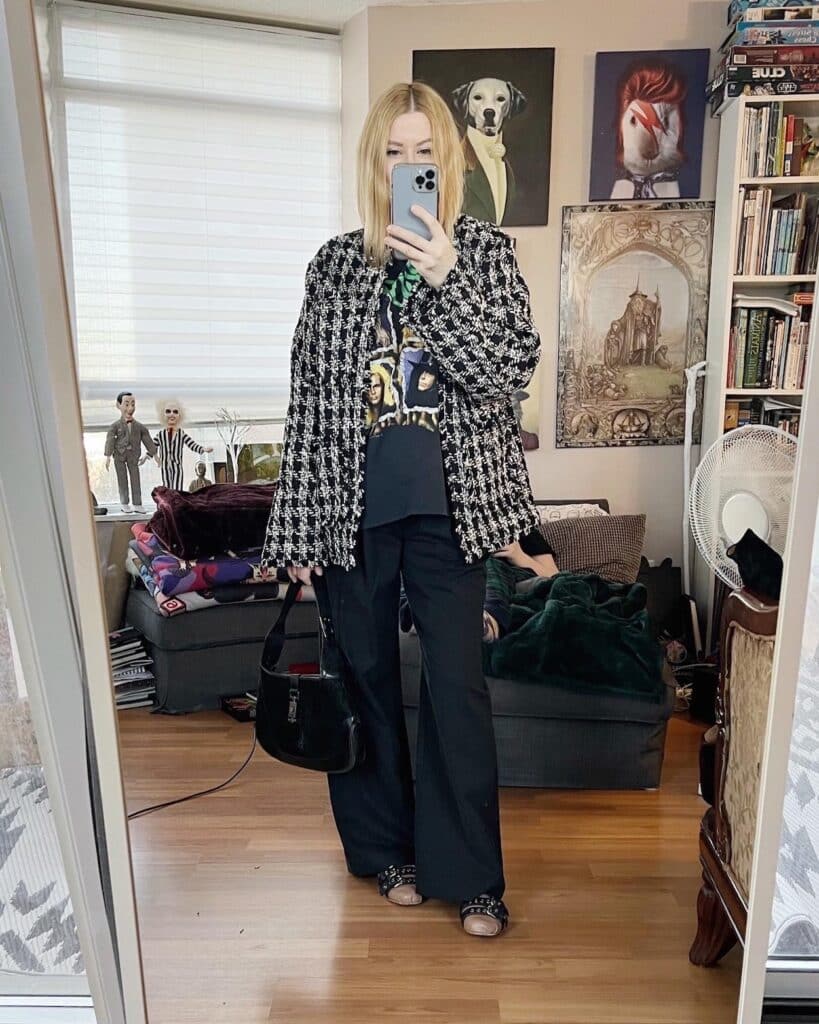 Outfit 1 – Sweater (similar) | Trousers | Boots | Vintage Purse (similar)
Outfit 2 – Sweater | Trousers (consignment) | Boots | Hat
Outfit 3 – Sweater | Trousers | Shoes | Socks
Outfit 4 – Vintage T-shirt | Jacket | Trousers | Shoes | Vintage Bag

Who still has their Christmas tree up? Me waving my hand over here. And if I am honest, it will probably be up until February. Oh well. I like it up, and taking it down is at the bottom of my priority list.
A little update on the Adidas Samba hunt.
And that is no, I have not found them. They are still sold out everywhere or are being sold on other sites for extremely inflated prices which I am not going to pay.
Instead, I found these Adidas which are technically also called Sambas, but they are the Arsenal which is a newer model of the classic.
Also, they are red which is definitely not a colour for everyone but is very much a colour for me.
That being said, they also keep selling out, and I saw they were in stock in a men's 7.5 which according to their men's/women's size chart is equivalent to a women's 8.5.
I wear a pretty standard size 8 shoe, but I am going to try them anyway because I can either wear an insole or lace it to the top.
There is also an Adidas Samba OG in a dark green which is gorgeous. Remember to always look at men's shoes, because they usually get better colours. That also applies to most of their clothes, especially knitwear.
I also just finished an uploaded another style guide to the site.
It is a Fashion Over 40 Spring Capsule Wardrobe. It's a little bit of over 40 fashion inspiration compiled of things that I have or are on my spring wishlist.
It has some key wardrobe pieces, a sprinkle of trends, and is a guide to help inspire some outfit ideas for those who are looking to find their style or regain their love of fashion.
My goal for this week is to finish some client work, and get a handle of the mess in here…but not take down the tree.
You might also like:
Weekly Reads and Finds Last Week
SHOP THE UK LINKS


I am now offering digital styling guides, and personal styling services. If you are looking for some styling help that is inexpensive and easy, check out my digital styling guides. If you want some one-on-one help shopping, building and editing your wardrobe, or packing for a trip, I can also assist. Check out all the styling services that I offer here.
This post contains affiliate links. By using my links to shop I may receive a small commission (at no cost to you). Thanks for supporting what I do