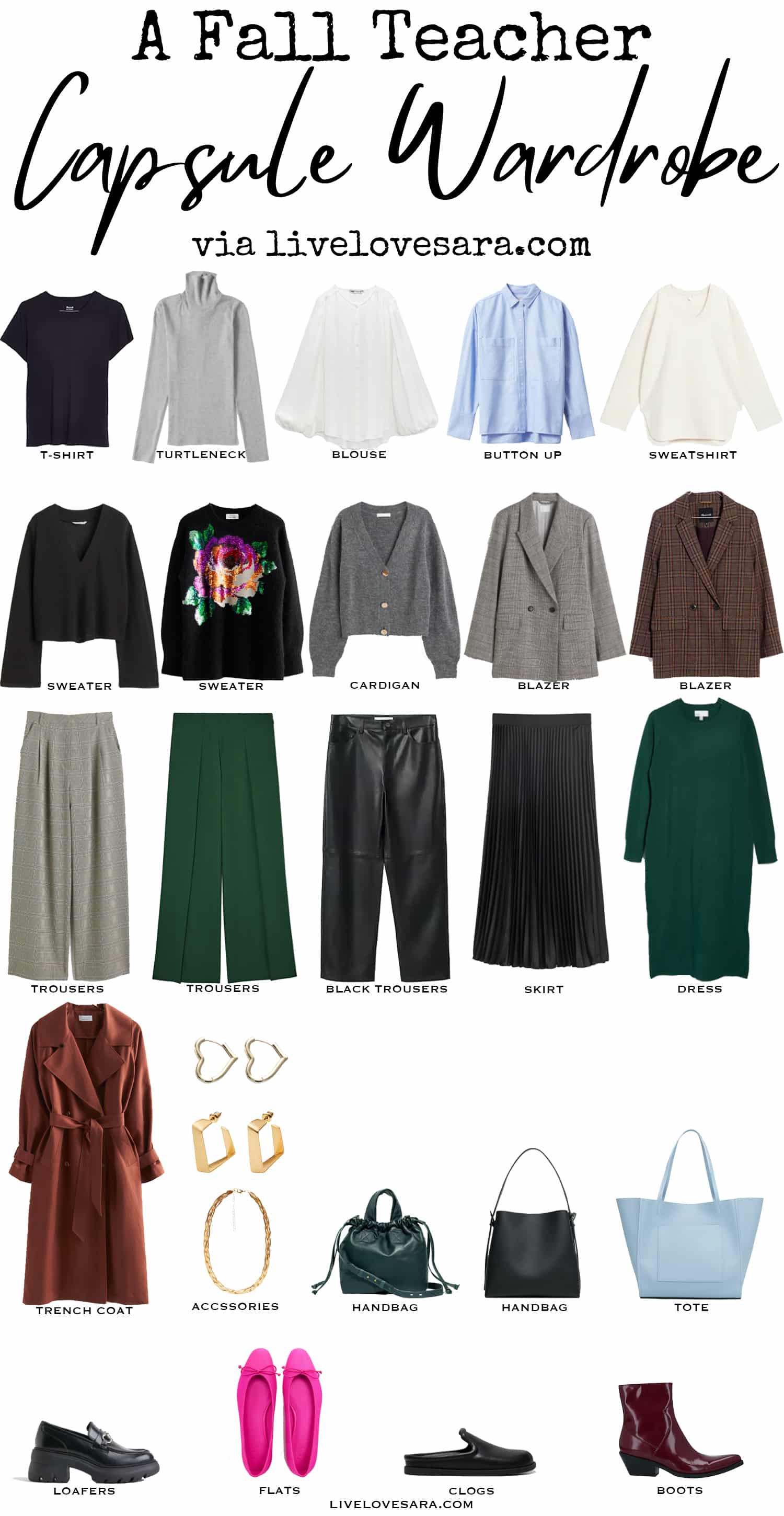 T-shirt | Turtleneck | Blouse | Button Up | Sweatshirt | Black Sweater | Flower Sweater | Cardigan | Grey Blazer | Brown Blazer | Plaid Trousers | Green Trousers | Black Trousers | Skirt | Dress | Trench Coat | Heart Earrings | Angular Hoop Earrings | Necklace | Green Purse | Black Purse | Blue Tote | Loafers | Pink Flats | Clogs | Boots

I absolutely should have put this out at the beginning of July since many teachers are already back to school or almost back to school.
When I think of clothes for teachers my mind goes directly to the classic art teacher with the full skirts, jangling bangles on her arms, and layers of long necklaces. I'm going more modern with this teacher wardrobe today.
We love teachers. They are badass, overlooked, and treated abominably. If anything, this past couple of years how showed us just how important, hardworking, and special these people are who choose this vocation.
My hat is off to any of you who choose this path because it isn't easy. I can't even imagine being responsible for a classroom of children.
I have trouble with two more often than not.
There are some people that you just know are going to be a teacher. I had a roommate who was like the real-life personification of Maria Von Trapp. Even down to the acoustic guitar and folk music ballads.
I could always imagine her playing that guitar in her super quirky fashion, and singing while a class full of kids just followed her around like the Pied Piper.
She was that magical.
With some people you can just tell.
Over the past few years, I have written a few iterations of these teacher capsule wardrobe posts, and the message that I always start with is to start with your own closet first.
Being a teacher isn't going to make you rich, so you need to work with a budget, I get that.
My original post here is called A Simple Teacher Capsule Wardrobe Built From Your Closet in 5 Steps if you want a deeper explanation.
A quick summary before I add some extra touches is.
1. With the dress code in mind, go through your wardrobe and pull out anything that doesn't check those boxes. Set them aside, so they don't mix with what you are working with.
2. Choose a colour theme. Some good neutrals are a great base and make adding in more colourful pieces easy. If there is too much colour and patterns, it starts to get hard to mix and match.
Not that it can't be done, but if you are looking for ease of dress, then a set of neutral base pieces are important.
3. Depending on your climate, you need to determine what kinds of seasonal pieces you need. Rainy? Still Hot? Your capsule will look different from if you live in a place with a stereotypical fall season.
Pull these pieces out and see what you have to work with. Everyone has at least a couple of sweaters already in their wardrobe, and if your sweaters are looking sad or worn, then an inexpensive fabric shaver (with thousands of great reviews) is like a magic wand.
It will breathe new life into your pieces.
Start making a list of seasonal clothes, outerwear, and footwear that you have, and those that you may still need.
4. This is where you have a rough idea of wear you stand clothes-wise, and is a good place to narrow it down if you have a lot of certain pieces.
You won't need 20 t-shirts, so set aside your best.
Six pairs of black pants? Pick two or three that are the most versatile, and that you feel the best in.
Everything else can be set aside as part of your day-to-day wardrobe.
5. By now you should have gone through the wardrobe pretty thoroughly and have a very good idea of where you are sitting with your teaching clothes.
This is the step where you can determine the wardrobe holes that you want to be filled so that you have a well-rounded teacher wardrobe.
By grouping together your pieces you can get a sectional overview of what you have an abundance of and what categories need to be filled.
I feel that making a list is so important because it helps to keep you on track with what you are looking for.
Sometimes you end up stopping by a store without preplanning and having a list of what you are looking for helps to keep you focused.
That way you won't return with more t-shirts when that category is already full.
For this teacher capsule wardrobe I kept the base quite neutral, but then I added in some rich green, and vibrant pink.
A pop of unexpected colour is always fun, and if you love to play with colour, I talk about it in-depth in my post How to Use A Colour Wheel top Help Build A Capsule Wardrobe.
I talk about the different ways to introduce colour, depending on how deep you want to dive.
For example, in this capsule wardrobe, I have some green trousers and a green sweater dress in the same tone.
These two pieces can be worn together for a monochromatic look, especially if you add the green bag. It's an easy way to add colour without much thought or risk.
Most people would pair it with neutral footwear in black or brown because cognac brown looks amazing with this green. BUT, if you want to spice up a monochromatic base then you could add the pink ballet flats.
These are the shoes that your students are going to come up and say, "I really like your shoes Ms. Watson."
That would be my goal.
This also applies to the floral sequin sweater. It's fun, yet pretty and not too in your face. Your students are going to love it, but you aren't going to feel silly.
So after you have gone through your wardrobe and started to fill in the holes, you will start making outfits.
Because sometimes the outfit in your head looks a lot better than when you try it on.
I experience this regularly and always have to tweak a look.
So when you go through and make outfits then you are going to know, what is working and what is not so that you can adjust accordingly.
Don't waste closet space on things that aren't working, replace them with something that will.
When you are on a budget there are so many options to where you can shop. My favourite being secondhand.
This is where your list comes in handy again.
When you walk into a thrift store or open up Poshmark it is easy to get overwhelmed or lost in racks and scrolling the app.
If you know exactly what you are looking for then you can focus on that area and make the best out of your money and time.
When in a store you can go directly to the blazer rack (don't forget to shop men's because they have great oversized blazers), or use all the category options to really narrow down your search on Poshmark or eBay.
And don't forget to make an offer on Poshmark. A lot of people price their items higher than what they are willing to accept to leave room for offers.
I've scored some great pieces for really amazing deals all based on using offers, or liking items and having the seller send me an offer.
I got a pair of Dries Van Noten blue oxfords tonight on Poshmark for $25, all because I liked them months ago, and today they are doing a closet clear out and sent me an offer for 67% off.
Finding deals is something that I love. It is like an addiction, and it is something that is so beneficial when you are a teacher who is shopping for teaching clothes.
Don't sleep on the secondhand market, it can be a life changer.
Stay safe.
Teacher Outfits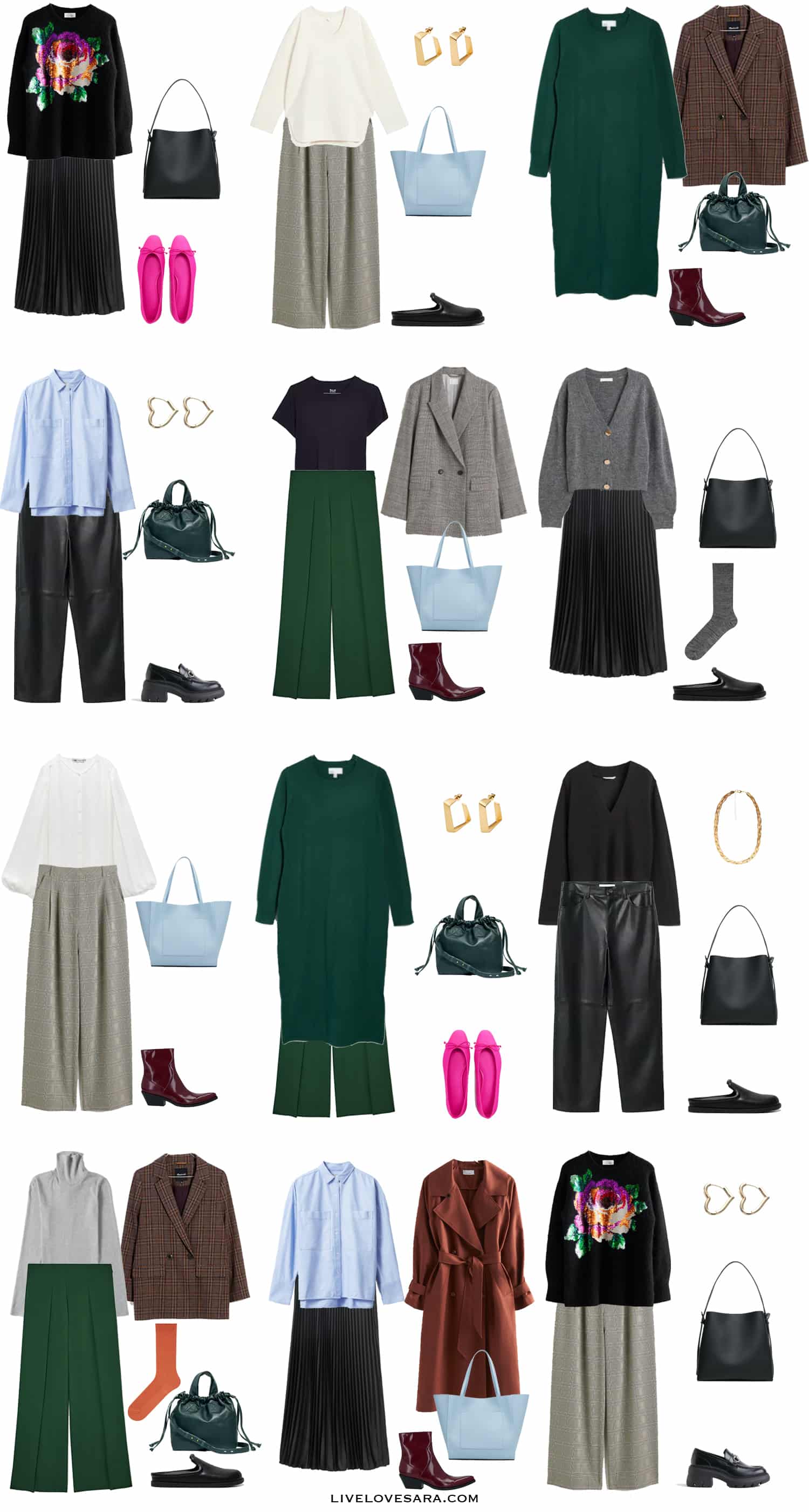 T-shirt | Turtleneck | Blouse | Button Up | Sweatshirt | Black Sweater | Flower Sweater | Cardigan | Grey Blazer | Brown Blazer | Plaid Trousers | Green Trousers | Black Trousers | Skirt | Dress | Trench Coat | Heart Earrings | Angular Hoop Earrings | Necklace | Green Purse | Black Purse | Blue Tote | Loafers | Pink Flats | Clogs | Boots

You might also like:
An Easy Teacher Capsule Wardrobe for Fall and Winter
A Teacher Capsule Wardrobe Built from Your Closer – Second Edition
A Starter Teacher Capsule 40 Outfit Options
How to Build a Fall Work Capsule Wardrobe
SHOP THE UK LINKS


I am now offering digital styling guides, and personal styling services. If you are looking for some styling help that is inexpensive and easy, check out my digital styling guides. If you want some one-on-one help shopping, building and editing your wardrobe, or packing for a trip, I can also assist. Check out all the styling services that I offer here.
This post contains affiliate links. By using my links to shop I may receive a small commission (at no cost to you). Thanks for supporting what I do
This post contains affiliate links. By using my links to shop I may receive a small commission (at no cost to you). Thanks for supporting what I do