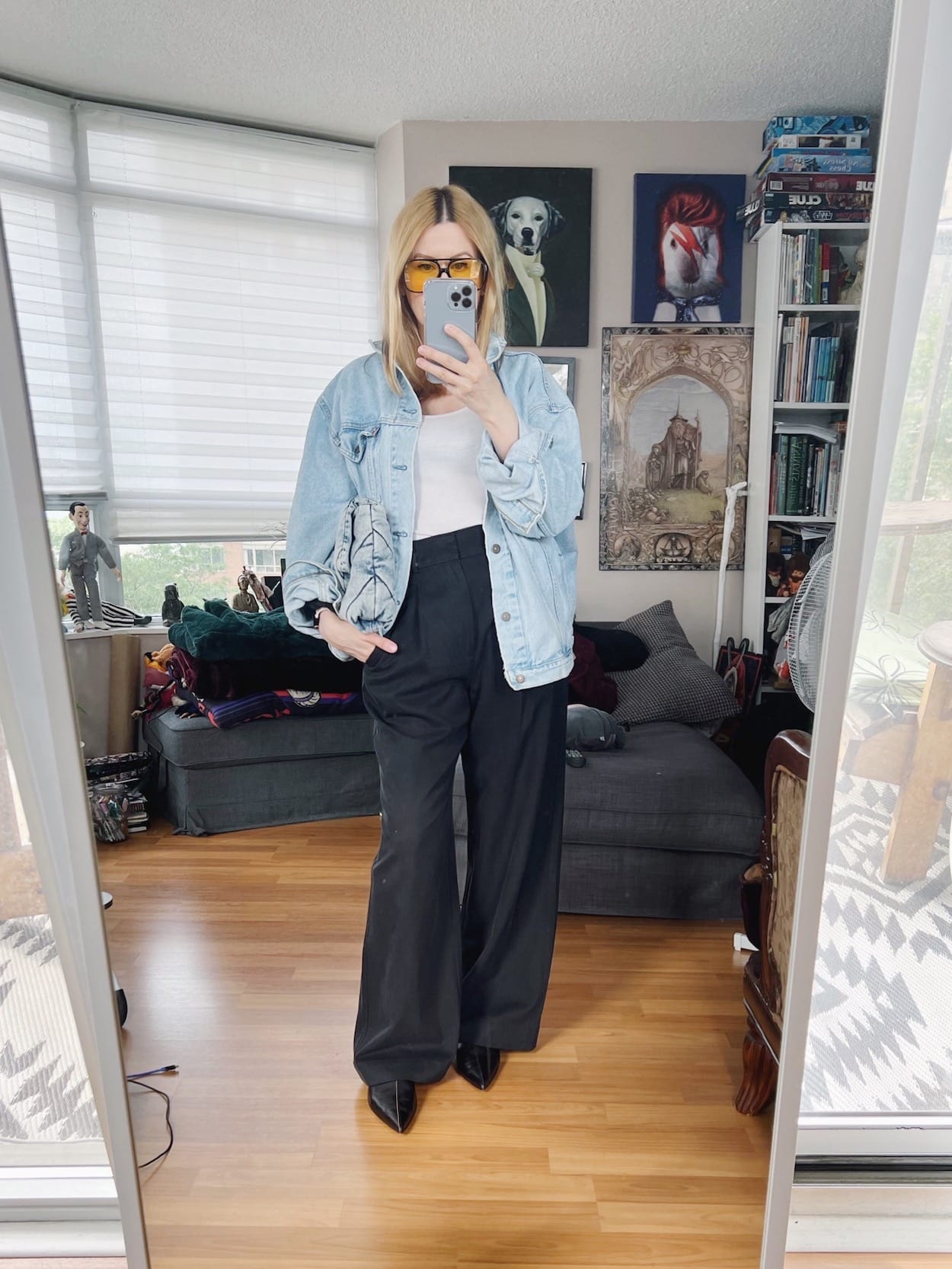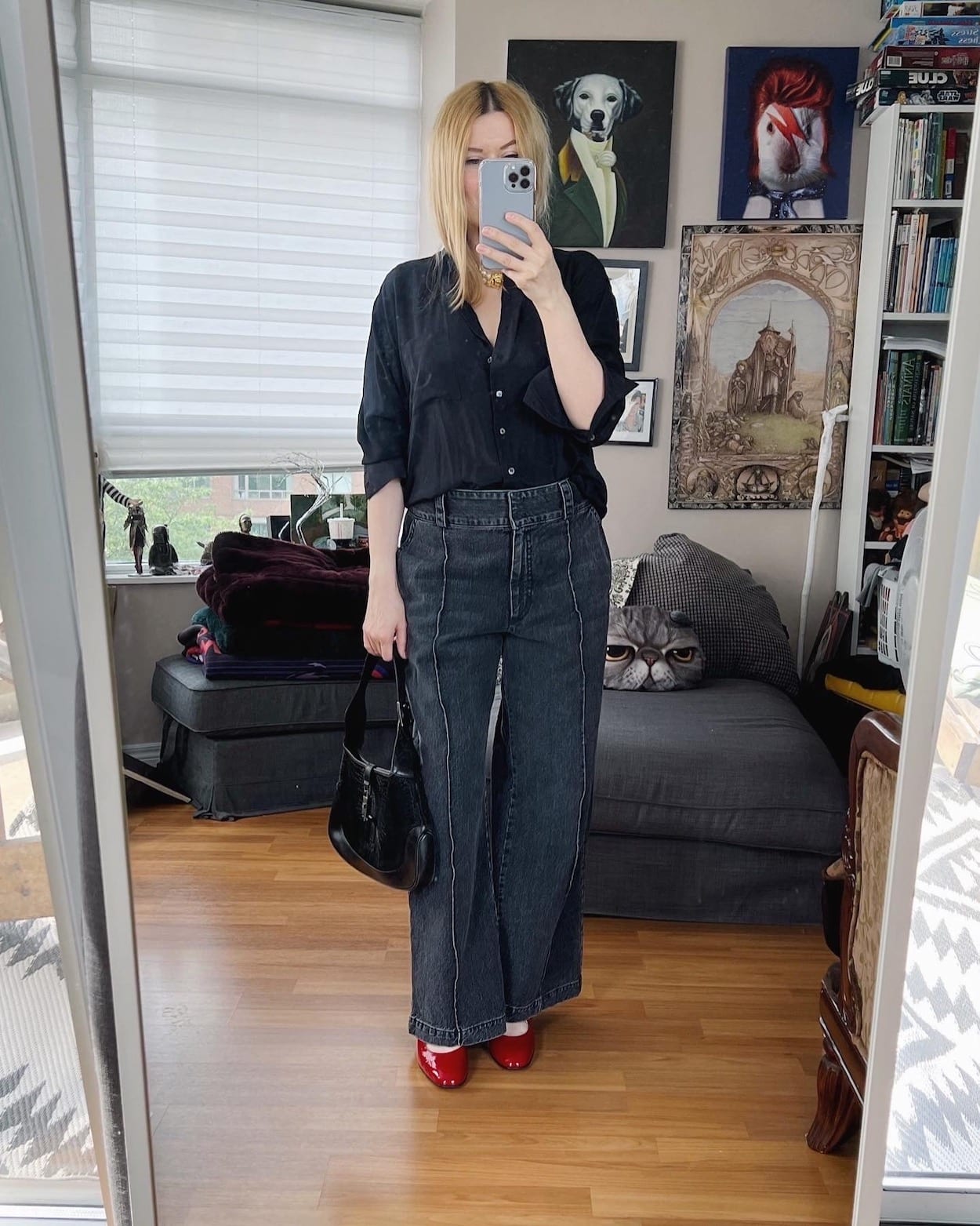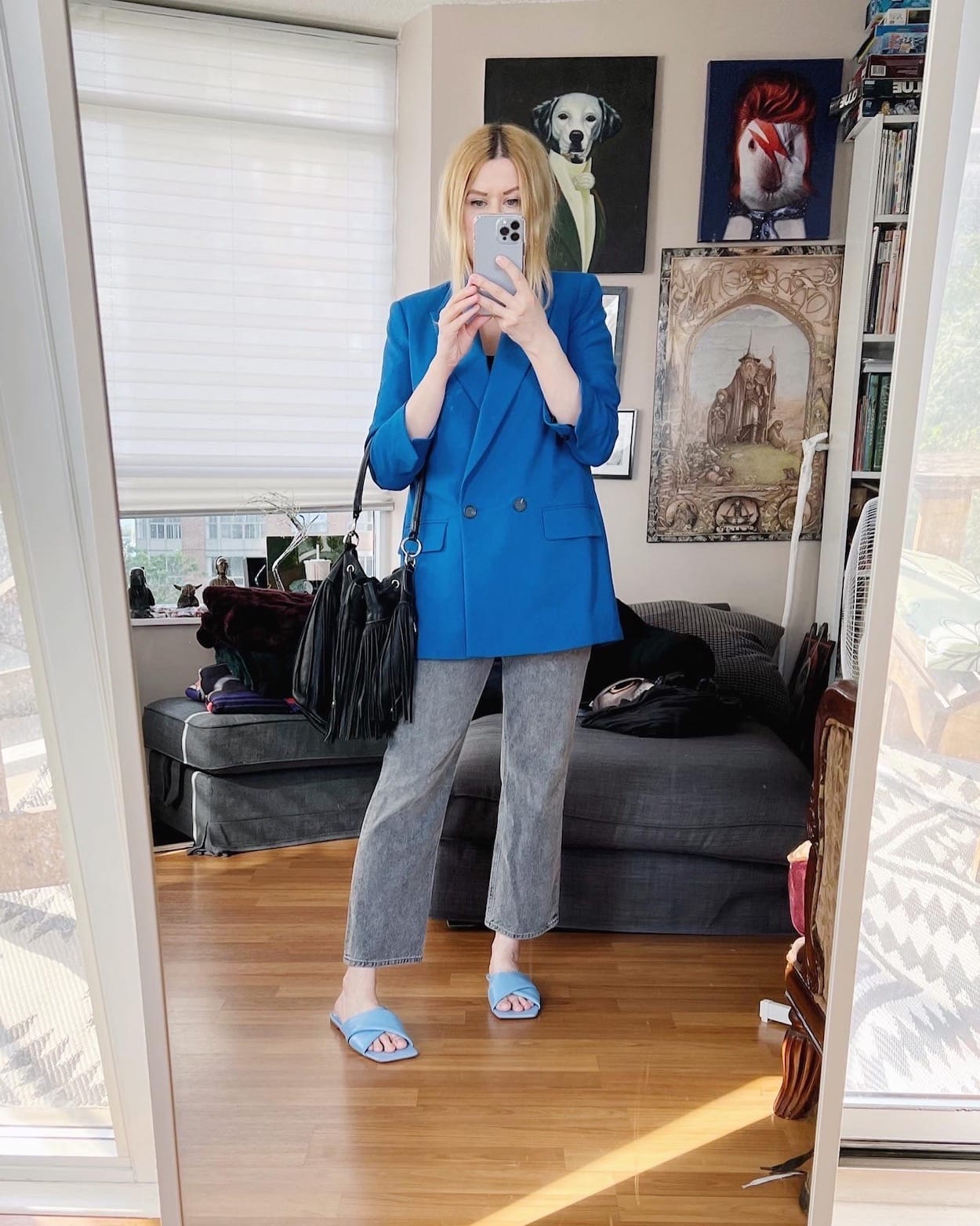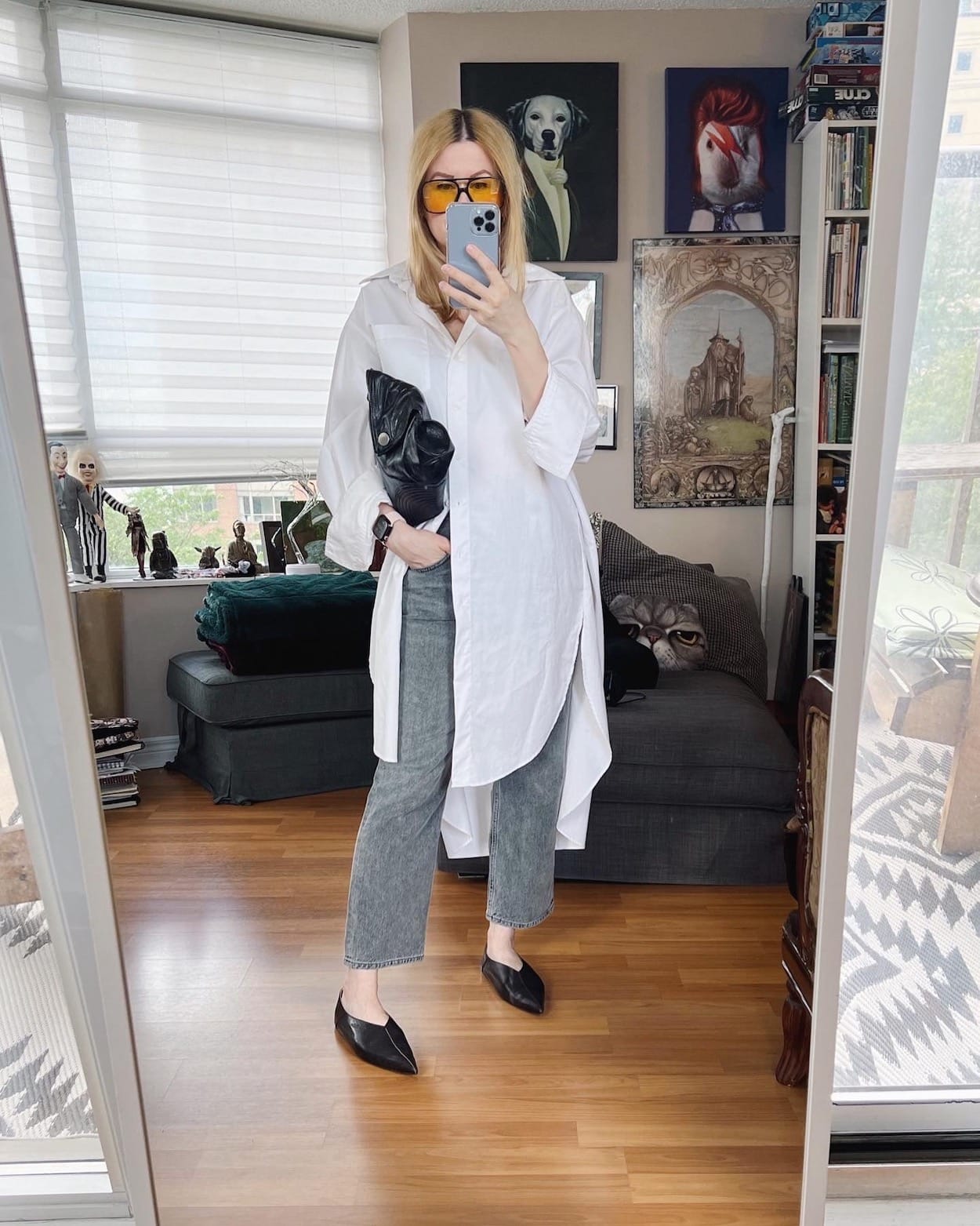 Outfit 1 – Tank | Trousers | Vintage Denim Jacket | Sunglasses | Flats
Outfit 2 – Blouse | Jeans | Mary Janes | Vintage Necklace | Vintage Bag
Outfit 3 – Blazer | Jeans | Slides (similar) | Vintage Bag (similar)
Outfit 4 – Oversized Button Up (similar) | Jeans | Flats | Clutch | Sunglasses

I slept until noon today which I haven't done in a very long time, but I didn't go to bed until 4 am, so I guess that cancels out the sleep-in right?
I stayed up so late because I was trying to finish and upload a new Digital Style Guide to the site. This one is called Style at Any Age: Fall Essentials for Women Over 40.
It is a fall capsule wardrobe with a series of fall trends throughout that I highlight in various outfit combinations to show you how to wear them.
It is a PDF that works on a desktop, or mobile and each item is clickable. This means that if you tap on it, it will direct you to the retail page if it interests you.
I don't know how many I can realistically do in a specific time period, but my idea is to mostly focus on over 40 since we are a forgotten market for some reason.
Even though stats show that we have the most disposable income and spend more freely.
It's so messed up how retailers completely look past this demographic in favour of teens and early 20s. I would be all over my demographic if I ran a retail or beauty business.
It's a smart move.
After the "sleep-in" today, I had to walk over to buy more cat food for the little piggy kitten (he actually makes grunting sounds like a pig when he is mad or excited), so my teen decided to come with me.
I think her goal was to finagle some purchases out of me, so we hit up H&M and Hot Topic and bought a few things.
This backpack being her favourite.
Then when I went to buy the cat food I touched a container on the shelf that was leaking rancid grossness, and it got on my hand.
No amount of washing removed the smell so to get me through until I got home my teen gave me her hand sanitizer.
Problem is that the sanitizer smells like strawberry jam, and it blended with the rancid cat food making me want to vomit.
I waved my hands around in the arm trying to air them out on the walk home, but it didn't work.
Now I'm not sure that I can eat strawberry jam ever again.
I can still smell it.
Stay safe.
You might also like:
What I Wore last week
SHOP THE UK LINKS


I am now offering digital styling guides, and personal styling services. If you are looking for some styling help that is inexpensive and easy, check out my digital styling guides. If you want some one-on-one help shopping, building and editing your wardrobe, or packing for a trip, I can also assist. Check out all the styling services that I offer here.
This post contains affiliate links. By using my links to shop I may receive a small commission (at no cost to you). Thanks for supporting what I do
This post contains affiliate links. By using my links to shop I may receive a small commission (at no cost to you). Thanks for supporting what I do