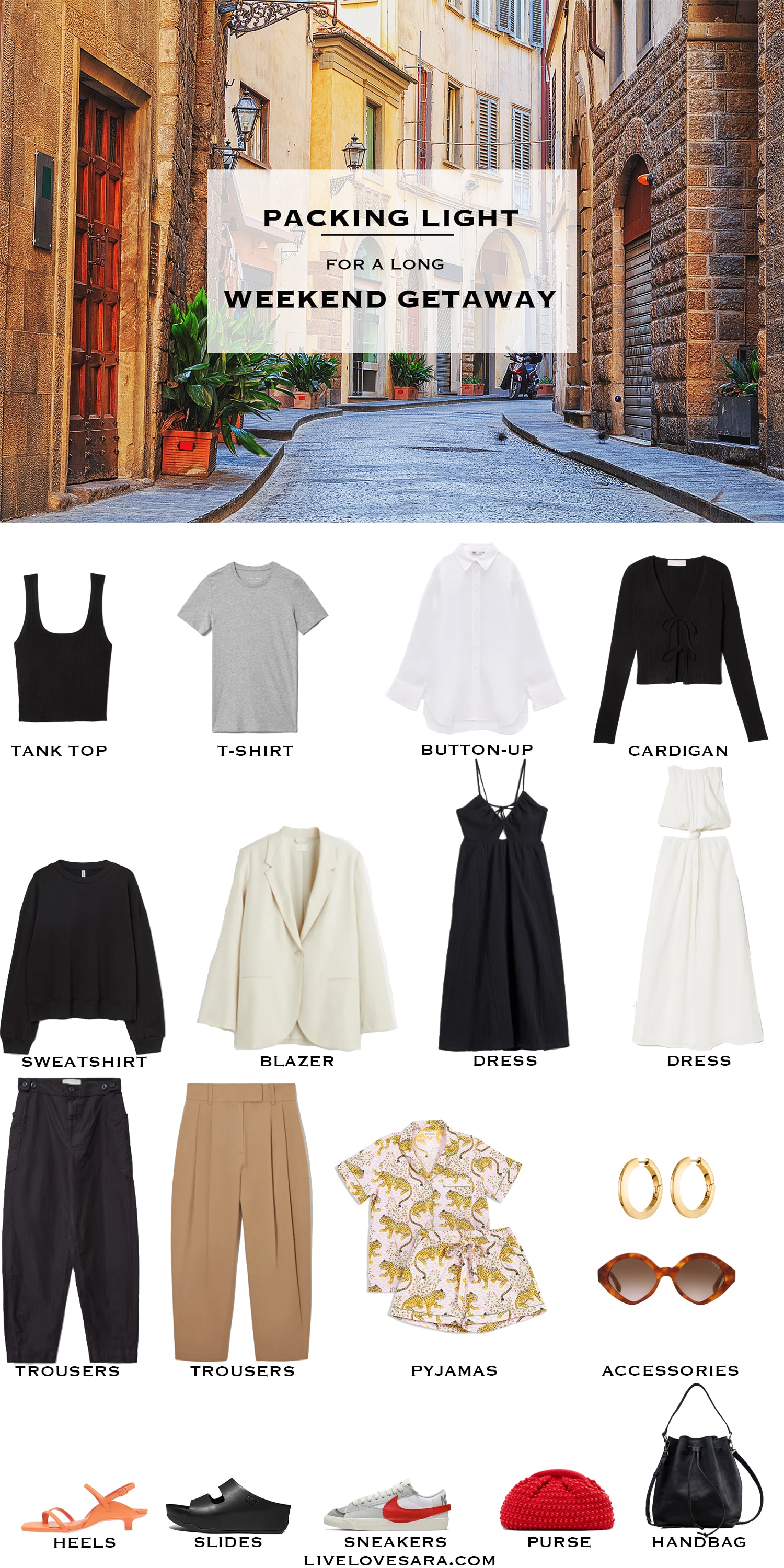 Tank Top | Grey T-shirt | Button Up | Cardigan | Sweatshirt | Blazer | Black Dress | White Dress | Black Trousers | Tan Trousers | Pyjamas | Earrings | Sunglasses | Heels | Slides | Sneakers | Clutch Purse | Handbag |

Since summer just started I thought it was a good time for a weekend packing list for summer. What I am seeing more and more since travelling has opened back up are less long trips and more short-term vacations in larger numbers.
When you focus on just needing a packing list for a weekend trip versus a longer trip, you don't have to worry that you have packed enough for a fully equipped extended vacation, and you can just focus on the things you will need to get you through 3-4 days.
The best part is that we can usually fit everything in a weekender.
Unless of course, you are sharing a suitcase.
I don't like sharing a suitcase, so I am all about the weekender or carry-on.
This is all about comfort, and this week I went with more of a neutral capsule wardrobe because it is really easy and will fully mix and match.
The vibe I was going for was relaxed, chic, and sexy.
I skipped out on the jeans because summer can be damn hot, and when the humidity hit us last week I avoided jeans like the plague.
I went with higher waist, looser fit trousers in more breathable fabrics.
Because the waist is high I decided to embrace the crop top trend and include a cropped tank with a matching cardigan.
They can be worn alone or as a set, and are an easier-to-wear version of the bra top with trousers. I won't wear that, but I will wear this because paired with the higher waist there is only about an inch of skin showing.
This travel wardrobe allows you to wear something different every day and still have some looks for an evening change if you want.
For a weekend packing list I think that two pairs of footwear are sufficient, but sometimes you want a more impractical pair for any dressy moment that you may have.
It is up to you whether you want to bring a pair of small heels, but if you have no dressy outings or evenings planned then you should just skip it and save the room for souvenirs.
Always bring a comfortable pair of walking shoes, and for most people this means a pair of sneakers.
Here is where I am going to give you my best buying shoes advice. This is something that many of you are already familiar with, but for those that aren't, it will be a game-changer.
When you are buying shoes, especially sneaker buying, always shop the men's section.
Not only do they have much better selection, but the colour ways are so much cooler than the ladies selections.
When you buy men's shoes there is a pretty standard sizing rule between the two. In men's shoe sizes go down 1.5 to 2 sizes.
I tend to feel that 1.5 is sufficient. I have been clocking a women's 8.5 recently and in men's shoes I am usually between a 6.5 and a 7 depending on the style.
Most of my sneakers are men's shoes, and I recently bought the Nike Blazers in the midi height several weeks back. In today's post, I included the shorter version of them but with a red swoosh.
I liked it better than the pink that the ladies' version was offering. I like pink, but I prefer red.
It's bolder.
Once you start shopping the men's section you will never go back.
If you are going on any summer vacation holidays over the next couple of months I hope that you have a great time, and stay safe.
Packing List for a Weekend Trip Outfit Ideas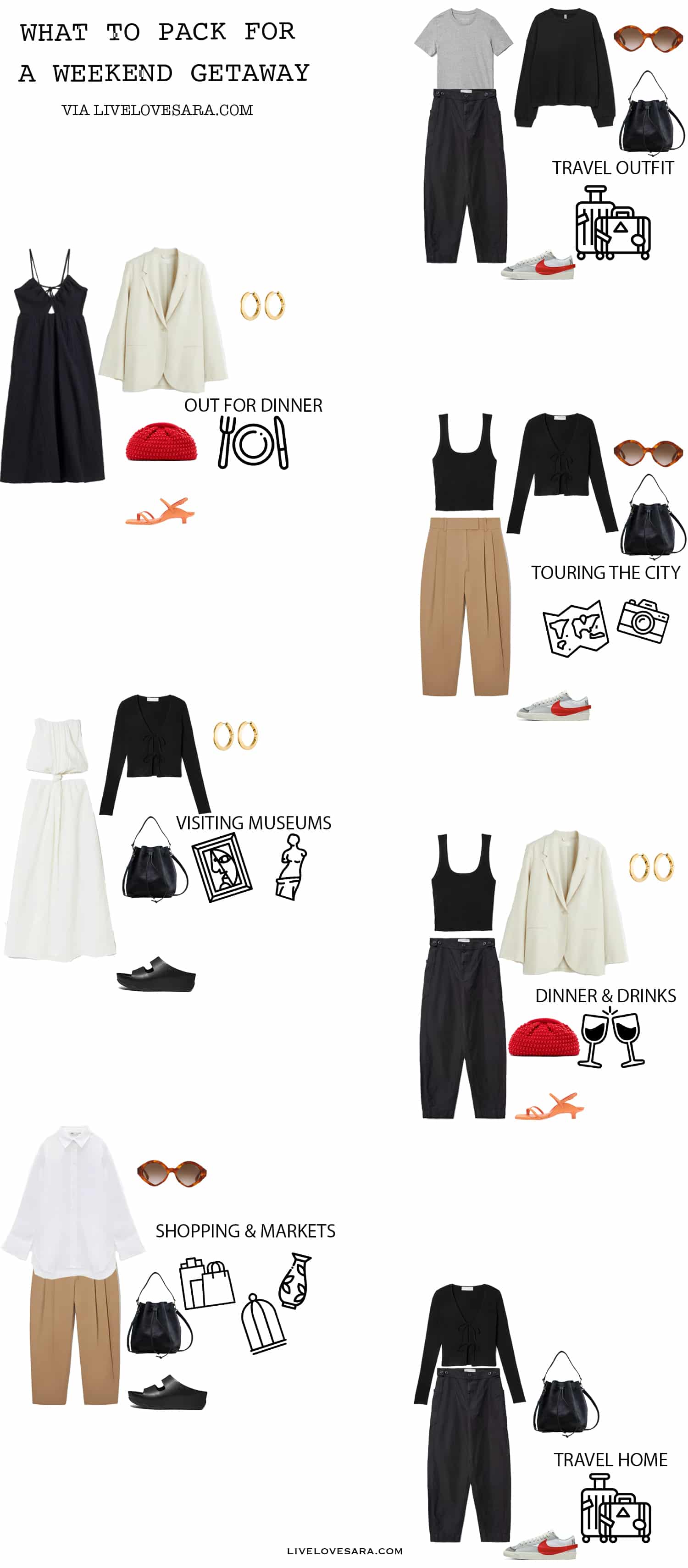 Tank Top | Grey T-shirt | Button Up | Cardigan | Sweatshirt | Blazer | Black Dress | White Dress | Black Trousers | Tan Trousers | Pyjamas | Earrings | Sunglasses | Heels | Slides | Sneakers | Clutch Purse | Handbag |

You might also like:
Ten Tips for a Holiday Summer Packing List
How to Build an Easy Summer Holiday Packing List
What to Pack for a Weekend Trip in Summer
What to Pack for 10 Days in Summer
How to Build a Summer Cottage Packing List
A Mini Summer Packing List
SHOP THE UK LINKS


I am now offering digital styling guides, and personal styling services. If you are looking for some styling help that is inexpensive and easy, check out my digital styling guides. If you want some one-on-one help shopping, building and editing your wardrobe, or packing for a trip, I can also assist. Check out all the styling services that I offer here.
This post contains affiliate links. By using my links to shop I may receive a small commission (at no cost to you). Thanks for supporting what I do
This post contains affiliate links. By using my links to shop I may receive a small commission (at no cost to you). Thanks for supporting what I do