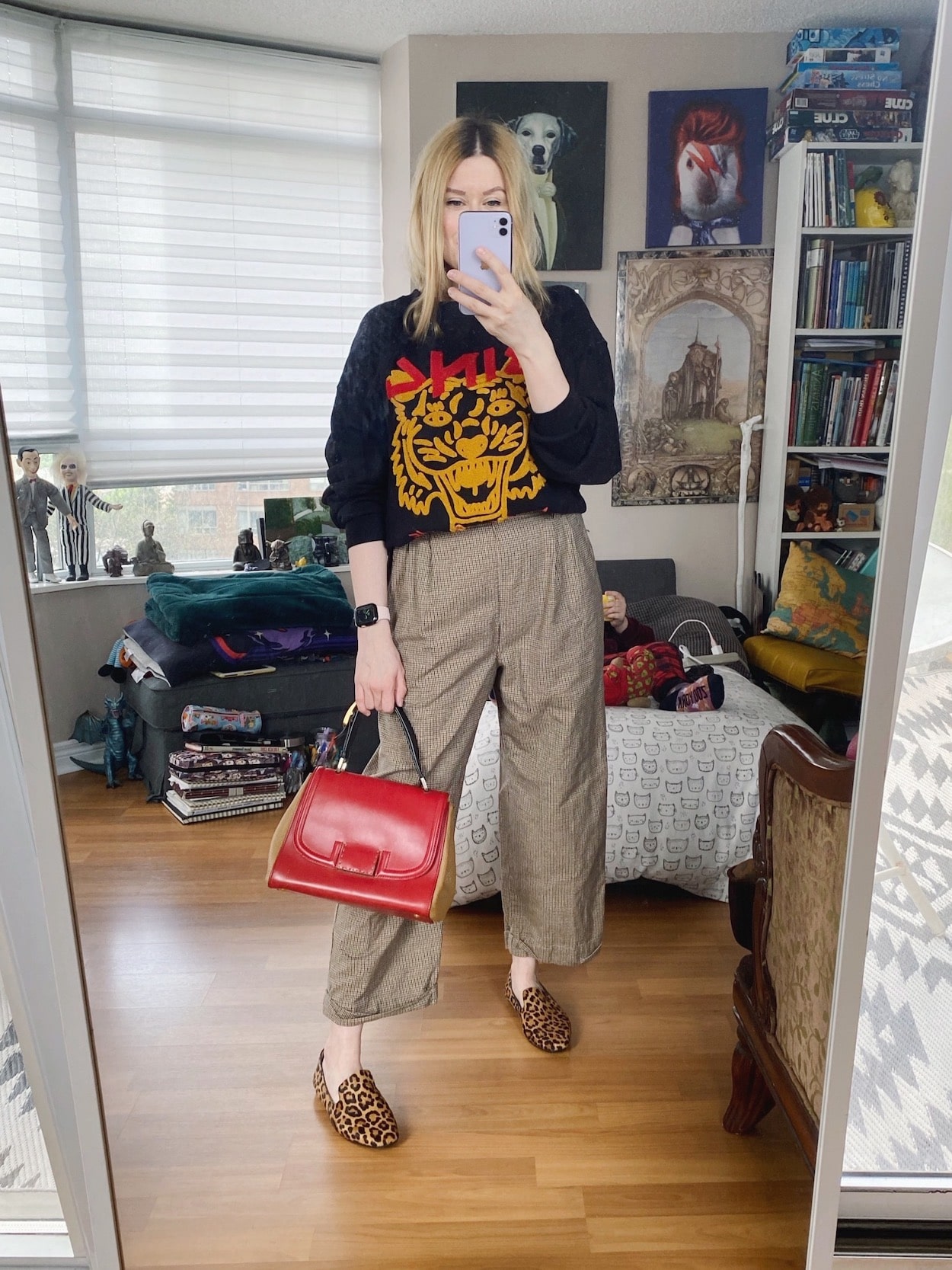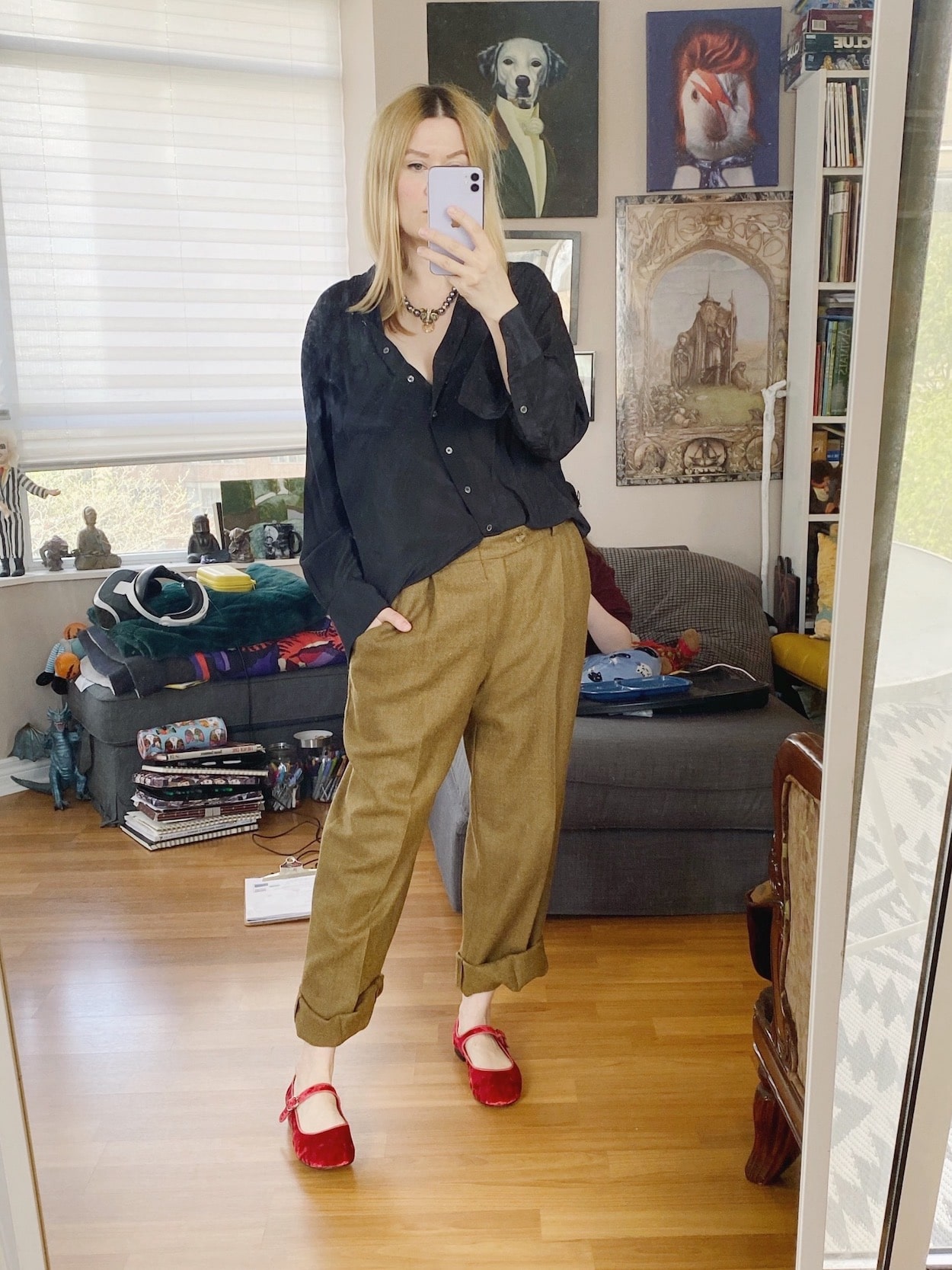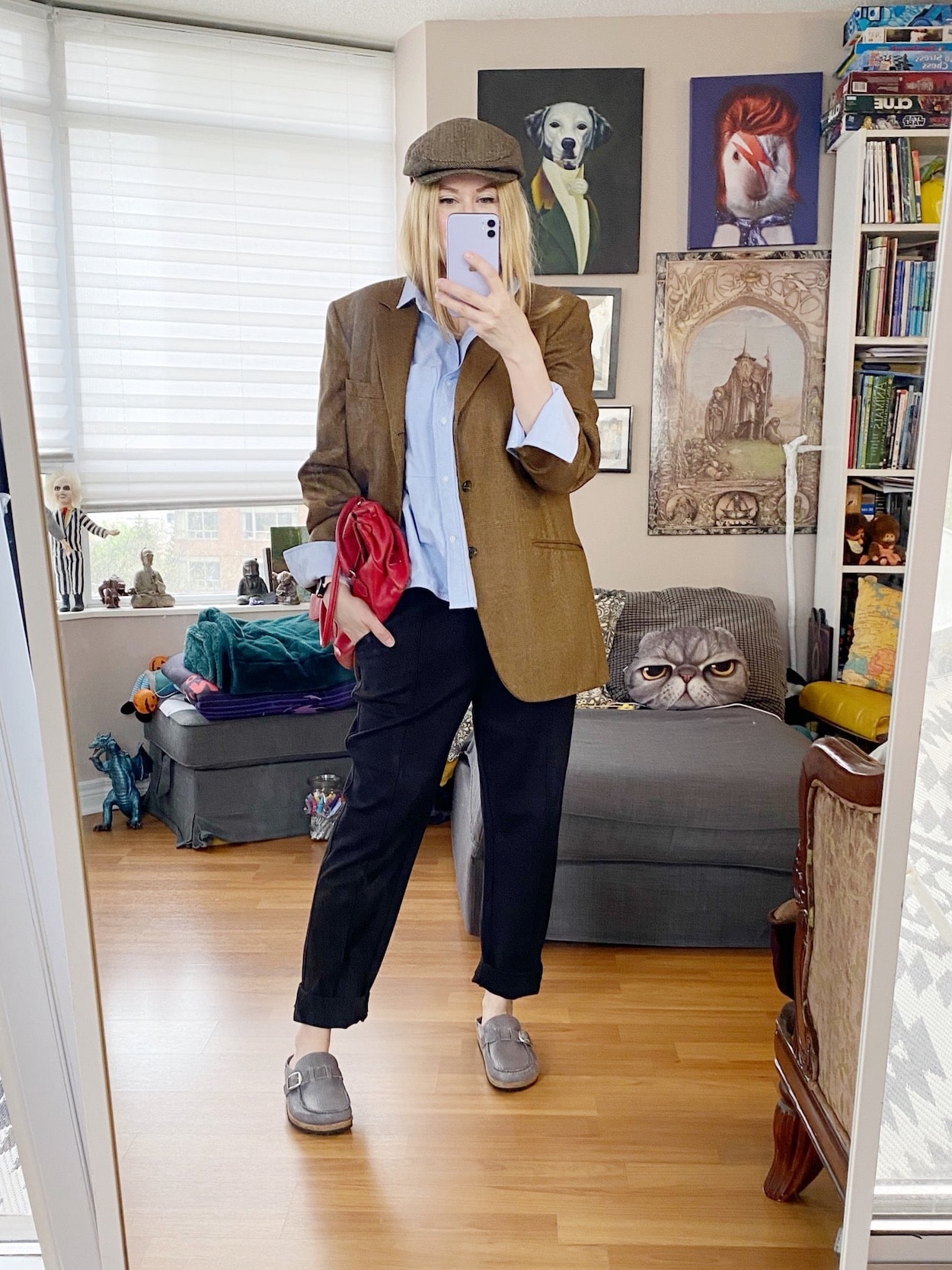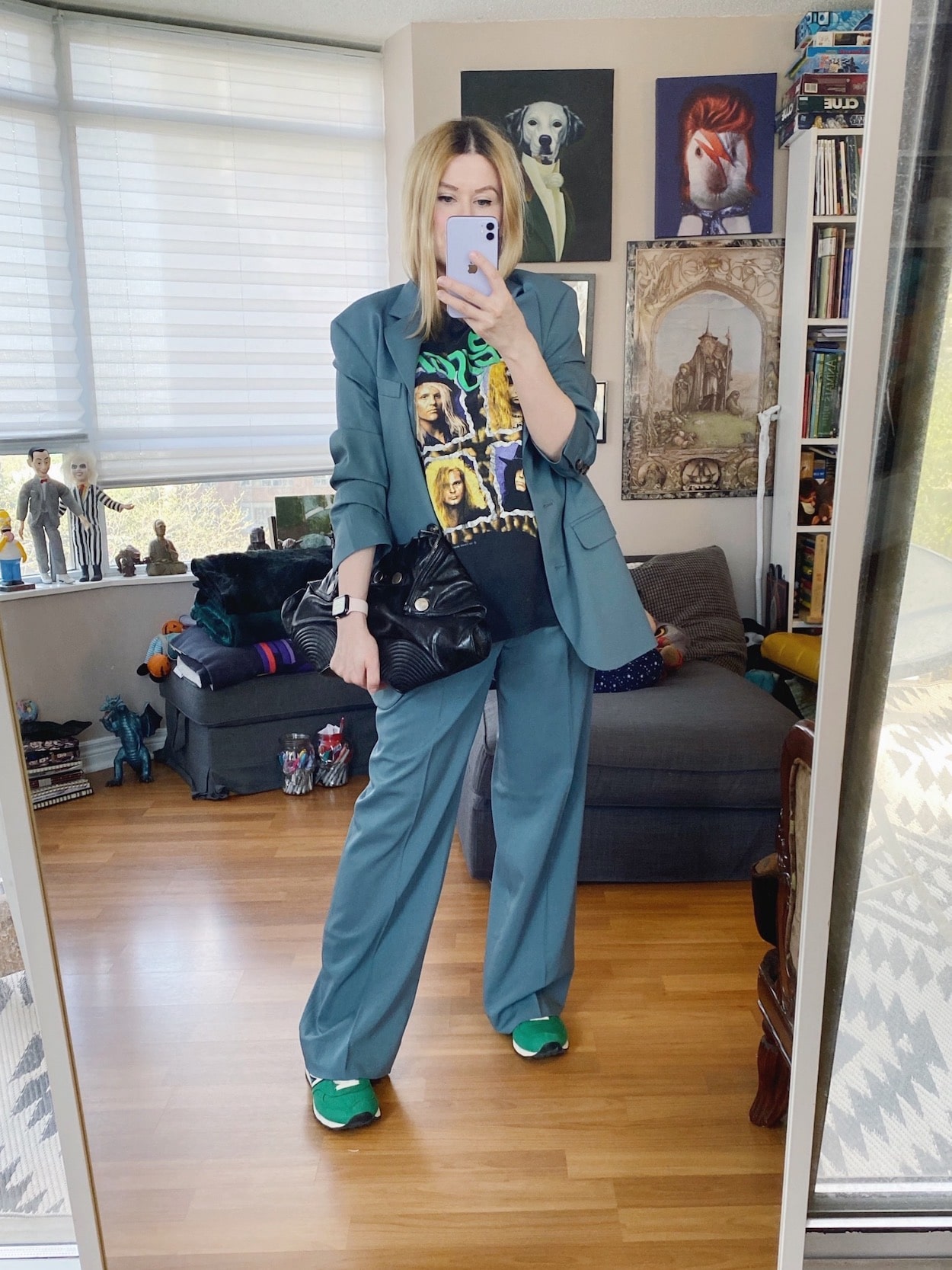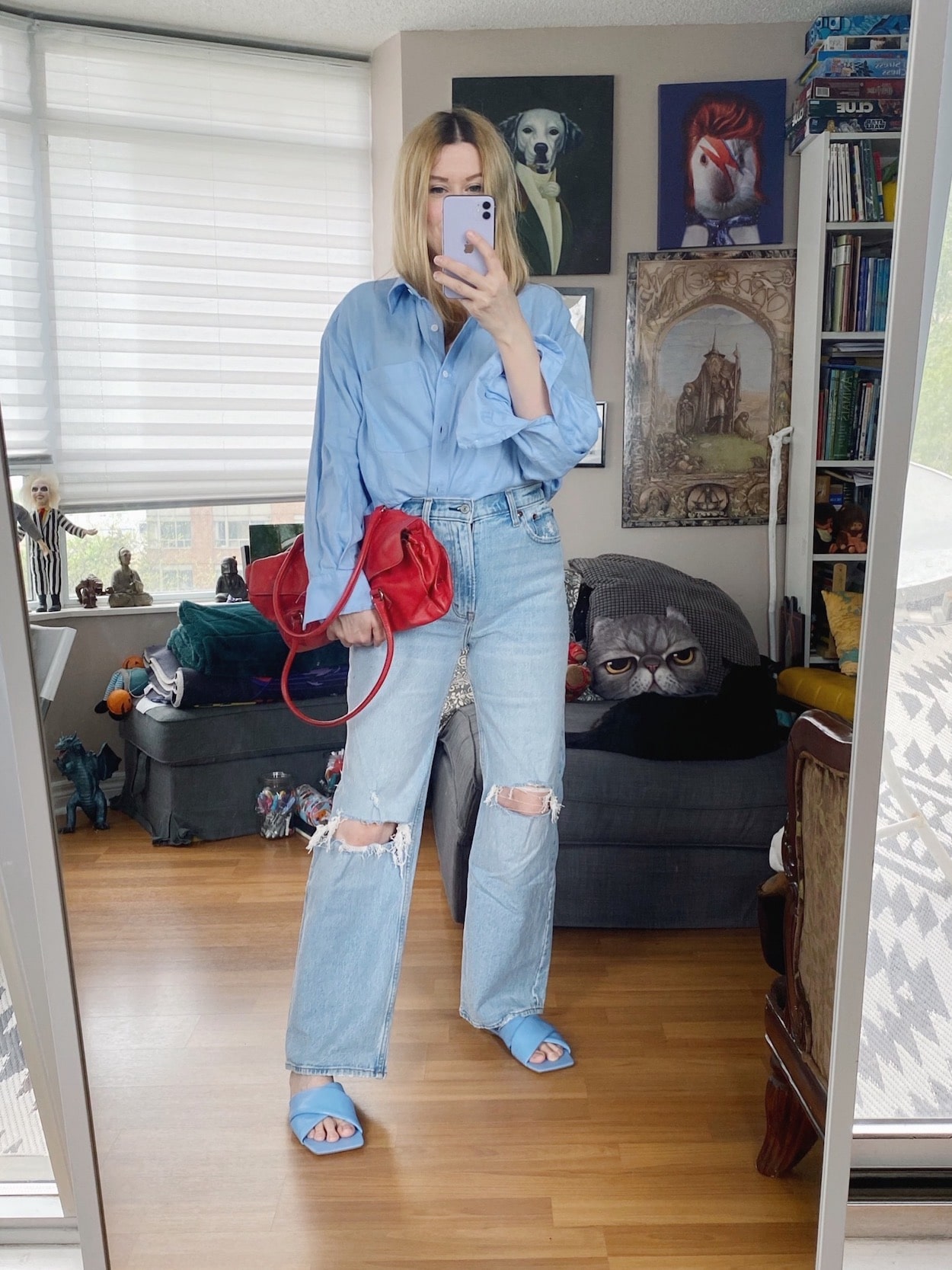 Outfit 1 – Sweatshirt | Vintage Trousers | Flats (similar) | Purse
Outfit 2 – Silk shirt | Vintage Trousers | Mary Janes | Necklace
Outfit 3 – Button Up | Trousers | Vintage Blazer (similar) | Birkenstocks | Purse | Hat
Outfit 4 – Vintage T-shirt | Trousers | Blazer | Sneakers (similar) | Purse
Outfit 5 – Button Up | Jeans | Sandals | Purse

Some crazy storms rolled in on Saturday morning. They caused tons of damage and several deaths. We were lucky, and it wasn't bad where we live, but the surrounding areas got nailed hard.
As a result, the temperature dropped, so we have some nicer, non-humid weather.
I'm trying to work on my first assignment from my new class, and I am having a bit of a creative block at the moment and I don't know how to get out of it.
I'm usually pretty good with bullshitting my way through but for some reason I am struggling.
This class is much more out of my comfort zone, so that may be part of it.
The other part is I think I had a grand total of about 6 hours of sleep this weekend which also may be a contributing factor.
I probably shouldn't be having coffee at 6:30 pm, but I need something to give me a good kick in the ass.
Hopefully it will help.
I also made the mistake of going to the mall early this afternoon to grab a couple of things that I needed, and it was pure chaos there.
I just needed a few things, so I was in and out pretty quick, but there were lineups to get into some stores.
Not because they had covid max restrictions, but because there were so many people wanting to shop.
I don't know about you, but in no way can I leisurely shop in a store that is that crowded.
It causes me stress and anxiety and sucks away all the joy that I usually find in shopping.
For this reason I try to avoid going on the weekends, but I ran out of a few important things, and it was too late to get an Instacart order for the day.
On a positive note, the girls opted to stay home which meant that I could walk at a really brisk pace, and get my steps in for the day.
I'm counting that as my workout today even though I should squeeze in 30 minutes.
I'm just not feeling it though.
Stay safe.
You might also like:
What I Wore Last Week
SHOP THE UK LINKS


This post contains affiliate links. By using my links to shop I may receive a small commission (at no cost to you). Thanks for supporting what I do