Winter Capsule Wardrobe Essentials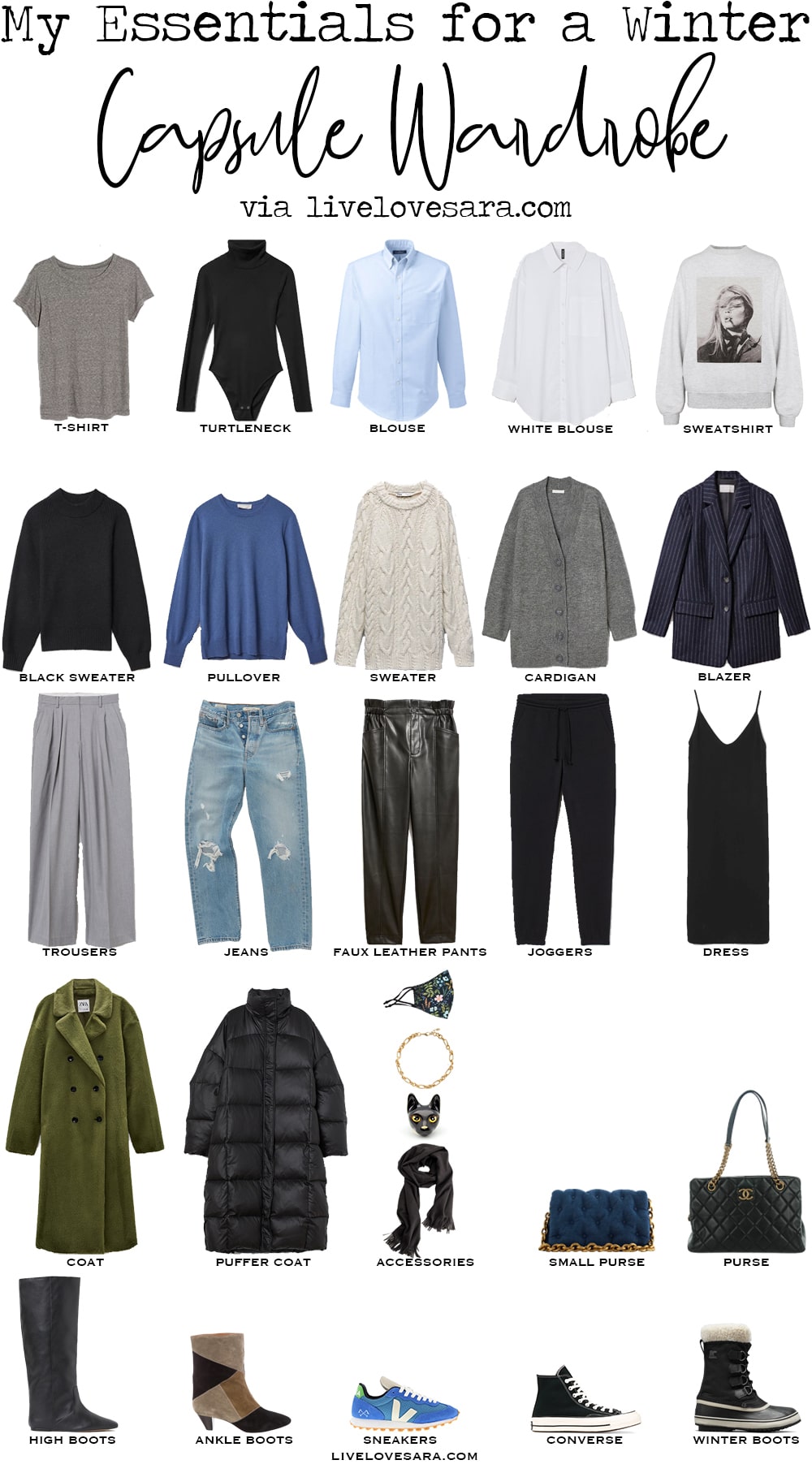 Grey T-shirt | Turtleneck Bodysuit | Blue Dress Shirt | White Oversized Blouse | Sweatshirt | Black Sweater | Blue Pullover | White Sweater | Grey Cardigan | Blazer | Grey Trousers | Blue Jeans | Faux Leather Trousers | Joggers | Slip Dress | Green Coat | Puffer Coat | Face Mask | Necklace | Cat Ring | Scarf | Blue Purse | Black Purse | High Boots | Patch Boots | Blue Sneakers | Converse | Winter Boots |
SHOP THE POST


Once again I am doing things a little different this week. This is like a regular winter capsule wardrobe essentials post but this week I am only using the pieces that I own that are a part of my personal wardrobe.
Instead of doing a layout of 30 outfit options that I include at the bottom of each post I am changing things up as well.
For the next 30 days every day I will wear an outfit that uses pieces from this capsule wardrobe essentials list, and then update this post with an image and what pieces I used as I go along.
Somedays may be head to toe, and other days may be 1-2 pieces.
Still with me? 😉
I started this on Monday so you can see the first three photos at the bottom of this post.
You can check back here for the updates, or you can follow me on Instagram to see the outfit of the day.
Now I am going to explain how it works.
They selections are what I deem winter capsule wardrobe essentials.
They are pieces and styles that I gravitate to as the weather turns cold.
I integrate them into my wardrobe to mix and match with my basics and wardrobe staples that carry through every season.
Actually, many of these pieces I also consider wardrobe staples of mine and will in fact carry through to other seasons as well, and will be adjusted accordingly to work for various temperatures and weather conditions.
Living in a climate like this means that you need to have versatile clothes.
Having things designated strictly for winter or summer doesn't make sense here, besides the obvious shorts and winter boots.
My Capsule Wardrobe Colour Palette
I have mentioned repeatedly that I both look better in and am drawn to warmer tones.
As you can see, this palette is predominantly cool tones.
I think that reflects how winter makes me feel. Through the winter season, I find myself gravitating to these colours.
It flows, makes me think of winter, and I like it.
If I feel the need to change it up, I will just pair it with warmer tones.
My Capsule Wardrobe Essentials List
This is going to be the breakdown of what I and why I included certain pieces.
Disclaimer: There are a few items here that are pricey. BUT both the Chanel purse and the Isabel Marant boots I bought secondhand.
The purse was a gift to myself for my 40th birthday. I saved, and put it on layaway paying it off over several months.
The boots I found on Poshmark for $80 which was a massive deal since they retailed for about $800 new.
Always look for secondhand first because there are always some great bargains to have.
An Oversized White Blouse – This one from H&M is the perfect amount of oversized for me. I am about 5'3″ and it has been difficult finding one that wasn't like a dress.
I also like that it isn't too heavyweight and stiff which can lead to it looking very tentlike.
A standard Grey Tee – I wear t-shirts all year because they are a perfect layering pieces. This one is a little oversized, and almost has a vintage broke-in type of feel.
T-shirts are also great for layering under sweaters to cut down on the number of times you need to launder it (the sweater).
Blue Men's Dress Shirt – I talked about my love of men's dress shirts in my last post. I am carrying that shirt into this winter wardrobe essentials list.
You will also see me wearing it in spring summer, and fall.
Black Turtleneck Bodysuit – They are chic, fit smoothly into pants, and are perfect for layering.
What more do you need?…except maybe another one in a different colour.
Anine Bing Sweatshirt: This was another pricey piece. It's actually new to me but it was an easy decision to make.
I bought Anine Bing Viper Sweatshirt two years ago and have worn it A LOT.
It was one of my top 10 pieces from this past year as well.
I am a huge proponent of Cost Per Wear and because of how much I have worn and will wear that previous sweatshirt, I knew that this would also have an excellent cpw and it would be a worthy investment for me.
Black Sweater – Just a standard black crew neck sweater with a slightly oversized/looser fit.
You can dress it up, down, and layer under it (or over).
It is a perfect wardrobe staple choice.
Blue Cashmere Crew Neck Sweater – Originally I had this Blue Knit Turtleneck Sweater in this spot. I really liked it but did not check first to see how well it would go with my wardrobe.
This is actually a big no-no for me. I ALWAYS make sure that I can wear something with many different pieces ina. minimum of five different outfits before I buy it.
I impulse bought and didn't follow my own rule which lead to this not working well in this capsule wardrobe.
I swapped it out for a more classic style that I owned which was also in blue.
Lesson learned.
Fisherman Cable Knit Sweater – I love a classic fisherman style sweater and although this one isn't a real one, it gives the look that I want. I will take an oversized sweater any day of the week.
It looks like the sweater that I ordered back in October from H&M that got lost in the mail.
Long Oversized Cardigan – I love a good cardigan, and I love a good oversized cardigan more. I always need to have something like this in my wardrobe because it is just so cosy and easy to wear.
I also have a brown one similar to this but I figure the grey works better in this palette.
An Oversized Blazer – I want to emphasize how important the oversized part is.
You want to be able to wear this over anything, and an oversized blazer has enough room that you can layer over a knit easily without suffering from robotic sausage arms.
If you don't know what those are, put on a bulky knit, throw on a leather jacket and then try to move your arms…you'll understand.
Slouchy Faux Leather Trousers – I like leather leggings, and actually have the Spanx pair on my wish list but I also really love the look and feel of slouchy faux leather trousers.
These have a high elastic paper-bag style waist and are very easy to wear. They are a versatile pant during the cooler months.
These are another pair like mine as well.
Wide Leg Trousers – These are a recent purchase (they actually haven't even arrived in the mail yet) BUT I have these in the brown check and they were my most worn pants of the year.
I love the high waist, the wide leg, and the fact that I didn't need to get them hemmed.
I hope that I love these as much as the brown pair.
Black Highwaist Joggers – I think after this year it is now a universal understanding that joggers are perfectly acceptable pants to wear in and out of the house.
I ordered these a size up to get a slouchier fit, because I hate fitted joggers.
Also, Before this year I NEVER wore jogging pants outside the home.
I put some on the other week when it was cold out to run down to the grocery store and they were so warm.
Way warmer and a 1000x more comfortable than wearing jeans in the cold.
This was the moment of conversion for me.
Jeans – I know I just said above that joggers best jeans, but I can't have a wardrobe without jeans.
This is my favourite pair I own. It took some time but I worked them in perfectly. I also have a backup pair and am not looking forward to breaking those in.
Note: I suggest getting your normal size in these jeans. They are 100% cotton and when you try them on they will be TIGHT. Tight to the point that you feel like you want to size up.
Resist that thought because these will stretch out, soften up, and mold to your body perfectly.
I don't think you will regret it.
A Slip Dress – In the winter you ask? Yes. I find a great slip dress in one of the most versatile dress styles that you can get.
I layer under mine, and I layer over mine. I
dress it up and I dress it down.
It's just a really easy piece to wear and also would make a great travel dress for whenever that may happen again.
My slip dress was sold out for a while but they have restocked and ready to ship out January 26th.
If I was only allowed to have one style dress in my wardrobe I think this would be it.
Coats – It gets cold here. Like, really, really cold sometimes, so having several coats is a thing.
It is sometimes the only way we can show our personality for 70% of the year.
This green faux fur coat is from Zara and is currently sold out. There are a few sellers on eBay that carry it in various sizes though.
For the colder days, I wear a puffer style coat. Mine is long and like a sleeping bag. It was from Everlane a while back and is sold out, but this H&M style has the same length and overall fit as mine does, minus the hood.
Winter Capsule Wardrobe Footwear – This was kind of a hard one since the weather is so unpredictable.
It has snowed a few times but it hasn't really stuck yet, which means I haven't had to wear my winter boots.
I decided to include my favourite winter boot style because I'll definitely need these at some point.
My favourite blue Veja sneakers…which you can't find in blue anymore, but they come in many other colour combos.
I actually really like the standard white.
Isabel Marant boots for a dressier side but with a really easy to walk in heel.
These are called the Dexton Patch if you are looking secondhand for a pair.
Converse since you can never go wrong with Converse High Tops.
And Finally a high black flat boot. I actually just ordered these a few days ago so I am also uncertain about them.
I really, really liked the look of them and it has been requested many times that I include vegan leather and I totally agree with that recommendation which is another reason that I jumped on these.
So as it stands they are the black boots. I may swap them if they don't fit or look really dumb on me. I'll update it if I do.
Winter Accessories – I like to keep things pretty simple. For jewellery, I have a medium size link necklace, and the cat ring that I got for Christmas.
My favourite facemask (mine doesn't have the nose wire though), a nice oversized scarf, and a couple of purses (one smaller one larger).
That is it guys.
My winter caosule wardrobe essitals list.
Come back for the daily outfit update or see them on Instagram.
If you have any questions leave a comment below.
Thanks and stay safe!
SHOP UK LINKS


Winter Capsule Wardrobe Outfits

Easy Winter Outfits for Women


You might also like:
How to Build a Minimalist Capsule Wardrobe for Winter
Find Your Style with a Winter Capsule Wardrobe
The Essential Capsule Wardrobe for Winter
How to Build a Winter Capsule Wardrobe
The Ultimate Winter Capsule Wardrobe.
How to Build a Winter Capsule Wardrobe on a Budget.
A Work From Home Winter Capsule Wardrobe – Plus 18 Work From Home Outfits
This post contains affiliate links. By using my links to shop I may receive a small commission (at no cost to you). Thanks for supporting what I do