Winter Capsule Wardrobe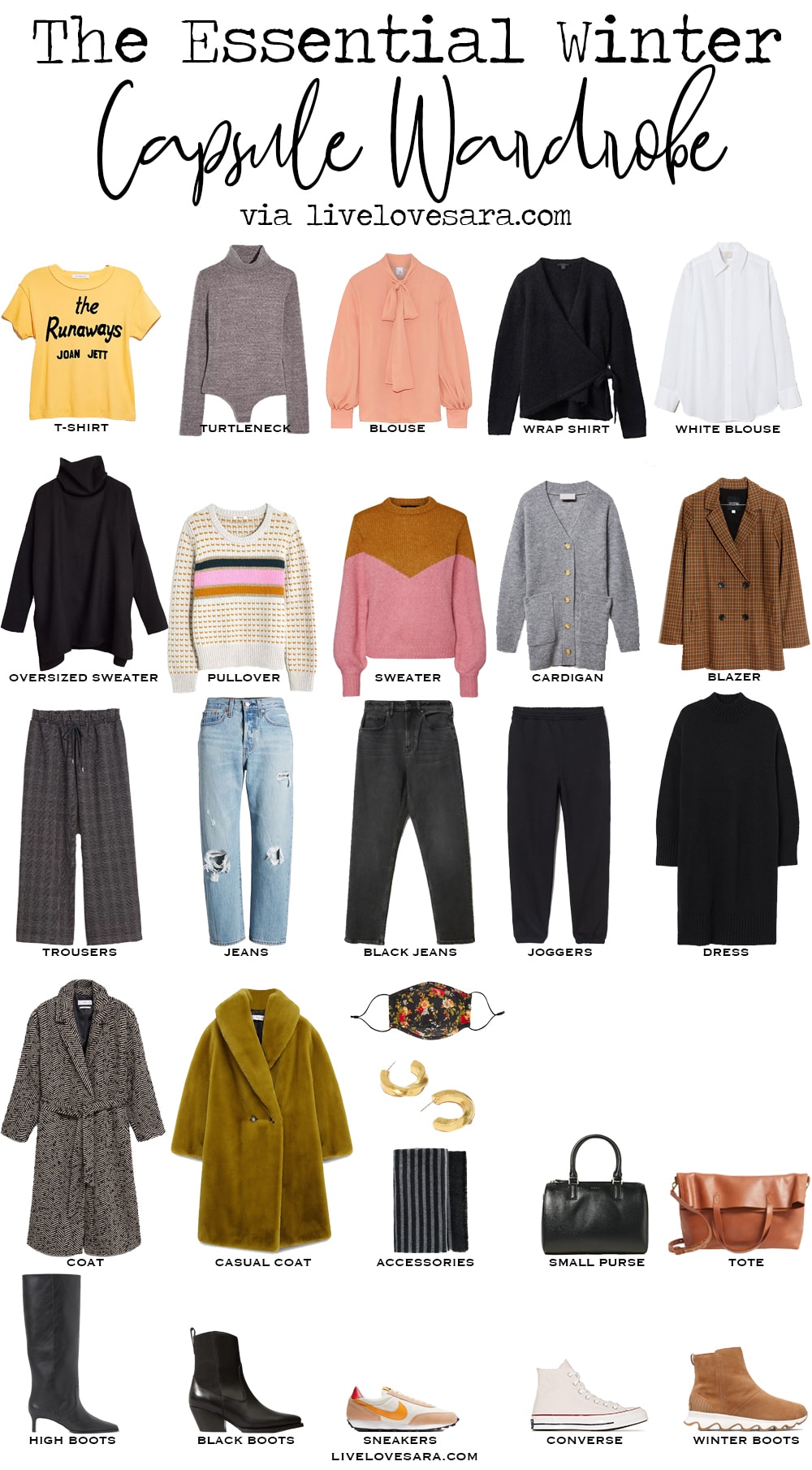 Runaways T-Shirt | Grey Turtleneck | Pink Blouse | Wrap Sweater | White Blouse | Oversized Sweater | Pullover | Pink Sweater | Grey Cardigan | Brown Check Blazer | Grey Trousers | Blue Jeans | Black Jeans | Joggers | Sweater Dress | Grey Coat | Green Coat | Mask | Earrings | Scarf | Black Purse | Brown Purse | High Boots | Low Boots |Sneakers | Converse | Winter Boots |
SHOP THE POST


Well, the weather is back to cold after the heatwave last week, and I have been wearing lots of layers. It actually made me feel inspired to build a winter capsule wardrobe today.
Yes, I am a glutton for punishment and usually don't get my weekly capsule wardrobes done (and sometimes started) until the night I post them which is why this is a day late.
I spent my time on the kids' gift guide earlier this week which took my time form this one. Plus, I had to bake a birthday cake for Tom's birthday last night as well.
I would love to be like some people and have weeks of posts lined up at any given time but I just can't seem to make it work with everything else that has to be completed each day.
So here we are.
How to Build a Winter Capsule Wardrobe
There are several ways that people do this.
Most people fall into this first category. They have a group of core items that they use all year long.
These tend to be your basics that you wear the most, and the pieces that transition well to most seasons.
From there they add in a group of seasonal (and sometimes trendy) items that will expand their core capsule.
The bulk of your wardrobe will be the core essential pieces that are the base that you have built your wardrobe on. It gives you a strong foundation to work with.
Some other people like the idea of starting from scratch each season.
To me this misses the mark of what a capsule wardrobe is supposed to entail, and also makes me feel like maybe there wasn't a lot of thought put into the wardrobe if they feel like they should redo it each season.
The point of it is to build a long-lasting wardrobe of wearable, classic pieces that you will use year after year.
It will cut down on unnecessary shopping allowing you to save thousands of dollars a year.
Honestly, unless you are really good at keeping track of your spending, you might be shocked to see how much you spend on unnecessary clothing.
They key is to buy the best quality pieces that you cand afford within your budget, so you won't be replacing items every couple of years.
Building a capsule wardrobe that will work for you 365 days a year for all occasions is a continuous work in progress and shouldn't be rushed.
If you rush it you will end up with pieces that were "just okay" and tentatively checked a box that you were trying to impatiently get checked.
You want to look forward to wearing every single piece.
You want to use these pieces to mix and match creating dozens and dozens of different outfits.
It will save you both time and money in the long run.
Pick a Capsule Wardrobe Colour Palette
This is one where people get stumped and then end up defaulting into the strictly neutral family.
Don't get me wrong, I love neutrals.
The majority of my wardrobe is neutrals.
BUT…I love to add colour in with these neutrals.
I do this many different ways, but shoes are my favourite. I love colourful shoe like my blue Vejas*.
I originally wasn't sure about them, but I am so glad I bought them because they are perfect for adding that something extra to any outfit.
*Note: Some people find Vejas uncomfortable. The tongue on certain styles is quite stiff at first and takes breaking in, but the Rio Branco style has a very soft tongue and they were perfect from the first wear.
I also like to add some colour via accessories, or a bold coat. My current favourite accessories is a face mask.
I am really into floral prints, and I even bought a chain for it for a little bit of extra.
I also LOVE a statement coat.
You can see the blue shoes and one of my favourite coats over here paired with a closet staple (and one of my core foundation pieces) the slip dress.
I love that coat so much that I want it in yellow as well. I'm just not sure if it is necessary to have two.
So the moral of the colour palette story is that it is okay to add colour and prints if that is what you enjoy.
But to ensure that you have a fully versatile wardrobe that can be mixed and matched easily, it is important to have a selection of neutrals to tie all those colours and prints together.
A capsule wardrobe will also make travelling easier…when we can actually travel again.
You just take the same concept of your capsule and downsize it to make a travel packing list.
My closet has been a work in progress since the dawn of time, but as the years have gone by I notice that the desire to buy more and more items has decreased significantly because I genuinely love the pieces that I have collected.
I can't wait to see how it evolves through the years.
They are talking about locking us down again in the city and surrounding area…we will find out tomorrow.
Stay safe.
Note:
You might also like:
How to Build a Winter Capsule Wardrobe
The Ultimate Winter Capsule Wardrobe.
How to Build a Winter Capsule Wardrobe on a Budget.
A Work From Home Winter Capsule Wardrobe – Plus 18 Work From Home Outfits
Easy Winter Outfit Ideas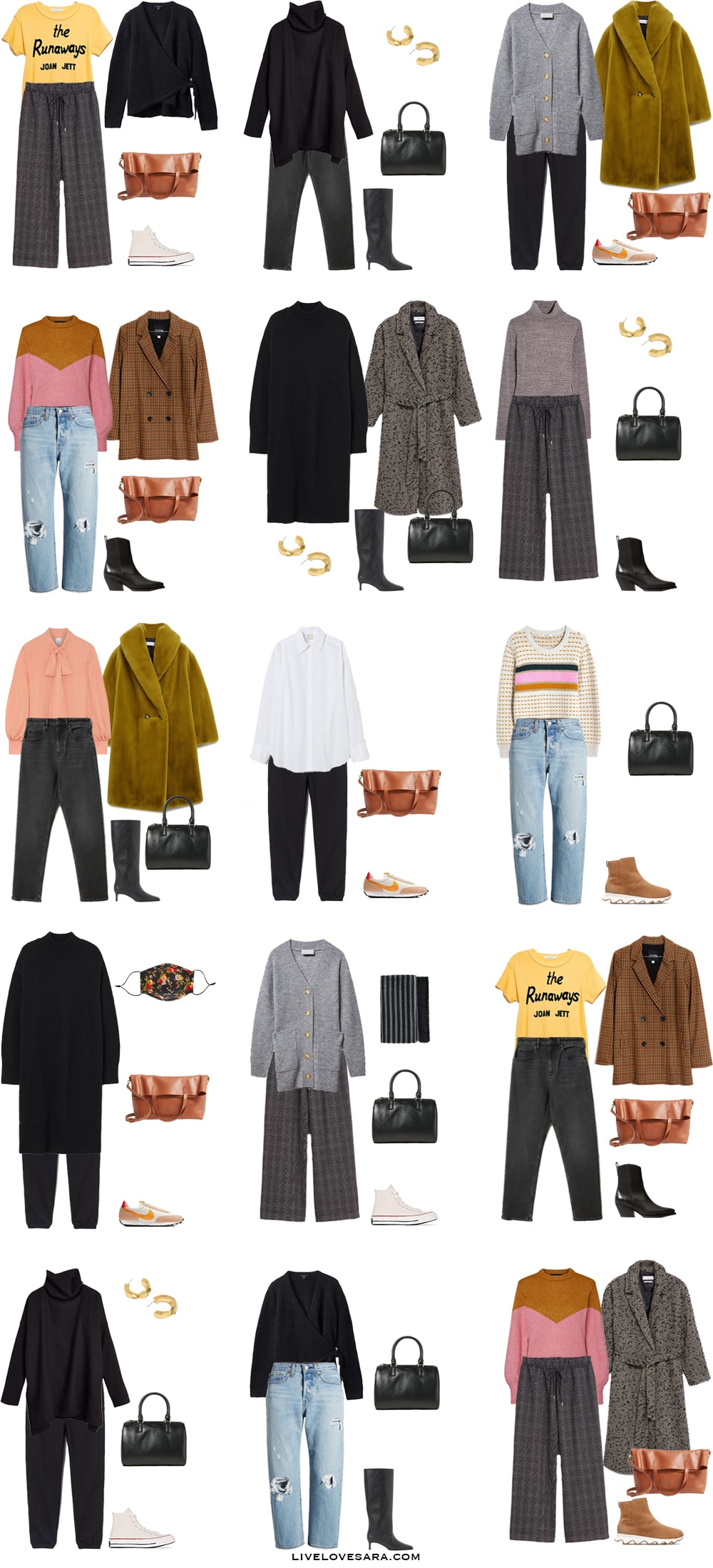 Capsule Wardrobe Outfit Ideas
Runaways T-Shirt | Grey Turtleneck | Pink Blouse | Wrap Sweater | White Blouse | Oversized Sweater | Pullover | Pink Sweater | Grey Cardigan | Brown Check Blazer | Grey Trousers | Blue Jeans | Black Jeans | Joggers | Sweater Dress | Grey Coat | Green Coat | Mask | Earrings | Scarf | Black Purse | Brown Purse | High Boots | Low Boots |Sneakers | Converse | Winter Boots |
SHOP THE POST


This post contains affiliate links. By using my links to shop I may receive a small commission (at no cost to you). Thanks for supporting what I do