Work From Home Capsule Wardrobe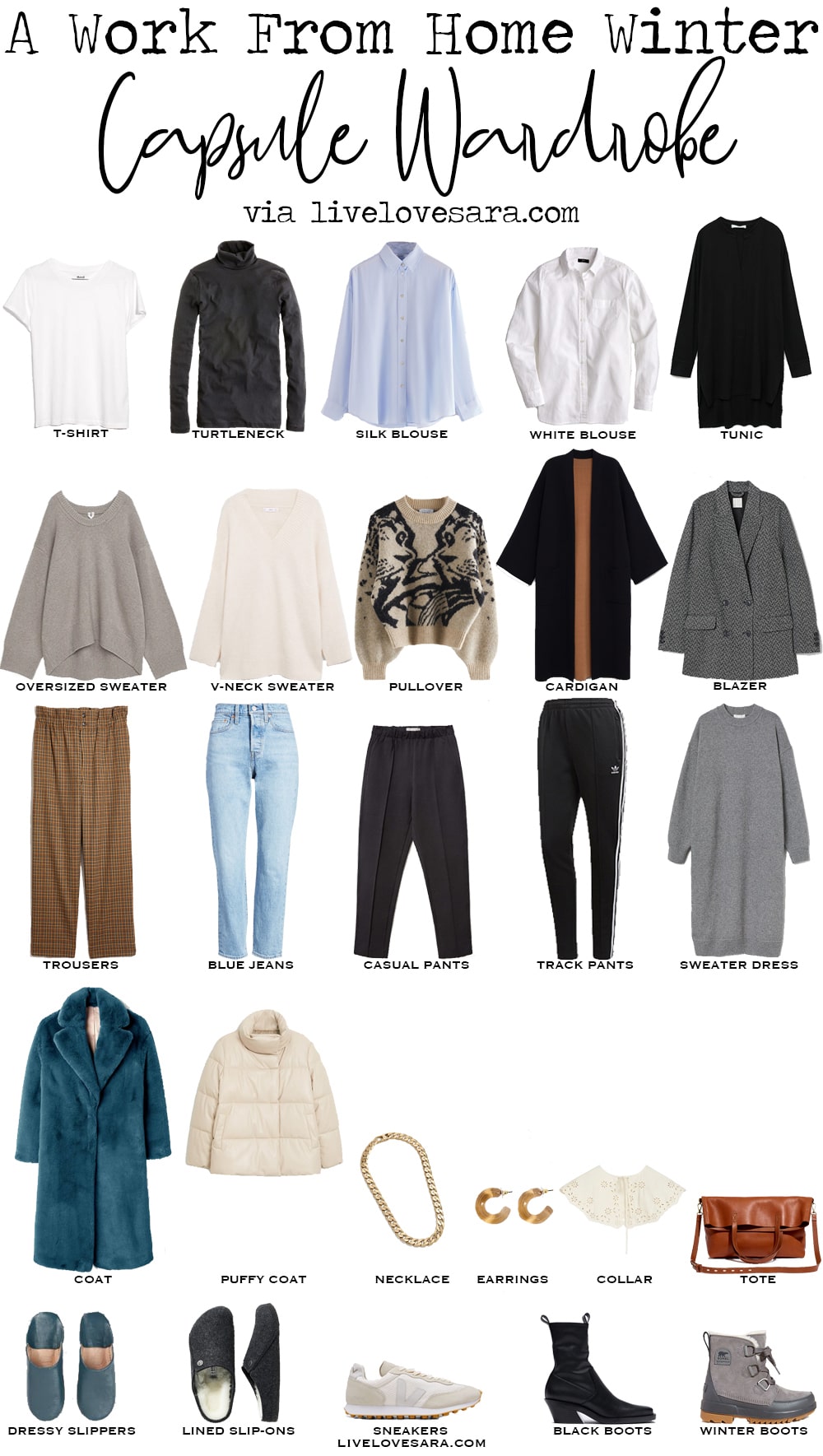 White T-shirt | Black Turtleneck | Silk Blouse | White Blouse | Black Tunic | Oversized Sweater | V-Neck Sweater | Print Pullover | Long Cardigan | Blazer | Check Trousers | Blue Jeans | Casual Pants | Track Pants | Sweater Dress | Blue Coat | Puffy Coat | Necklace | Earrings | Removable Collar | Tote | Blue Slippers | Lined Slippers | Sneakers | Black Boots | Winter Boots |
SHOP THE POST


It was this time last year that I made my first Winter Work Capsule Wardrobe. Who would have thought then that this year everything would have shifted so dramatically that now we need a work from home winter capsule wardrobe?
At the start of March when shit was starting to hit the fan there was still a feeling of "this will be over by summer".
As summer came along the people who were lucky enough to have jobs that they could work from home started to realize that maybe they weren't going to be going back to the office any time soon, if even at all.
I know a few people who have completely transitioned to working from home since their companies realized that they could cut a lot of costs by getting rid of the office completely.
Productivity remained the same, and for some, the work morale seems to have been boosted since the offices closed.
I get it.
Office and retail spaces are EXPENSIVE. Just like the cost of housing (WHICH IS STILL GOING UP HERE).
What does this mean?
1. The demand for at-home offices has increased. Even the desk that I wanted to buy at Ikea is sold out online and in each of the stores around me.
2. The need for office attire is no more…or at least a lot less since quite a few people still have to do in-person meetings or at least go into an office a couple of times a month to touch base.
While I'm pretty certain we all know how to dress at home, there are also many of us who are much more productive if they change out of their pyjamas or loungewear.
That's not even including how many zoom meetings you might need to attend where you want to look at least somewhat presentable from the waist up.
Which brings me to…
All hail the tie-on collar. Which instantly make any top or sweater look dressy. And you can just remove it and put it on the next outfit.
It also comes in black.
That sounded like a commercial.
I just bought a beaded collar from H&M to test this theory out. I'm looking forward to seeing how useful it becomes.
Note: This collar got lost in the mail so I didn't get to test the theory. I'm still looking for a replacement.
I'm not sure if you like Trinny Woodall as much as I do but she is one of my favourite follows on Instagram.
She is so, so good at what she does. If you follow her you might have seen it, but I recommend her short video call From Couch to Out. Where she takes her loungewear and transitions them to outfits that are dressy.
That's the kind of mindset that I want you to have. Make them comfy work from home clothes but keep them put together.
Ask yourself, if I left the house in this would people think I was wearing my pyjamas?
If so you might want to change a few pieces.
You can remain very comfortable and loungewear-like if you stick to elastic waistbands, and soft, loose, and silky fabrics.
I included a winter boot and jacket in your work at home attire because we all know that working from home can make you feel trapped or claustrophobic.
You might need to step out for a brisk walk to clear your head, go get some coffee for a change of scenery.
I also reused a couple of my favourite pieces from previous capsule wardrobes because they are very versatile and are usable for the work from home clothes as well.
Include a black boot for those days that you need to be head to toe dressy.
Remember to layer for warmth and cosiness.
A turtleneck looks great under sweaters, blouses, as well as sweater dresses if you push the sleeves up to have some contrasting colours.
And don't forget the power of an accessory.
Some great earrings and a large link necklace will elevate any look.
You might also like:
How to Build a Fall Work Wardrobe
How to Build a Summer Work Wardrobe
How to Build a Spring Work Wardrobe
Easy Work From Home Outfit Ideas

White T-shirt | Black Turtleneck | Silk Blouse | White Blouse | Black Tunic | Oversized Sweater | V-Neck Sweater | Print Pullover | Long Cardigan | Blazer | Check Trousers | Blue Jeans | Casual Pants | Track Pants | Sweater Dress | Blue Coat | Puffy Coat | Necklace | Earrings | Removable Collar | Tote | Blue Slippers | Lined Slippers | Sneakers | Black Boots | Winter Boots |


This post contains affiliate links. By using my links to shop I may receive a small commission (at no cost to you). Thanks for supporting what I do