A Summer Capsule Wardrobe on a Budget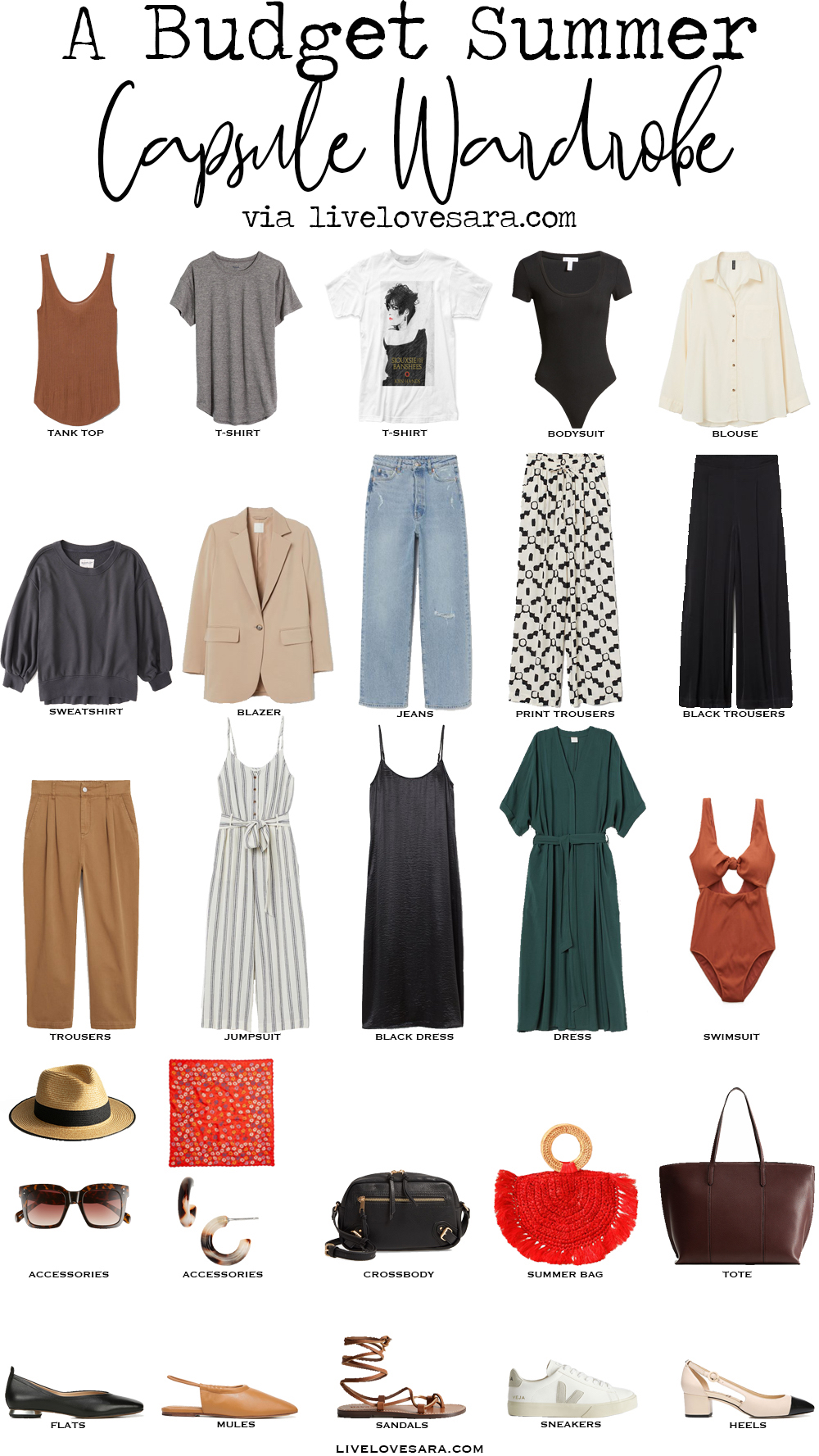 Tank Top | Grey T-shirt | Siouxsie and the Banshees T-shirt | Black Bodysuit | Cream Blouse | Sweatshirt | Tan Blazer | Jeans | Print Trousers | Black Trousers | Brown Trousers | Striped Jumpsuit | Slip Dress | Green Dress | Swimsuit | Hat | Sunglasses | Scarf | Earrings | Crossbody | Red Summer Bag | Tote | Black Flats | Camel Mules | Tie Sandals | Veja Sneakers | Cap Toe Heels |
---
SHOP THE POST



---
It's back to basics…or more like back to summer basics with this post.
I've been focusing on how to build a capsule wardrobe during this season of uncertainty. I think that a lot of people are spending some of this time realizing that they have too much stuff and are downsizing.
This applies to wardrobes too. After spending day after day inside we are realizing that we are wearing the same things on repeat.
They are usually our favourite go-to comfort wear and this realization is now affecting how people are viewing there regular outside wardrobe.
Why weren't we wearing our favourite pieces day in and day out when life was normal?
Look at what we are missing. The ease of getting dressed, and the guaranteed comfort of favourite pieces.
How about we apply this same mentality when picking out the clothes that we plan to wear every day outside of the home. Why don't we simplify our wardrobes with a set of standard pieces that we gravitate to each season?
But how do you start to put together a capsule wardrobe?
When I think of a summer capsule wardrobe I think of a collection of basics that are the building blocks of any great wardrobe.
I would then sprinkle in some seasonal wardrobe pieces.
I tried to make this post focus on a capsule wardrobe on a budget. While budget is a very loose term and varies depending on the person I tried to stay within certain dollar brackets.
The idea of these selections are to look chic on a budget which sounds like an oxymoron but is totally doable.
If I had to put together a summer capsule wardrobe checklist these are the pieces that I would include as the basics of a pretty solid seasonal capsule wardrobe.
Many of these pieces would also transition well through the season and if you are in a more temperate location you would get multiple seasons if not the entire year from the selections.
Summer Capsule Wardrobe Checklist
A nice tank or camisole – Something that can easily go from day to night looks with a few small changes.
A few t-shirts – I like the standard white t-shirt, but I also love my boyfriend fit tee. I have been a wearer of band tees since the dawn of time…probably around 1992-ish.
Back in the days that they only came in men's sizes. Band tees are pretty mainstream right now which can be kind of annoying when you know that someone absolutely has never listened to the band they are wearing.
I make a point of only buying band t-shirts of bands that I either own a CD from (yes I still have my old CD collection) or are on my Spotify Playlist.
A bodysuit – Who would have thought they would have come back into style? My first bodysuit was a burgundy brushed velvet beauty worn with Levi's 501s (with the button tab cover cut off) circa 1993.
A bodysuit is a great staple for all year and they make getting dressed really easy since they remain smooth and you don't have to tuck. I currently only have a long sleeve bodysuit that I love but would also like a sort sleeve one for this season.
Button up blouse – In something breathable like cotton or linen. They are very versatile shirts and can be layered over and under things, tucked or untucked, sleeves rolled up or down, and even tied at the waist with a pair of high-waist pants.
Sweatshirt, Sweater or both – It's always good to have a nice layering piece in your summer capsule wardrobe. How often do you get chilled at night or in an air-conditioned place?
Blazer – My motto is to throw a blazer over it. I find it is a quick way to pull together a look with minimal effort. I even throw it over my casual at-home wear if I need to step out for a quick errand. I have a post coming up that focuses on this.
A couple of dresses – I love a good slip dress. I find them comfortable, cool, and very easy to wear. A t-shirt or bodysuit layered under is is a cute casual look, while a blazer and heels is a nice polished one.
Besides a slip dress I also like to include either a t-shirt dress or something that can also easily be dressed up or down.
The green dress I included above has a removable belt so it can go from chic to a casual kaftan style in a blink of an eye. You can switch out the belt for a nice cinch waist one for a different look as well.
Jumpsuit – This one is a piece that people tend to shy away from but there is nothing quite like a really comfortable jumpsuit. They have a reputation for not being very versatile so I made a post showing How to Wear a Jumpsuit to show how many different looks you can get.
Wide leg pants – I don't wear shorts so I am very into wide leg and slouchy pants at the moment. They are really comfortable and easy to wear in the summer. I solid black pant is always a great wardrobe staple, but sometimes it is also fun to add a nice print.
Jeans – None of my wardrobes would be complete without a pair of jeans. They are my number one item in my closet.
Something in a 100% cotton is nice for summer, and the bonus is that they will stretch out to fit your body perfectly.
You just have to avoid washing them too often which grosses some people out but I am totally okay with 😉
Shoes – Capsule wardrobe shoes can be a hard area to cut down in. I've become much more of a shoe person in the last few years than I ever was. I used to get by with 2-3 pairs at any given time. Now it's grown.
I think that if you want your basic summer footwear to covered then all you really need is a pair of sandals, sneakers, flats, mules, and heels. That should be enough shoe options for any situation.
Bags and Accessories – Three bags should suffice. A crossbody or small shoulder bag, a larger purse or tote, and something specifically summer like a straw or woven bag.
For accessories, I am really into large hoops, especially vintage bakelite that I have been trying to find.
If you are a jewellery person than a simple gold necklace, or even a statement necklace would be great.
Sunglasses and a hat are a must for summer, a scarf to wrap around your hair or tie at the neck, and maybe a belt if you are a regular belt wearer.
That's about it for what I would include in a summer capsule wardrobe 2020. I hope that it inspires you to do some wardrobe planning of your own.
You may also like:
How to Build a Summer Work Capsule Wardrobe
How to Build an Edgy Capsule Wardrobe
How to Build a Minimalist Capsule Wardrobe
How to Build a Budget Capsule Wardrobe for Spring and Summer
If you enjoyed How to Build a Summer Capsule Wardrobe on a Budget blog post please feel free to share it via Pinterest, Facebook, or Twitter. Thank you.
Summer Capsule Wardrobe Outfits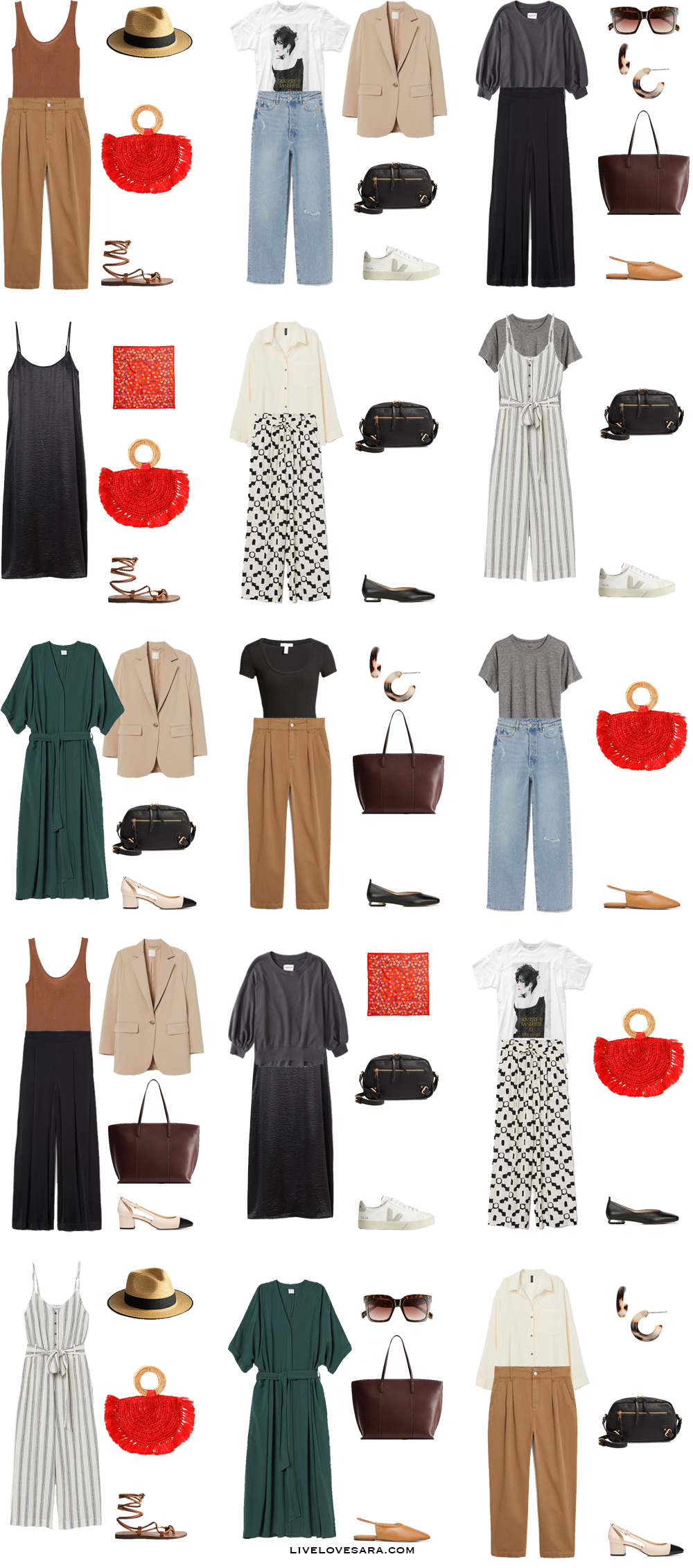 Capsule Wardrobe Budget Outfits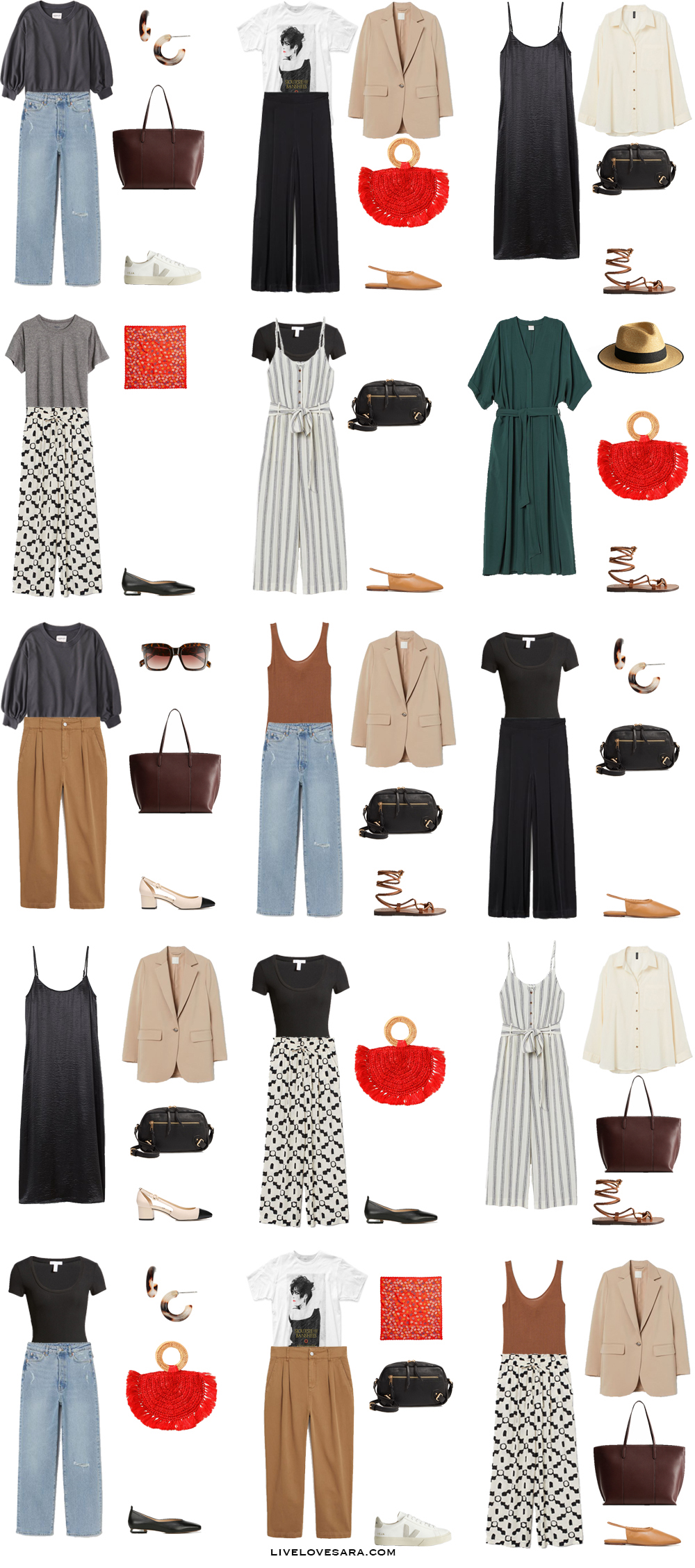 Tank Top | Grey T-shirt | Siouxsie and the Banshees T-shirt | Black Bodysuit | Cream Blouse | Sweatshirt | Tan Blazer | Jeans | Print Trousers | Black Trousers | Brown Trousers | Striped Jumpsuit | Slip Dress | Green Dress | Swimsuit | Hat | Sunglasses | Scarf | Earrings | Crossbody | Red Summer Bag | Tote | Black Flats | Camel Mules | Tie Sandals | Veja Sneakers | Cap Toe Heels |
---
SHOP THE POST



---
Follow me on
FACEBOOK || INSTAGRAM || PINTEREST || LIKEtoKNOW.it