Summer Packing List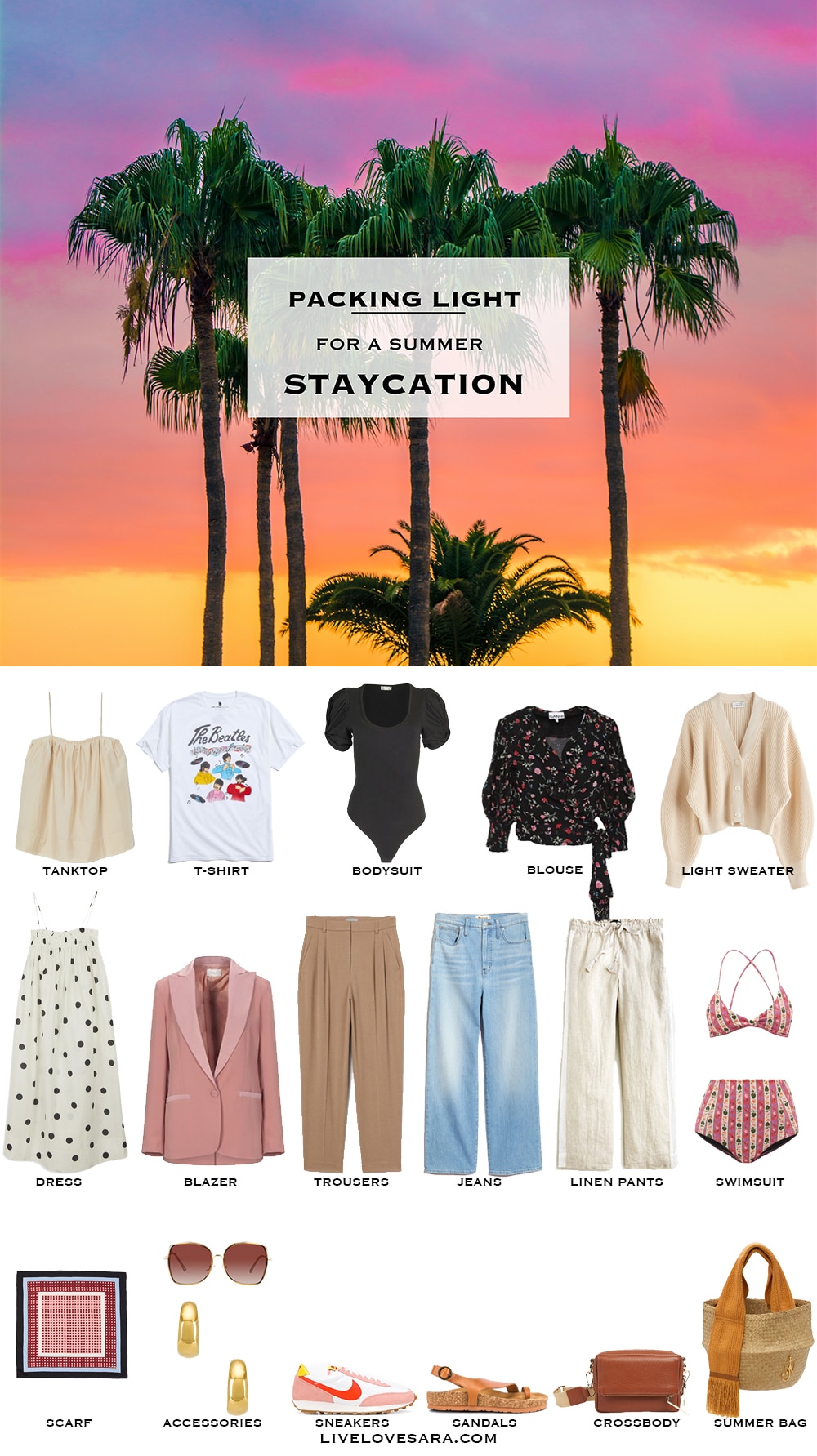 Tank Top Cami | Beatles T-shirt | Black Bodysuit | Wrap Blouse | Light Cardigan | Polka Dot Dress | Blazer | Trousers | Jeans | Linen Pants | Swimsuit | Scarf | Sunglasses | Earrings | Sneakers | Sandals | Crossbody | Summer Bag
SHOP THE POST


Some of you might be asking what is a staycation, before you can even ask what to pack for a summer staycation.
But there doesn't seem to be a clear-cut definition of what a staycation actually is.
Some people consider a staycation to be when you stay at your home for a vacation and find fun and entertaining things to do without leaving your abode.
Others consider it to be any place that you can travel from your home within a reasonable distance so that you can return back home at the end of the day.
The broader definition and the one that I am going with is any short trip within your city, state, province, or country that doesn't require a long road trip or air travel.
Basically, for today's purpose, a staycation is a short trip to a destination that you can access by car within a couple of hours.
Depending on the size of the country you live in, this may be limited to your province or state for larger countries.
For smaller countries like Europe for example, you would be able to travel the entire country in several hours for many places.
Where I live, I can barely even drive out of the province in a reasonable amount of time so I would never consider existing Ontario as a staycation for me.
As someone who travelled from Ontario to British Columbia by car, it was not an overly fun experience 😉
It was more travel with a purpose than a vacation…not that it was supposed to be a vacation but you catch my drift.
Since staycations stick close to home people are more apt to plan more than one per season.
Maybe a weekend getaway, or a few days at a cottage.
Whatever works for you.
So if you are looking for ideas for a staycation, or what to do on a staycation you should start by googling "staycation" plus whatever your destination is.
It will pull up all you need to know about short trips to those places.
And even if you aren't going far from home you may discover some outings that you have never done, or heard of before.
You may be surprised how much you don't actually know about the area that you live.
*I just wanted to point out that the dress I included in today's travel capsule wardrobe is way more expensive than I usually include.
I had an idea in my head for what I was looking for and this was the only one that I found that checked all the boxes.
The great thing about Ganni though is that it ALWAYS goes on sale. You will be able to find it much cheaper in a short period of time. So if you like it then keep an eye on it.
I find that The Outnet and Net-A-Porter are a good places to look to find Ganni on sale.
This staycation packing list is really flexible for different lengths of trips.
Depending on how long you are going for you can make this anywhere from a weekend packing list to a couple of weeks by a quick adjustment of items.
Technically a staycation won't go on much longer than a week but you never know, just in case you want to stick around a little longer.
If you are looking for some packing ideas for your staycation summer vacation and enjoyed my What to Pack for a Summer Staycation, please feel free to share it via Pinterest, Facebook, or Twitter. Thank you.
This post contains affiliate links. By using my links to shop I may receive a small commission (at no cost to you). Thanks for supporting what I do
You may also like:
The Ultimate Summer Packing List
What to Pack for Summer
A Summer Weekend Packing List
What to Pack for a Week in Summer
What to Pack for Summer a 10-day Packing List
What to Wear in Summer

Tank Top Cami | Beatles T-shirt | Black Bodysuit | Wrap Blouse | Light Cardigan | Polka Dot Dress | Blazer | Trousers | Jeans | Linen Pants | Swimsuit | Scarf | Sunglasses | Earrings | Sneakers | Sandals | Crossbody | Summer Bag
SHOP THE POST


Follow me on
FACEBOOK || INSTAGRAM || PINTEREST || LIKEtoKNOW.it