How to Build a Summer Capsule Wardrobe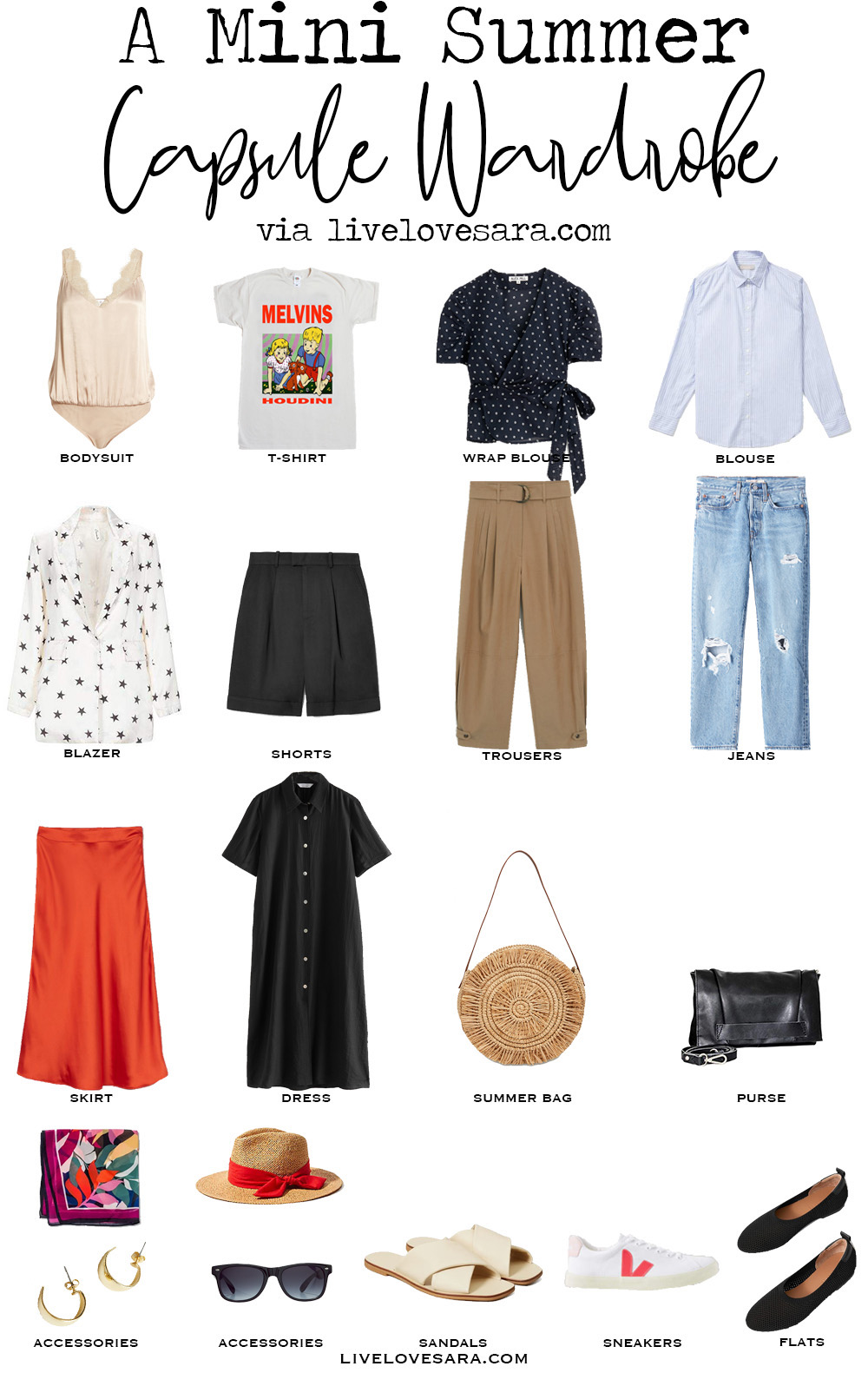 Bodysuit | T-shirt | Wrap Shirt | Blue Blouse | Blazer | Shorts | Trousers | Jeans | Skirt | Dress | Summer Bag | Crossbody | Scarf | Earrings | Straw Hat | Sunglasses | Sandals | Sneakers | Flats |
---
SHOP THE POST


---
A big heat wave rolled in yesterday and it is a whopping 41°C (106°F) with the humidex today, and it's not even officially summer yet. It's pretty gross and reinforces why this is my least favourite season.
That being said, summer does offer some great clothes choices, so if you are looking for how to build a summer capsule wardrobe this post might be for you. I decided that this week I was going to try a mini summer capsule wardrobe instead of the full seasonal capsules that I usually do.
This one includes a smaller selection of pieces that work well as a small capsule wardrobe, or a few items mixed in with what you already have for a great seasonal wardrobe refresher.
While I don't consider myself a capsule wardrobe blog, I do offer a large variety of them across my platform which you can see by clicking on the capsule wardrobe section in my drop-down menu in the header.
I usually focus more on travel capsules wardrobes (packing lists) but when you really break it down they are very similar to capsule wardrobes with how you construct them.
They both follow a similar capsule wardrobe formula which is basically that in order to make the most out of your wardrobe, you need to have pieces that all work together in a cohesive manner.
In layman's terms: make sure that all of your tops go with your bottoms.
From there, add your layering pieces and shoes, then outerwear and accessories. It's actually quite simple when you get used to working within these constraints.
For example, when I buy something new I always think of at least 4 different ways that I can wear it before I buy it.
If I can't think of anything then I will usually pass it up otherwise it will just become an impulse buy that sits in my closet…often still with the tags on.
I'm still guilty of doing this although to a much lesser degree than I did it years ago. I am currently slowly listing some of these pieces on my Poshmark because they are wasted money, and are now wasting space.
I set them aside when I was going through my wardrobe months ago to see if I would wear them. Those pieces that I didn't wear are now being slowly cleaned out.
I always like to give my clothes a second chance because sometimes it's not the right season, or you just forget about them.
But once I specifically set them aside, and I still don't wear them then I know it is time to go.
I have learned from experience that emotional purging or impulse purging can actually come back to bite you in the ass…sigh I miss you my original Doc Marten's 🙁
Versatile items are also key in making the most out of your wardrobe. Besides all the tops and bottoms going together, having items like the purse, which turn into a crossbody or a clutch.
As for wardrobe palettes, I'm not really one to follow colour rules, and often when you are searching examples of capsule wardrobes they tend to lean towards minimalist, or neutrals palettes since those colours are easy to work with.
With this mini summer capsule, I tried to inject some fun colour to break up the monotony of having a small wardrobe. Wardrobe fatigue is real and is one of the main reasons that people impulse shop.
So I tried to keep it fun.
Since this is a wardrobe for summer it doesn't have a lot of layering items or outerwear. I included one blazer with a great print for a statement piece because every wardrobe needs a statement piece, or two…or three.
Speaking of statement pieces, you should see what I just ordered myself handmade off of Etsy for my early 41st birthday present to myself. It's like a 70s dream and I'm pretty stoked about it.
I just need the weather to cool so that I can get more wear out of it.
Stay safe.
You may also like:
How to Build a Summer Work Capsule Wardrobe
How to Build an Artsy Summer Capsule Wardrobe
How to Build a Minimalist Capsule Wardrobe
How to Build a Rock Chic Summer Capsule Wardrobe
How to Build a Summer Capsule Wardrobe on a Budget
If you were searching for summer capsule wardrobe ideas and enjoyed How to Build a Summer Capsule Wardrobe the Mini Capsule please feel free to share it via Pinterest, Facebook, or Twitter. Thank you.
Summer Capsule Wardrobe Outfits

Bodysuit | T-shirt | Wrap Shirt | Blue Blouse | Blazer | Shorts | Trousers | Jeans | Skirt | Dress | Summer Bag | Crossbody | Scarf | Earrings | Straw Hat | Sunglasses | Sandals | Sneakers | Flats |

Follow me on
FACEBOOK || INSTAGRAM || PINTEREST || LIKEtoKNOW.it