Summer Capsule Wardrobe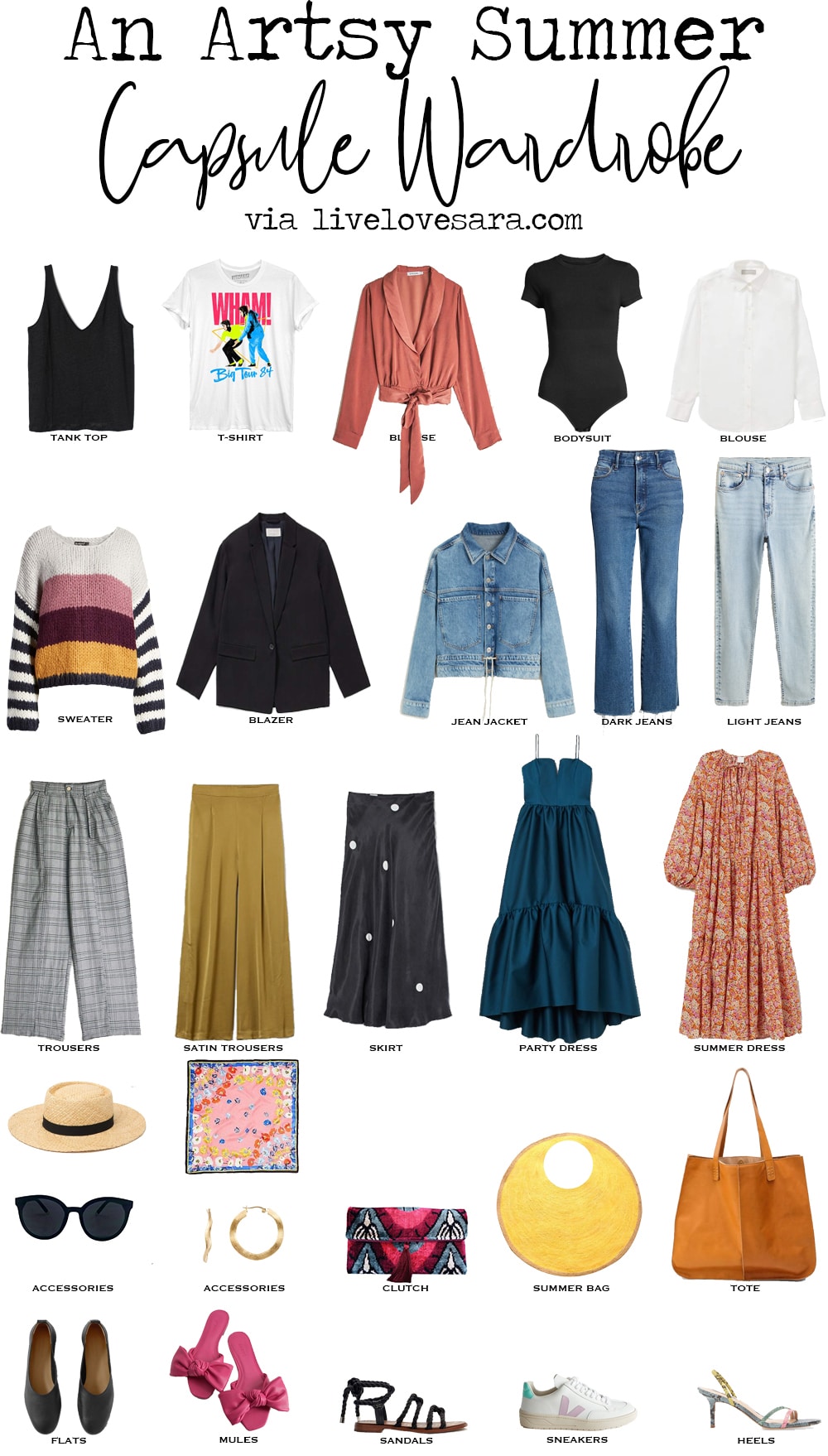 Black Tank Top | Wham T-shirt | Pink Tie Blouse | Black Bodysuit | White Blouse | Striped Sweater | Black Blazer | Jean Jacket | Dark jeans | Light Jeans | Check Trousers | Satin Trousers | Polka Dot Skirt | Party Dress | Summer Dress | Boat Hat | Sunglasses | Scarf | Hoop Earrings | Clutch | Circle Bag | Brown Tote | Black Flats | Pink Bow Mules | Sandals | Sneakers | Heels |
---
SHOP THE POST



---
I have been putting together summer capsule wardrobes for different styles for the past couple of months. One that I have been asked to do a few times is an Artsy capsule wardrobe for summer.
When I think of artsy two types of people come to mind. The first is the uber-cool woman who is highly skilled at mixing and matching prints, bold colours, and eclectic silhouettes.
She can always rock the pieces that you are scared to even look at on the rack.
The second is the quirky woman who kind of reminds you of Miss Frizzle. I love Miss Frizzle. She reminds me of one of my favourite college roommates.
She resembled Julie Andrews in The Sound of Music with her short-cropped hair, folksy clothes, and her acoustic guitar.
On any given day I could imagine her playing the guitar with a group of children following her (she was in school to be a teacher).
She had the second version of dressing artsy perfected.
Today I am trying to focus on the first one since I can relate to it a bit better which makes it easier for me.
Side note: If you are looking for a Miss Frizzle type dress Modcloth always has fun styles.
What are the essential clothes for building a capsule wardrobe?
This is a question I get frequently but it is one of those questions that will have different answers for everyone.
Depending on your style, lifestyle, the climate where you live, and the pieces that you actually wear (or will wear). The answers will all vary.
For me, the essential pieces in my wardrobe are jeans, t-shirts, sneakers, flats, and a leather jacket. Everything else is built around those capsule wardrobe staples of mine.
Even though I live in a country that gets four full seasons that are extreme in temperature fluctuations, I keep those pieces in my wardrobe all year long.
I tend to gravitate to darker neutrals but today I decided to inject some colour.
Most people think that a capsule wardrobe needs to be all neutrals in order to get the most out of mixing and matching your wardrobe but that is nonsense.
You will find an abundance of examples of neutral capsule wardrobe and time you search which makes it difficult to visualize anything else, especially if you are a very visual person/learner.
But what would a summer capsule wardrobe be without a little bit of colour?
Building a capsule wardrobe isn't all or nothing. If jumping feet first into colour scares you then take baby steps by introducing it through your shoes and accessories.
There are so many great accessories that you can add for any budget level, and I have had wonderful success in finding colourful scarves and earrings at thrift stores.
Never underestimate a thrift store. I am missing thrifting dreadfully at the moment so I am currently getting my thrifting fix via eBay and Poshmark.
I even influenced myself today by adding a bit boldness to my clothing. When I saw the above striped sleeve sweater (and then saw the sale price) I headed over to Nordstrom Canada to see if they had it.
They didn't have the exact colour but I was able to find it in this colour, so I bought it.
There were some really amazing pieces that I wanted to include in this summer capsule wardrobe today but they were way out of the realistic price range for most of us.
I try to keep it affordable, so I omitted them.
I hate when I get excited about something only to see it is way out of my price range. Oh to be rich 😉
If anything though, today's post made we want to add some pink clothes, and shop for some colourful vintage jewellery.
If you haven't yet searched through Esty's vintage jewellery section you are missing out. These 1960s sunglasses are fabulous and would look great with the artsy summer capsule wardrobe, and so would this 1960s necklace.
Don't forget a fun pair of socks!
Stay Safe.
You may also like:
How to Build a Summer Work Capsule Wardrobe
How to Build an Edgy Capsule Wardrobe
How to Build a Minimalist Capsule Wardrobe
How to Build a Budget Capsule Wardrobe for Spring and Summer
How to Build a Summer Capsule Wardrobe on a Budget
If you enjoyed How to Build an Artsy Summer Capsule Wardrobe blog post please feel free to share it via Pinterest, Facebook, or Twitter. Thank you.
Summer Outfit Ideas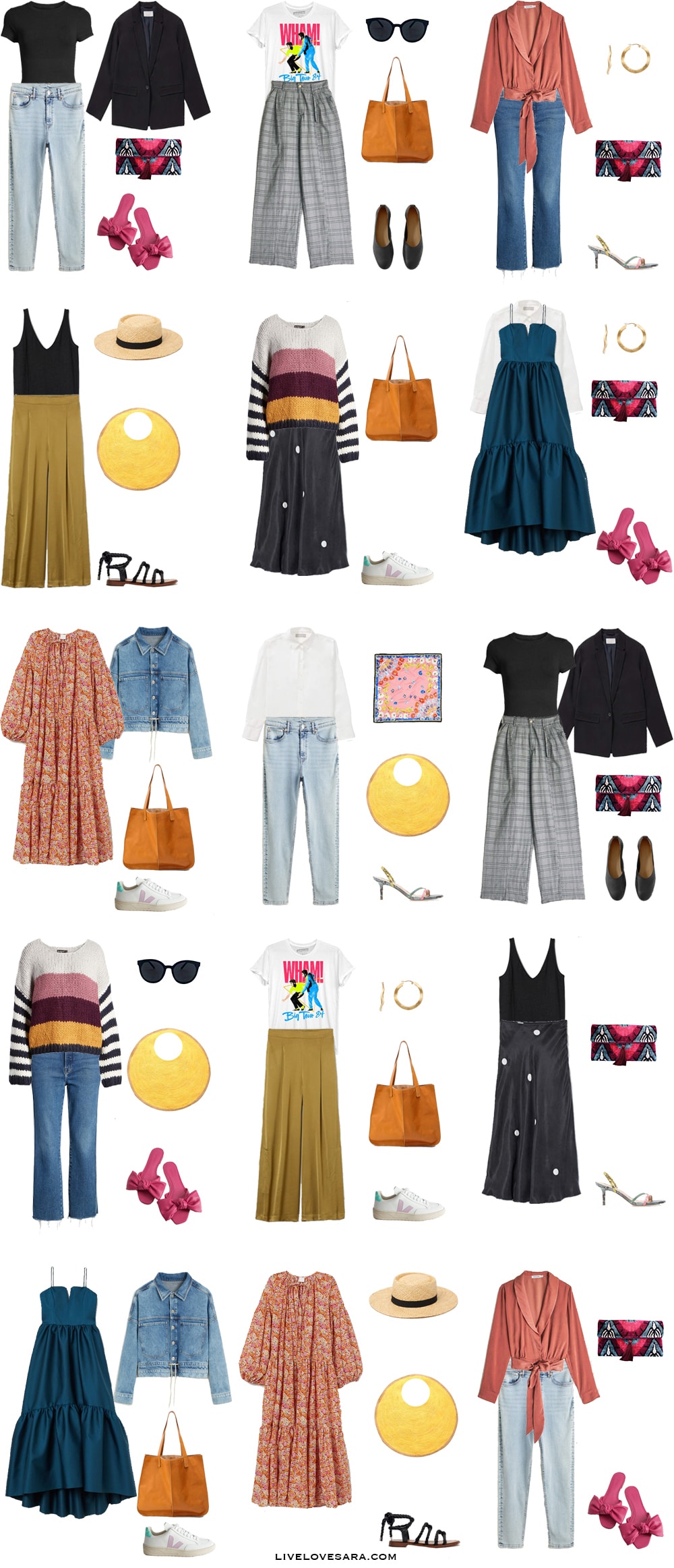 Artsy Outfit Ideas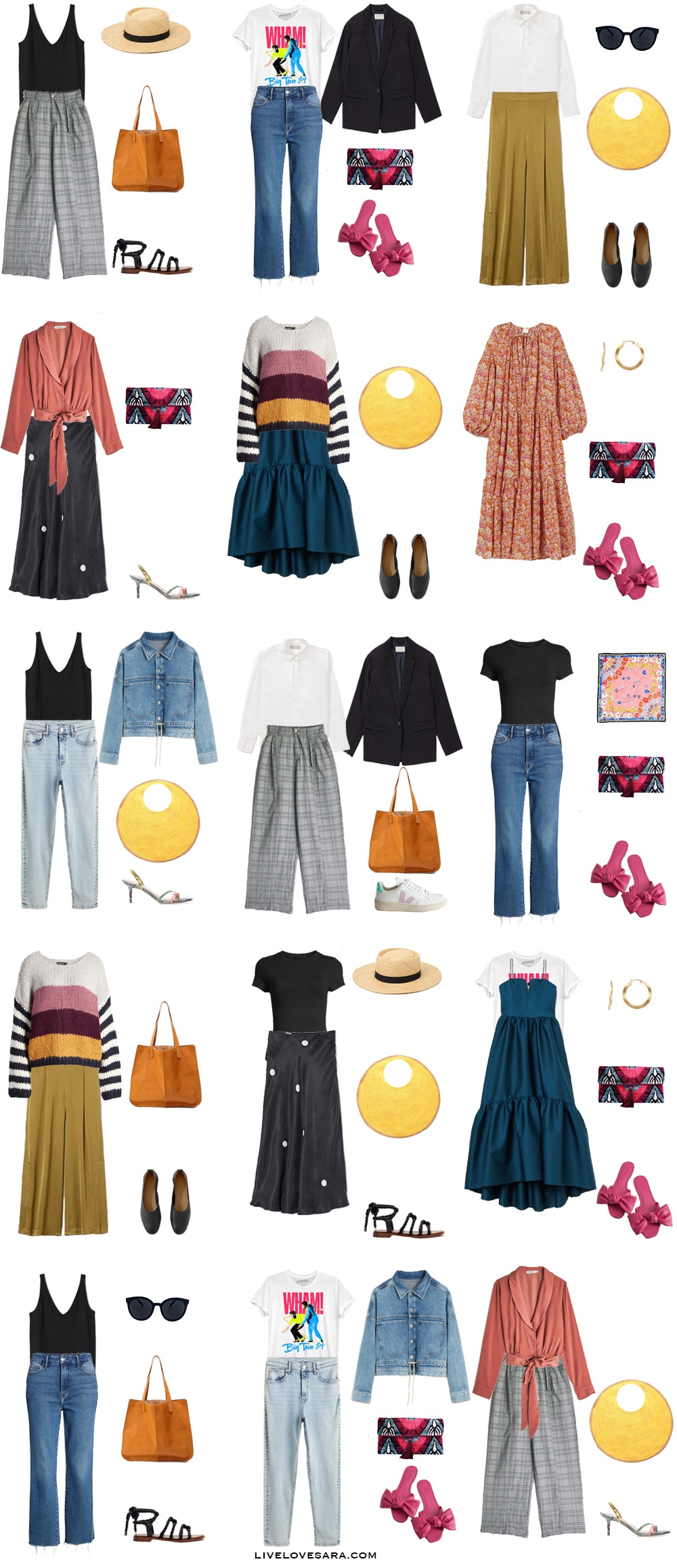 Black Tank Top | Wham T-shirt | Pink Tie Blouse | Black Bodysuit | White Blouse | Striped Sweater | Black Blazer | Jean Jacket | Dark jeans | Light Jeans | Check Trousers | Satin Trousers | Polka Dot Skirt | Party Dress | Summer Dress | Boat Hat | Sunglasses | Scarf | Hoop Earrings | Clutch | Circle Bag | Brown Tote | Black Flats | Pink Bow Mules | Sandals | Sneakers | Heels |


Follow me on
FACEBOOK || INSTAGRAM || PINTEREST || LIKEtoKNOW.it