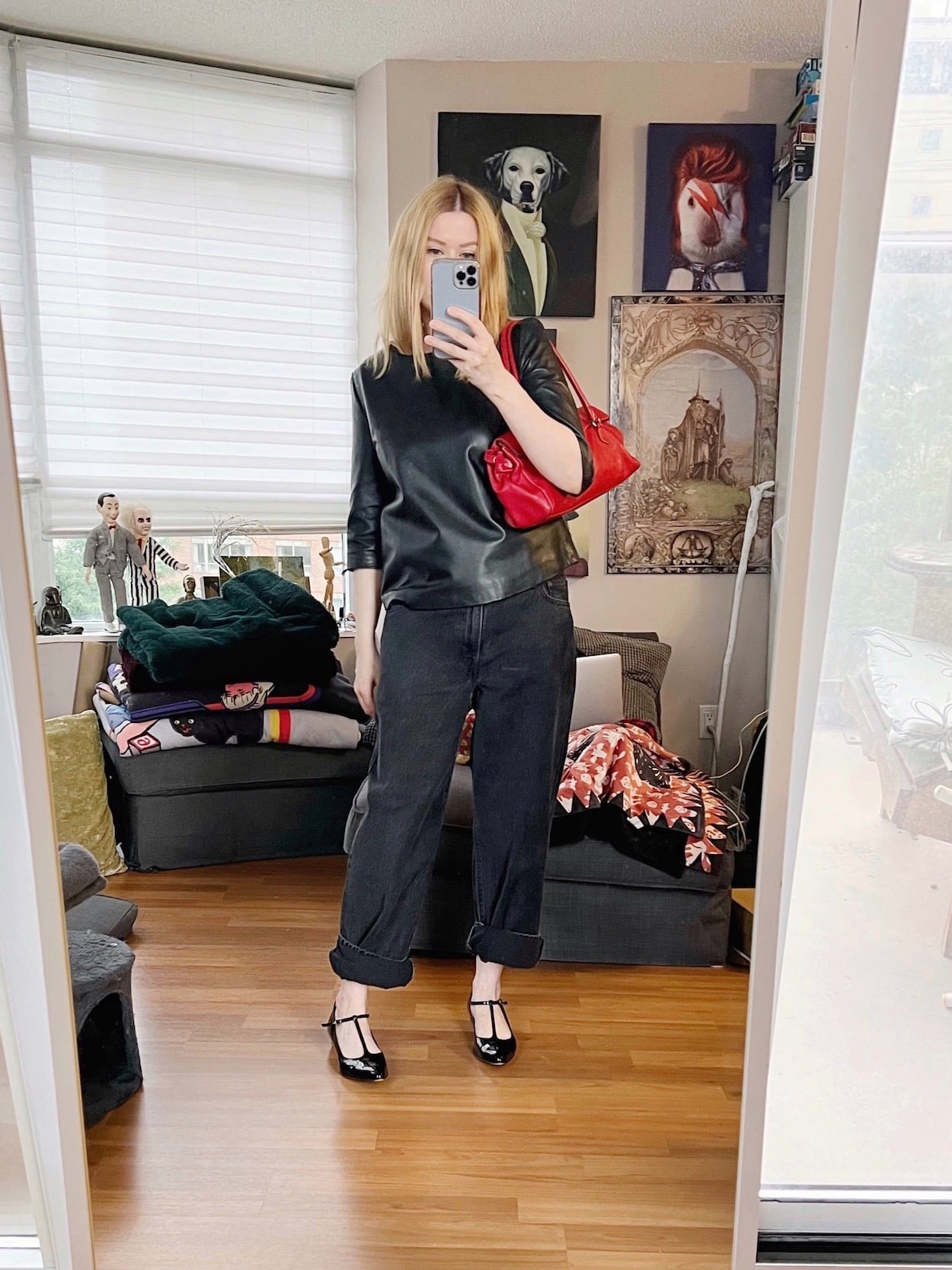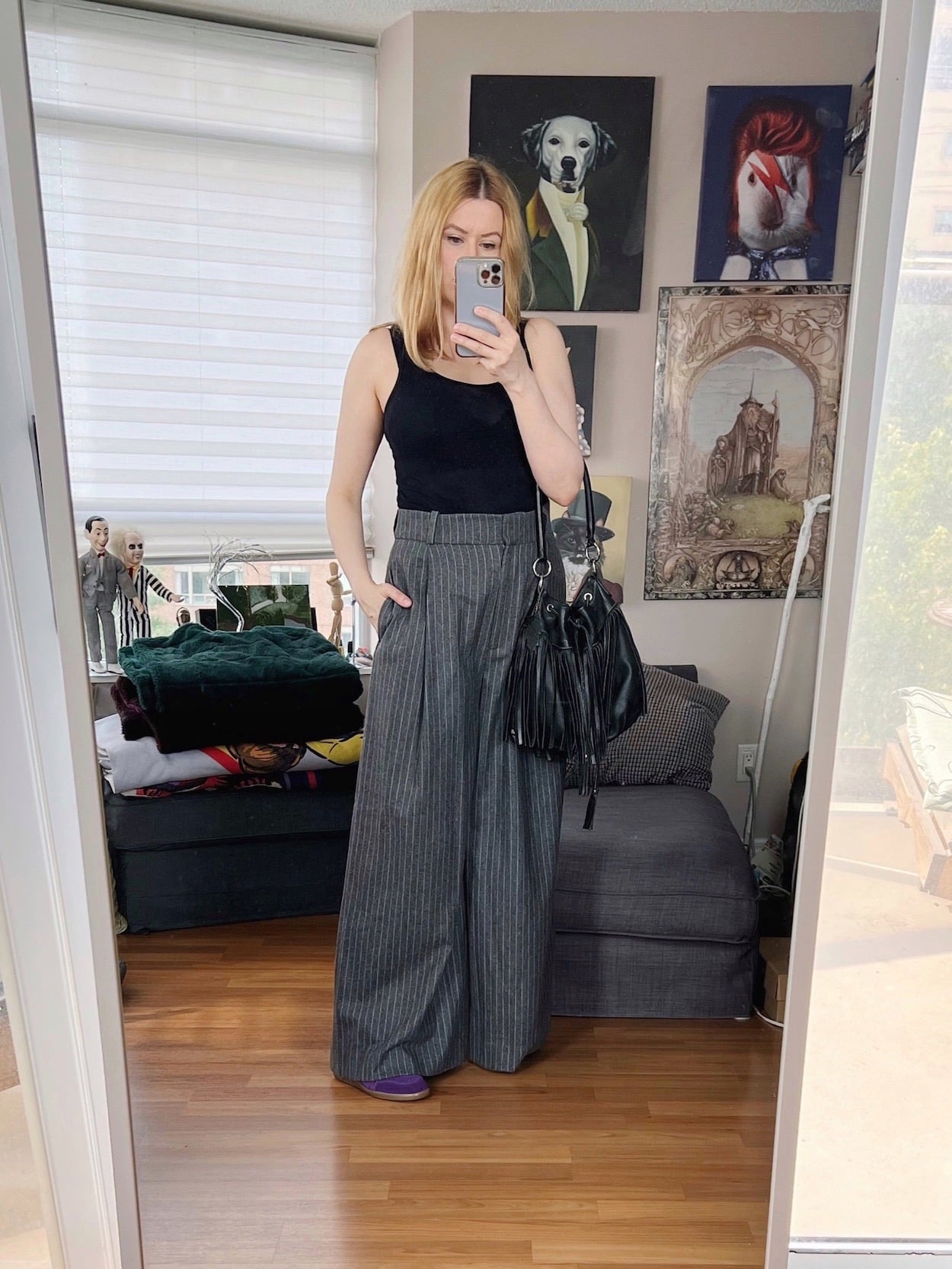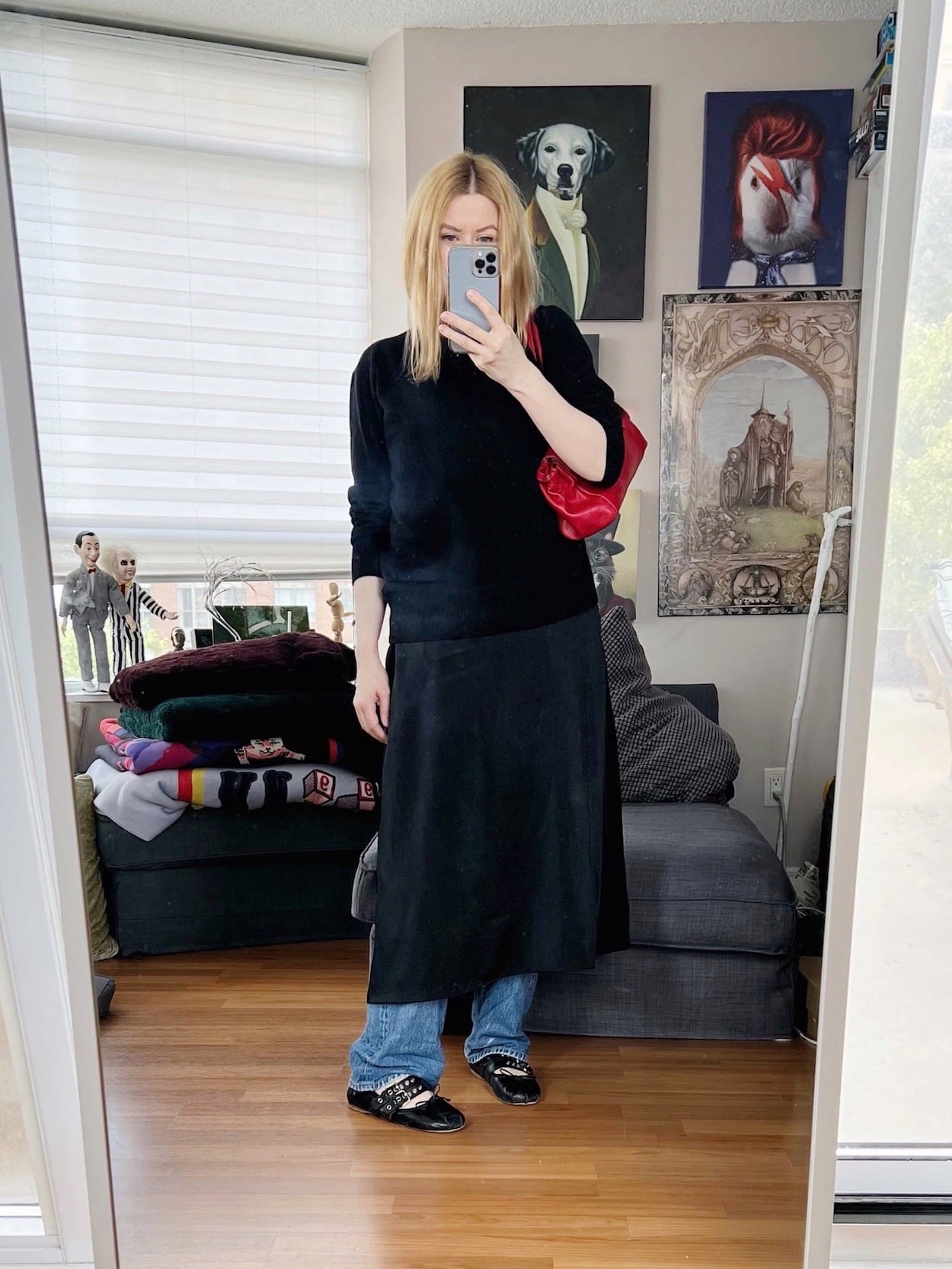 Outfit 1 – T-shirt | Vintage Fringe Jacket | Wide Leg Trousers (old) | Boots | Tote
Outfit 2 – Faux Leather T-shirt (similar) | Jeans | Mary Janes (Consignment) | Handbag
Outfit 3 – Tank | Trousers | Shoes (similar) | Vintage Bag (similar)
Outfit 4 – Dress | Sweater | Jeans | Flats | Handbag

I feel like it would be a bad idea to have a power nap at 8:30 pm. I'd go to bed, but I still have too much to do and if I go to bed first, my youngest will literally not go to bed until 4am.
I don't think I updated anyone on the car accident situation from a few weeks back.
We were able to replace the write-off with a used car, which is fine. I'm not a car person, so I literally don't give a shit as long as we don't have to Fred Flinstone it down the street.
And even though we have this car, we are still paying for the other until our insurance gets its shit together and finalizes the claim.
So that's lots of fun paying for two cars when we only have one.
On a positive note, Spirit Halloween just opened again down the street, so we are going to hit that tomorrow and see what's new.
I like to go in the first few days of opening because they tend to sell out of sizes in the good stuff rather quickly, and my youngest really loves the Steven Rhodes tees.
Primarily any of them that have to do with cats.
We are hoping to find this one, or this one.
I think she has all the rest even though some are really worn and have had holes repaired frequently.
We also love Steven Rhodes blankets, but that isn't something that they usually carry so I'll just have to buy them online if I want anymore.
I also have to do a couple of returns, and buy some stamps.
Has anyone done any Christmas shopping yet? I have bought three so far, just small things.
You might also like:
What I Wore Last Week
SHOP THE UK LINKS


I am now offering digital styling guides, and personal styling services. If you are looking for some styling help that is inexpensive and easy, check out my digital styling guides. If you want some one-on-one help shopping, building and editing your wardrobe, or packing for a trip, I can also assist. Check out all the styling services that I offer here.
This post contains affiliate links. By using my links to shop I may receive a small commission (at no cost to you). Thanks for supporting what I do