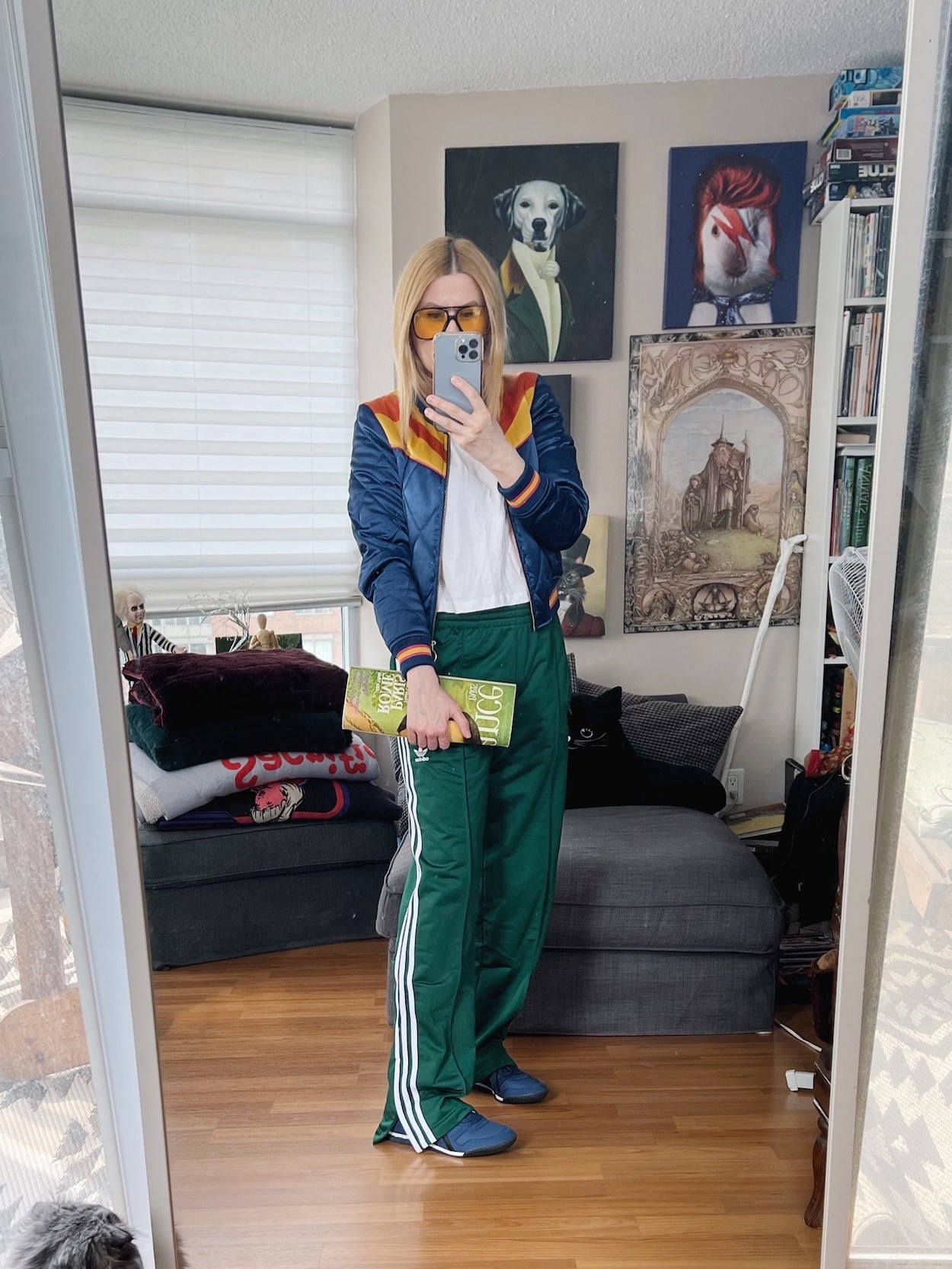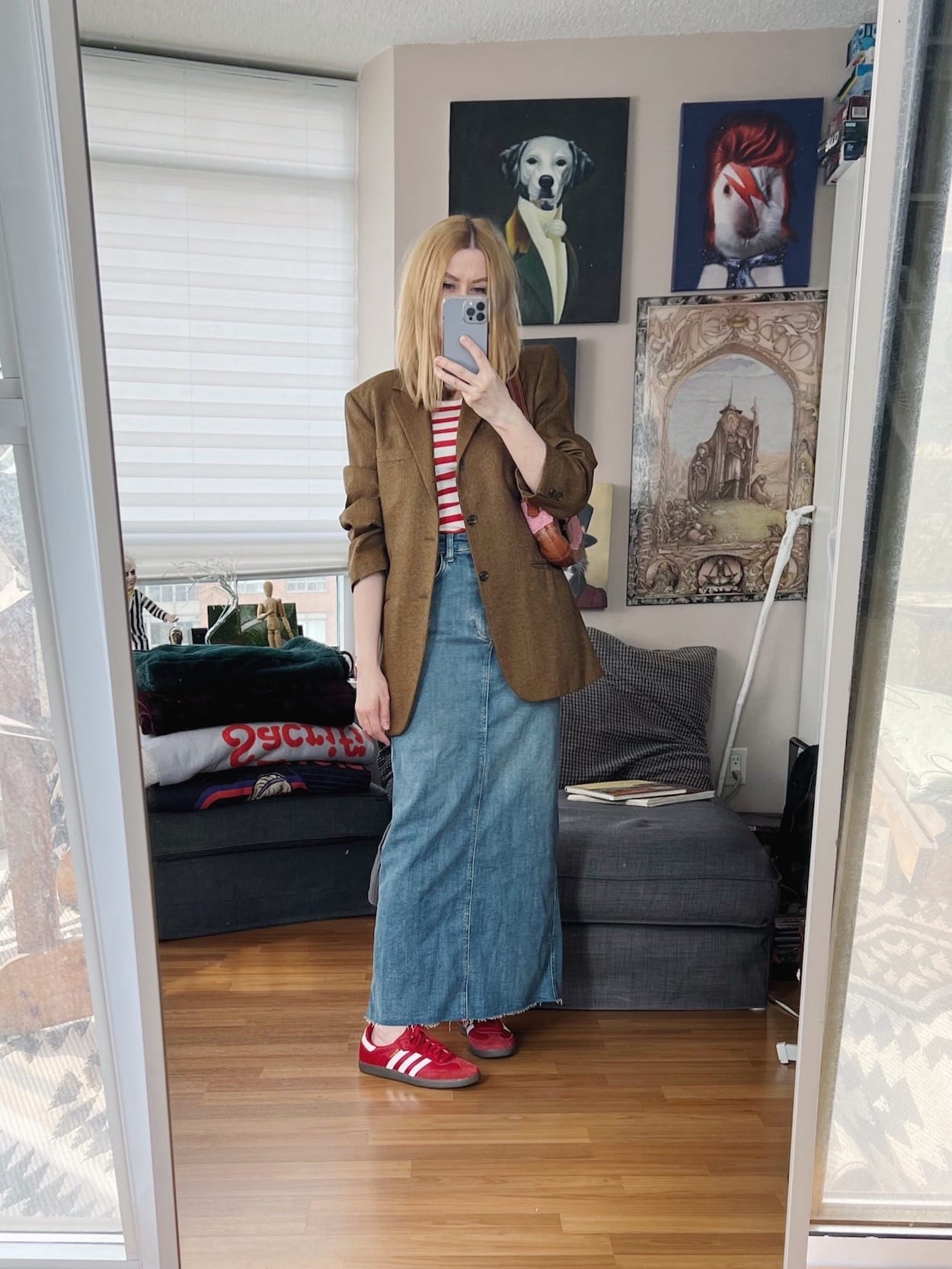 Outfit 1 – Vintage Track Jacket | Vintage Jeans | Hat | Boots | Vintage Bag |
Outfit 2 – T-shirt | Bomber Jacket | Track Pants | Sunglasses | Sneakers | Vintage Clutch
Outfit 3 – Tank | Vintage Blazer (similar) | Maxi Skirt | Sneakers | Bag
Outfit 4 – Sweatshirt | Track Pants | Slides (similar) | Bucket Bag (similar) | Vintage Sunglasses

I did squat all today. Mostly laid out in front of the balcony door reading while trying to catch a cool breeze that was coming in because our condo is still hot from the past few days.
And the air conditioning is still not on.
I was laying on my new body pillow that I bought myself from Amazon yesterday which was waiting outside my door today when I woke.
An exciting morning.
A Mother's Day present to myself, and now I can finally get rid of my old body pillow with a hole in it and leaking feathers all over the house for the last few months.
There are feathers everywhere.
I'm a side sleeper and need the support of a body pillow. Without it, I wake up sore with an aching back, which is the reason why I didn't throw out the damaged one until I found the right new one.
As for purchases this week, I have been wanting and searching for a short sleeve sweatshirt.
My goal has been to find a really cool one secondhand, but they are really pricey for some reason, with stupid high shipping.
Realistically I don't want to pay $70 for a short sleeve sweatshirt and then add another $35 to ship it, so I found this on Zara which will do.
Which you can also see in the last look above.
My current plan is to find a long sleeve version that I like at Value Village and then cut the sleeves off.
I also bought a linen shirt, but I didn't like the way it looked on, so it goes back this week which is the story of my life.
95% of the things that I buy end up going back.
Very rarely do I find something that I love to the point that I know I will wear it for years.
This is why everything goes back, so I can keep the money for when I do find that piece that I have an instant connection with, and not have a closet full of pieces that I feel lukewarm about.
Which is a weird way to explain it, but you know that instant gut punch and gasp of excitement when you find the right piece?
I try to strive for that with most of my purchases. That way I know that it will be something I truly love, not an impulse purchase.
I've done really well over the last 10 years cutting out the impulse purchases but every once in a while one sneaks through.
Always a work in progress.
You might also like:
What I Wore Last Week
SHOP THE UK LINKS


I am now offering digital styling guides, and personal styling services. If you are looking for some styling help that is inexpensive and easy, check out my digital styling guides. If you want some one-on-one help shopping, building and editing your wardrobe, or packing for a trip, I can also assist. Check out all the styling services that I offer here.
This post contains affiliate links. By using my links to shop I may receive a small commission (at no cost to you). Thanks for supporting what I do