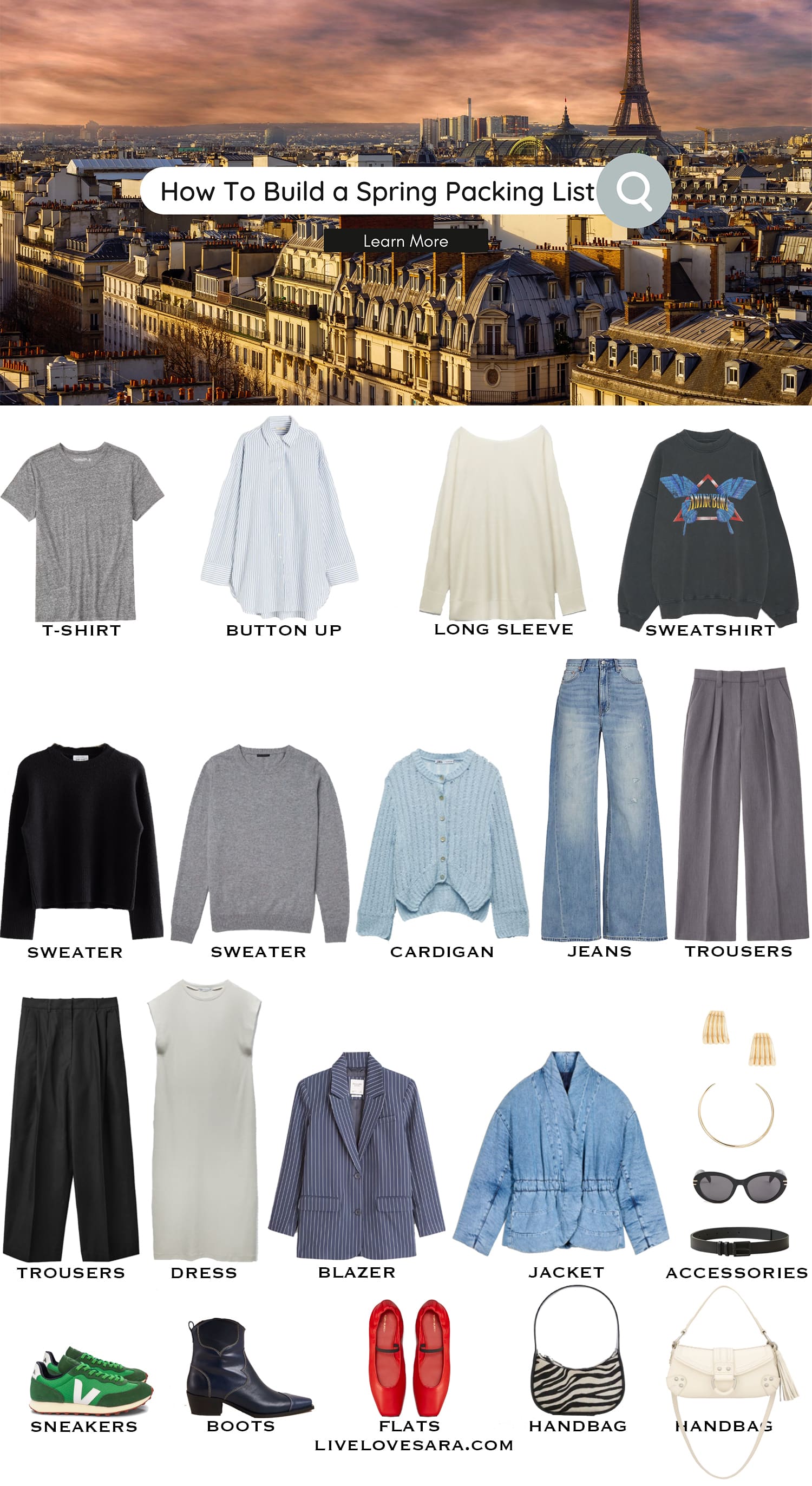 T-shirt | Button Up | Long Sleeve | Sweatshirt | Black Sweater | Grey Sweater | Cardigan | Jeans | Grey Trousers | Black Trousers | Dress | Blazer | Jacket | Earrings | Necklace | Sunglasses | Belt | Sneakers | Boots | Flats | Animal Print Handbag | Off White Handbag

I haven't done a spring packing list in a really long time. I actually haven't done any packing list in general besides the warm weather destination packing list that I have in my digital style guides.
To be honest, my focus has been mainly on my own wardrobe and personal style so the output from that focus ends up being capsule wardrobes.
Then I was thinking earlier this week how a packing list is a capsule wardrobe but on a smaller scale.
Which I already knew, but also somehow forgot.
This also got me back to thinking about personal wardrobes, and how sometimes I wish I could be THAT person whose wardrobe consists of a small rack of very intentional items.
This is also like a packing list, except one is for a short duration of time and the other is for significantly longer and would not be sustainable for me.
Anyway, I decided to focus on the spring capsule wardrobe by putting together a small collection of items that I could imagine being the clothing on a rack that would become my spring season wardrobe.
Now that the sun is setting later, and the day today was actually quite lovely out, I can really feel the spring in the air which is inspiring.
Do you remember in the older days of blogging when many of the bloggers would do what they called a 10×10. Which was 10 pieces worn over 10 days.
It was like a mini challenge to get creative with your wardrobe.
I took that in mind when putting this together. When I do packing lists, I don't count the shoes or accessories as pieces when I construct it.
So if I said a 10 piece packing list for 10 days, then the shoes, accessories and usually outwear would not count as one of the 10 pieces.
Two to three pairs of shoes is max when putting together a packing list. Unless of course you have a very special situation where you need a completely separate type of outfit for an occasion or event.
In all honesty I probably could easily just work with two pairs. Sneakers and a flat or boot depending on the season and the comfort level.
If I bring three, it usually consists of two pairs of sneakers because I am not one who believes that you should pack a travel wardrobe that is widely different that what you wear.
And I wear a lot of sneakers.
That being said, if you are looking for a variety of options then yes, you should select three completely different pairs of footwear, and please make sure that you know for certain that they are comfortable.
Too often people pack new shoes, and they cause pain and discomfort which is not what you want while on vacation but is also easily avoidable.
Not on to the details.
HOW TO PLAN A TRAVEL WARDROBE
We all know that building a travel wardrobe can be a challenging because it is really hard to not over pack.
You get stuck in the mindset that more is better and you end up with a suitcase so full that you have to pay overages even though you end up wearing only a quarter of it.
What we want is a travel wardrobe that is versatile, comfortable, and practical and can fit in a carry on.
Is this an impossible task? Not with proper planning.
I like to get a colour scheme in mind. Just a handful of colours that work together that I think will be a good jumping-off point.
Here I wanted something fairly minimalist and neutral with a few pops of colour, so you see off-white, black, grey, blue, and green.
When you have a strong base of neutrals it makes the wardrobe very easy to mix and match since everything goes together.
That doesn't mean that you can't go bold colour. Colours and prints are always a fun option you just need to make cure that the pieces all work with one another for maximum versatility.
I just put together a colourful capsule wardrobe if you are looking for some colourful wardrobe inspiration.
Make certain that you consider the climate and the activities you will be doing. This will help you determine what kind of clothing and gear you will need so that you are properly attired.
I like to keep the focus on comfort and practicality while still maintaining my personal style. You want to be comfortable and feel like yourself.
Keep versatility in mind when you are selecting your pieces. You want items that can be dressed up or down, and that can be mixed and matched to create different outfits. This will help you keep packing light.
Make certain that you have the ability to layer. Layering is essential when building a travel wardrobe, because weather and temperatures fluctuate throughout the day, and you want to be prepared.
Accessories are an easy way to change up your outfits and add something extra to your travel wardrobe. Don't go overboard, a few key pieces will do.
Pack comfortable footwear, which I discussed in further depth at the beginning.
And lastly, consider packing cubes because they can help you stay organized and maximize space in your luggage. They are especially helpful when you use them to separate your clothing and accessories by category or colour.
It helps you to know exactly where everything is located so that you don't have to dig in your suitcase looking for something particular.
By following these steps even loosely, you can build a travel wardrobe that is comfortable, practical, and versatile, and that will keep you looking and feeling your best during your trip.
Travel Outfit Ideas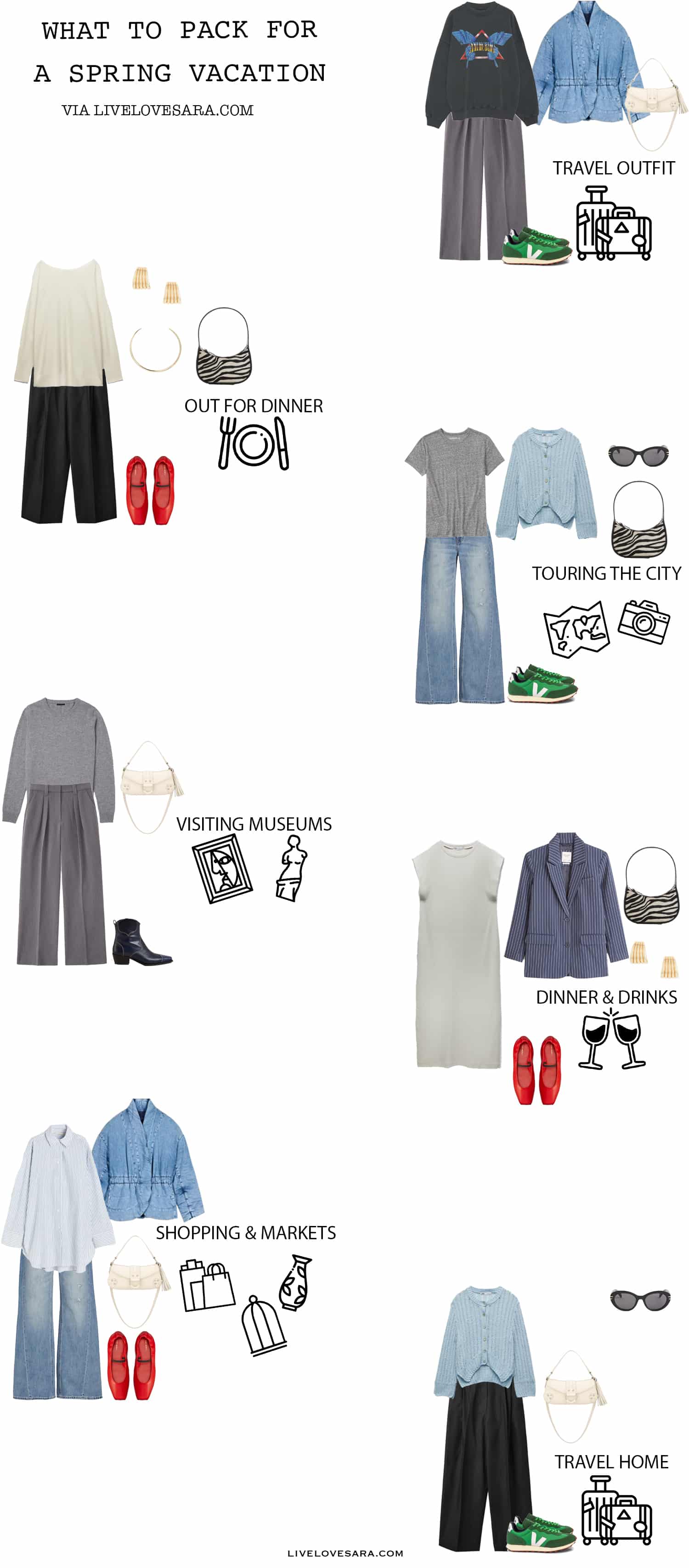 T-shirt | Button Up | Long Sleeve | Sweatshirt | Black Sweater | Grey Sweater | Cardigan | Jeans | Grey Trousers | Black Trousers | Dress | Blazer | Jacket | Earrings | Necklace | Sunglasses | Belt | Sneakers | Boots | Flats | Animal Print Handbag | Off White Handbag

You might also like:
An Easy Weekend Packing List
A Spring Packing List
How to Build an Easy Summer Holiday Packing List
A Fall Packing List With Travel Outfit Ideas
SHOP THE UK LINKS


I am now offering digital styling guides, and personal styling services. If you are looking for some styling help that is inexpensive and easy, check out my digital styling guides. If you want some one-on-one help shopping, building and editing your wardrobe, or packing for a trip, I can also assist. Check out all the styling services that I offer here.
This post contains affiliate links. By using my links to shop I may receive a small commission (at no cost to you). Thanks for supporting what I do