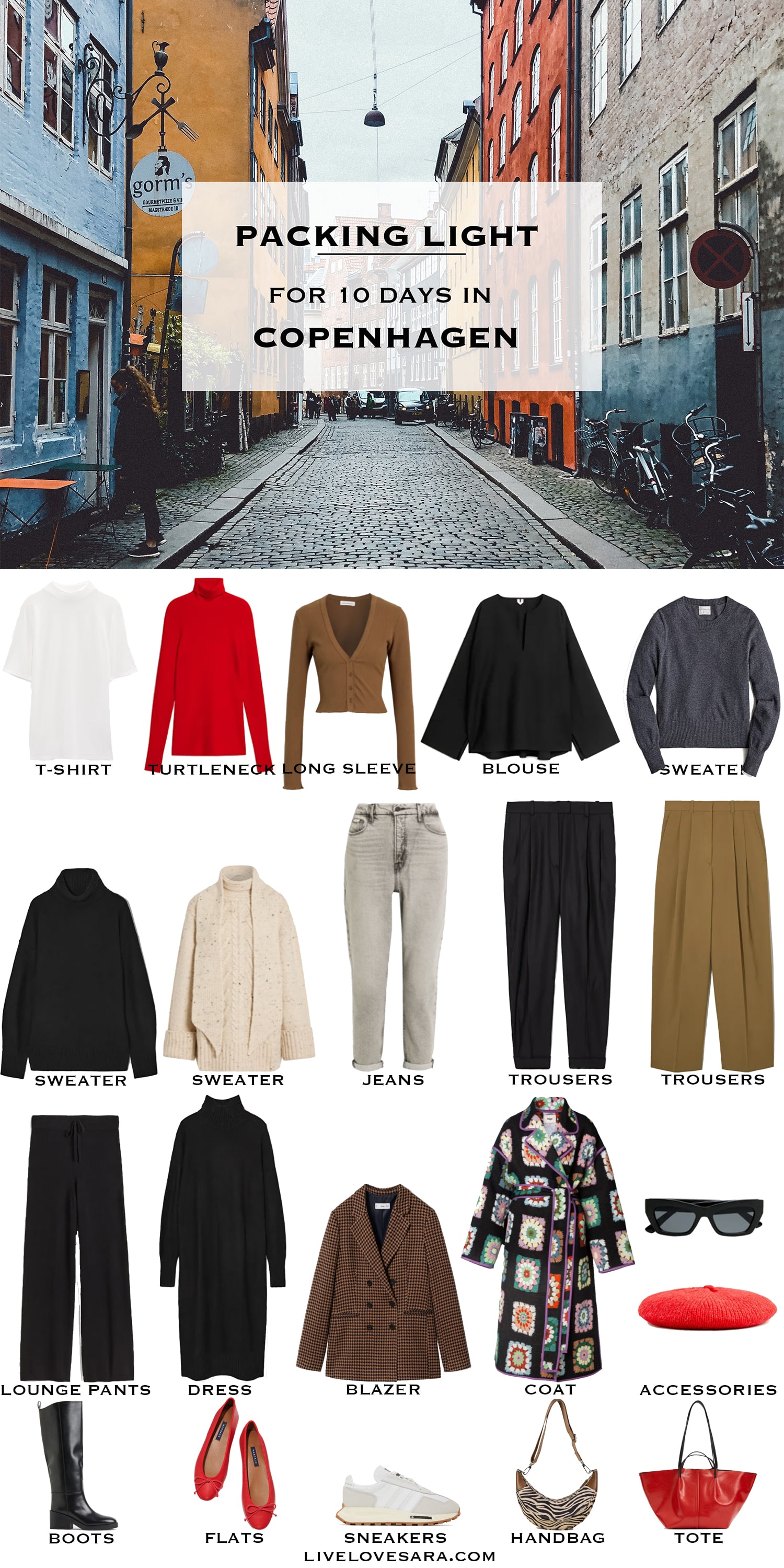 T-shirt | Turtleneck | Long Sleeve | Blouse | Grey Sweater | Black Sweater | Cream Sweater | Jeans | Black Trousers | Brown Trousers | Lounge Pants | Dress | Blazer | Coat | Sunglasses | Beret | Boots | Flats | Sneakers | Handbag | Tote

I haven't done a fall packing list in a while, and this actually started as a fall capsule wardrobe with a focus on the colour red, but I diverted. There has been an upswing in Copenhagen Packing List searches on my site so I thought I would run with that since my other posts are old.
I was inspired by the colour palette that Julia had on her most recent trip to Copenhagen. I think that her looks were the best I have ever seen on her and I would love to have every single piece.
She is more of an inspirational follow for me versus aspirational because she comes from a level of wealth that most can't comprehend.
So while her Copenhagen travel wardrobe was worth well over $50,000, I am trying for a similar aesthetic for much less cost.
What I love is how easily I was able to transition from a fall capsule wardrobe to a fall packing list, which shows how they work the exact same way and are interchangeable.
This time of year the weather is all over the place. We had some nice cool temperatures, and then yesterday and today we are back to warm.
So it is important to pay attention to the weather forecast and pack for fluctuations.
This means, learn how to layer so that you are dressed weather appropriate at all times of the day.
I know that my picks are not always to everyone's tastes, but that's okay because it is so easy to personalize by swapping similar items that are in YOUR tastes and preferences.
I also like to urge people to try something that is out of their comfort zone.
It is so easy to box yourself into a specific style that it becomes almost scary to try and step outside that box.
Try mixing in only one or two pieces that are out of your comfort zone, so that you can wear them with pieces that you are comfortable in and love.
You might be surprised.
One of my favourite wardrobe stylists, Paul Julch made a very good point today that I want to share.
He said the hardest style to get used to is a new shape. He used skinny jeans to straight leg, slim skirts to fuller, and flats to chunky loafers as examples, but it can apply to anything.
He said if it scares you, then try it in a colour and style that you already know you like, so that the shape is the only new thing.
This is brilliant and is applicable to so many things in fashion. It is a great way to ease yourself into trying something new.
If you like this as a fall capsule instead of a packing list I would suggest adding a couple more pairs of shoes, two extra bottoms, 1-2 more tops, a plethora of accessories to help change the looks, and maybe an extra outerwear option.
Remember that if you go through and try on all of your planned outfits before the trip, you will know exactly what to wear.
You will also be able to tweak things to make it work better, like tucking versus leaving out, layering under or over, and different shoes and accessories for different outings.
I give some examples of outfits to wear for different outings, plus an additional 12 so that you can see the versatility of the pieces.
I also included one pair of lounge-style pants for travel. Comfort is important, but they also keep you looking put together.
It is 100% possible to pack in a carry-on and with current flights causing lost luggage, and long wait times a carry-on is a smart choice.
Plus, you will always know what to wear, and not have to worry that you piled your suitcase with filler items that will never be worn.
Keep it smart and simple so that you can focus on enjoying the trip.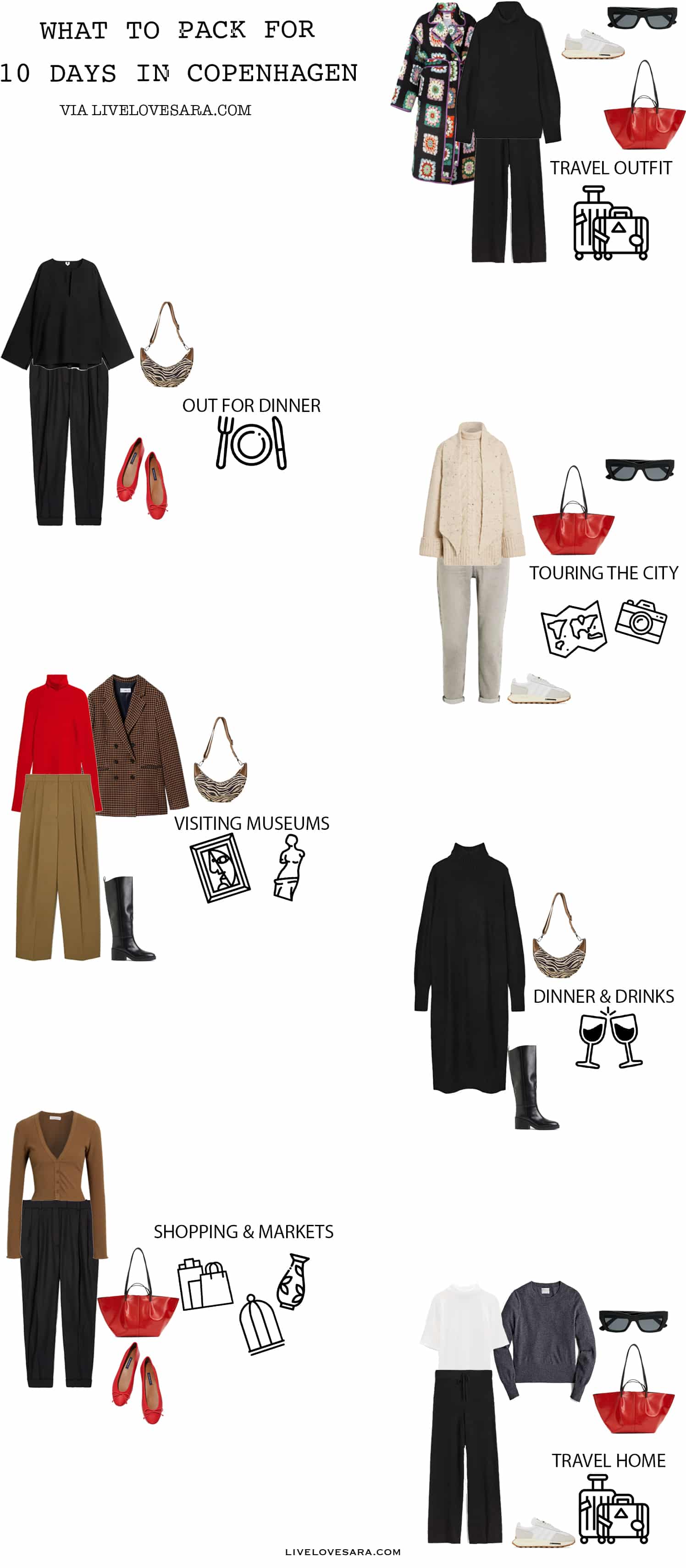 T-shirt | Turtleneck | Long Sleeve | Blouse | Grey Sweater | Black Sweater | Cream Sweater | Jeans | Black Trousers | Brown Trousers | Lounge Pants | Dress | Blazer | Coat | Sunglasses | Beret | Boots | Flats | Sneakers | Handbag | Tote

You might also like:
A Paris Packing List in Autumn
A Dark Academia Fall Capsule Wardrobe
A Warm Palette 90s Minimalist Capsule Wardrobe
A 90s Minimalist Fall Capsule Wardrobe
SHOP THE UK LINKS


I am now offering digital styling guides, and personal styling services. If you are looking for some styling help that is inexpensive and easy, check out my digital styling guides. If you want some one-on-one help shopping, building and editing your wardrobe, or packing for a trip, I can also assist. Check out all the styling services that I offer here.
This post contains affiliate links. By using my links to shop I may receive a small commission (at no cost to you). Thanks for supporting what I do
This post contains affiliate links. By using my links to shop I may receive a small commission (at no cost to you). Thanks for supporting what I do