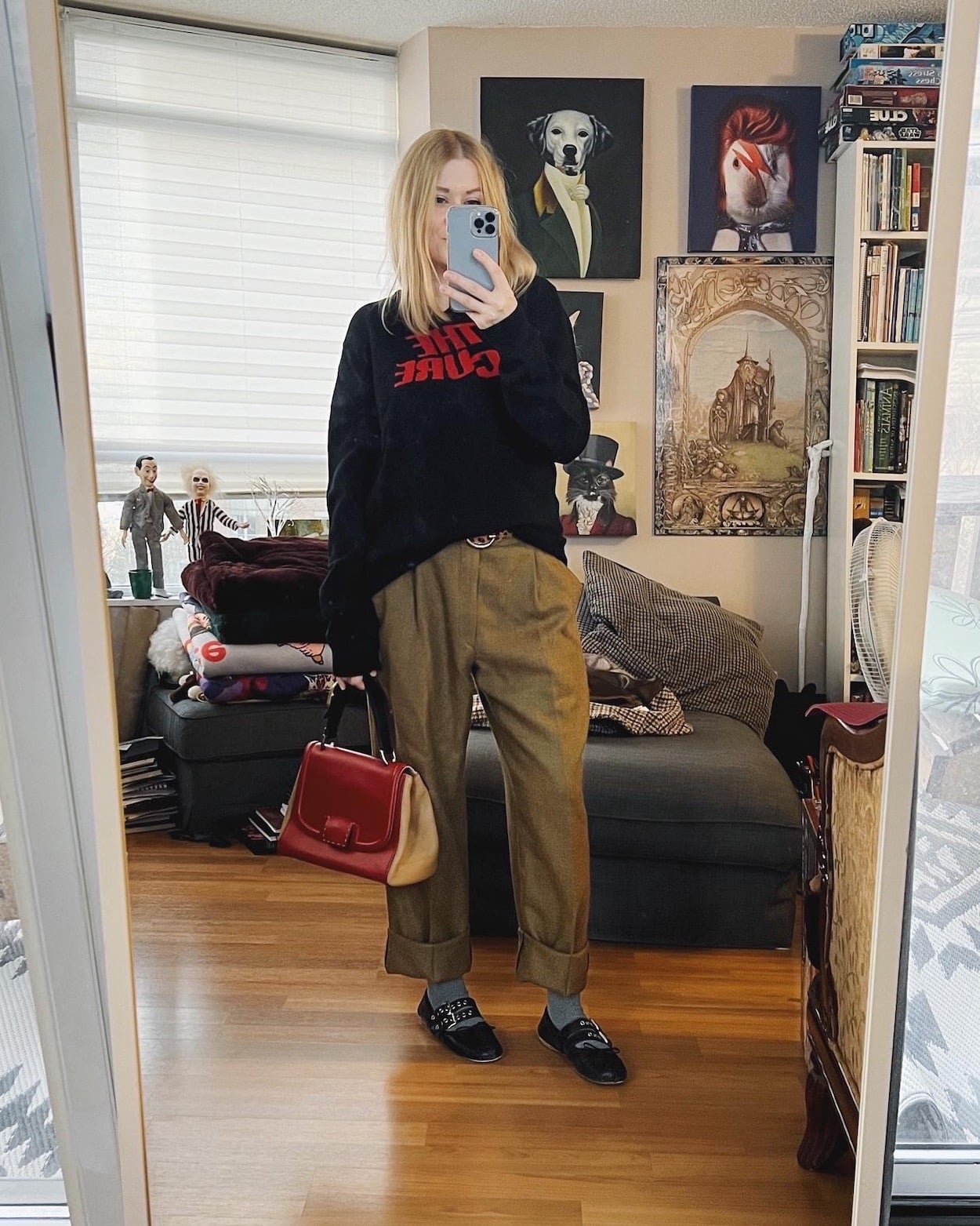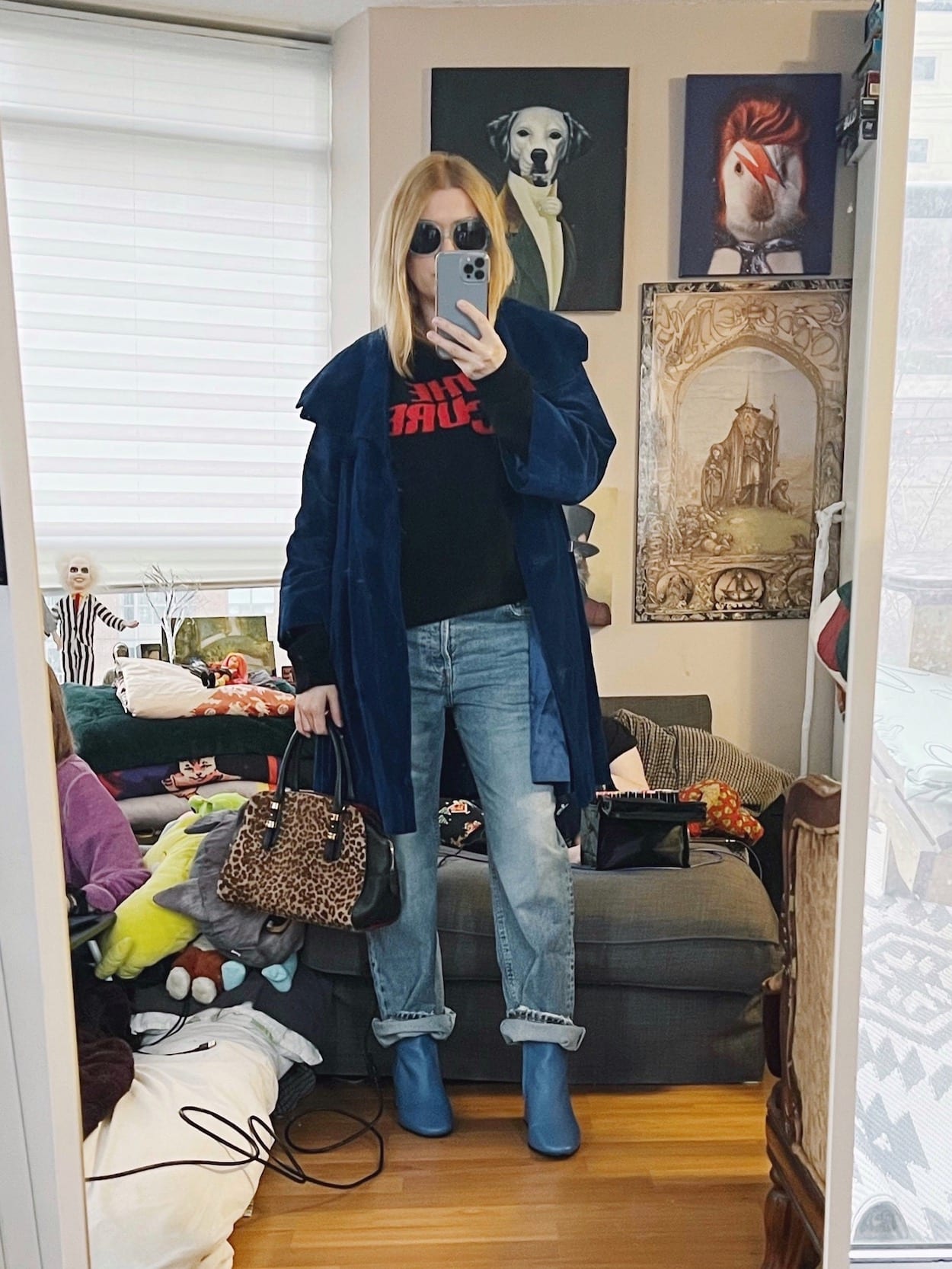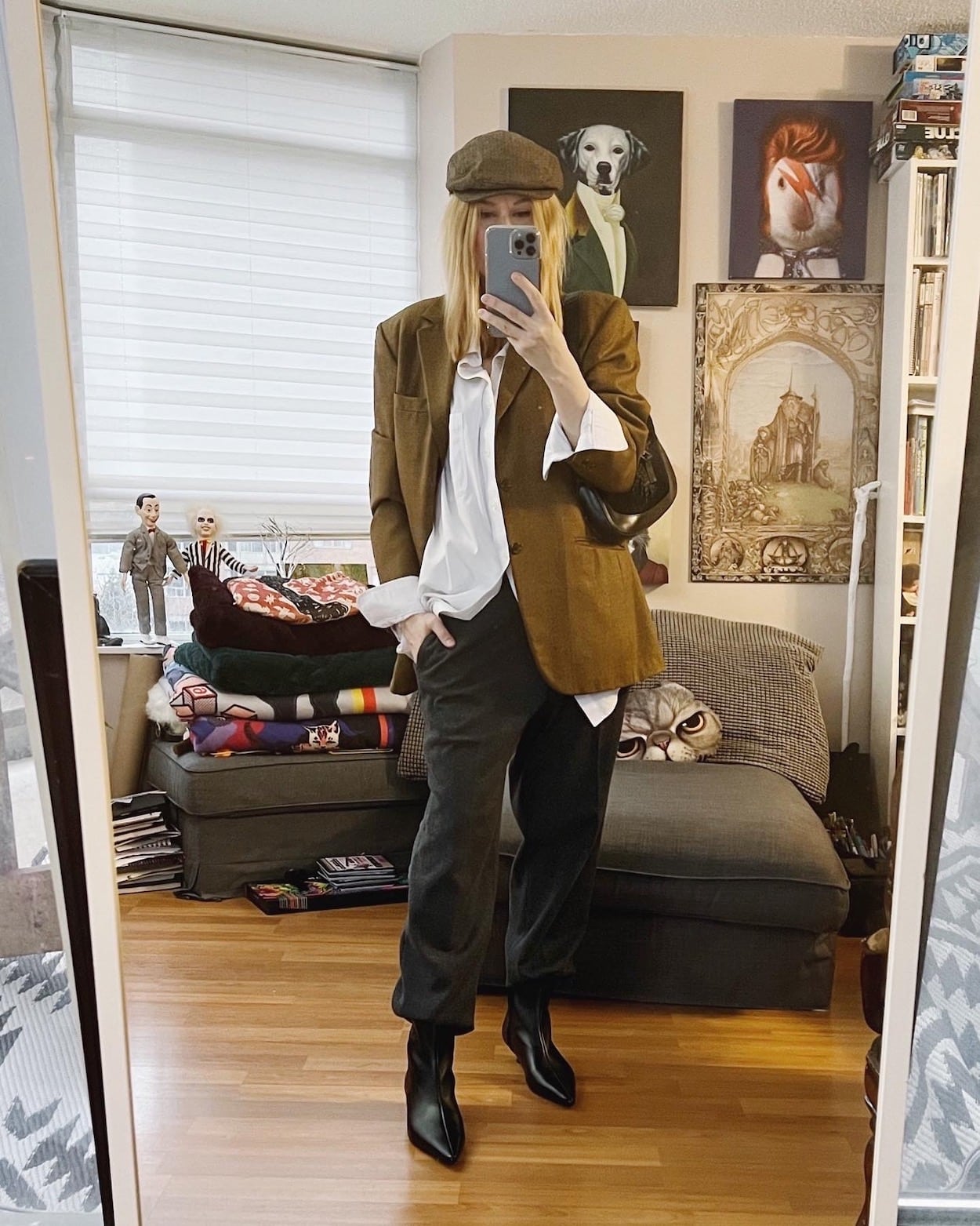 Outfit 1 – The Cure Sweater | Vintage Trousers | Belt | Sock | Shoes | Bag
Outfit 2 – Sweater | Jeans | Coat (similar) | Boots | Bag | Vintage Sunglasses
Outfit 3 – T-shirt | Knit Shrug | Jeans | Shoes | Vintage Bucket Bag (similar)
Outfit 4 – Button Up | Vintage Blazer (similar) | Trousers | Boots | Hat | Bag

Happy New Year. This is how my evening went…one kid fell asleep before midnight (the teen which was surprising. I think she may have fixed her sleep schedule). The other kid was in the shower but rushed out when I said the fireworks had started.
We can see them from our balcony, so she didn't miss much.
Then the husband waltzed out of the bedroom and asked why there were fireworks before remembering it was New Year's Eve.
And so goes another year. This one went by weirdly fast without feeling like much was accomplished, even though in hindsight things were.
Today I am putting the final touches on a client's wardrobe before I send it off to her. Then I plan on working on a few digital style guides.
I also made a list of what I am looking for to add to my spring wardrobe and posted it in my Instagram stories today.
Nothing too exciting, and a mixture of new and secondhand items I am searching for. I just need to replenish my finances after the holiday season.
I also want to take a colour course that is offered by George Brown College. It starts in February so I still have some time to save up.
I missed the deadline last semester, so I need to be on the ball this time around.
I'm not a very resolution type of person, so I am just going to continue working towards my short term business goals in order to try to achieve my long-term goals.
I just went to the corner store and bought one bag of milk (4 litres) and 4 bags of chips, and it cost me $30, so that is super fun. This shit is beyond ridiculous now.
My husband finally took some measurements of the extra Ikea shelves he has at work that he was going to bring home for me to put my clothes on, but they are too deep.
Unfortunately, they would touch the end of the bed, so back to square one, a breaking clothes rack, and clothes in bags because I have no place to hang them at the moment.
This is my next game plan when I save more.
I will get my clothes organized eventually. Maybe I shouldn't have let my husband have the bedroom closet when we moved here.
You might also like:
What I Wore last week
SHOP THE UK LINKS


I am now offering digital styling guides, and personal styling services. If you are looking for some styling help that is inexpensive and easy, check out my digital styling guides. If you want some one-on-one help shopping, building and editing your wardrobe, or packing for a trip, I can also assist. Check out all the styling services that I offer here.
This post contains affiliate links. By using my links to shop I may receive a small commission (at no cost to you). Thanks for supporting what I do